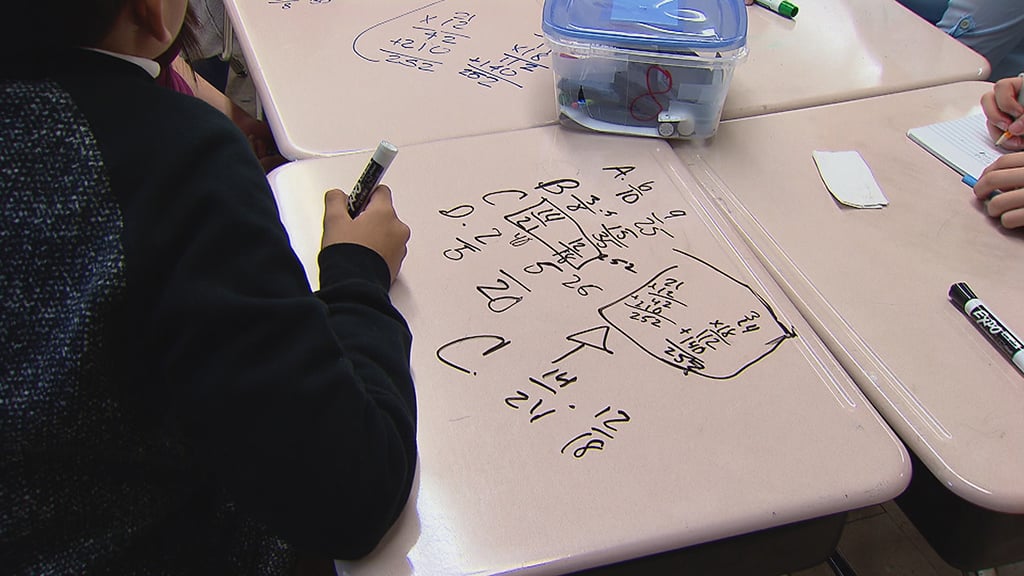 The Illinois School Funding Reform Commission will continue meeting up until its Wednesday deadline next week, but the 25-member bipartisan group of legislators and education officials aren't expected to implement any concrete solutions by that time. (Chicago Tonight)
A team of Illinois legislators has spent the past six months looking for some way to fix the state's broken education funding model. But with only a week left before its final report is due, concerns have surfaced about how soon any changes will be made.
The Illinois School Funding Reform Commission will continue meeting up until its Wednesday deadline next week, but the 25-member bipartisan group of legislators and education officials aren't expected to implement any concrete solutions by that time.
"What we're attempting to do is one of the hugest lifts that has existed in state government in some time, and there have been lesser issues that have taken more than one term to get done," said commission memember and state Rep. William Davis, D-East Hazel Crest.
"I'm certainly not interested in rushing this. I represent schools districts that would truly benefit from this, but I want to make sure we get it right."
The hope had originally been that the General Assembly could act on that report during this year's session, but it seems unlikely the formula will be altered in 2017 as the commissioners have yet to reach consensus on multiple items, including whether or not to include elements from the evidence-based funding model.
Michelle Turner Mangan, a research professor and department chair at Concordia University Chicago, had presented before the commission on the evidence-based model twice over the past six months.
She was upset Tuesday with the commission's pace, saying it took until the new year to actually begin discussing policy differences within the report.
"They had six months where they just had intake, intake, intake," Mangan said, "and literally, I think it was a show, I think it was a political spectacle."
The evidence-based model is one of four approaches states can use to determine school funding "adequacy," or the amount of money needed to properly educate every student, including low-income and English-language learners, who typically cost more to educate.
What separates EBM from other models is that it examines national best practices for student achievement and costs those out to reach its adequacy rate, leading to a transparent process that lets school districts and parents see where their dollars are being spent.
The formula includes 27 different elements, such as full-day kindergarten, capping K-3 classes at 15 students, adding specialist teachers and improving technology inside classrooms.
But Mangan said Tuesday the commission may opt not to include those measures out of concern it would be viewed as a mandate that could both erode local control and draw the ire of lobbying groups around the state.
"They don't want to make any of the decisions," she said. "They're using the political system and they just want to keep it that way. They want school funding to be decided by politics and not by research. And they have this unfounded fear of mandates when that's not what's happening. They're using that as an excuse."
Mangan believes state officials would rather maintain the existing model – where education funding is determined by what the state says it can afford – rather than tying that to any growth elements.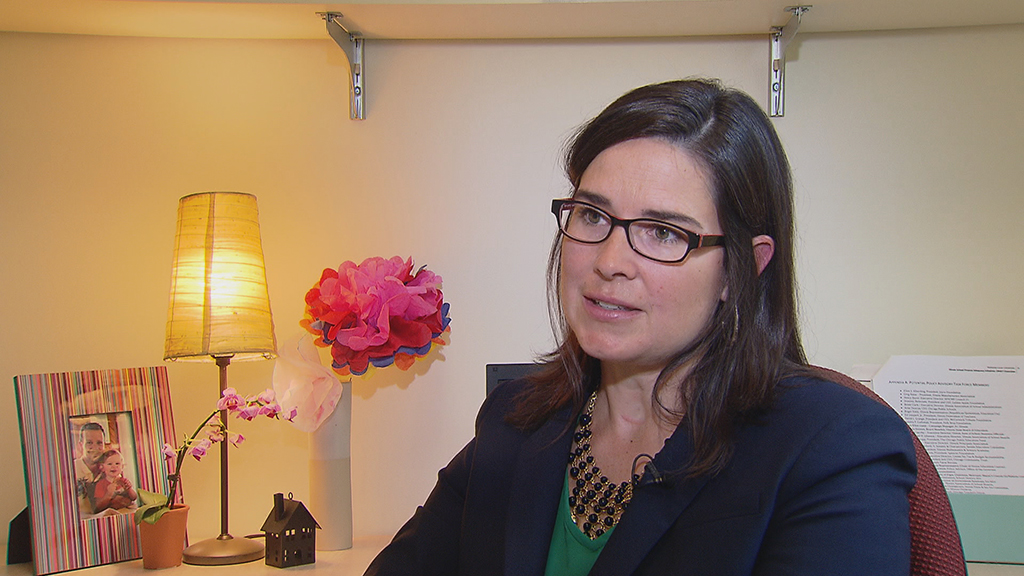 Michelle Turner Mangan (Chicago Tonight)
Davis said he's in favor of the EBM, but said debate has arisen over whether or not to actually codify those elements in the report. He wants to include those elements to ensure a "formal conversation" is had if legislators want to change them down the line.
But others, he said, prefer the flexibility to make more immediate changes that's offered by leaving them out. He hopes the commission is at least able to agree on the necessity of those measures before deciding whether or not to actually write them into the report.
The Illinois State Board of Education on Tuesday finalized its 2018 budget recommendations, maintaining the foundation level of $6,119 in state funding per student, on average. In total, ISBE requested $7.73 billion – an increase of about 3.5 percent over this year's budget.
Last fall, Mangan told Chicago Tonight the cost to implement the EBM could average out around $14,000 per student – a massive jump from the current per-student rate – which could cost the state billions on top of what it already spends on education per year.
Illinois has long been among the most regressive states in terms of its funding gap between low- and high-poverty school districts.
In theory, the evidence-based model can help reduce those inequities through adequate funding. But in practice, some states have implemented the model without a targeted approach and have seen grades stagnate.
The evidence-based model doesn't require all 27 of those elements be implemented, according to Mangan, but she says they should be used in research to find out how much the state will actually need to spend.
"One piece is the actual model and the other is the distribution of that," she said. "And instead of saying 'Let's have this as a goal, let's work toward this over however many years,' they're just saying there's no guarantee so let's keep it the way it is and let people spend the way they want to spend. It's just meaningless."
Three working group and two full commission meetings remain scheduled before next Wednesday. Rauner can then opt to continue that commission or scrap it and build a new commission. Davis says he'll "probably" draw up a bill based around the evidence-based model, so that if consensus is eventually reached, the legislation can be tweaked and the dialog can continue.
Mangan believes the commission will meet its deadline with a broad framework of topics that would instead be acted on by a professional judgment panel years down the road.
"The basic principal of basing it on research seems to be out, they just don't want to do it," she said. "And the current system is just based on the political workings of how much money they say is available, and that's essentially still what's going to happen.
"This is all just the same Illinois politics, and I was hoping it was going to be different."
Follow Matt Masterson on Twitter: @byMattMasterson
---
Related stories:
Arne Duncan to Springfield: Change School Funding Model
Sept. 20: The former U.S. Education Secretary talks about education funding, graduation rates and a potential teachers strike in a one-on-one interview with Chicago Tonight.
---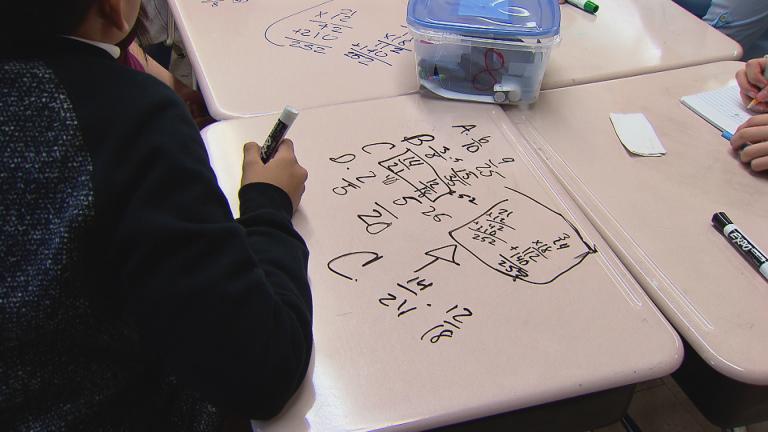 Education Funding in Illinois: How the Evidence-Based Model Works
Sept. 21: One way to achieve the goal of providing an "adequate" education to all Illinois school children? Spending much more money per child. We crunch the numbers.
---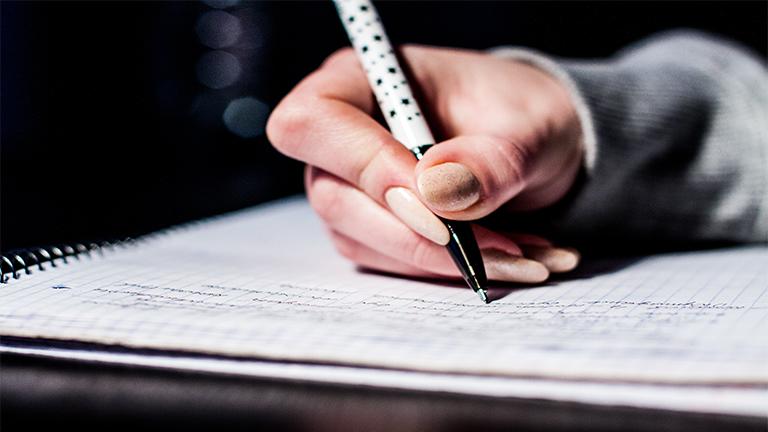 Could Evidence-Based Model Fix Broken Education Funding Formula?
Aug. 23: Facing the largest equity gap in the country, Illinois state leaders are considering an evidence-based approach designed to ensure every student has the opportunity to succeed in the classroom.
---