A one-man show at the Chicago Cultural Center puts the focus on the face.
Portrait art is the subject of a new juried exhibition sponsored by the city's Department of Family and Support Services. We meet a one-time commercial artist in his studio – and at the Cultural Center – for a peek at portraiture, real and imaginary.
TRANSCRIPT
Works by George C. Clark: "Self Portrait," left, and "Vilja." (Courtesy of George C. Clark)
George Clark: I love painting and drawing people. I've been doing it for four decades, and some of the stuff I do is straight forward reportage, where it's like I look at somebody posing for me and I paint what I see. Other times there's maybe elements of fantasy, or play acting or drama.
Sometimes I encounter models who are just really, really interesting to work with.
Some of the people in the show are real performing artists, musicians, puppeteers, whatever.
Phil Ponce: Years before he was an Oscar-nominated actor, Michael Shannon modeled extensively for George Clark when Shannon was just beginning to get roles on the Chicago stage.
At his home and studio, Clark sketches quickly and with intent.
Clark: I'm going for the personality. I'm trying to get a little drama into it. I've got a dramatic lighting situation set up here.
When I went to art school at the Art Institute in the 1960s I wanted to do figurative art – realistic, recognizable images – and they assured me that all art of the future was going to be abstract. And that if I wanted to do realistic art, I should go into advertising, design and illustration. So that's what I did.
Ponce: But his young career was interrupted when Uncle Sam came calling.
Clark: I was drafted in 1968 and I spent 13 months in combat in Vietnam with the heavy artillery unit up at Song Be airstrip. It's near the Cambodian border. I was in combat, I survived. And when I came home, I was ready to put the whole experience behind me and go back to commercial art. I tried not to think about it all that much.
And I thought, "I gotta do a visual memoir of my experiences." So I wound up doing a whole series on Vietnam images from memories and from my photographs. I wound up doing about 25 paintings.
Ponce: Some of those paintings are in Chicago's National Veterans Art Museum, and in the collection of the U.S. Air Force.
Whether painting memories of Vietnam or capturing live studio models, Clark also did the commercial work that paid the bills.
Clark: I used to freelance for the Chicago Tribune. They used to have a feature in the color Sunday comics called the Spots Page, and that featured puzzles and mazes and paper sculpture projects for children.
I did stuff like, well, this set of glasses which demonstrates what would happen if King Kong mistook your face for the Empire State Building.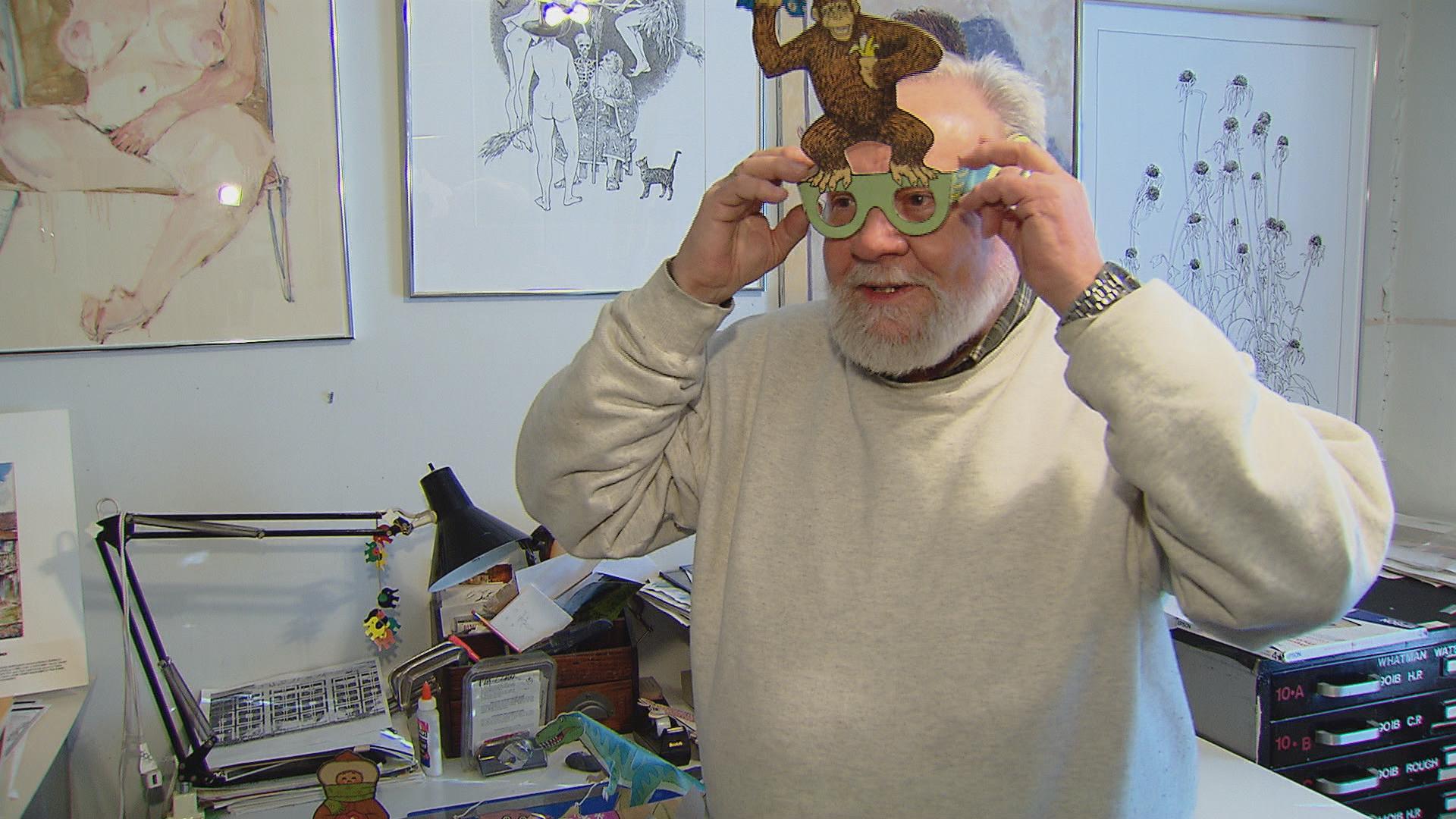 The stuff I did at the Tribune I had it credited to "CK Penke." Penke is my grandmother's family name. I didn't want – and I was doing some fairly adult material, erotic drawings, nudes, under my own name – and I didn't want people looking for the children's art to find 'oh my!' This is not what I expected!
Ponce: At the Cultural Center, the focus is on the characters – some real, some imaginary – that George Clark has depicted over his long career in Chicago.
His exhibition in the Renaissance Court Gallery is the culmination of a three-year process.
Crystal Warren, Department of Family and Support Services: The proposal process is for persons who live in the city of Chicago and our neighboring areas, who are 55 and older.
And we always take those who have at least a master's in fine arts and who've been doing art for over 20 years.
Clark: I do landscapes. I do figures. I do portraits. I do railroad images. I never made enough money to live just off selling paintings.
I paint for myself, I do the images that I enjoy. I intend to just keep doing this as long as I'm able.

More on this story
The exhibition of George C. Clark work is called "Portraits Real and Imaginary." It is in the Renaissance Court Gallery of the Chicago Cultural Center through Feb. 10. For more information, visit the artist's website.
---
Related stories: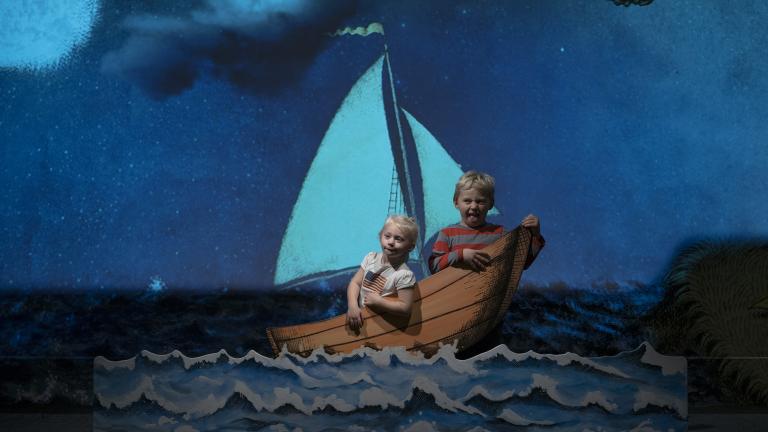 Wild Things of Author, Artist Maurice Sendak Unleashed at MSI
Dec. 15: The author of "Where the Wild Things Are" upended expectations by depicting menace, anxiety and "wild" behavior in picture books devoured by young people. We visit an exhibition highlighting his long career.
---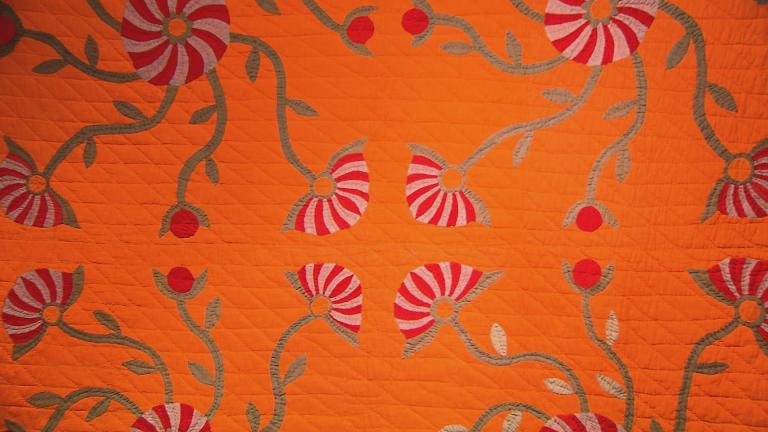 Stitches in Time: Historic Quilts at DuSable Museum
Dec. 8: A modest but eye-opening new exhibition features practical works of art from the collection of a scholar on American quilts.
---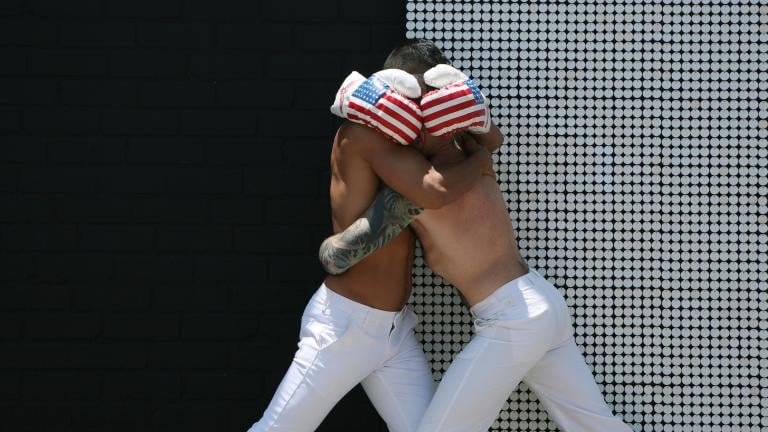 'AIDS in America' Exhibition Responds to Cultural Climate of 1980s
Dec. 5: An ambitious new art exhibition looks at the cultural impact of, and creative response to, AIDS in America.
---