A massive new art exhibition just opened in a new gallery created specifically for the show. At the corner of Halsted Street and Fullerton Avenue, a former bank has been re-imagined as a museum. Now called the Alphawood Gallery, the space is home to an exhibition that offers a variety of creative points of view on AIDS, art and America.
TRANSRCIPT
Jonathan Katz, curator of "Art AIDS America": The exhibition itself is really informed by a kind of a refusal of the way AIDS has been, up till now, represented, which is in terms of activist graphics, in terms of obvious iconography of emaciated bodies or red ribbons.
What we wanted to do was instead address the bulk of art produced around AIDS which by design didn't show AIDS in an obvious way, in fact that isn't visible as "AIDS painting" necessarily.
Phil Ponce: Among the noted artists on view are Keith Haring, Andres Serrano and Chicago's Roger Brown.
Katz: We're looking at a work by an artist, Frank Moore, who believed fundamentally that AIDS was part of a larger problem. He understood HIV as related to the human body the way humans were related to the planet: that they were both immune system dysfunctions.
Ponce: There is much work from artists whose careers were cut short before they made names for themselves.
Katz: One of the defining ideas behind the show was that we weren't going to take just the big names. We wanted to show the full span and we wanted to not make it just the coasts, but artists from Texas, Minnesota, everything included.
Ponce: The exhibition is rooted in a reaction to the cultural climate of the 1980s.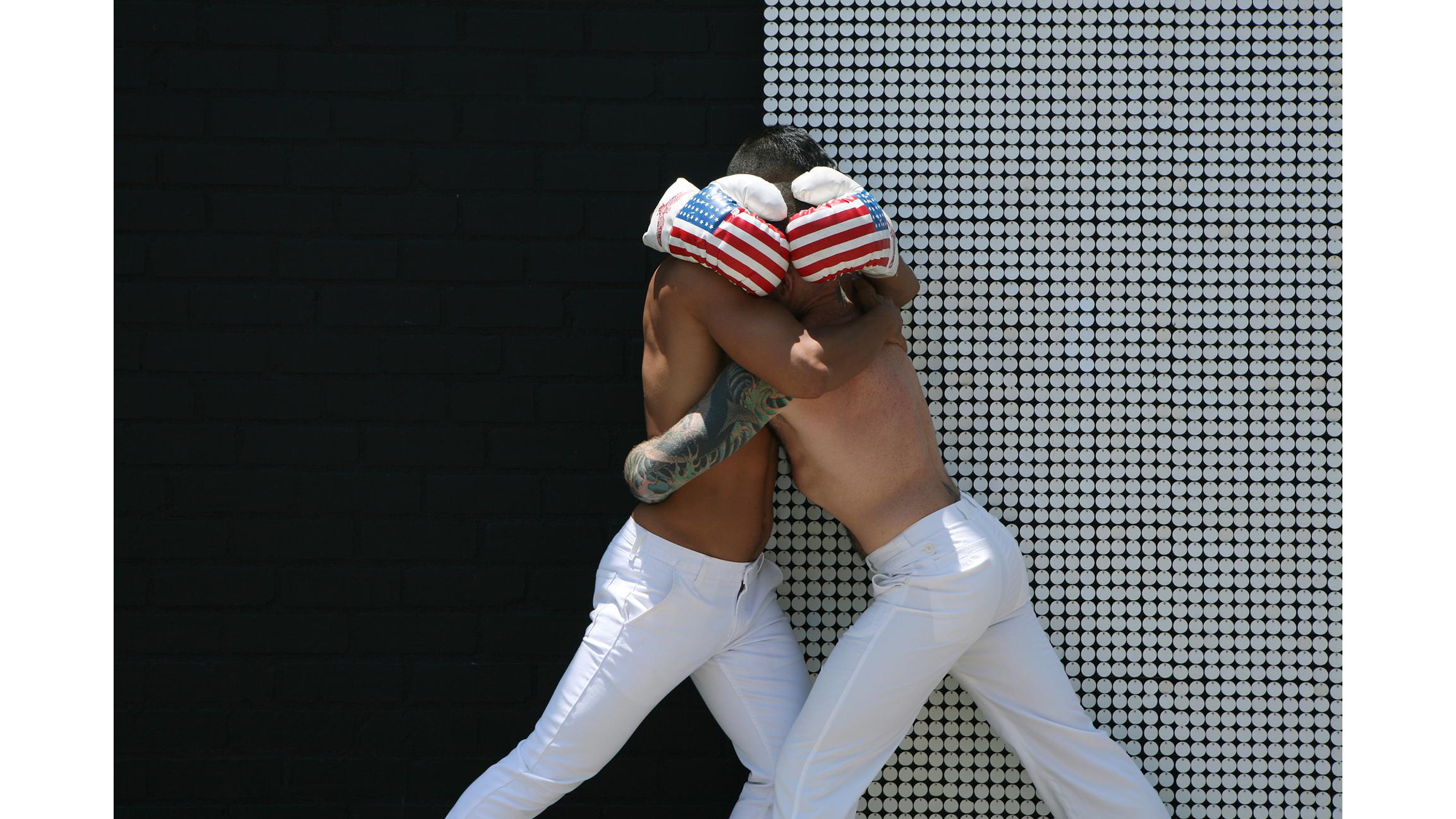 LADZ (John Arsenault and Adrian Gilliland), Eden #31, 2012. (Photo courtesy of the artists)
Katz: This is the moment of culture war; this is the moment of Jesse Helms. There was literally a law against the representation of queerness or intravenous drug use in the context of AIDS – you wouldn't get any federal funding, so artists had to camouflage their meaning, and that's what this show is about.
Ponce: One veteran of the culture wars also has work in the show. Karen Finley's battle with the NEA ended up in the Supreme Court.
Karen Finley, performance artist: It's important for me to be here, as a Chicagoan. I was here in the early '80s … and so I know about the impact of AIDS, especially with the arts community, fashion, theater, and just, just humanity.
By recognizing and remembering the deaths with this exhibition is to remember that time, that still exists now, which was very homophobic and it was oppression, and the pain and the under-recognition and how that permeated into the rest of society.
Ponce: The large traveling exhibition almost didn't find a home in Chicago – then a local foundation stepped in.
Jim McDonough, executive director of Alphawood Foundation: It seemed almost inevitable that we do it.
We had the space and we knew we had the will to turn it into a museum-like space, and we thought it was important because, for us, it's more of an act of activism than an act of creating a museum.
Ponce: For the curator, the mission was personal as well as artistic.
Jonathan Katz (Douglas Levere)
Katz: In some respects even doing this exhibition here is a kind of homecoming for me, because I lived in Chicago in the 1980s, and this was a very different city then. I started the first guerilla clinic in Chicago for HIV medication. We had no real medicine so we just gave what we thought might help for free until the Chicago Police closed me down.
We really wanted the exhibition to cast a bright light on the intersection of AIDS and American culture in general, because the animating idea behind the exhibition is that AIDS changed American culture.
Culture had to change in order to continue to say relevant things.

More on this story
"Art AIDS America Chicago" is free and open to the public, although timed admission passes are recommended. The exhibition is on view through April 2, 2017 at the Alphawood Gallery, 2401 N. Halsted St. in Chicago. Get more information about visiting the gallery.
---
Related stories: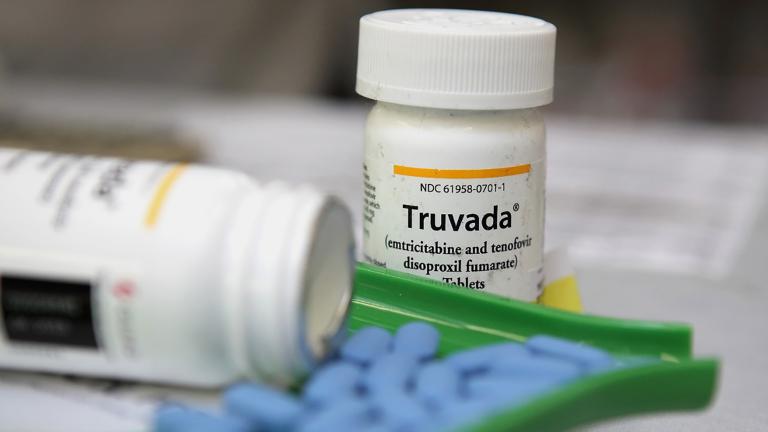 The Future of HIV/AIDS: Treatment, Prevention 35 Years Later
Nov. 29: A look at some breakthrough treatments for HIV and AIDS and a landmark clinical trial for a vaccine ahead of World AIDS Day.
---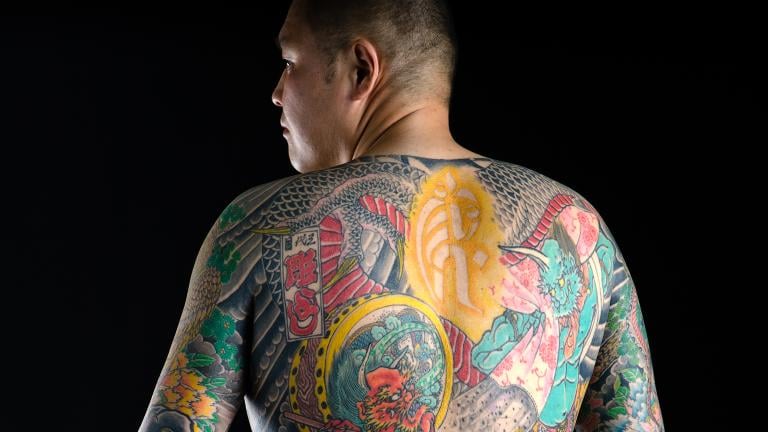 'Tattoo' Exhibit Aims to Create a Lasting Impression
Nov. 10: The Field Museum has a new look at tattooing – an age-old tradition that is as popular now as it was millennia ago.
---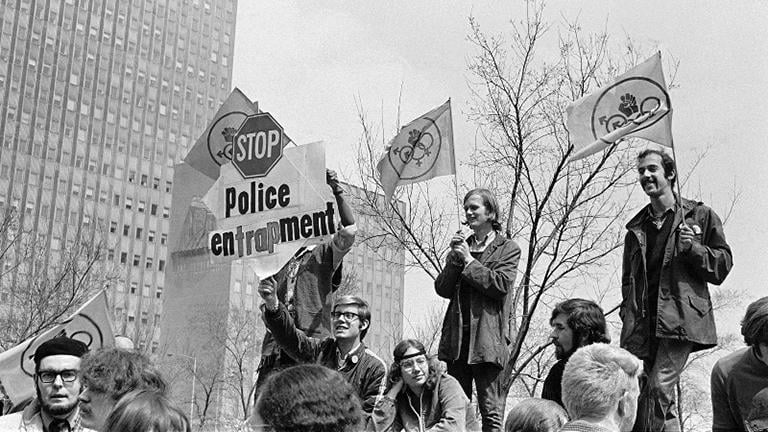 From the Closet to City Hall: Looking at Chicago's 'Queer Clout'
Feb. 22: The political awakening of Chicago's gay and lesbian community is documented in a new book called "Queer Clout: Chicago and the Rise of Gay Politics."
---