He was one the greatest creators of children's books in the 20th century – though he didn't like the term "children's books" and preferred "books that children like." Author and artist Maurice Sendak upended expectations by depicting menace, anxiety and "wild" behavior in picture books devoured by young people.
A new exhibition called "Where the Wild Things Are: The Works of Maurice Sendak" is at the Museum of Science and Industry through Feb. 20.
TRANSCRIPT
Phil Ponce: Published in 1963, "Where the Wild Things Are" was an immediate hit with children. The following year it won the Caldecott Medal, the Pulitzer Prize of children's literature.
It has since sold more than 20 million copies – its 10 sentences translated into 32 languages.
A new exhibition features original works by Maurice Sendak; lithographs from "Where the Wild Things Are" and other highlights from Sendak's long career.
And the show is attracting a fair share of wild things to the Museum of Science and Industry.
But why an art show in a science museum?
Jeff Buonomo, manager of temporary exhibits and events at MSI: We always like to showcase great minds here at MSI and certainly Maurice Sendak was one of those with his creativity. And creativity for us is always at the root of great inventions and problem solving, so it's something fun for us to do for the holidays, and hopefully it'll inspire some people to learn more about the man behind "Where the Wild Things Are," Maurice Sendak.
Ponce: Sendak was born in Brooklyn in 1928. He was happy to point out that he arrived the same year as Mickey Mouse.
But his life's work was influenced by tumultuous early years.
As a child he was haunted by the kidnapping and murder of the Lindbergh baby. As a teenager, European family members were wiped out in the Holocaust.
Throughout his life he maintained an uncanny feel for how children perceive the world.
Buonomo: He was a genius. It's funny, because you say we're doing an exhibit on Maurice Sendak and unfortunately a lot of people don't necessarily know who Maurice Sendak is until you say "Where the Wild Things Are," but he had a huge repertoire of over a hundred books that he either wrote and/or illustrated, including "Where the Wild Things Are" and also "In the Night Kitchen," which are both some of his bestsellers and also controversial as well.
Ponce: "Controversial" because they faced censorship from critical readers, none of whom were children.
The exhibition also features set designs Sendak made for opera, concept art for movies, and an etching from "The Nutcracker."
There's a remarkable series he did as a high school student at age 16 – an illustrated "Macbeth," complete with the Three Witches, Banquo's ghost and Lady Macbeth.
And there's a rare collaboration he did on a bronze sculpture.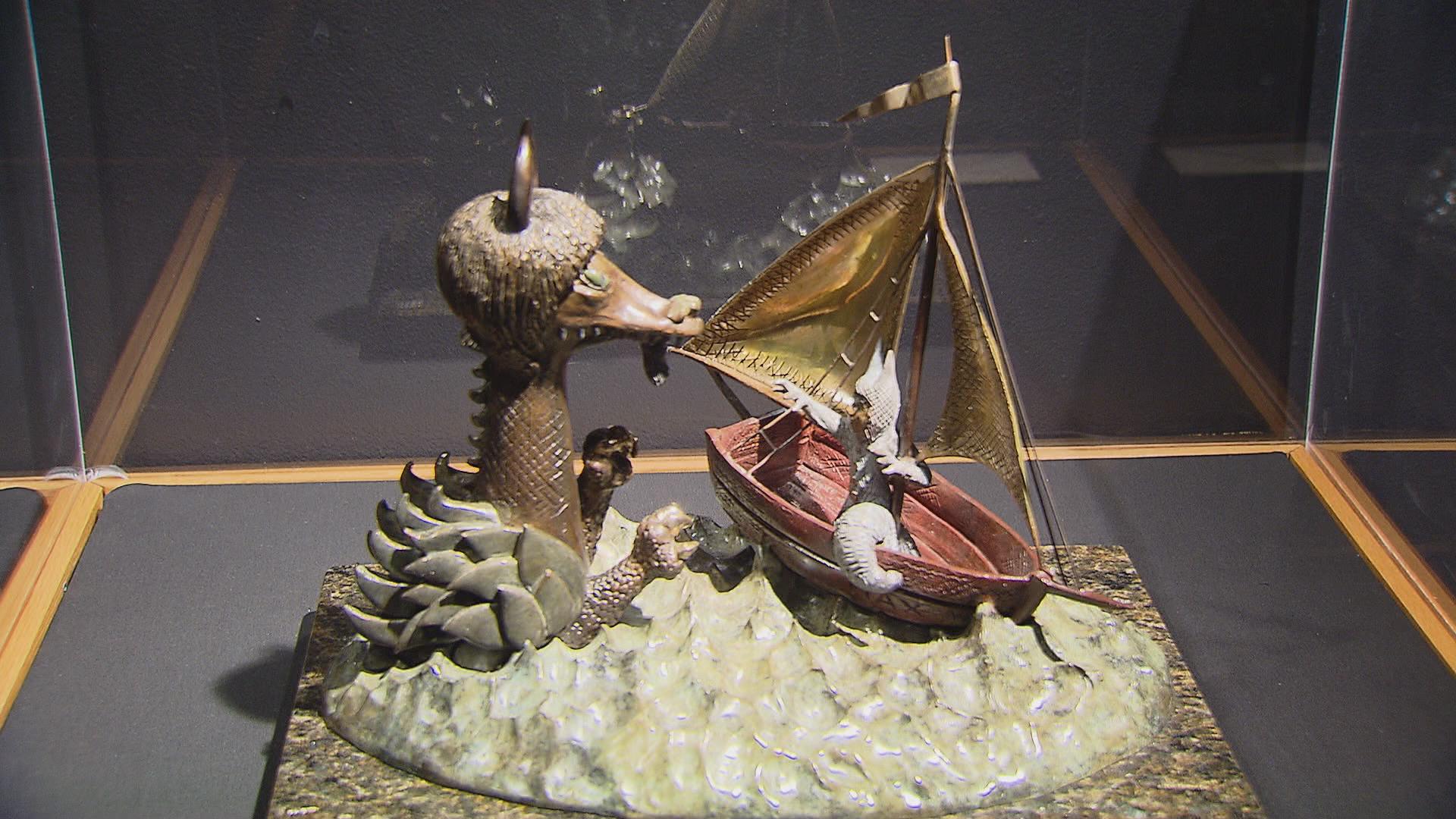 Buonomo: We have over 40 originals on display, lithographs, works on paper, many of which has to do with "Where the Wild Things Are" but also some other surprises throughout his career.
There's nothing like getting up close to an original piece of work, especially from a legend like Maurice Sendak.
Ponce: The traveling exhibition comes from a New York gallery working with private lenders.
Maurice Sendak died in 2012, having spent nearly 60 years creating worlds both luminous and a little dangerous.
He often said: "I don't write for children. I don't write for adults. I just write."
---
Related stories: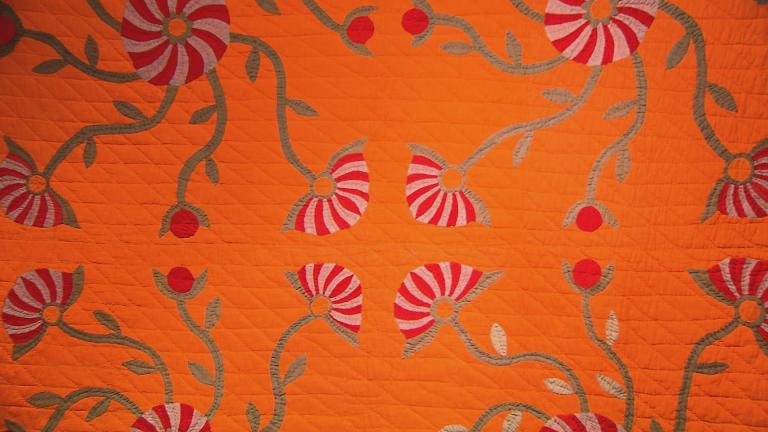 Stitches in Time: Historic Quilts at DuSable Museum
Dec. 8: A modest but eye-opening new exhibition features practical works of art from the collection of a scholar on American quilts.
---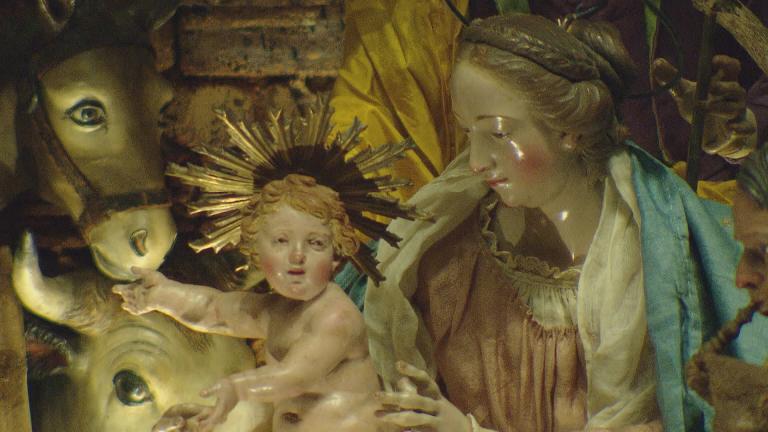 Rare Holiday Crèche on Display at Art Institute of Chicago
Nov. 28: A spectacular Nativity set blends heavenly drama with earthly delights.
---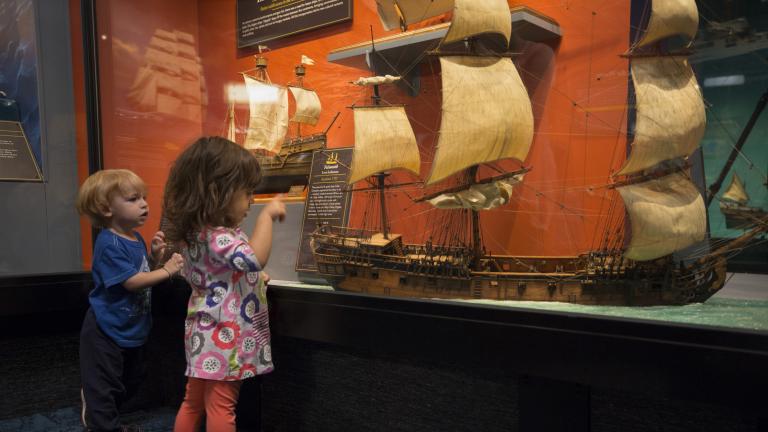 'The Ships Gallery' at MSI Explores the Evolution of Boat Design
Nov. 16: A new exhibit at the Museum of Science and Industry invites visitors to sail though time and explore the evolution of ship design.
---