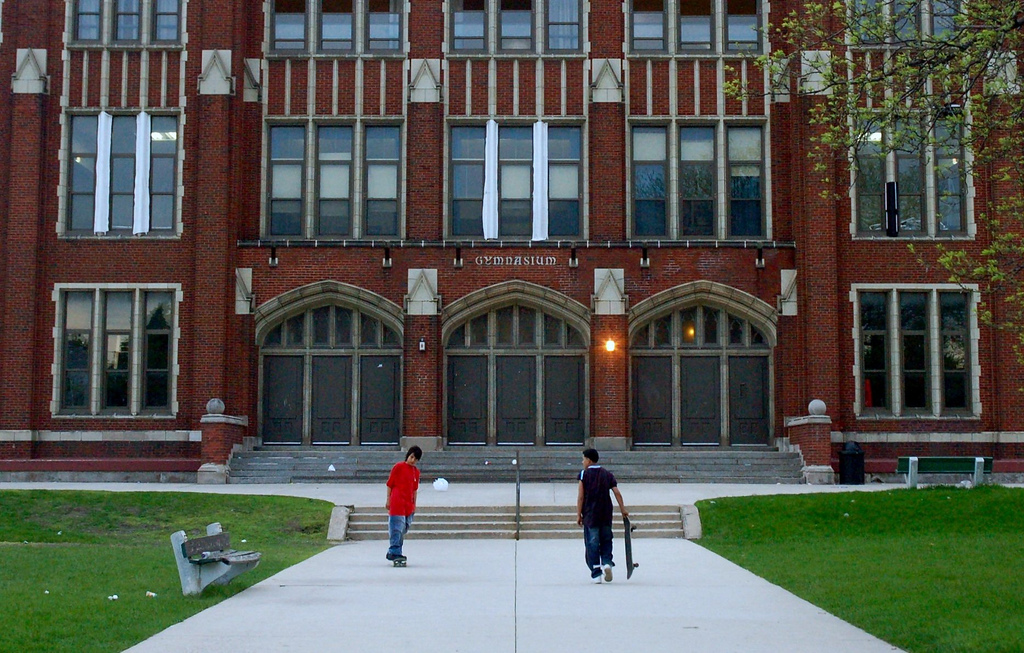 Lane Tech is the largest of Chicago Public Schools' selective enrollment high schools, with more than 4,000 students enrolled. (Alex Cheek / Flickr)
Admission into Chicago's selective enrollment high schools does not help close the achievement gap between students from high- and low-poverty neighborhoods and may actually decrease the chances high-poverty students apply to or attend selective colleges, according to a new study.
The University of Chicago Consortium on School Research, along with the Federal Reserve Bank of Chicago, published a report this month examining whether or not students in Chicago Public Schools' selective enrollment high schools (SEHS) who come from lower-income communities are able to narrow the achievement gap with their high-income peers.
But after looking at around 16,000 students just above and below the admission cutoff for these high-end schools between 2010 and 2013, the authors were unable to find any evidence that selective school enrollment did anything to shrink that gap.
"Selective high school admission has no effect on test scores, regardless of neighborhood (socioeconomic status)," the report states, "and we find no evidence that students from low-SES neighborhoods experience greater improvements in their reported high school experience than students from high-SES neighborhoods."
Each of the 11 CPS selective enrollment high school campuses are listed as Level 1+ schools – the highest possible ranking in the district. Enrollment among those schools ranges from as little as about 600 students (South Shore International College Prep High School) to up to more than 4,000 (Lane Tech).
CPS Chief Education Officer Janice Jackson told Chicago Tonight last week the report shows how the district provides students with high-quality options in both its selective and non-selective schools.
Jackson, herself a former principal at the selective enrollment Westinghouse College Prep, said these schools add other benefits such as a strong culture, reduced behavioral issues and access to college preparatory curriculum. And they do so at campuses that also tend to be more diverse.
Race had been a component of the selective admission process until 2009, when a federal court lifted a consent decree that necessitated this factor. Since 2010, the district began using socioeconomic variables as a separate component based on four SES tiers mapped out across the city.
Applicants must prequalify for selective enrollment testing based on their Northwest Evaluation Association's Measures of Academic Progress exam results. Those students are then scored on a 900-point scale combining their admissions exam results, NWEA results along with their seventh grade reading, math, science and social studies grades.
But those students applying also must live within the city limits – an issue that arose multiple times last year according to an annual report from the district's Office of Inspector General. Last year, OIG investigations uncovered numerous suburban families claiming false Chicago addresses to fraudulently enroll their children in the selective enrollment high schools.
Inspector General Nicholas Schuler recommended those students be dismissed. Shortly after that report was released, CPS instituted a permanent selective enrollment ban on students who were fraudulently admitted to selecive schools.
The U of C report goes on to state that, on average, high-poverty students admitted to selective high schools are 13 percent less likely to attend a selective college than their peers from low-socioeconomic neighborhoods who just missed the high school admission cutoff.
On the other end, for students from wealthy neighborhoods, the study estimates SEHS admission boosts the likelihood of them attending a selective college by 11 percentage points.
"We know better-off parents can make up for what the school doesn't have with money," said Lisa Barrow, a senior economist and research adviser with the Federal Reserve Bank of Chicago who helped author the study.  "So we thought that, you know, that could lead to finding that (SEHS enrollment) mattered more for kids from more disadvantaged neighborhoods than others.
"And so we were surprised that it didn't really matter for anybody, or that it was very similar across the groups, other than the one college selectivity issue and the grades."
While it's unclear what is specifically causing that gap, Barrow suggests it's possible some SEHS students are being "penalized" by colleges for taking on a harder curriculum that leads to a lower GPA than their peers.
"I think understanding better what's going on inside the high schools in terms of the college process and what is driving this effect may be an important thing to consider," she said. "From a college perspective, it might also be important to think about grades over standardized testing.
"If they were putting more weight on grades and less weight on test scores, maybe they need to think about it in a more nuanced way, if they're going to give deserving kids a shot at a college education at their institution."
Follow Matt Masterson on Twitter: @ByMattMasterson
---
Related stories: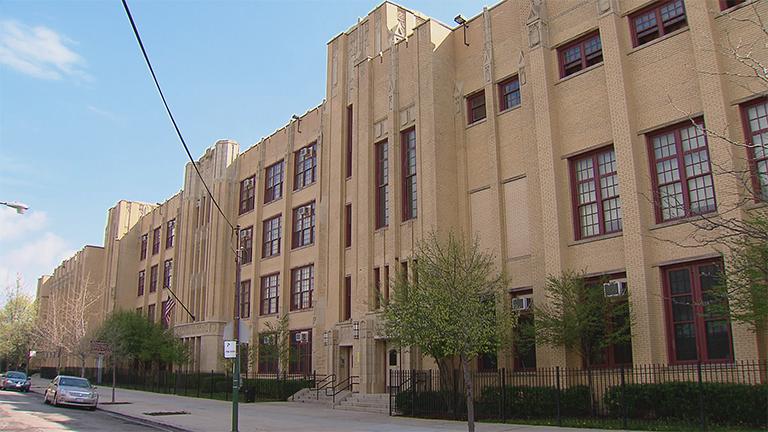 How Chicago's School-Choice System Hurts Some Neighborhood Schools
April 21: Some neighborhood high schools in poorer areas of Chicago are struggling to survive. We look at how the city's school-choice system is playing a role.
---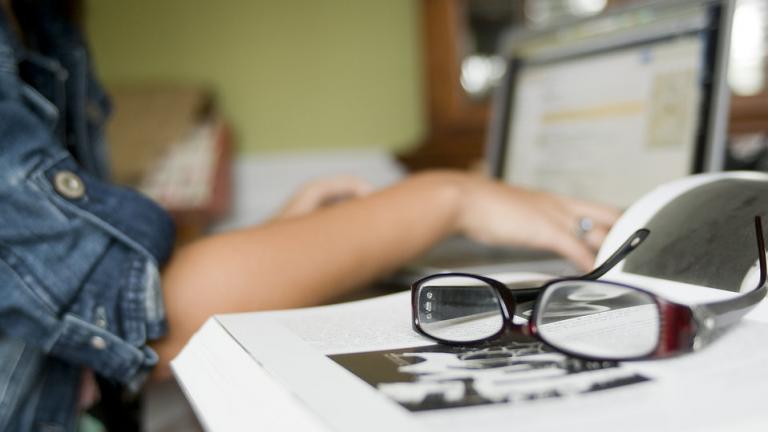 CPS Inspector General Report Highlights Cheating for Selective Enrollment
Jan. 4: An annual report from CPS Inspector General Nick Schuler cites numerous cases of students who live in Chicago suburbs enrolling in the city's elite selective enrollment schools.
---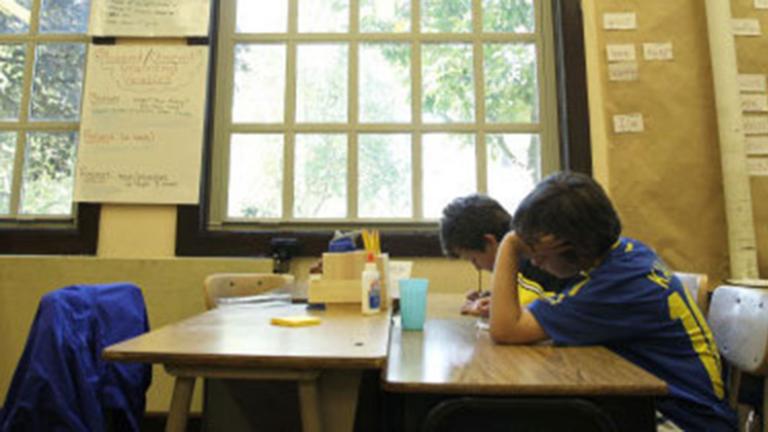 New Racial Divide for CPS?
April 29, 2015: We take a detailed look at Chicago's selective enrollment schools, their impact and their effect on racial diversity in the schools.
---