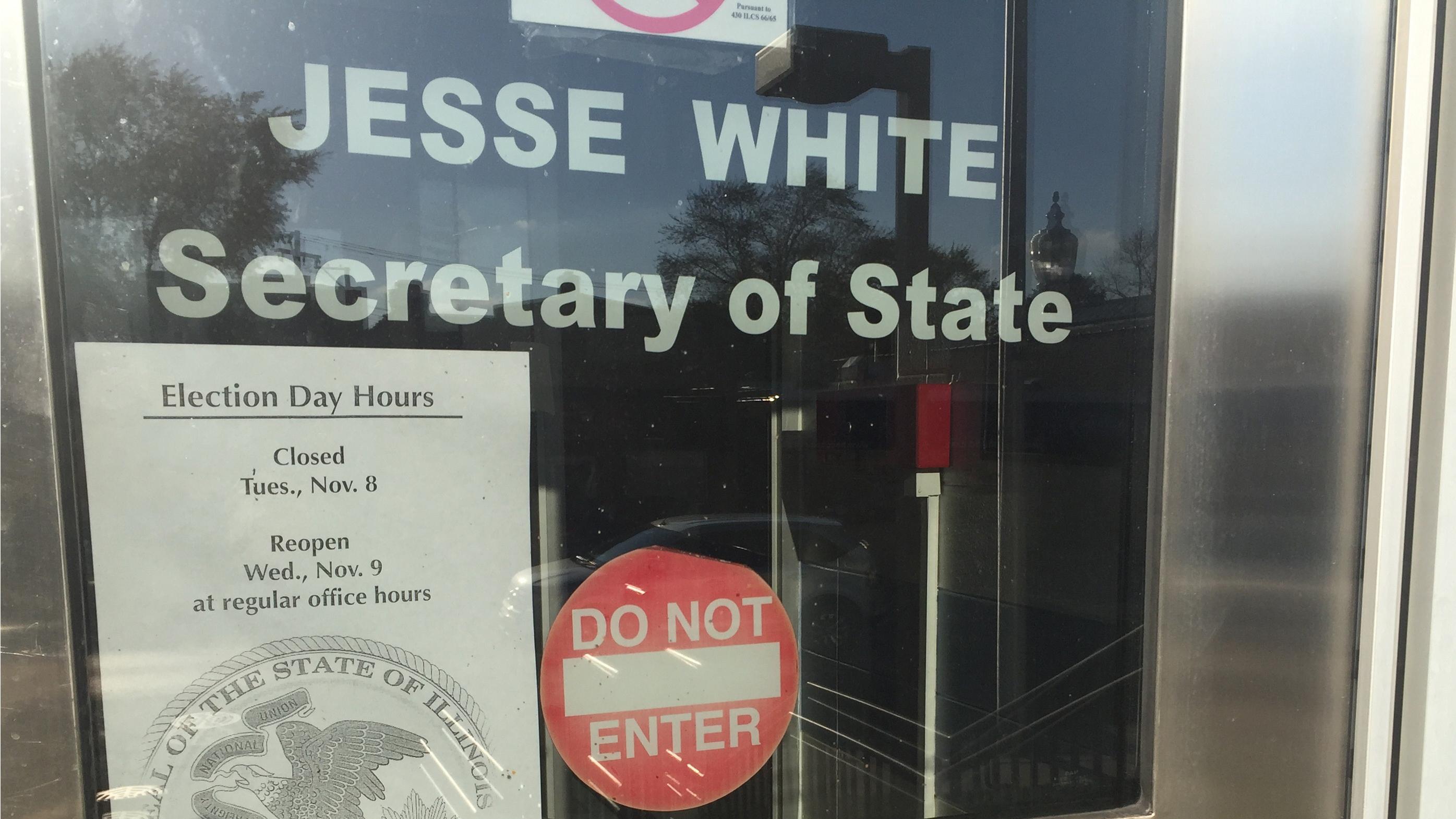 A sign at the Chicago North Secretary of State Facility, located at 5401 N. Elston Ave., announces the office is closed until Wednesday. (Paris Schutz / Chicago Tonight)
Outside of the Chicago Diversey Express Illinois Secretary of State facility, a disappointed customer looking to get his driver's license renewed noticed a sign that read: "Closed Tues., Nov. 8. Reopen Wed., Nov. 9 at regular office hours."  
All Illinois Secretary of State Offices and most other state government agencies are closed Tuesday, as Illinois recognizes Election Day as one of 13 paid holidays that workers receive throughout the year. The state formally declared Election Day a holiday in 1943, but it's not entirely clear why. But observers believe the reason is rather obvious.
"I assume it's because state employees are out in precincts doing election-related work, getting people out to polls and such," said University of Illinois at Chicago professor and government watchdog Dick Simpson.
Ted Dabrowksi of the Illinois Policy Institute, a libertarian-leaning think tank, agrees, and says it's a holiday that public sector unions negotiated into their collective bargaining contracts.
"Ninety-six percent of the state workforce is part of public sector unions, and unions are quite engaged in helping get legislative candidates elected that will do the best for the public sector unions," Dabrowski said. "It's not surprising that in the public sector they do get that day off, and in the private sector, most people are required to work."
The Policy Institute cites a 2016 report from the Council of State Governments that says that Illinois is one of only 12 states that observes Election Day as a holiday. Anders Lindall, a spokesperson for the American Federation of State and Municipal Employees, says that the state declared the general election a holiday long before collective bargaining came along.
Certain state employees, like university professors and administrators, are working Tuesday. All public and private schools are in session as well.
"It would be less questionable if this were a true state holiday, like Columbus Day, where all employees, including teachers, got the day off," Simpson said. "That would make more sense than just making it a holiday for certain state employees. I've never really heard of any other holiday like that."
City of Chicago and Cook County offices are all open with normal hours.
There is at least one state office where employees do not have the day off: The Illinois State Board of Elections, which is tasked with aggregating and tabulating all of the election results from the City of Chicago and the state's 102 counties in a timely manner.
Follow Paris Schutz on Twitter: @paschutz
---
More election coverage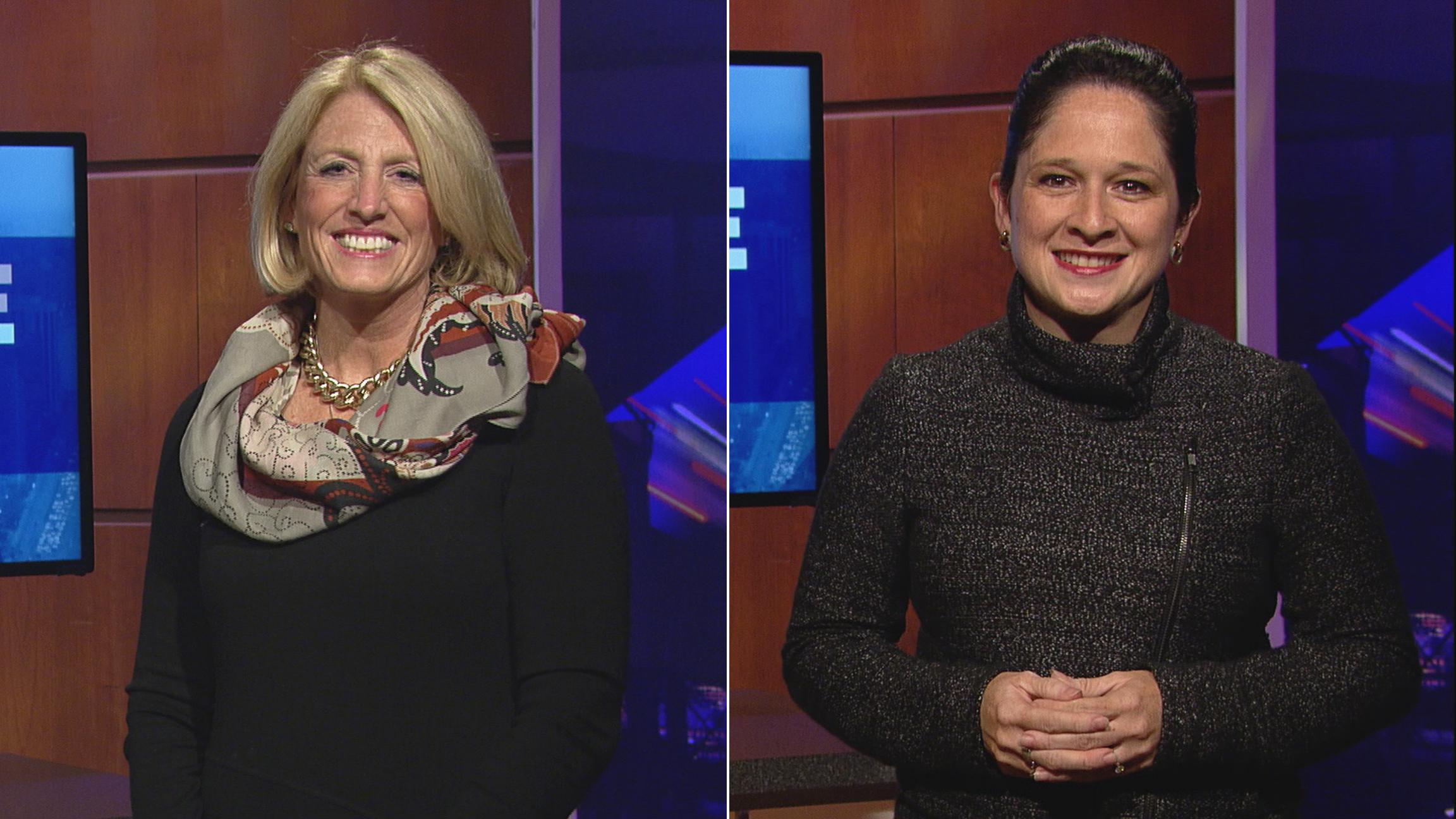 Mendoza, Munger Strive for Independence in Illinois Comptroller Race
Nov. 8: This year's special election for Illinois Comptroller has garnered attention for the perceived battle between two political juggernauts hovering over each candidate.
---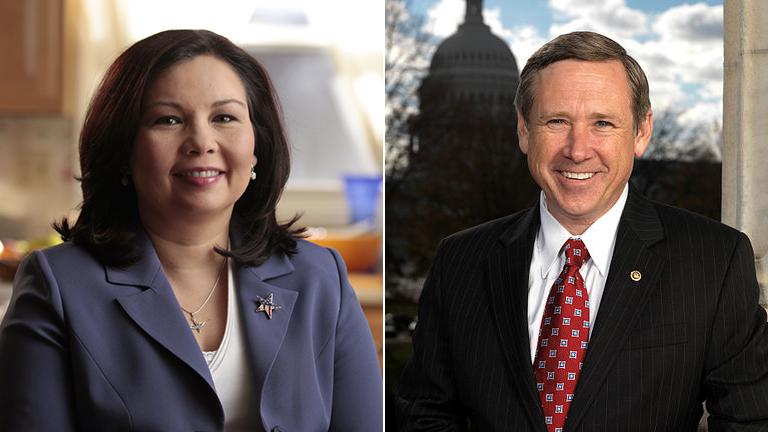 Veterans Issues, Verbal Gaffes Mark Testy Duckworth-Kirk Campaign
Nov. 8: The race for U.S. Senate in Illinois has been a heated affair, thrust into the national spotlight because of its significance in Senate Democrats' efforts to regain a majority and because of a series of verbal miscues.
---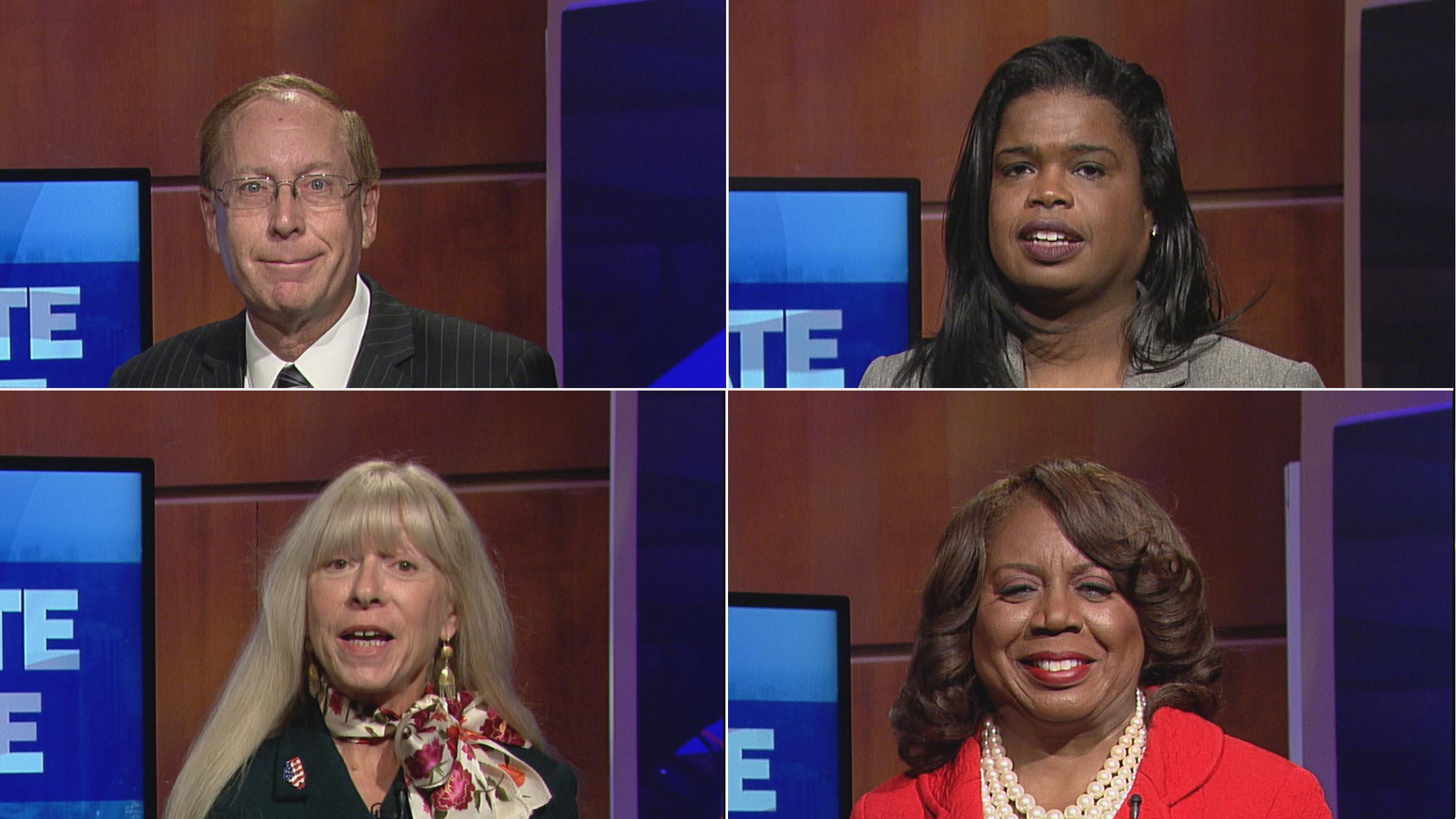 Foxx, Brown Vie for Office as Cook County Referendum Proposes Merger
Nov. 8:  Voters will decide who will serve as the next Cook County State's Attorney, Clerk of the Circuit Court and whether or not the offices of Cook County Clerk and Recorder of Deeds should be merged by 2020.
---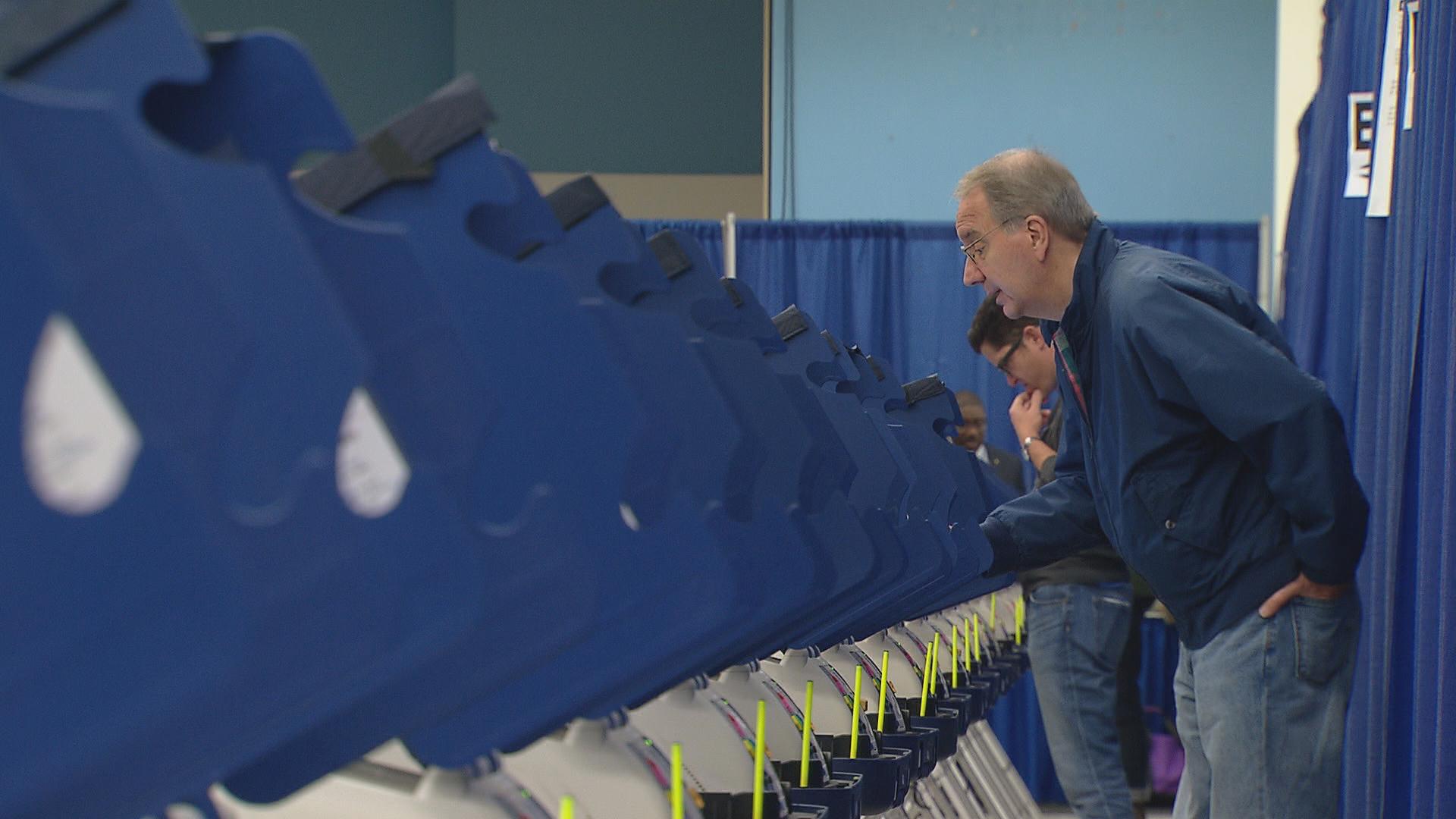 Early Voting Strong in Chicago, Suburban Cook County
Nov. 7: Early voting in Chicago and suburban Cook County entered its final day on Monday with more than 285,000 votes already cast in the city and nearly 400,000 additional ballots cast or mailed in from 30 surrounding townships
---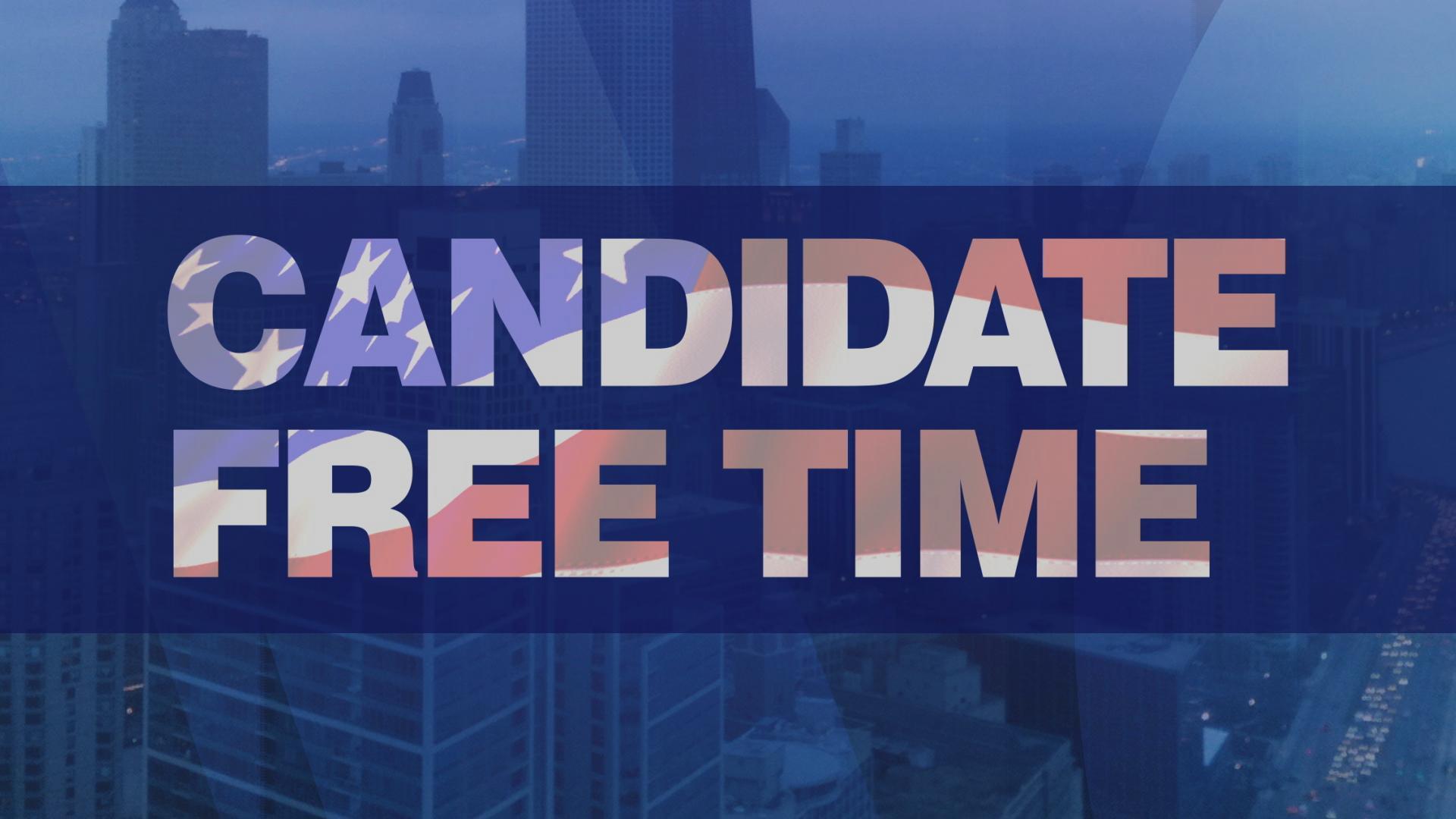 2016 Voters' Guide to the General Election
This WTTW guide is an online resource designed to inform voters about the candidates running for office in the Nov. 8 election. Learn more.
---