Since its opening in June of last year, Chicago's 606 trail has experienced a few security and upkeep issues but overall it's regarded as a design and greenway triumph.
The nearly 3-mile path has become a favorite for pedestrians and commuters on bikes and now one alderman wants that success to come to his ward. However, the plan to extend the 606 faces some significant funding, engineering and logistical challenges. 
TRANSCRIPT
Eddie Arruza: On an average day, around 2,000 people bike, stroll or just hang out and enjoy the 606 trail. It's as much an urban green space as it is a commuter route. The 2.7-mile trail spans Humboldt Park to Bucktown and comes to a dead end at Ashland Avenue. But could it kept going farther east toward Lincoln Park?
Ald. Brian Hopkins (2nd Ward): If we can do that, we can create a much better transit corridor for commuting, for recreation, and more people will have access to the trail.
Arruza: Second Ward Alderman Brian Hopkins is leading a campaign to extend the 606 into his ward – something that would have been undoable as recently as a year ago. But the demolition of the old Finkl Steel site near Cortland and Elston has opened up opportunities for a wide range of new ideas. And Ald. Hopkins' bold 606 extension plan is one idea he is seriously pushing.
Hopkins: If we can span the Kennedy, the Metra tracks and the Chicago River – if we can do that and overcome the engineering challenges – the sky is the limit from that point forward. We can get downtown to the Loop.
Arruza: But all of that is a very big if. Ald. Hopkins' office has created this rendering of a possible 606 extension.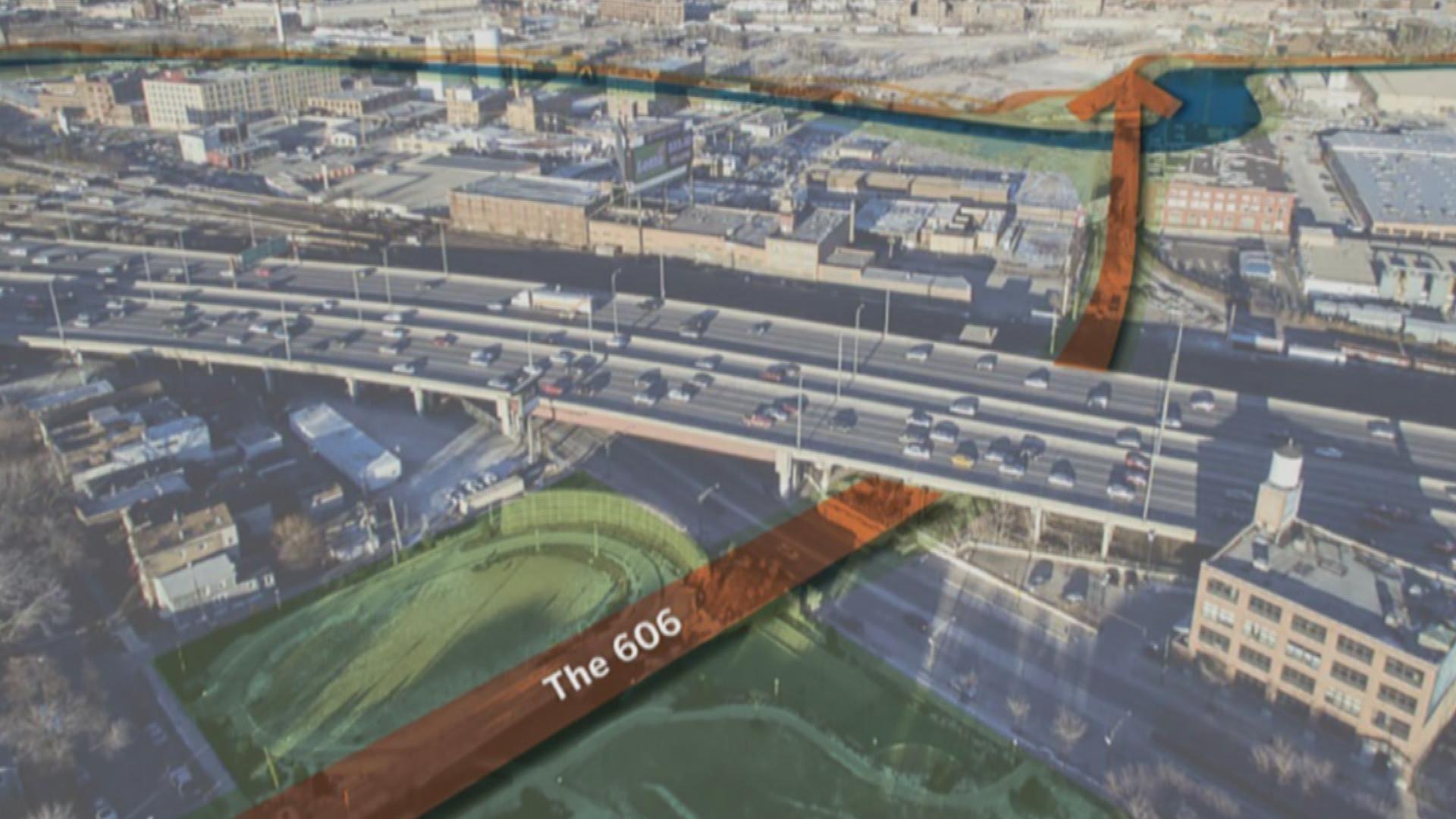 Their proposal requires a bridge over Ashland Avenue leading under the Kennedy Expressway. Immediately on the other side are Metra lines. But the plan is unclear whether that path would go under or over those commuter rail lines or be at grade, which would require gates and lights for pedestrians. And then the trail hits old freight rail lines which are largely obsolete but still spoken for.
One of the many challenges in any extension of the 606 will be in getting the right-of-way to these rail tracks, which are still owned by the Iowa Pacific railroad. The alderman says even though they haven't been used for over a year, he will encourage the city to do whatever it takes to get ahold of this property.
Then there's the historic 1899 Bobtail swing bridge which spans the north branch of the river. With commercial and recreational river traffic increasing, the still functioning bridge would need to be opened at times, requiring a manned control shack unless it could be automated. But Ald. Hopkins is taking Daniel Burnham's famous quote to heart and making no little plans. He also makes no bones about wanting the benefits that trail has generated on the other side of the river.
Hopkins: When you factor in the 80,000 people who live within a very brief walk of that trail and the success that that trail has enjoyed – the property values that have increased, the neighborhoods that have transformed to have become highly desirable places to live.
Arruza: One other big unknown is what the next owner and developer of the former Finkl site will do with the valuable 28-acre property. The proposed extension would run along the property's southern edge. It's all zoned as a Planned Manufacturing District and Lincoln Park residents have been very vocal about wanting infrastructure and transportation improvements before any commercial or residential zoning is allowed on the site.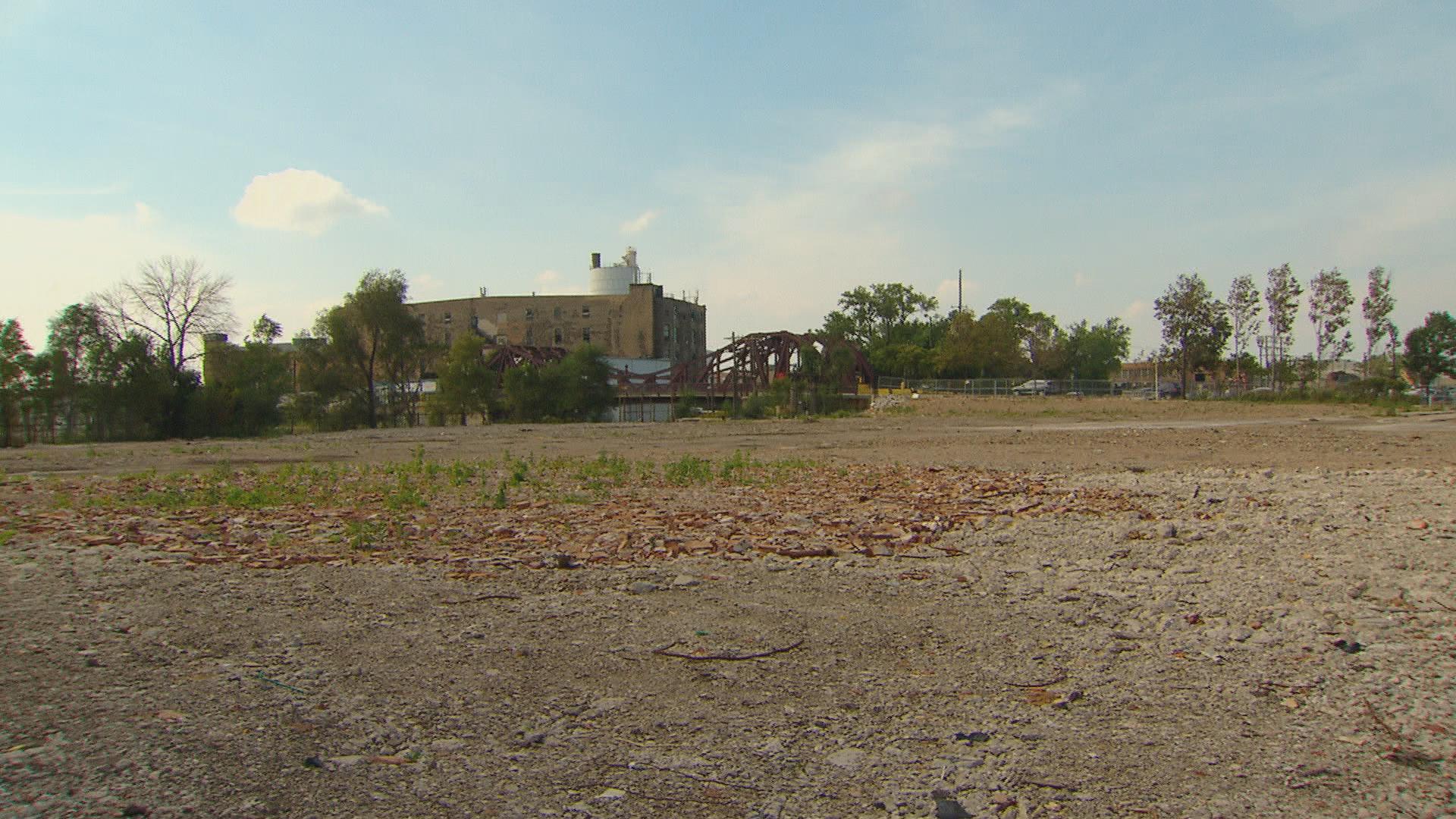 The alderman says the 606 extension would resolve some transportation concerns by creating a pedestrian and bicycling link to nearby Clybourn Avenue and then on to downtown. As for the dollar amount, Ald. Hopkins doesn't have one, but says he knows several ways to pay for it.
Hopkins: The property tax revenue that it will generate will be significantly higher than what's here. In many cases it's parcels of land that haven't paid a high property tax bill in a very long time – industrial land is taxed at a much lower rate and some of the land is actually owned by the city so it pays no property taxes at all. So this area fully redeveloped is going to generate significant revenues to the city of Chicago.
Arruza: The alderman admits some other tax dollars would likely be needed along with private contributions. But there are also federal funds available, designed for the kind of trails that reduce vehicle traffic.
The current 606 took 10 years to make possible. The proposed extension would seem to be a natural add on. But for the time being, it's a great big dream waiting to come true.
---
More on this story
Chicago-based developer Sterling Bay has reportedly been in talks with the owners of Finkl Steel to purchase the property. So far, no word on any sale agreement.
---
Related stories: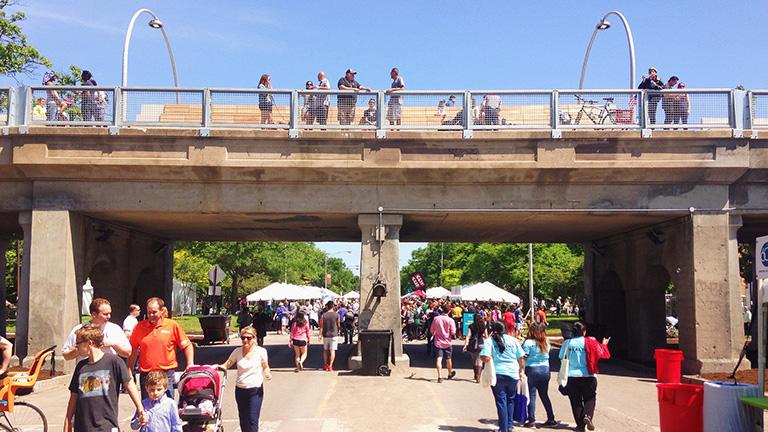 Rush Hour March Along the 606 to Protest Gentrification
May 17: Walkers, runners and cyclists may see a foot-traffic jam along the popular 606 trail during Tuesday evening rush hour. A group plans to march along the trail in protest of gentrification, saying it "destroys communities."
---
June 4, 2015: This Saturday, The 606 park and trail system will officially open. Chicago Tribune Pulitzer prize-winning architectural critic Blair Kamin shares his thoughts about the trail ahead of its opening.
---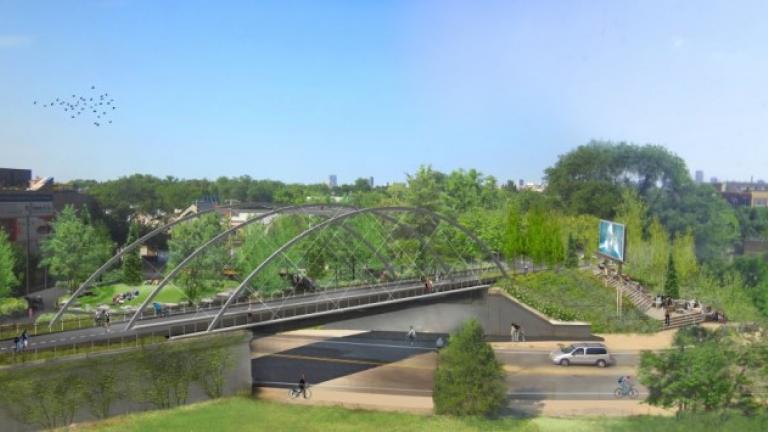 Construction Nearly Complete on The 606
March 25, 2015: Construction on the long-awaited "606" elevated bike trail is nearing the finish line. We get a sneak preview.
---