Why is the financially strapped Chicago State University on the South Side parting ways with its president, Thomas Calhoun, after only nine months on the job? It's a question that students, faculty and even some of the state's top politicians are asking Thursday. Some students and teachers allege the decision boils down to political patronage, and could have dramatic effects on the future of the school that has a history of such issues.
Faculty members say Calhoun's hands were tied when he was hired. The board of trustees created a four-person management team that consisted of Calhoun and three other administrators that would make all the administrative decisions. The professors we spoke to say those other administrators are close with the trustees and with the university's former president, Wayne Watson – whose own tenure was marked by scandal, but who was being paid severance and is currently on the board. They believe Watson and other trustees wanted to call the hiring and spending shots, and that Calhoun suffered from one fatal flaw.
"He's not politically connected in Chicago, and that's part of the problem," said Faculty Union President Robert Bionaz. "His idea of how to run the university was very different from the board's idea, and different from Watson's and the holdovers from the Watson administration. This is a very bright guy, very ethical guy that had some good ideas, but the board has never given him an opportunity to do the job he was hired to do."
One lawmaker close to the school, state Sen. Donne Trotter (D-Chicago) disagrees. He says the president and the board simply didn't see eye to eye, and that Calhoun couldn't handle the fact that the school was running out of money.
"They need a so-called 'war time' president, given the state of affairs, and that wasn't Calhoun," Trotter said.
The state budget impasse almost forced the school to shut down earlier this year until it received $20 million from a stopgap agreement signed by Gov. Bruce Rauner.
Students on Thursday said they're upset that they were left out of the decision, and that Calhoun was popular on campus.
"There are a lot of questions that need to be answered from the board and President Calhoun himself," said Chicago State junior Christopher Glenn.
"We went through the process of a selection, a presidential committee search, and we overwhelmingly loved that president," said Chicago State senior Darren Martin, who is student body president. "And with him gone the first term into a new year, it scares us."
"He stuck up for the students, and I felt like the board should've given students the opportunity to vote on whether we wanted him to stay or not," said graduate student Sanora McCray. "I feel like the board should be let go because they did a very distasteful move."
Sources at the school say Calhoun's severance could be worth as much as $600,000. Consider this at a school that was so hard up for money, it sent layoff notices to every single faculty member last semester.
Rauner on Thursday expressed frustration at the thought of a potential severance payout, and says he will have the power to appoint four new board members to the school in January.
"Chicago State is a very important institution, I'd like to see them do well, but in the past, for many years, they've had management problems and they've had significant financial difficulties, and I'd like to see them better run," Rauner said. "We don't have that many taxpayer resources to go around, and you hate to see a lot of money going out for non-productive uses, the money should be in the classrooms and with the teachers, so we'll have to assess that."
Meanwhile, Bionaz says a large severance agreement would be bad PR for a school that gets its fair share of it.
"Obviously if Calhoun receives a large severance package, that's going to be a situation that we're paying two presidents for as long as that severance goes," Bionaz said. "It's indefensible. We whine about financial exigency and yet we can throw away $1.6 million on severance to administrators, we can give the departing president $600,000, and then we can pay another president $600,000 for that time period, we're going to spend $2 million."
The board members will have a public meeting Friday in which they are expected to discuss the terms of the separation and an interim president. The board of trustees declined our requests on Thursday to speak to them about the situation.
Follow Paris Schutz on Twitter: @paschutz
---
Related stories: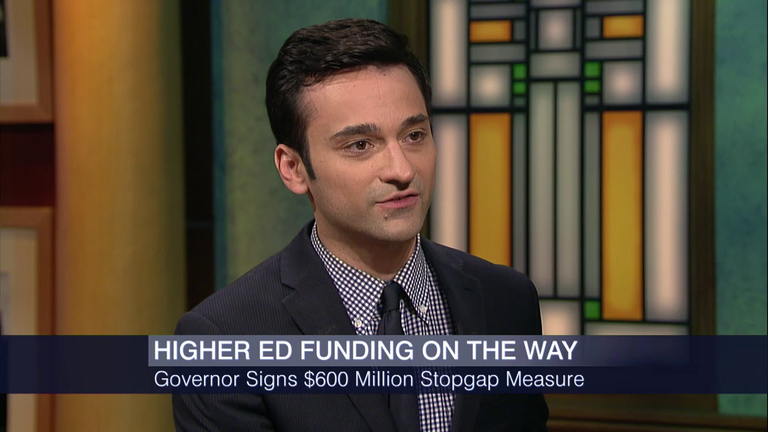 Governor Rauner Signs Legislation to Fund Higher Education
April 25: Gov. Bruce Rauner approves emergency funding for higher education in Illinois. But is it enough to keep Chicago State University and others afloat?
---
Chicago State University Faces Closure Over Budget Impasse
March 30: It has already cut its school year short and is now warning of hundreds of layoffs. Chicago State University's chancellor says the school is in shock because the state budget stalemate has starved it of funding. But is the 150-year-old school in danger of closing?
---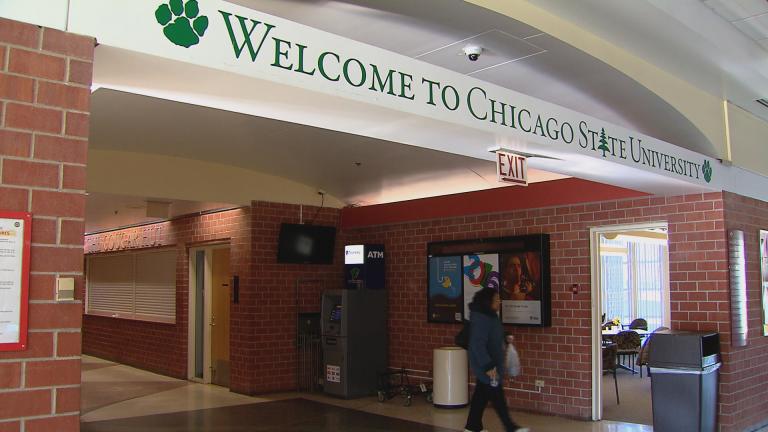 Chicago State University President on School's Financial Crisis
Feb. 16: Amid the budget stalemate, many public universities have been operating without funding from the state. Chicago State University has gone most of the fiscal year without a third of its budget. CSU President Thomas Calhoun Jr. tells us what's at stake.
---