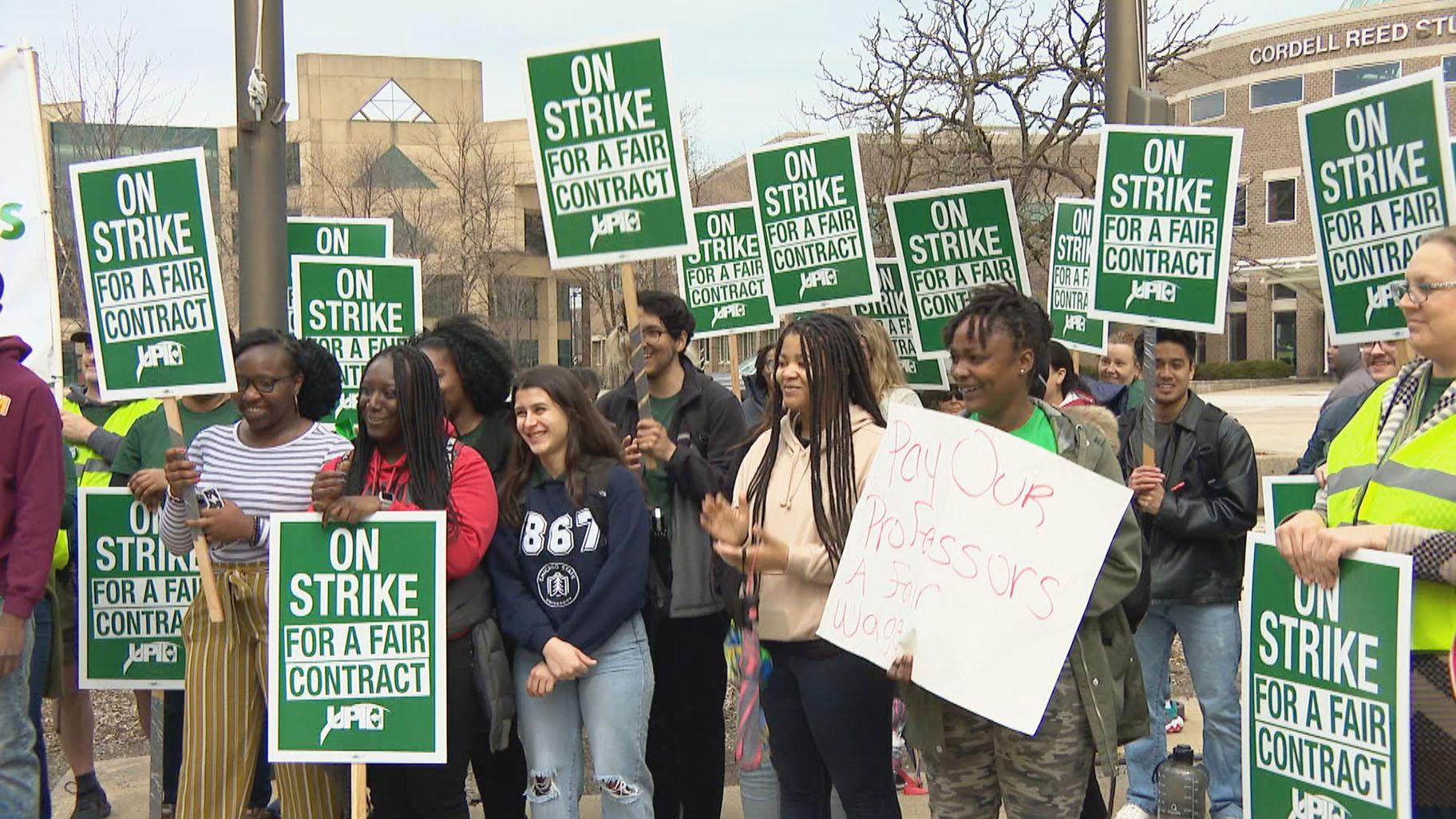 Striking Chicago State University faculty members hold signs outside the school on April 10, 2023. (WTTW News)
Chicago State University faculty and staff on Monday entered a second week at the picket lines as Chicago Mayor-elect Brandon Johnson stopped by to offer support to union workers as they continue contract negotiations over increased pay and reduced workloads.
Chicago State faculty union representatives and university administration had a negotiation session on Saturday without coming to a full agreement. Another session was being held Monday afternoon.
While the Chicago State strike continues, faculty and staff at south suburban Governors State University are preparing to go on strike and instructors at Eastern Illinois University continue a work stoppage that began last week.
"Our members are ready to go back into the classroom to be with our students so that we can do the work on behalf of our students," said Valerie Goss, president of the Chicago State University chapter of the University Professionals of Illinois (CSU UPI), the union representing the school's faculty.
A Chicago State spokesperson said in a statement that the school's administration and the union exchanged proposals during the negotiation session on Saturday, which was facilitated by a federal mediator. The university says both parties reached nine tentative agreements from the union's demand package and that four issues remain. 
"Throughout the negotiation process, the University has considered the concerns of the faculty and has made great strides to address those concerns. Resolution of the issues must be within the constraints of the University's financial position," the university statement reads.
Johnson visited Chicago State faculty and staff who were picketing Monday at the school in a show of support and solidarity.
"That's what this movement is about," Johnson said to faculty and staff in a video posted by CSU UPI's Twitter account. "To make sure you all are protected in the work that you do and the people who rely upon you have the support and resources that they need."
Governors State University and Eastern Illinois University union representatives say they are also negotiating for better compensation and adjustments in workload.
Faculty and staff at Eastern Illinois University have been on strike since Thursday. Faculty and staff at Governors State University in south suburban University Park plan to strike Tuesday.
"Unfortunately, despite the amount of movement we have made, UPI leadership has decided to move forward with taking faculty out on strike," said Governors State University President Cheryl F. Green in a statement. 
Governors State University's next negotiation session is scheduled for Wednesday. 
Eastern Illinois University faculty and the university administration have been negotiating a contract since last year, which has since expired.
"This has not been an easy decision for the members of the union that I represent to decide to strike," said Jennifer Stringfellow, Eastern Illinois University's UPI chapter president. "[Administation] are making a conscious choice not to respect and value the contribution that we make, not only to Eastern as a university but to the lives of the young people who come here as students."
Eastern Illinois University's next negotiation session is Tuesday. 
Union chapter representatives from all three universities plan on speaking at a press conference Tuesday at Governors State, along with other scheduled speakers, including Chicago Teachers Union President Stacy Davis Gates.
---