Xian Franzinger Barrett, a former CPS educator laid off from three schools in six years, stands in his unborn daughter's nursery at his South Lawndale home. (Matt Masterson / Chicago Tonight)
"Good afternoon," said Xian Franzinger Barrett softly as he took the microphone at a Chicago Board of Education meeting late last month. "I'm here because I built nationally recognized programs. People come from around the country to see how students learn to read and write and actually do work in my classrooms.
"And this is the third time you've destroyed the program and laid me off."
Franzinger Barrett, 38, was one of 55 public speakers who signed up to comment at the meeting that day. At 7:20 p.m. on Aug. 5, the writing and social studies teacher at Brighton Park Elementary on Chicago's Southwest Side learned he was among the 1,000-plus educators and support staff laid off by Chicago Public Schools. The notice came just a month before the start of the 2016-17 school year.
The Chinese-American educator now finds himself on the job hunt for the third time in six years. He was previously let go after four years teaching Japanese language at Julian High School and again after two years at Gage Park High School.
Though the specifics have changed from firing to firing, Franzinger Barrett said they are all basically the same – a phone call made, a script read and a teacher out of a job.
"The first two times I was laid off they misread my file," he told Chicago Tonight during a sit-down interview inside his South Lawnsdale home. "So they actually called my mother and laid her off because they called the emergency contact instead of my own number."
A graduate of the University of Illinois, Franzinger Barrett began his teaching career in 2000 working in Japanese public schools before moving back stateside to his parents' hometown of Chicago.
He began working within CPS in 2006. Two years later he was a recipient of the district's DRIVE award, recognizing "teaching excellence and exceptional performance." In fall 2009, he was among a dozen educators nationwide selected for a teaching ambassador fellowship, advising the U.S. Department of Education on policy and student needs.
But by the start of the following school year, he had received his first pink slip, ending his time at Julian.
"It kind of makes me mad," said Jarrell Scott Barnes, a 2006 Julian student who remains in contact with his former teacher. "For me, going into CPS – you know, public school – and going to Julian and going to Bogan (High School), I see a lot of teachers that just (don't) want to teach, just afraid to teach due to the circumstances and where they're at. But Mr. Barrett was that one variant that would try to help, so it kind of sucks that he has to go through all these hoops."
Unable to find another teaching position before the new year began, Franzinger Barrett instead spent that time working as the political director for the Chicago Teachers Union before he was hired as a world studies teacher at Gage Park for the 2011-2012 school year.
Two years later, another pink slip, another year out of the classroom – this time spent working as a policy director for a Chicago-based nonprofit, New Voice Strategies – and, eventually, another job teaching social studies and writing at Brighton Park in 2014.
This time around, Franzinger Barrett said he was given notice by his principal during the school year that he could soon be out of a job. Despite a brief reprieve when it appeared the school could have enough money to keep funding his position, in early August, for the third time, he got "the call."
"She said 'I'm required by my boss to read this script, I think that's inhumane, so I'm just going to tell you what's going on,'" Franzinger Barrett said, reminiscing about the call he received from his principal informing him of his latest firing. "As much as I tried to appreciate that, I think it's hard to pull humanity out of an inhumane action. It's hard."
A 'Normal Process'
On Friday, Aug. 5, Chicago Public Schools announced it had laid off 494 teachers and 492 support staff in an email slugged "CPS' annual staffing changes today." Those numbers were later updated to show 508 teachers and 521 support staff had been let go as part of the "normal process" of school planning, district Communications Director Emily Bittner said in the email.
Along with Franzinger Barrett, three other teachers were let go from Brighton Park, which the district estimates will see a 6-percent drop in its enrollment between 2015-16 and 2016-17.
CPS has pointed to declining enrollment and vacant positions at other schools as the main catalysts for the layoffs. But the number of firings and student enrollment patterns have not appeared to fit that pattern across the board.
In her email, Bittner said this round of layoffs was actually the second smallest in the last six years.
"CPS principals continue to do exemplary work protecting their classrooms so that they can build on the remarkable academic progress their students are making," she wrote in the email. "Today's staffing changes are part of the normal process of school planning, and there are more vacant positions in the district than staff that will be impacted today, with roughly 1,000 teaching vacancies to be filled."
CTU officials said Tuesday the union will call on those positions to be restored as part of their ongoing contract negotiations with the district.
Only 3 percent of CPS teachers were impacted by the layoffs, according to district data, while 273 schools across the city saw no staffing impacts. In years past, approximately 60 percent of fired teachers had been rehired into full-time CPS positions, while another 26 percent went on to work as substitutes. This year's figures have not yet been made available by CPS.

"Each time it's a little harder to believe that it'll work again."
–Xian Franzinger Barrett
---
In conversations with his fellow laid-off teachers, Franzinger Barrett says he's found a sense that, even if re-hired, it could be difficult for some to step in and "go 100" in building a new program knowing it's possible they can be fired again regardless of performance.
"Mechanically I'm capable, but we all have our own challenges," he said. "For me, I'm an introvert; I have my own social anxiety and everything like that. Each time it's a little harder to believe that it'll work again … You wonder if what you built is irreplaceable and will never happen again."
The district held a trio of job fairs for teachers throughout August. But as the 2016-17 school year begins, it remains unclear how many of those 1,000 educators and support personnel have been re-hired by the district.
'There Haven't Been Any Near Misses'
The Chicago Board of Education unanimously approved CPS' $5.4 billion budget for the upcoming fiscal year during its meeting Aug. 24. That total is $230 million below what was approved in 2016 and nearly $300 million less than the district's 2015 budget.
During his comments, Franzinger Barrett told board members he had already applied to 30 district jobs, but had not yet received a single call back.
Franzinger Barrett shakes hands with a CPS security guard trying to escort him from the podium during the Aug. 24 Chicago Board of Education meeting. (Chicago Public Schools)
"I'm not as optimistic this time … There haven't really been any near-misses," he said from his home nearly a week after the meeting. "It feels different than in the past when I'll go in and take over an interview and paint for them the future of what a program at the school could be like …
"I know how to build a program, I know how to get kids learning far beyond what people can conceive. There's just no interest in it, in the conversations I've had. And that's hard."
One issue, he believes, is that principals and administrators are doing what they can to staff schools under constantly shrinking budgets, and that means veteran teachers who cost more – particularly those of color – are more often finding themselves on the outside looking in.
The average CPS teacher salary is just north of $70,000, according to district figures.
Franzinger Barrett also opposes Illinois' student-based budgeting system, which he said gives principals the illusion of freedom in their staffing picks. But with funds becoming more and more scarce, administrators are forced into cost-saving decisions instead of hiring their top candidates.
"I have a lot of conversations, you know, interviews, conversations at job fairs that start with, 'Well how much experience do you have?'" he said. "And then the second statement from the principal is 'Oh, well we'll get back to you then.'
"I was on those hiring teams with my principal last year and she would literally say to us, 'Well yeah that person seems like the best candidate for us, but do you want to have toilet paper in the building?'"
'I Owe Him Everything'
Markers, highlighters and other school supplies scattered across a kitchen table inside Franzinger Barrett's home. (Matt Masterson / Chicago Tonight)
Outside the classroom, Franzinger Barrett has also been involved in social justice groups at each of his schools and helped organize an annual service trip to New Orleans for the past decade where Chicago students help build homes and plant community gardens.
That's how he met, Erin, a special education teacher who served as a chaperone on the trip in 2013. The two wed the following year, and are expecting their first child – a daughter – in October.
"He really lets his students lead," said Olivia Abrecht, a youth organizer with Brighton Park Neighborhood Council who's worked alongside Franzinger Barrett and his students over the past year. "I think, actually, his most important contribution … is his ability to make students feel comfortable enough to write down really personal experiences and express themselves through creative writing."
It wasn't uncommon to find Franzinger Barrett staying late after school to chat with students on Fridays or heading up meetings on weekends, according to Abrecht. She said students trusted him, and felt comfortable to open up about their personal experiences through creative writing lessons he would lead.
Former student Barnes, 25, now works full-time in Chicago as a stand-up comedian. He credits Franzinger Barrett with helping instill in him the confidence and passion to take the stage as a positive force in the city.
"Mr. Barrett definitely told me, just as far as, use that voice and don't try to sound like anybody else. Be original," he said. "I will always remember him and I will always feel grateful to him, hands down. And I'm not even saying that just to say that. I owe him everything."
Elementary and high school students across Chicago returned to class on Tuesday for the new school year.
Facing the prospect of another school year without a teaching job, Franzinger Barrett still bookmarks articles and types up notes for a mock lesson plan, openly wondering how much longer he'll keep doing do so if he doesn't get the chance to return to a classroom.
"The day-to-day is the best in the world. I can't imagine …" he said, pausing briefly, when asked why he continues seeking employment with CPS. "This time is the first time I could imagine something as rewarding, and that's because I might end up just teaching one child. The child I think will be the most beautiful in the world."
Follow Matt Masterson on Twitter: @ByMattMasterson
---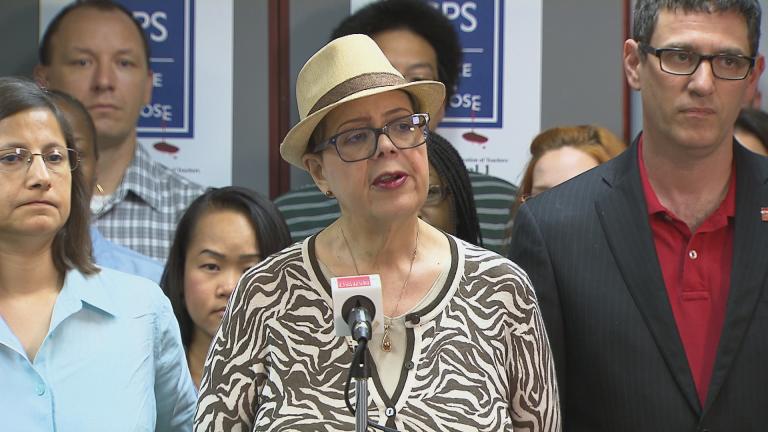 CPS Releases Budget for Coming School Year, Counts on CTU Contract
August 8: Now that Chicago Public Schools has released its budget plans for the coming year, can the district and the Chicago Teachers Union finally nail down a contract agreement?
---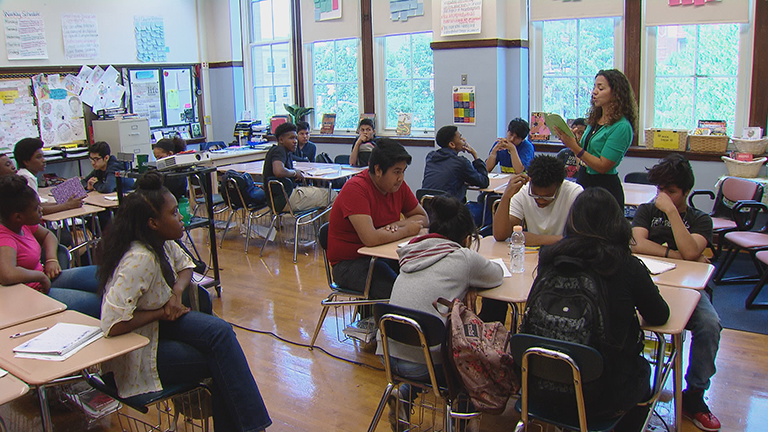 CPS to Cut More Than 1,000 Teaching, Support Staff Positions
August 5: Declining enrollment and vacancies at other schools cited as Chicago Public Schools announces layoffs for hundreds of educators.
---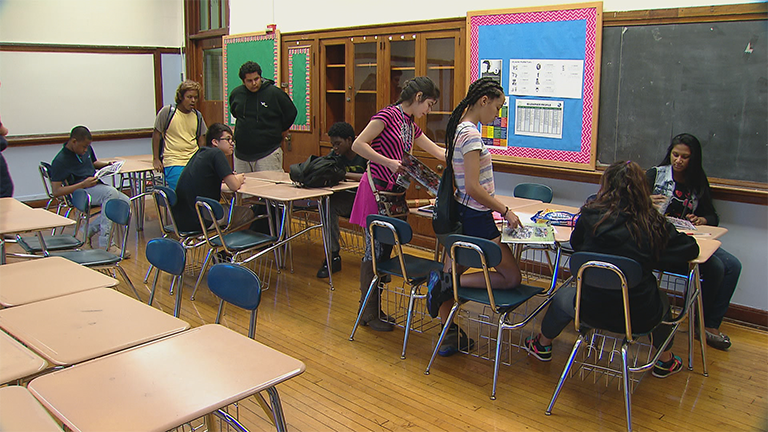 CPS Principals Finally Get Draft Budgets for School Year
July 13: Though the school year has been rife with fiscal crisis, Chicago Public Schools' principals now know that the cuts to their school budgets will not be as deep as threatened in recent months.
---