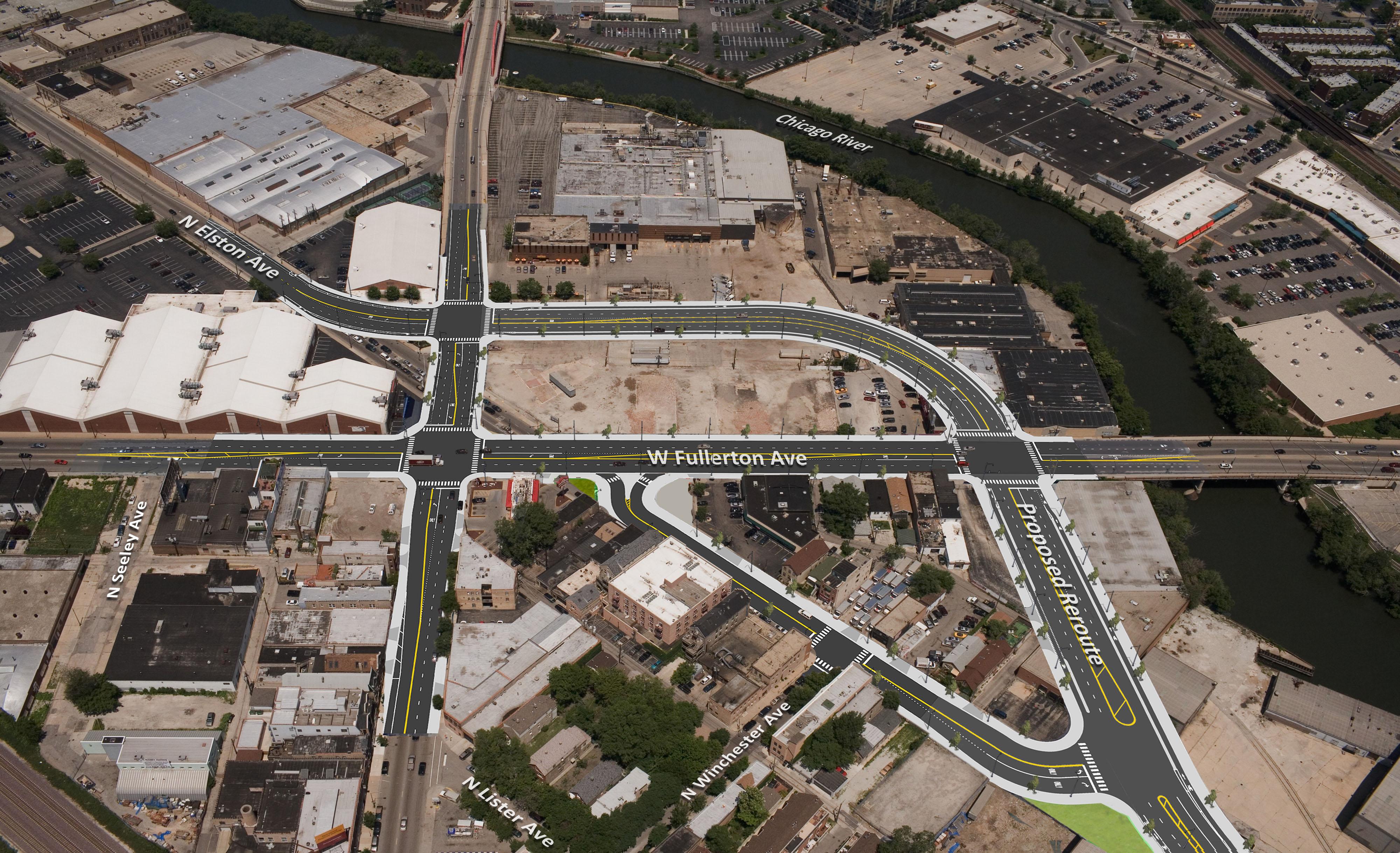 A bird's eye view of the proposed reroute of Elston Avenue. (Credit: Chicago Department of Transportation)
Starting Wednesday, a new section of Elston Avenue, which crosses Fullerton Avenue about a block east of the existing six-way intersection, will open, according to the Chicago Department of Transportation (CDOT). The opening was originally planned for Tuesday but was delayed due to rain in the forecast, according to CDOT.
After the morning rush, traffic on this new stretch of Elston Avenue will be one lane in each direction, rerouting traffic from the intersection of Damen and Fullerton avenues. When complete, this new stretch of Elston Avenue will be two lanes in each direction with a center turn lane and concrete-protected bike lanes on either side.
The two-block stretch of old Elston Avenue (which is located south of Fullerton Avenue) will be renamed Elston Court. Traffic from eastbound Fullerton Avenue will be allowed to turn right onto Elston Court, while northbound vehicles on Elston Court will be only permitted to turn right onto Fullerton, according to CDOT.
Beginning Aug. 22, traffic on Fullerton Avenue between Seeley Avenue and the Chicago River will be reduced to one lane in each direction through November. CDOT says drivers can expect delays in the area until construction is complete in December. (Alternate routes are recommended to avoid delays. CDOT suggests Diversey, Webster and North avenues as east-west alternatives, and Ashland and Clybourn avenues as north-south alternates).
The Damen Elston Fullerton Reconstruction and Realignment Project began in May 2015 to improve traffic flow and safety for pedestrians. Every day around 70,000 vehicles travel through the intersection, which CDOT says has been ranked as one of the top 10 crash locations in the city for more than 20 years.
The project will also widen Damen Avenue to improve bike accommodations, widen the north sidewalk along Fullerton Avenue and the resurfacing of streets within the project limits, according to CDOT.
This article has been updated to reflect the change in opening date of the new section of Elston Avenue.
Follow Kristen Thometz on Twitter: @kristenthometz
---
Related stories: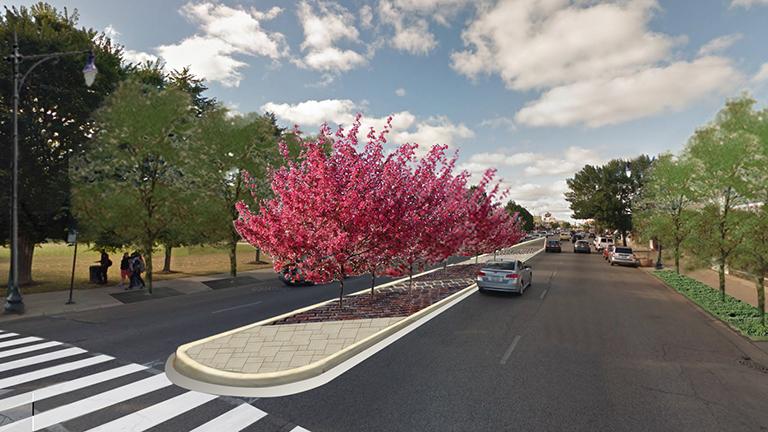 Western Avenue Corridor Project Enters Phase 2
Aug. 8: The second phase of the reconstruction project at the intersection of Western, Belmont and Clybourn avenues begins Monday. Find out what that means for drivers.
---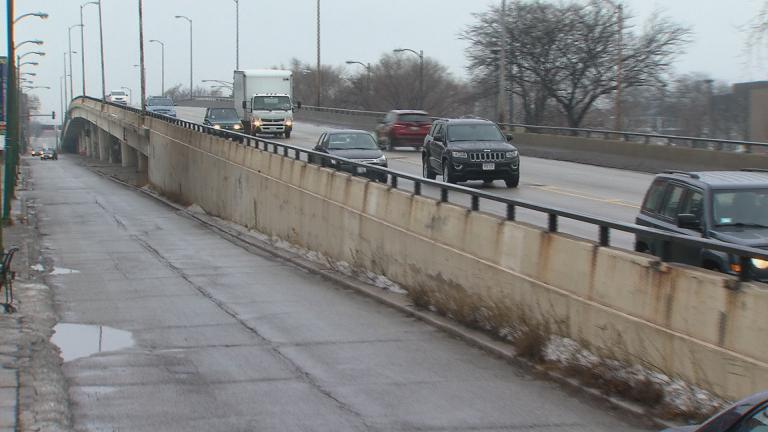 Construction Work Begins on Western-Belmont Viaduct
Feb. 29: A half-century old, much traveled viaduct in Chicago is about to be torn down. But will the plan to replace it really improve traffic conditions?
---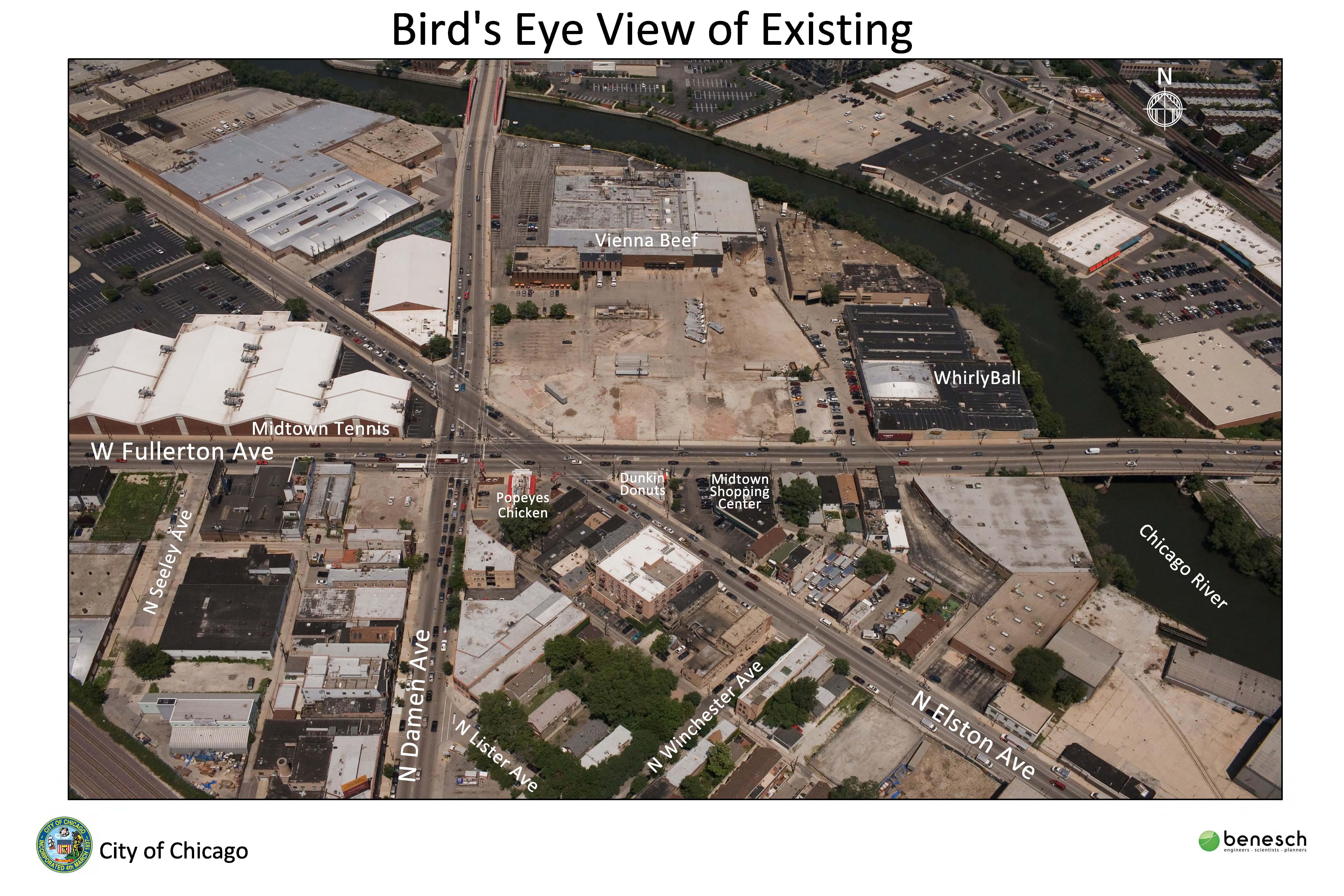 One of Chicago's Worst Intersections Gets Major Makeover
Aug. 12, 2015: Construction is well underway at one of Chicago's most notoriously congested and dangerous intersections: the confluence of Elston, Fullerton and Damen avenues. But the final fix is still well over a year away and the realignment required one iconic Chicago business to get out of the way. 
---