Winter is not quite over in Chicago but that doesn't mean construction season can't begin. And a major road project on the city's North Side is about to get underway.
As of Tuesday, an iconic viaduct on Western Avenue will be closed off as its demolition begins. The city says the project will take about a year and half and will ultimately improve traffic flow. But until then, some traffic headaches may be ahead.
Construction timeline
The viaduct will be permanently closed starting March 1. It will be demolished and replaced with a new at-grade intersection at Western, Belmont and Clybourn and is expected to be completed by summer 2017. Below are the construction stages and approximate timelines from the Chicago Department of Transportation.
Stage 1
The first stage of the project will take five months.
Western Avenue will be reduced to one lane in each direction from George Street to Cornelia Avenue for viaduct demolition and removal, as well as the installation of temporary pavement and river bridge repairs. Access will be maintained to all businesses in the construction zone.
A full-lane closure of Western Avenue will occur Friday, March 4 through Monday, March 7.
During this stage, left-hand turns will not be allowed from Western to cross streets between George and Roscoe streets.
Stages 2-3
The next phases will take approximately eight months to complete. There will be two lanes of traffic in each direction on Western Avenue, while Belmont will be reduced to one lane in each direction at the Western Avenue intersection.
Construction will include roadway installation and rehab, and sidewalk and curb work.
Stages 4-5
There will be two lanes of traffic in each direction on Western and Belmont avenues. Construction will include median work and repaving, and is projected to take four months to complete.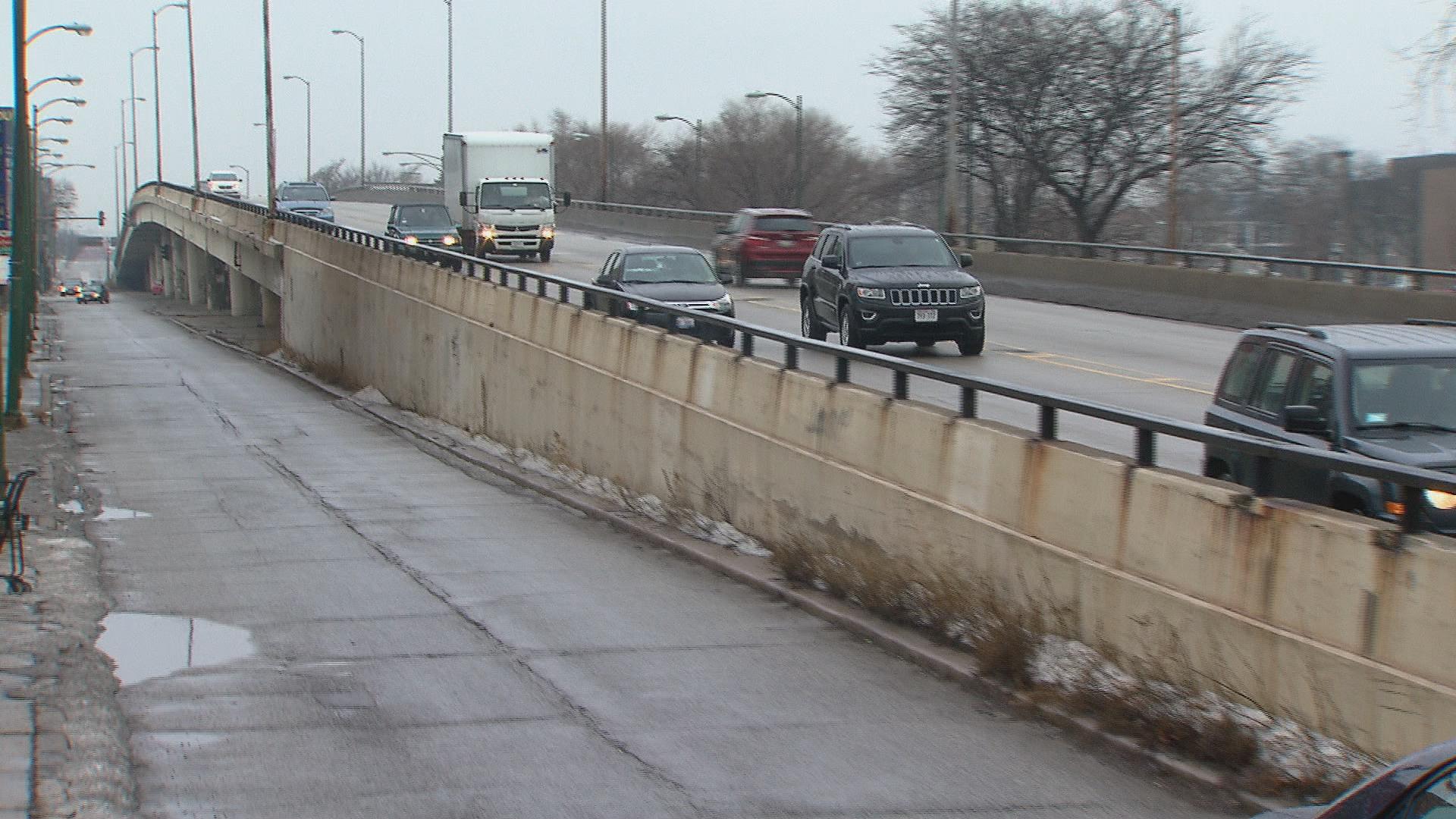 TRANSCRIPT
Eddie Arruza: The warning traffic signs are now up, city work crews are doing the preliminary preparations and in a few weeks, the iconic overpass at Belmont, Western and Clybourn will be only a memory. For half a century the flyover carried tens of thousands of vehicles past a busy intersection every day, but its usefulness, says the city, has come to an end.
Rebekah Scheinfeld Rebekah Scheinfeld, Chicago Department of Transportation Commissioner: This structure is past its useful life. It is one of three such overpasses that were built in the '60s by the city and the other two are already demolished. Those were at Ashland and Pershing, and Ashland and Archer. This is past its useful life and so we need to address it from a structural condition.
EA: And its structural condition is visibly bad, as its concrete crumbles, and the exposed rebar is rusting. For decades the city made only piecemeal repairs to the structure, marginally maintaining a roadway that's been under daily assault by around 50,000 trucks and cars. The city says a new design is needed.
RS: We've determined that with modern design and traffic signal technology we can achieve similar capacity and the same traffic movement through those intersections by using an at-grade street design.
EA: In other words, traffic will be brought back down to earth. The city's plan will recreate the five-way intersection at Belmont, Western and Clybourn. The removal of the viaduct will add lanes around the confluence of the three major streets. To maintain the traffic flow on Western Avenue, the city says traffic signals will be timed to keep vehicles moving along the more than one-mile stretch from just north of Addison Street down to Logan Boulevard. Ald. Scott Waguespack's 32nd Ward covers the eastern half of the viaduct and he's been hearing form his residents.
Ald. Scott Waguespack: Initially, some people were really upset. They looked at it as a time-saving measure. We looked at it as a safety issue and really trying to make it more pedestrian friendly. Yes, we're removing the 15 seconds you might save by flying over the bridge, but looking at improvements from Diversey up Western past Addison.
EA: The viaduct was constructed in the early 1960s. Mayor Richard J. Daley inaugurated it to ease vehicular and pedestrian congestion caused by the adjacent Riverview Park. The viaduct can be seen in the upper right-hand corner in this vintage photo (abover, right) of the beloved amusement park. Riverview closed in 1967, but the overpass lived on. And even back in the day some area residents and businesses considered it something of a very light version of the Berlin Wall—an ugly structure that divided a community.
RS: We'll be reconnecting the fabric of the neighborhood that is currently divided by the wall of that viaduct along Western. There'll be new lighting, wider sidewalks, a planted median.
EA: But more importantly, the city insists the new design will be an improvement of what's there now.
RS: We'll have three lanes of traffic in each direction during the peak and two lanes in the off-peak with a parking lane. So we think this will be better for the community, for economic development, and we'll still be able to move the same number of cars through at similar or faster speeds with our current design standards.
EA: Commenters to a recent DNAinfo story on the city's plan are divided on it. Some are eager to see the viaduct go:
"Demolished and good riddance!"
"Take it down!"
"Kill it with fire!"
But opponents have this to say:
"They need to re-route Clybourn if they go through with this."
"How exactly would traffic 'flow better' by introducing two more flows of cars and trucks into the five street intersection? Only people who don't think critically about anything they are told could believe this."
"Rebuild it. Traffic is bad enough on Western and Belmont as it is. Taking down the viaduct will only make it much worse."
But to rebuild the viaduct, the city says it would need to meet modern construction guidelines that require widening it and that would be more expensive than the current plan. It would also mean a number of businesses and residents would be displaced through eminent domain. The current price tag is $25.5 million—most of it federal and state money, but more than $700,000 in TIF funds has been tapped. The cost includes the purchase of three properties—two of which were vacant. 
One aspect of the project that is unequivocal is that it will cause more than a few traffic headaches throughout its 18-month construction period. For at least nine days during demolition scheduled for next month, the intersection will be closed entirely.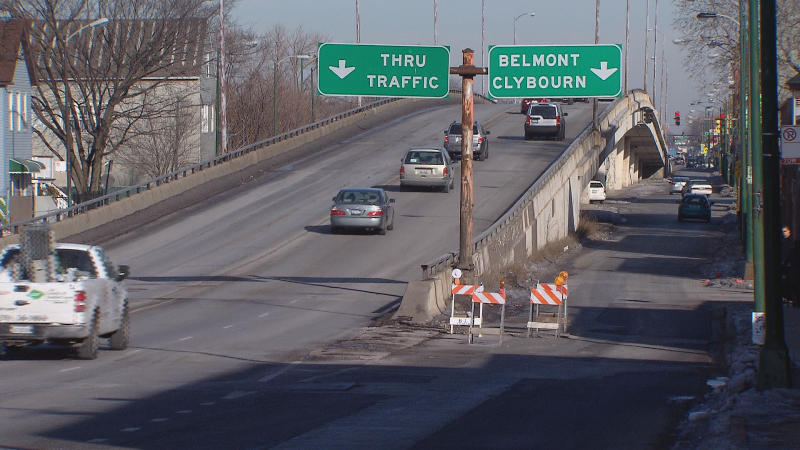 The city says the viaduct, built in the 1960s, is crumbling and no longer meets structural standards.
RS: The first six months we will have one lane of traffic in each direction open at a minimum and then two lanes in each direction for the remainder year of the project, if not three during the rush at some portions of the project. We'll be providing the public with several weeks' notice of the specific date when we'll be closing the viaduct in February, and we'll issue traffic alerts and provide information at the beginning, and throughout the life of the project, through our community engagement process, which works very closely with the three aldermen of the impacted areas.
EA: For the tens of thousands of motorists who travel in and around that area every day, it's a good idea to start developing your alternate plans now.
For "Chicago Tonight," I'm Eddie Arruza.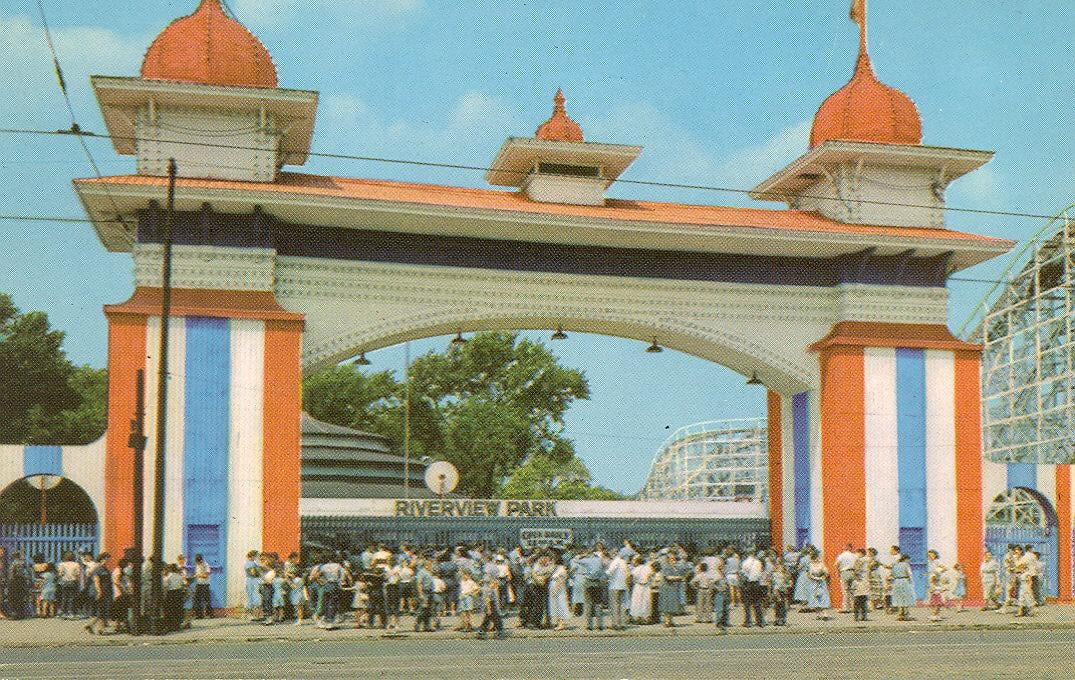 The viaduct was orginally built to ease traffic congestion around Riverview Park, which closed in 1967.
---