On Tuesday, city officials shared the latest plans for road closures, detours and alternate routes in advance of the upcoming NASCAR Street Race, and there's no getting around the fact there will be widespread gridlock.
The two-day race event — a first for both NASCAR and Chicago — is set for July 1-2, coinciding with peak travel time for the July 4 holiday.
"Plan ahead, plan extra time. There will be congestion," said Chris Pettineo, manager of emergency management services in the Office of Emergency Management and Communication.
The most significant closures will affect DuSable Lake Shore Drive, portions of which carry upwards of 150,000 cars daily.
Starting June 28, drivers should expect Southbound Lake Shore Drive to begin a "merging taper" at North Avenue, reducing to one lane at Chicago Avenue and then diverting all cars off at the Grand/Randolph exit. Lanes will reopen for July 4, Pettineo said. 
On July 1, Northbound Lake Shore Drive will narrow to 2 lanes at 47th Street, further shrink to one lane at 31st Street and close at the 1-55 merger.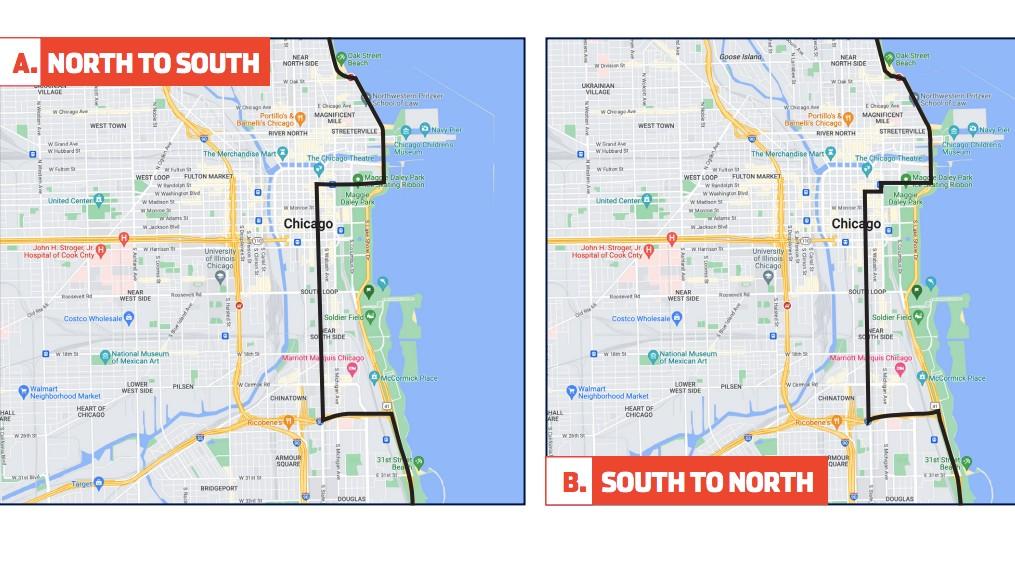 Motorists on DuSable Lake Shore Drive will be rerouted during the NASCAR Street Race. (NASCAR)
The NASCAR street race website has a section for locals, including maps showing detours and alternates for both general travel and specific destinations, such as how to access the Museum Campus.
"We don't want it to be a surprise to anyone," Pettineo said. For the most up-to-the-minute information, he also suggested that people download the Chicago OEMC app.
City departments have been working on the street race plan since August 2022. For the Chicago Department of Transportation, that meant prepping the course itself, which finished ahead of schedule, according to Tom Carney, first deputy commissioner.
NASCAR officials have walked the course — encompassing portions of Columbus Drive, Michigan Avenue and DuSable Lake Shore Drive — and signed off on it, Carney said.
When asked who had paid for the street repairs — NASCAR or the city — Carney said the expense was part of NASCAR's overall agreement with the city and did not elaborate further.
At the same time that the street race will create a temporary pain point on DuSable Lake Shore Drive, an ongoing project on the Kennedy Expressway (I-90/94) — considered an "alternate" route on NASCAR weekend — has been turning daily commutes into marathon slogs. 
Carney said CDOT is in ongoing conversations with the Illinois Department of Transportation regarding potential pauses or adjustments to the Kennedy schedule not only for NASCAR weekend, but other special events and holidays. 
"IDOT has to answer that," he said, regarding the status of those discussions.
According to IDOT spokesperson Maria Castaneda, relief on the Kennedy isn't in the cards.
"During major holidays to help minimize travel disruption, non-emergency closures are suspended, where possible across the state," Castaneda told WTTW News via email. "At this time, IDOT does not have the ability to reopen any lanes on the Kennedy due to the nature of the ongoing repairs being completed as part of the deck rehabilitation project. The lane closures currently in place cannot be safely removed until the work has been fully completed."
Contact Patty Wetli: @pattywetli | (773) 509-5623 |  [email protected]
---