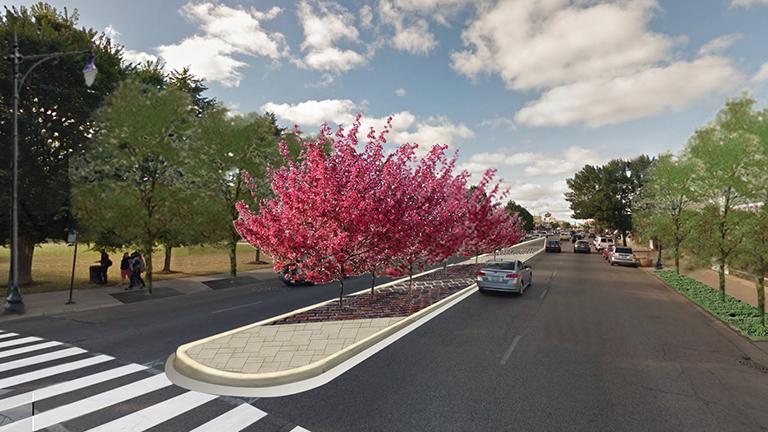 Rendering of what a typical median will look like once the project is completed. (Credit: Chicago Department of Transportation)
The second phase of the reconstruction project at the intersection of Western, Belmont and Clybourn avenues begins Monday. Traffic on Belmont Avenue will be reduced to one lane in both directions through mid-November, according to the Chicago Department of Transportation.
Left turns across Belmont onto Western Avenue will be prohibited, and drivers can expect changing road configurations through November.  
Bus stops on Belmont at Western avenues will not be relocated during this first stage of construction, which includes roadway installation and rehab, as well as sidewalk and curb work. If bus stops are moved, commuters will be notified.
"There will be notification on the buses for folks who ride the Western Avenue bus," said CDOT spokesperson Susan Hofer. "If they move a stop a half a block and you're standing where you thought the stop should be, there'll be a sign that will say go half a block south or north."
For updates on bus stop locations, visit the CTA's website.
Belmont Avenue will reopen to two lanes in both directions within the next six to eight months. By Labor Day, Western Avenue between Nelson and Addison streets will be two lanes in each direction, Hofer said.  
The Western Avenue Improvement Project began in March with the demolition of the Western-Belmont flyover, which was built in the 1960s to ease congestion caused by a local amusement park. The viaduct will be replaced with a five-way at-grade level intersection at Belmont, Western and Clybourn.
The project is on schedule to be completed by summer 2017. 
Follow Kristen Thometz on Twitter: @kristenthometz
---
Sign up for our morning newsletter to get all of our stories delivered to your mailbox each weekday.
---
Related stories: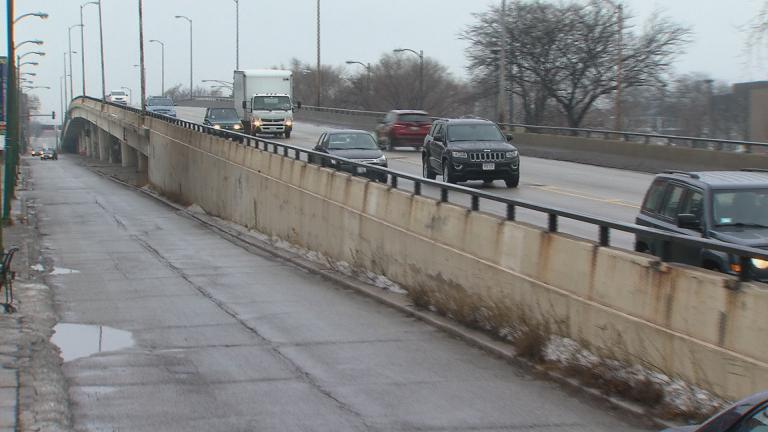 Construction Work Begins on Western-Belmont Viaduct
Feb. 29: A half-century old, much traveled viaduct in Chicago is about to be torn down. But will the plan to replace it really improve traffic conditions?
---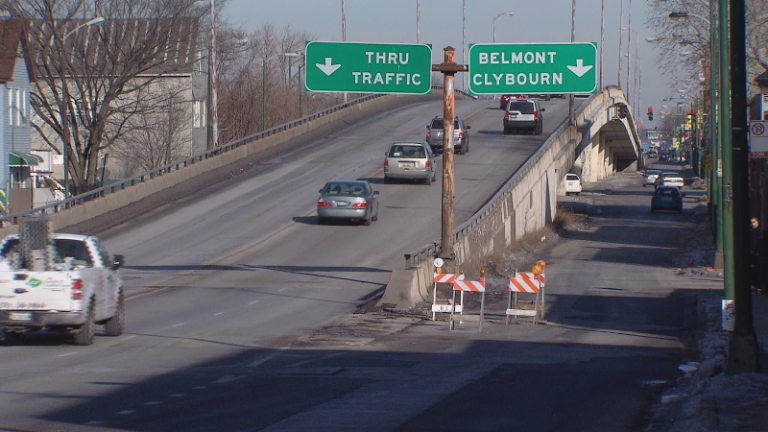 Western-Belmont Flyover to be Demolished
Jan. 11: After several years of delays, CDOT says it will demolish the viaduct at the intersection of Western, Belmont and Clybourn avenues and create a new street-grade roadway. But will the new plan to replace it improve traffic conditions?
---