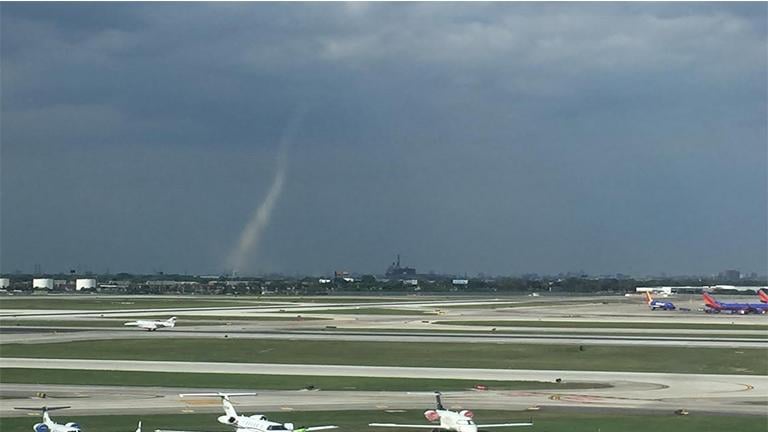 A small tornado appeared briefly Tuesday afternoon just outside Midway Airport. (Courtesy Melanie Harnacke)
The city of Chicago's decadelong streak of tornado-free existence came to an end Tuesday afternoon.
A landspout tornado was spotted just before 4 p.m. north of Midway Airport, according to the National Weather Service, but the tiny twister came and went in only 10 minutes.
"It was really a unique event because all that was in place was a slow moving or nearly stationary lake breeze that was positioned at that time just north of Midway Airport," NWS-Chicago Meteorologist Ricky Castro said. "So you had cumulus clouds, which form on even fair weather days … and in the case of (Tuesday) that just happened to be enough to cause this."
Melanie Harnacke, the FAA's contract observer on duty at Midway Airport, was the first to report the tornado and snapped multiple photos she sent along to the NWS. Based off those and other pictures posted on social media, the NWS believes the approximate location of the tornado was just southeast of the intersection of Ogden and Cicero avenues and Cicero and West 26th Street.
The NWS estimates the tornado began at 3:48 p.m. and dissipated only minutes later at 3:58 p.m. Castro said his department has been in touch with city officials and local businesses in the area, but has not heard reports of any damage, making it difficult to estimate what the twister's wind speeds were.
Based on assessment of photos, if there's any damage from landspout #tornado, approximate area is circled. #ilwx pic.twitter.com/iqqPcnNz3j

— NWS Chicago (@NWSChicago) August 10, 2016
---
The National Severe Storms Laboratory defines a landspout tornado as "a tornado with a narrow, rope-like condensation funnel that forms while the thunderstorm cloud is still growing and there is no rotating updraft – the spinning motion originates near the ground."
No rain or thunderstorms accompanied Tuesday's tornado – only cumulus clouds and a normal breeze off Lake Michigan were reported, according to the NWS – making the event all the more unusual.
"There was nothing supportive at all of damaging tornadoes (on Tuesday), it was just a unique event," Castro said. "We're not aware of any recent, or even any occurrences in the city of a landspout."
This marks the first tornado of any kind within Chicago's city limits since a brief twister was recorded on the Loyola University campus on Sept. 22, 2006.
The NWS-Chicago office tracks 18 counties including Cook, DuPage, Lake and Will. Overall, that area has averaged nearly nine tornadoes per year since 1950, but in 2015 it recorded more than three times that total.  
Even so, none of those tornadoes crossed over Chicago's borders.
"There are cases where the lake can help make the conditions less favorable for tornadoes to occur within the city … but overall occurrences within cities are pretty rare," Castro said. "If you look back, even cities that are in the heart of Tornado Alley, it's not that common for big cities to be directly impacted."
Landspout #tornado SW side of #Chicago between ~348pm & 358pm today. 1st tornado in city limits since 9/22/06. #ilwx pic.twitter.com/BP0wOybNAI

— NWS Chicago (@NWSChicago) August 10, 2016
---
No one factor determines where a tornado will form, according to Castro, who said they are far more likely to occur in wide-open rural areas because conditions are more favorable and that type of land is much more prevalent nationwide.
While there hasn't been a recorded tornado in the city in a decade, there have been some recent near misses – including a brief twister in nearby Summit in May 2015, and a supercell thunderstorm that passed over Chicago last year, creating a waterspout just outside the city limits.
"It kind of shows it's pure dumb luck at times," Castro said. "It's just a unique occurrence overall to have something like this because the lake breeze itself – there's a lake breeze almost every single day moving inland in the summer time. Of all those times, this is, as far as we know, one of, if not the only occurrence of a situation like this."
Follow Matt Masterson on Twitter: @ByMattMasterson
---
Sign up for our morning newsletter to get all of our stories delivered to your mailbox each weekday.
---
Related stories: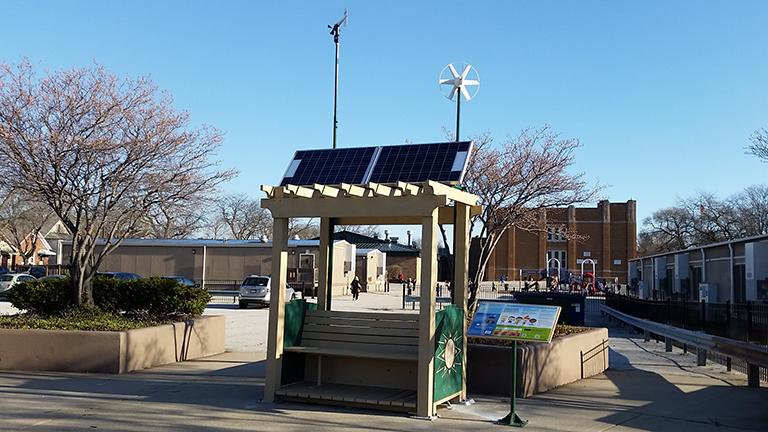 How a Park Bench Monitors Air Quality on Chicago's Southeast Side
June 2: The Environmental Protection Agency recently installed a park bench equipped with air pollution sensors at a CPS elementary school. It's one of just seven such benches in the U.S.
---
Over 150 Countries Sign Paris Climate Change Pact on Earth Day
April 22: The terms of the historic global pact were agreed upon by 195 countries on Dec. 12, 2015, at the United Nations Climate Change Conference in Paris, but Friday – Earth Day – marks the first day of the yearlong signing period.
---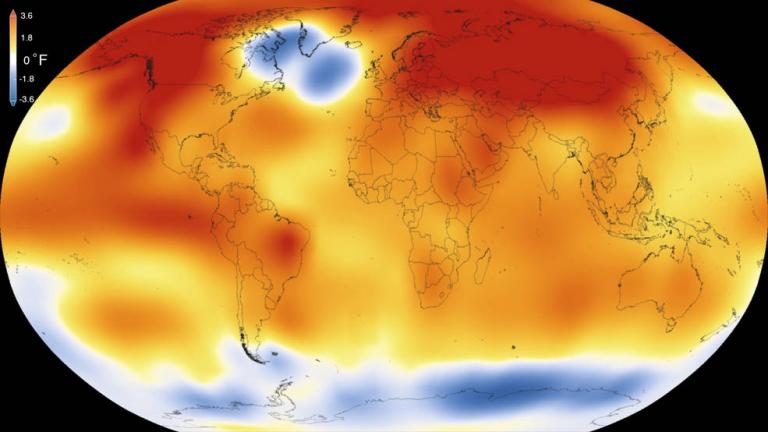 2015 Was the Hottest Recorded Year on Earth
January 20: New reports show that Earth's surface temperature last year was its highest since modern temperature record keeping began in 1880. The global record was also broken in 2014, although 2015 saw dramatic increases by comparison.
---