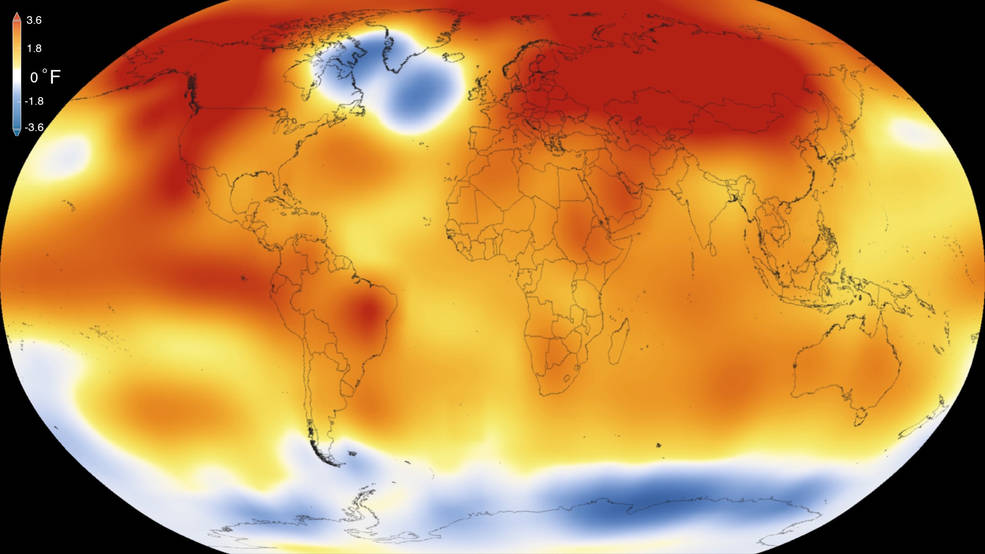 NASA says the record-breaking global temperature of 2015 is "largely driven by increased carbon dioxide and other human-made emissions into the atmosphere." (Scientific Visualization Studio / Goddard Space Flight Center)
It's one for the record books: Last year was the hottest ever – at least to our knowledge.
Earth's surface temperature in 2015 was its highest since modern temperature record keeping began in 1880. The global record was also broken in 2014, although 2015 saw dramatic increases by comparison.
Temperature analyses released today by the National Aeronautics and Space Administration (NASA) and the National Oceanic and Atmospheric Administration (NOAA) reveal the Earth's temperature rose 0.23 degrees Fahrenheit in 2015. Only one other year on record, 1998, broke the previous year's record by that wide of a margin.
Last year's dramatic spike in temperature is largely due to two factors: global warming and El Niño, according to NASA and NOAA.
NASA says the global warming trend has progressed dramatically in recent history, with 15 of the 16 warmest years on record occurring since 2001.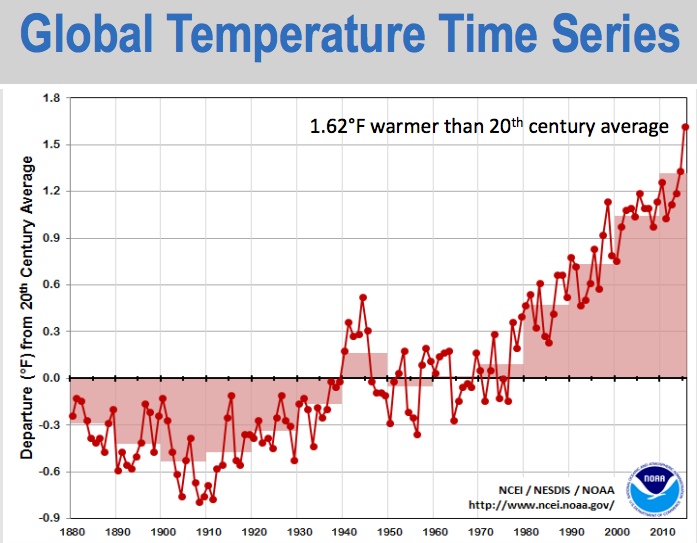 A chart showing how the average global temperature has deviated from the 20th century's average global temperature (NASA / NOAA)
Global warming is the gradual increase of the Earth's temperature caused by the atmosphere trapping fossil fuels, air pollutants and carbon dioxide. This part of the blame rests on humans, and the long-term effects of their greenhouse gas emissions.
Another reason for last year's record-setting high temperature is the El Niño weather pattern, which is marked by shifting trade winds on the Pacific Ocean that warm ocean temperatures and cause dramatic weather changes.
While the warming El Niño we're still experiencing into 2016 is formative, it's a recurring weather cycle contributing only partially to the bigger picture: that carbon emissions from humans are dramatically changing our climate and environment. The recorded temperature for 2015 was 1.62 degrees Fahrenheit higher than the 20th century's average temperature.
Professor Donald Wuebbels from the University of Illinois' Department of Atmospheric Sciences thinks last year was notable for the direction of the heat's flow.
"For about a decade or so, we saw a slowdown in the increase of atmospheric temperature," Wuebbels said. "And that was largely because that heat was going into the oceans.
"But now this strong El Niño event pushes that ocean heat back up into that atmosphere, where it gets extremely warm."
Still, not every place on the planet had its hottest year. The continental U.S. saw its second-highest recorded temperature last year; 2012 still holds the record for the highest average temperature.
"Today's announcement not only underscores how critical NASA's Earth observation program is," NASA Administrator Charles Bolden said in today's press release. "It is a key data point that should make policy makers stand up and take notice - now is the time to act on climate."
The government agencies NASA and NOAA record surface temperature measurements from thousands of weather stations and ocean buoys located throughout the world.
Follow Evan Garcia on Twitter: @EvanRGarcia
---
Related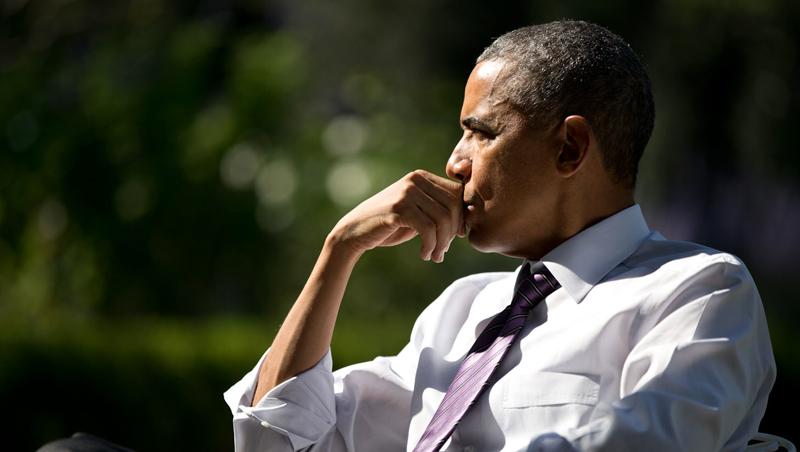 Obama Targets Carbon Footprints, Unveils New Clean Power Plan
August 3, 2015: President Obama's Clean Power Plan aims to reduce carbon emissions 32 percent by 2030. It's the administration's "biggest, most important step" in combating climate change.
---