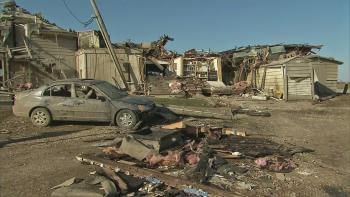 Gov. Bruce Rauner declared DeKalb and Ogle counties state disaster areas after severe thunderstorms and tornadoes tore through the area Thursday.
"Our hearts and thoughts go out to those impacted by yesterday's storms," Rauner said in a statement. "The State will do everything it can to help these families and communities recover and heal, while providing response resources."
A tornado touched down in Fairdale, Ill., destroying homes, injuring dozens of people, and killing two.
"It hurts to see your hometown destroyed," said Fairdale native Larry Hendrickson. "It's like off the face of the earth. It's like seeing one of your buddies here one day and gone the next."
A tornado also tore through Rochelle, Ill., flattening homes and sending diners in a popular restaurant seeking shelter, according to CNN.
No one was killed or seriously injured when the tornado hit the restaurant and turned over a semitruck parked outside.
View a slideshow of the storms and the damage they caused.
U.S. Sen. Dick Durbin addressed the damage caused by the storms during a visit to Chicago on Friday. Watch the video.
U.S. Sen. Mark Kirk surveyed the damage caused by the storms and visited with survivors of the storms. He released the following statement:
"My thoughts and prayers go out to the thousands of Illinois residents in DeKalb, Ogle, Whiteside, Lee, Boone, Winnebago and McHenry counties affected by last night's devastating tornadoes. Having seen firsthand the homes and local communities that have been destroyed, I want to extend a sincere thank you to the first responders and volunteers who have been instrumental in guiding people to safety. I have been in constant contact with the Governor's office and the Illinois Emergency Management Agency regarding rescue and cleanup efforts and my office will share information as it is received to ensure our neighbors have the resources and support they need to rebuild and recover from this devastation."