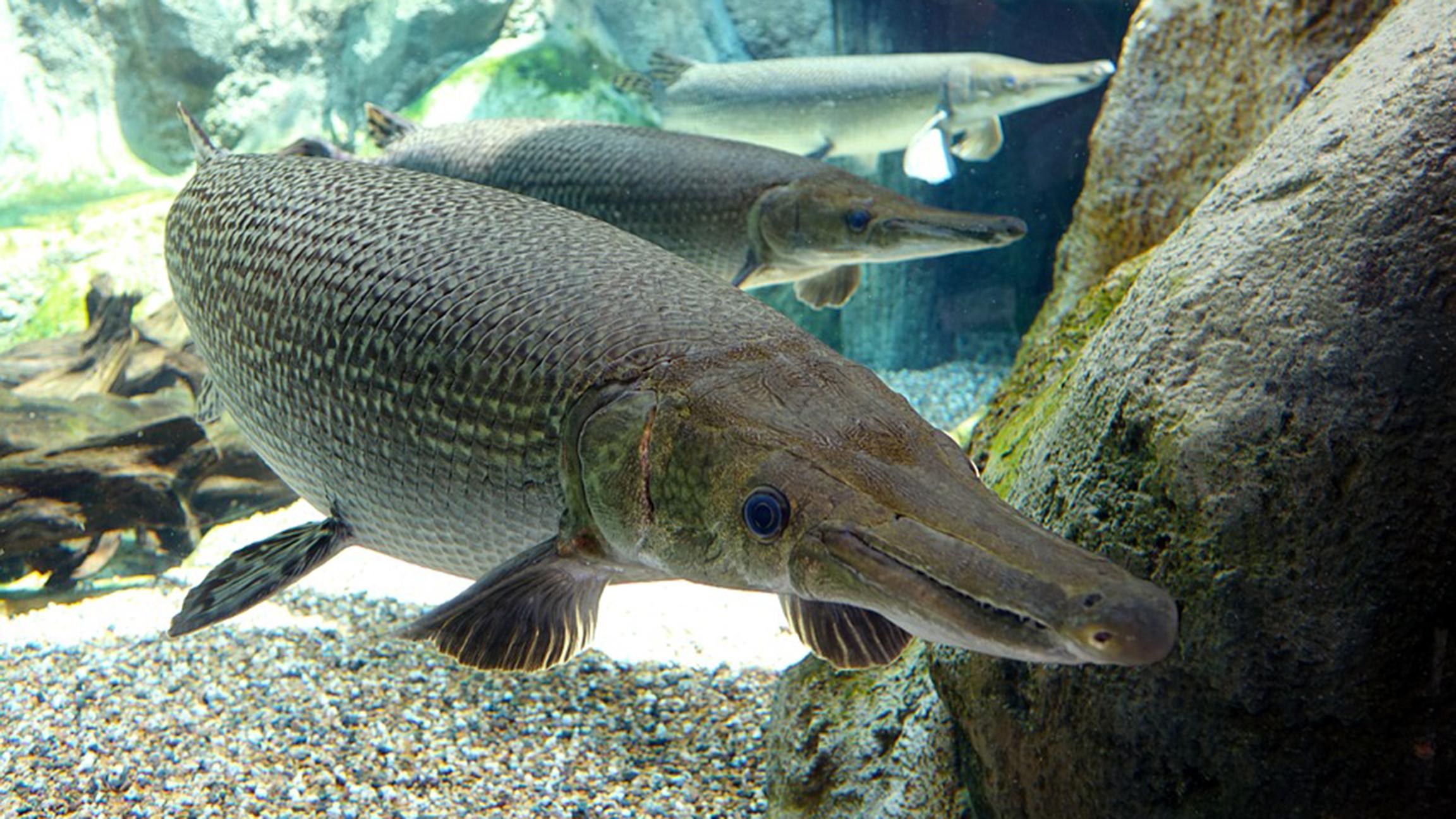 Although they can reportedly reach up to 10 feet in length, adult alligator gars are generally four to six feet long, according to the U.S. Fish and Wildlife Service.
A spate of recent news articles have suggested that reintroducing a mammoth fish called the alligator gar into Illinois waterways may help protect Lake Michigan from the invasive Asian carp.
But not everyone believes this to be true, including Dan Stephenson, a longtime biologist and chief of fisheries at the Illinois Department of Natural Resources. That's the state agency that's reintroducing the once-extinct alligator gar into Illinois' waterways.
"We're just trying to bring back an extirpated species, a native fish that was here once and we'd like to have them back," Stephenson said. "There was never a thought in our minds at all about any kind of control on Asian carp."
For one thing, Stephenson said, alligator gar are vastly outnumbered. Between 2010 and 2013, his team reintroduced nearly 6,000 young alligator gar into central and southern Illinois waterways, and plans to continue the project later this year. That sounds like a lot, but it's really no match for the burgeoning population of Asian carp, which is already established in the Mississippi and Illinois River basins.
"When we're talking about Asian carp, we're talking about tons of fish per river mile in all the rivers and streams in the state and we have thousands of miles of rivers and streams," Stephenson said. "There's maybe one or two alligator gar in a handful of streams in the state. There's just no way a handful of fish can have any impact on tons and tons of Asian carp."
And even though the alligator gar can reach nearly double the length of Asian carp, Stephenson said they simply can't open their alligator-like snouts wide enough to eat most Asian carp. 
"The throat opening of an alligator gar is not very big," Stephenson said. They seem to prefer gizzard shad, he said, a fish in the herring family that only grows about a foot long.
Additionally, female alligator gar don't reach sexual maturity until they're about 11 years old, while female bighead carp, a type of Asian carp, can start breeding at three years old. This biological head start gives another advantage to the invasive species.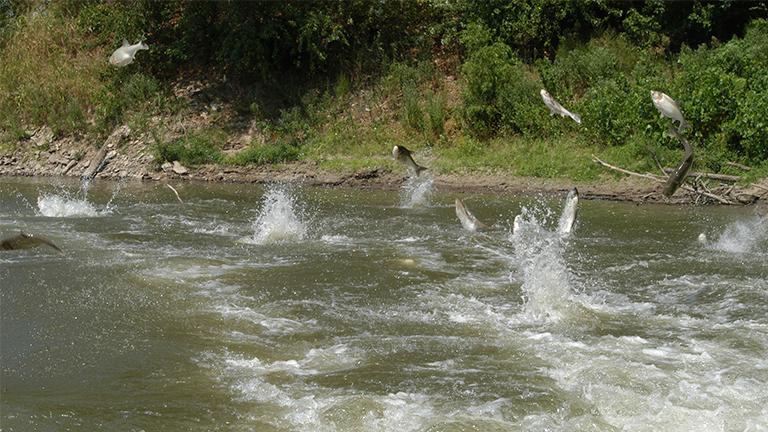 Silver carp, a type of Asian carp, are known to leap several feet into the air when startled. (Jason Jenkins / Flickr)
So if the alligator gar isn't the answer to keeping Asian carp out of the Great Lakes, what is? Stephenson thinks a market for human or animal consumption of the fish is the only way to control it.
While Chicagoans are more likely to find tuna, salmon and tilapia on local menus, Asian carp is still being put to use in the area.
Stephenson said the IDNR hires commercial fishermen to catch Asian carp and put out "miles and miles" of nets to deter their movement north into Lake Michigan.
Since 2010, the agency has sent roughly four million pounds of Asian carp they've caught to Schafer Fisheries, a seafood wholesaler located about 140 miles west of Chicago, which uses the fish from the IDNR to make liquid fertilizer for plants.
Schafer Fisheries also prepares Asian carp for human consumption in international markets. They sell the fish locally as well, although Asian carp is less popular here than abroad, according to WGNTV.com.
Chicago-based BareItAll Petfoods entered the industry in April 2015 with its line of dog treats containing Asian carp as the main protein ingredient.
Menus and pet food aside, the last line of defense against Asian carp entering Lake Michigan is a system that's already in place: electric barriers in the Chicago Sanitary and Shipping Canal about 25 miles downstream from the lake. Stephenson said as of yet, no Asian carp have been found past these barriers.
Follow Evan Garcia on Twitter: @EvanRGarcia
---
Sign up for our morning newsletter to get all of our stories delivered to your mailbox each weekday.
---
Related stories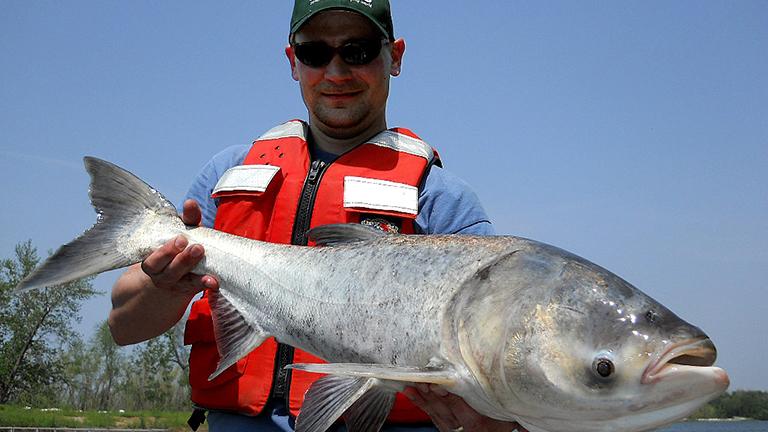 Study: Carbon Dioxide Could Keep Asian Carp out of Great Lakes
June 15: A process similar to making soda water may be an effective strategy in warding off an Asian carp invasion that's threatening the health of the Great Lakes, including Lake Michigan.
---
Dec. 18, 2014: The Army Corps of Engineers moves ahead on its plan to control Asian carp and other invasive species.
---