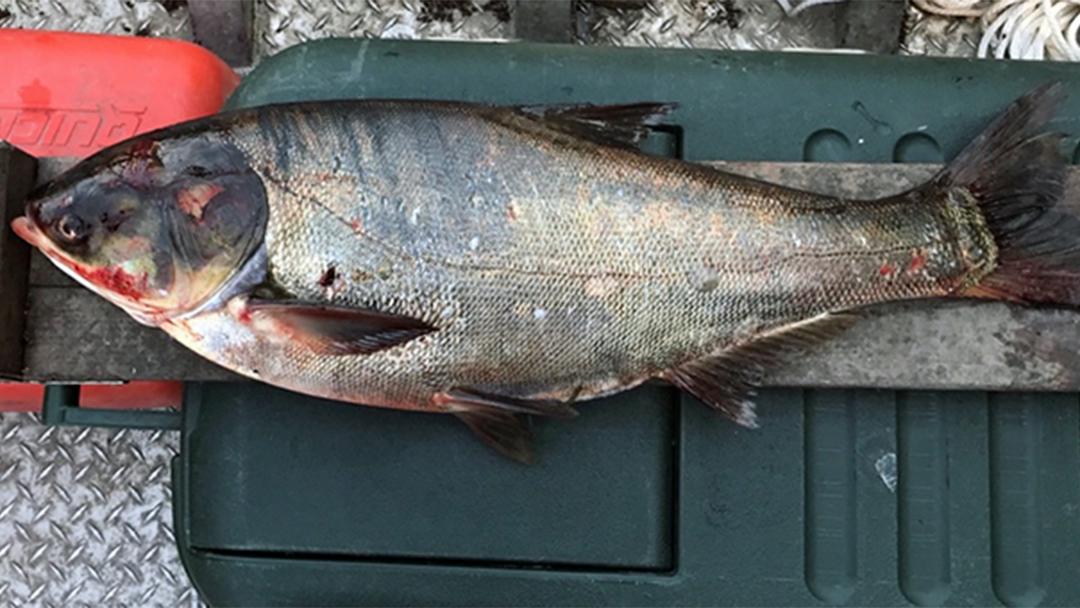 A silver carp captured in June 2017 below the T.J. O'Brien Lock and Dam is pictured. (Courtesy Illinois Department of Natural Resources)
A silver carp was removed from Lake Calumet Thursday, triggering a closer search for the invasive species in the area.
A sighting of the fish was reported earlier in the week by a member of the public and it was later captured by crews from the Illinois Department of Natural Resources and the U.S. Army Corps of Engineers, according to a news release. Lake Calumet is about seven miles from Lake Michigan.
Officials say the carp's presence does not necessarily mean there is a reproducing population of the species in the area, which is located above electric dispersal barriers.
There have been two other recorded instances of invasive carp captured above the electrical barriers, according to the agencies. One in 2017 below T.J. O'Brien Lock and Dam and another in Lake Calumet back in 2010.
The fish captured Thursday was more than 38 inches long and weighed about 22 pounds, according to the news release.
Asian carp, an umbrella name for bighead, black, grass and silver carp, are an invasive species that federal and local agencies have been working to keep out of the Great Lakes.
If the invasive carp enter the Great Lakes, they have the ability to dominate the food chain and cause major disruptions to the ecosystem.
The planned fight against the carp includes everything from a multi-million-dollar dam project to a public relations campaign aimed at making the species more appealing to consumers.
Earlier this year, the U.S. Army Corps of Engineers announced a $225.8 million budget item to complete the planning and engineering phase of the Brandon Road Lock and Dam. That project is seen as a barrier that would be the last line of defense in keeping the invasive carp from entering the Great Lakes basin.
In June, Illinois officials took the lead in rebranding invasive Asain carp as "corpi." The effort is an attempt to appeal to the dining industry, thereby encouraging fishermen to target the species in the Illinois River, among other places.
"Illinois has a special responsibility to do everything in its power to manage these fish," said Jayette Bolinski, spokesperson with the Illinois Department of Natural Resources, when the new name was announced. "That's why we're leading the way on rebranding the fish and establishing a supply chain" for the fish as a food source. 
Patty Wetli contributed to this report. 
---