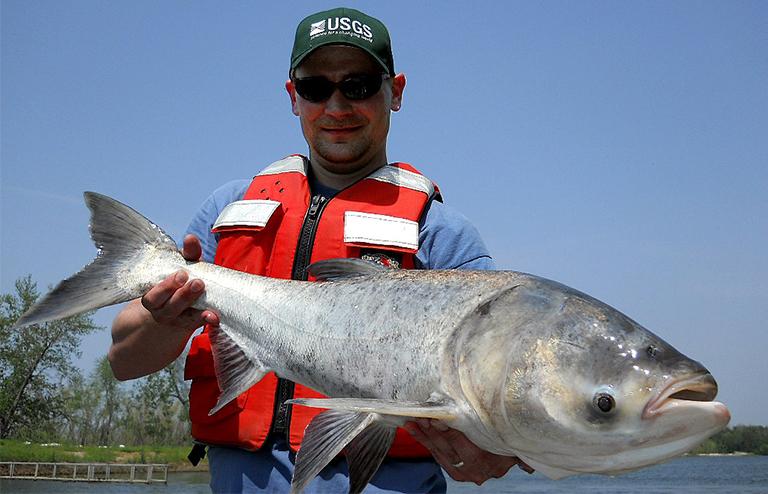 A bighead carp, a type of Asian carp, caught in the Illinois River, the principal tributary of the Mississippi River. There are no North American fish large enough to eat Asian carp, according to the Asian Carp Regional Coordinating Committee. (Photo courtesy U.S. Geological Survey)
A process similar to making soda water may be an effective strategy in warding off an Asian carp invasion that's threatening the health of the Great Lakes, including Lake Michigan.
A recent study detailing research by scientists from the University of Illinois at Urbana-Champaign and U.S. Geological Survey shows that silver carp and bighead carp, two different species of Asian carp, avoided water treated with carbon dioxide.
The two species can grow to massive sizes – in some cases, over 100 pounds – and are capable of eating up to 20 percent of their body weight in plankton daily. Their presence in the Great Lakes could deplete that vital food source for native fish.
Researchers wanted to see how a variety of fish would react to the treated water, so in a research pond in La Crosse, Wisconsin, they tracked the movements of both the Asian carp species and native fish such as bigmouth buffalo, channel catfish, paddlefish and yellow perch using transmitters implanted in the fish.
The study called for placing a carbon dioxide infusion system on one side of the pond that withdrew water, treating it with high levels of carbon dioxide and then pumping that carbon dioxide-rich water back into the pond.
"We looked at how their movements and positions were impacted before versus after the additions of carbon dioxide in the pond," said Cory Suski, an associate professor at UIUC. "Quite simply, what we found is that we're able to change the distribution and activity of the fish in the pond with the addition of carbon dioxide and that the fish would avoid areas of high carbon dioxide."
All of the fish avoided the carbon dioxide, except for the paddlefish, which Suski called a "head-scratcher."
Suski said adding carbon dioxide to the water makes it a less desirable environment for the fish.
"It's indicative of a poor habitat," Suski said. "Fish like oxygen, like a lot of things on the planet, so if they're in an environment with high carbon dioxide, I'd guess they're pre-programmed or hardwired to swim away and look for oxygen."
Using that logic, adding carbon dioxide into the waterways that feed into Lake Michigan could keep the Asian carp from entering the lake.

Scientists monitored the movements of Asian carp and other fish in relation to carbon dioxide in a research pond in La Crosse, Wisconsin. (Photo courtesy U.S. Geological Survey)
The invasive fish species are already well-established in the Mississippi River basin and travelling up its tributaries. In the 1970s, they were added to commercial aquaculture farms to clean the water, but flooding allowed them to populate the Mississippi River. The primary defense Lake Michigan has against Asian carp currently comes in the form of three electric barriers in the Chicago Area Waterways System, a series of canals and waterways leading to the lake.
But the barriers proved they weren't impenetrable when a 19-pound Asian carp was caught in Lake Calumet, about six miles downstream from Lake Michigan. Could adding carbon dioxide to the water help bolster these barriers?
Suski said they need to continue studying how fish respond to carbon dioxide in water, which lowers the water's pH, making it more acidic. They're also concerned with how carbon dioxide might affect fish species other than Asian carp.
"Carbon dioxide is really not species-specific, so all the fish tend to react the same," Suski said. "So if it does go into a real-world setting, as far as we can tell, it would deter the movement of all fish species, so that's something that needs to be considered before it moves to a field application."
Follow Evan Garcia on Twitter: @EvanRGarcia
---
Sign up for our morning newsletter to get all of our stories delivered to your mailbox each weekday.
---
Related "Chicago Tonight" Stories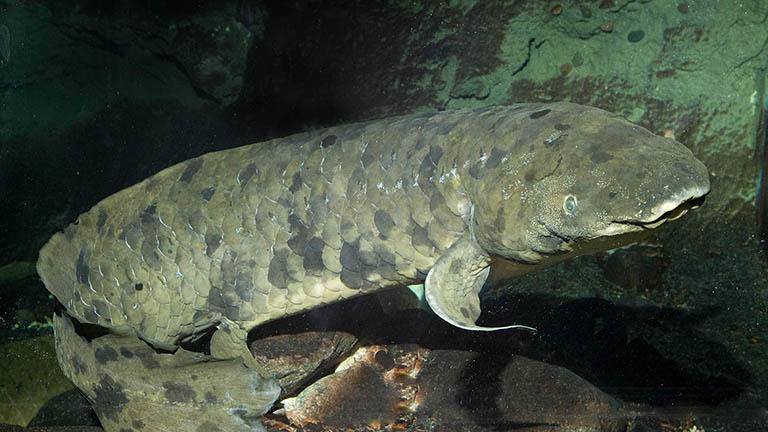 'Super Slimy' Granddad at Shedd the World's Oldest Aquarium Fish
May 19: Granddad is believed to be the oldest fish in captivity at any public aquarium or zoo in the world. The Shedd estimates he's at least a century old and that an "excess of 100 million visitors" have passed through the aquarium since his arrival.
---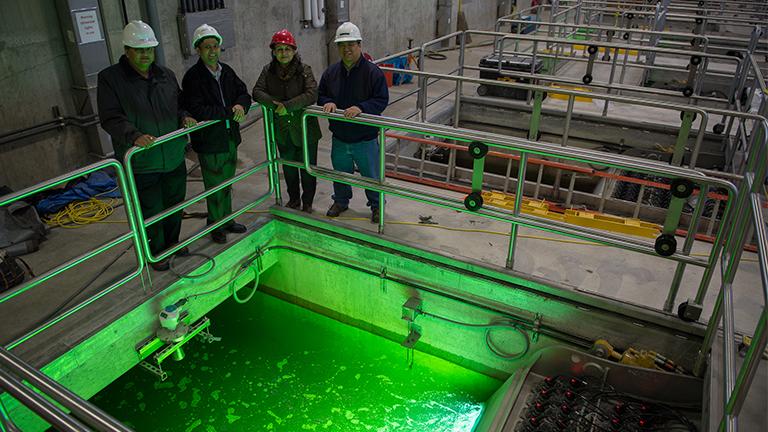 World's Largest Ultraviolet Disinfection Facility Tackles Chicago River
March 23: The notoriously polluted Chicago River is about to get cleaner with disinfection technology at a Skokie water treatment facility.
---
Why Catfish Are the Future for Cleaner Chicago Water
January 19: Two organizations have joined forces to release nearly 200,000 fish into the Chicago and Calumet waterways over the past two years.
---