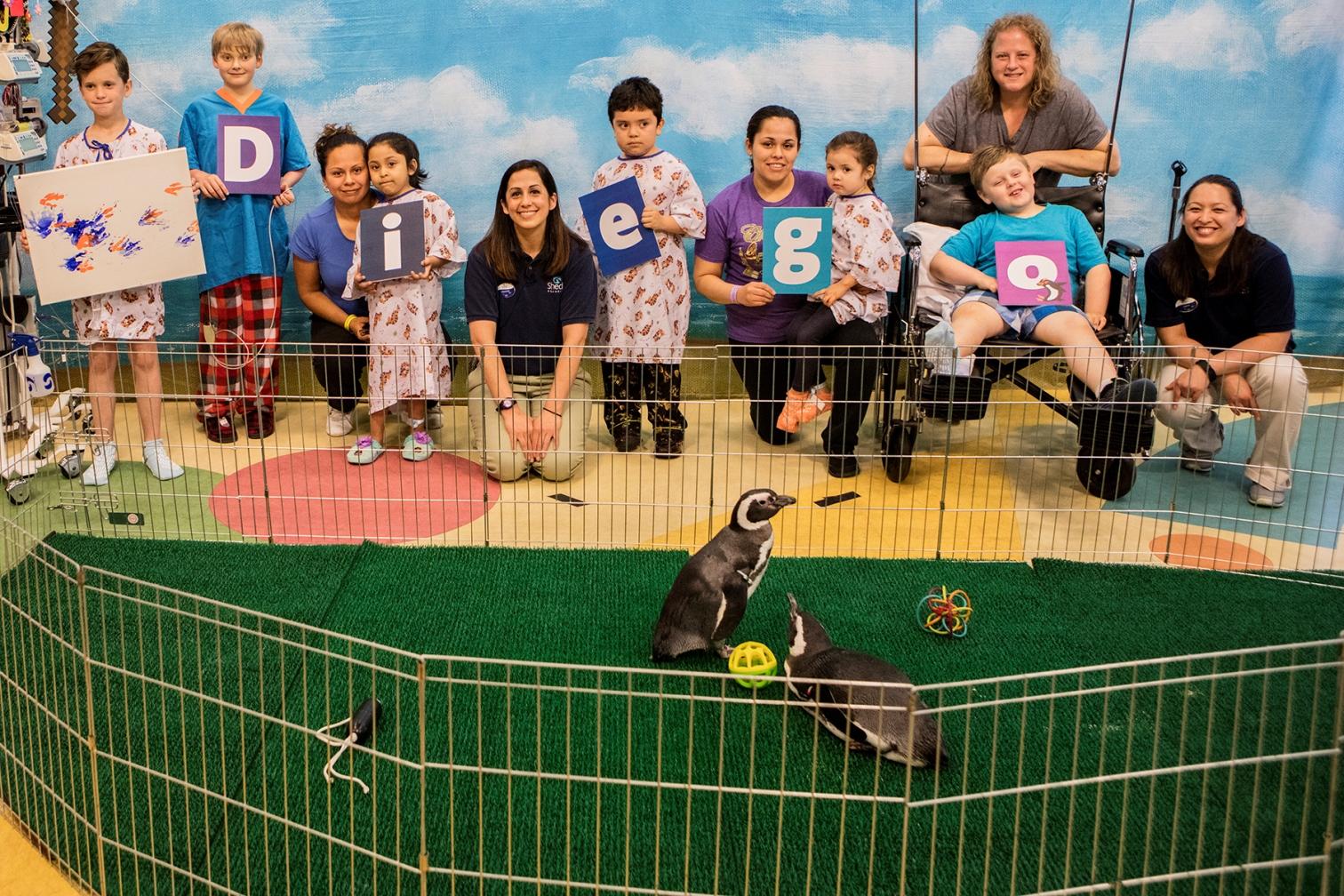 Patients at the Lurie Children's Hospital of Chicago reveal the name of the Shedd Aquarium's penguin chick. Iris and Swallow, two of the aquarium's Magellanic penguins, join in. (Shedd Aquarium)
Patients at the Ann & Robert H. Lurie Children's Hospital of Chicago unveiled the new name for the Shedd Aquarium's rockhopper penguin chick on Monday.
After hospital patients, families, staff and volunteers took part in a #WaddleItBe voting contest last week, the 10-month-old penguin, previously known as Chick No. 23, is now called Diego.
Voters had four options to choose from, each derived from the name of a different Chilean island where rockhopper penguins are found in the wild. In addition to Diego, the names Dawson, Lennox and Javier were considered.
The penguins are called "rockhopper" because they nest in coastal rocky habitats and unlike most penguin species, they travel by hopping around instead of sliding on their bellies.
On June 9, 2015, Diego was the 23rd rockhopper penguin to hatch at the Shedd since its penguin mating program began in 1995. 
At birth, he weighed just two ounces and fit inside the animal caretaker's palm. Within four months, he grew to his adult size, weighing about five pounds and measuring 18 inches long.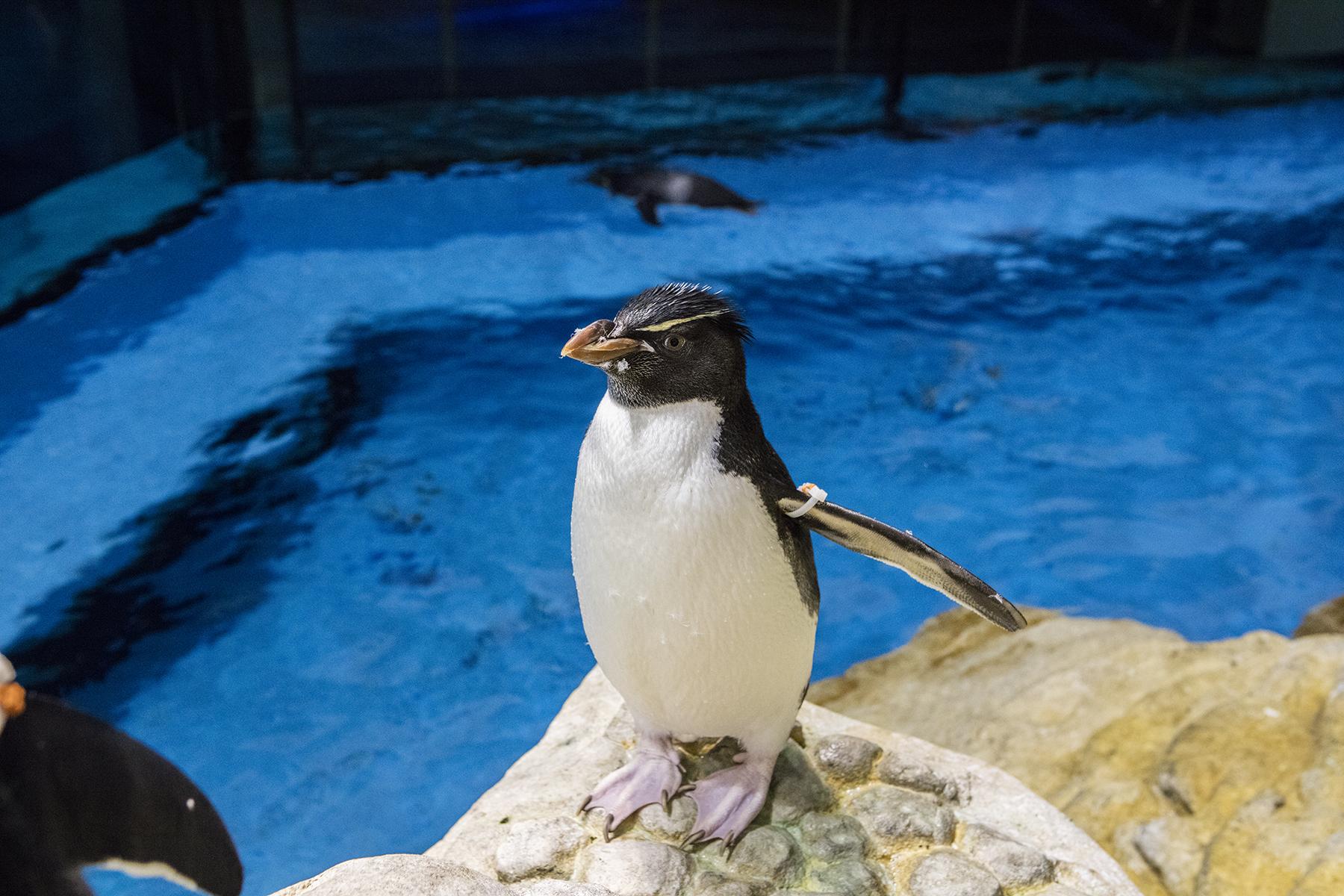 At 10 months old, Diego has begun to develop the distinctive yellow-and-black plumage found on adult rockhopper's heads. (Shedd Aquarium)
Diego is the second biological offspring of parents Annie and Edward, but the first chick raised by them. His two-year-old sister Ruggles was raised by another rockhopper penguin couple at the Shedd.
By the time Diego was three months old, his parents began leaving the nest and stopped providing food for him, a natural process of weaning young penguins to fend for their own. Anticipating this transition, Diego was taught how to take food from aquarium staff before his parents stopped providing for him.
Diego learned quickly and is now fully independent from his parents, according to Lana Vanagasem, the Shedd's manager of penguins.
"He loves swimming and exploring his exhibit," Vanagasem said. "Occasionally he might go and hang out near the nest, but he doesn't have much interaction with his parents other than that."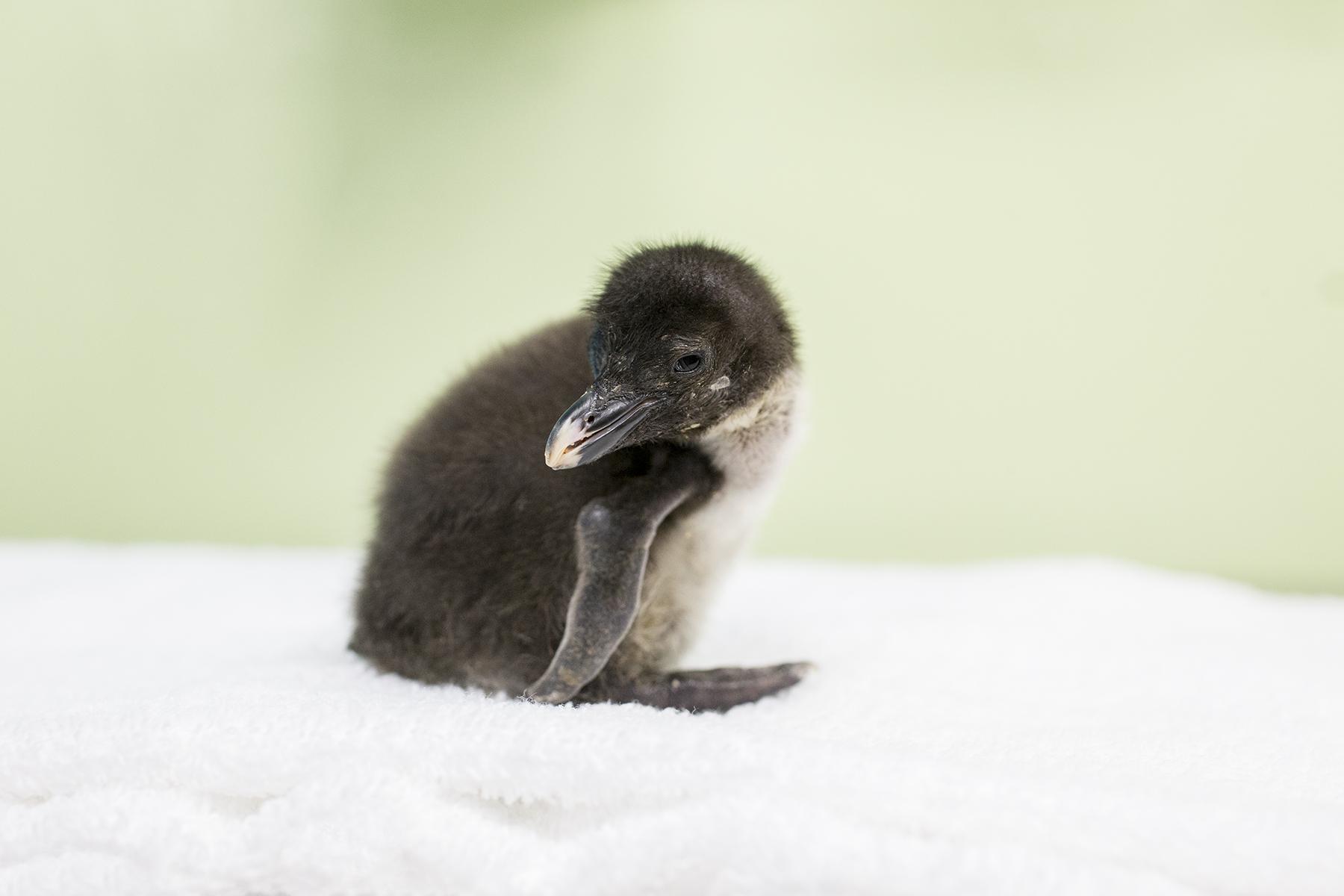 Because Diego's parents had to practice feeding their newborn by regurgitating their own semi-digested food, Diego was initially hand fed a "blenderized" formula of krill, herring and vitamins by aquarium staff. (Shedd Aquarium)
Due to commercial overfishing, pollution and other factors, rockhopper penguins are classified as a vulnerable species by the International Union for Conservation of Nature. In addition to the rockhopper species, the aquarium houses Magellanic penguins, which are larger and more common. 
"The biggest threat would be overfishing," Vanagasem said. "The adult penguins might have to swim farther to get food, which affects their health and their chicks."
Visitors to the Shedd can see penguins settling into their nests during their current breeding season. While Diego is several years from breeding age, he's already taking interest in the nesting supplies, smooth river rocks and fabricated sticks, by picking them up and examining them.
Watch Diego investigate nesting material during the last 20 seconds of this video from the Shedd:
Monday's official unveiling of the penguin chick's name falls on World Penguin Day, a holiday dedicated to the flightless birds that marks the start of their migration north.
Follow Evan Garcia on Twitter: @EvanRGarcia
---
Related 'Chicago Tonight' Stories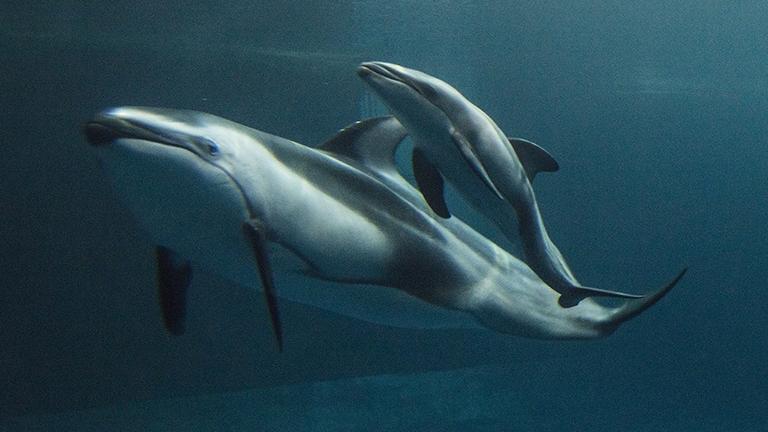 Pacific White-Sided Dolphin Gives Birth at Shedd Aquarium
April 19, 2016: Shedd Aquarium staff are watching a 28-year-old female Pacific white-sided dolphin and her newborn calf around the clock during what they call "a very crucial time."
---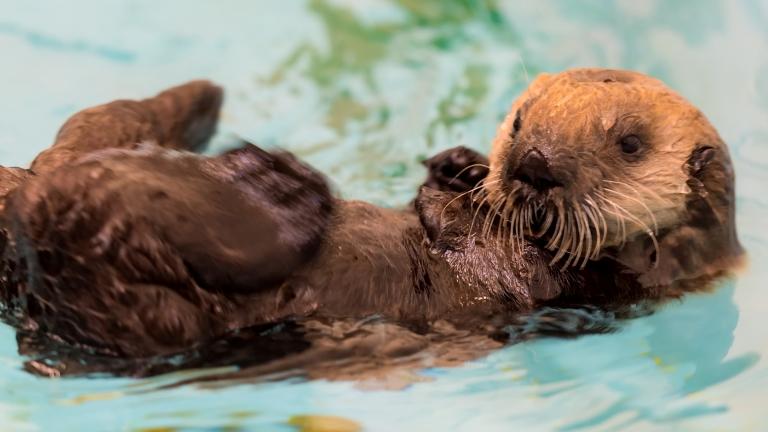 Rescued Baby Sea Otter Finds Home at Shedd Aquarium
February 17, 2016: A 10-week-old sea otter pup rescued after a rough storm in California last month is recovering at her new home in Chicago.
---