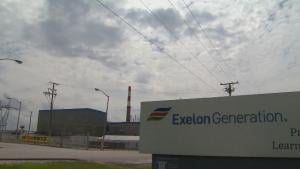 There's a lobbying and advertising war going on in Illinois. No, it's not related to the state budget. It pits the state's largest producer of energy, Exelon, which is asking for a rate hike to help its struggling nuclear power plants, against wind and solar energy groups that say Exelon is merely a billion dollar corporation seeking a bailout.
The Exelon Corporation operates two nuclear reactors at this site outside of the Quad Cities on the banks of the Mississippi River. But it says this and two other nuclear plants — located in downstate Byron and Clinton — are losing money and may be forced to shut down. 
"The payroll of the plant here is around $80 million a year," said Tim Hanley, who is the Quad Cities plant manager. "Those jobs would go away."
Hanley says nuclear power is at a disadvantage because it is not receiving the government subsidies that renewable sources of energy, like wind and solar, are. For this reason, the company has aggressively pushed for legislation that would charge ratepayers an additional $300 million a year to subsidize what the company calls a "low carbon portfolio standard," most of that money would go toward making the nuclear plants profitable again.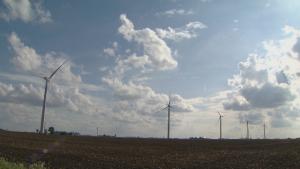 "Nuclear for some reason is the only low carbon producing energy source that is not recognized and because of that disparity, it has really skewed the marketplace in favor of wind energy," Hanley said. "The attempt of the low carbon portfolio standard is to put them both on equal footing and allow them to compete more equally in the marketplace."
The effort has included an all-out media blitz — warning Illinoisans that the closure of the plants would cost the state 8,000 jobs. The company has recruited community and labor groups to help make its pitch, including South Side activist Dr. Leon Finney.
"I say thumbs up for nuclear energy, and I think that it's very important for us to protect this vital resource," Finney said in an advertisement. 
Watch the advertisement.
The Chicago Urban League, which gets funding from Exelon and whose former director Andrea Zopp was a general counsel for the company, is also supporting the Exelon legislation.
"What we don't want to have happen right now is job loss. That's really the thing that brought Chicago Urban League to the table, the potential of these thousands of jobs being lost in the state," said Roderick Hawkins, who's the spokesperson for the Chicago Urban League.
But the Exelon bill also has vocal opposition. Dave Lundy leads BEST Coalition, which is a nonprofit trying to defeat the bill.
"The purpose of the bill fundamentally is to pad the profits of Exelon. It's a corporate bailout, pure and simple," Lundy said.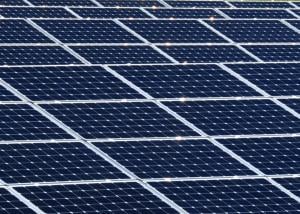 Consumer and environmental groups are also leading the charge against the bill, and they say Exelon's struggles are the result of market forces that have low natural gas prices pulling down the price of nuclear, which is more expensive to produce.
"What they want is to basically benefit from markets when prices are high, but they want to be bailed out when prices are low, and that's fundamentally unfair for consumers," said Citizens Utility Board President David Kolata.
"Now that natural gas prices are low and wind power is driving down the price of energy, they want to socialize the pain," Lundy said.
Many opponents of Exelon's legislation are pushing their own proposal called the Clean Jobs bill; they say it will create thousands of new jobs while increasing reliance on renewable forms of energy.
The Clean Jobs bill would up energy efficiency standards, and mandate that 25 percent of all power in Illinois comes from renewable sources by the year 2022.
"You need to make some fundamental choices," said Howard Learner, president and executive director of the Environmental Law & Policy Center. "Are we going to invest in clean, modern technology that the public wants — wind and solar energy — or are we going to invest in the older technology, older coal and nuclear plants?"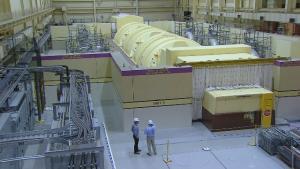 But Exelon says nuclear is a clean energy. It is low carbon and emits only water vapor into the atmosphere. And he says it is still far more reliable than wind.
"The nuclear plants run anywhere from 93-95 percent capacity factor, where wind runs generally somewhere in the 30 percent range," Hanley said. "So essentially, nuclear is always available."
The issue failed to get resolved during the General Assembly's spring session, and Exelon officials privately acknowledge it is a long shot to get passed in the current special session, where a higher threshold of votes will be needed for approval. 
"The legislative strategy will be to continue to work with the different stakeholders to try to get some sort of legislation that meets everybody's needs, that recognizes nuclear for its unique, reliable low carbon generation that is important to Illinois," Hanley said.
Meanwhile the Clean Jobs supporters say they're not going to back off their efforts to increase Illinois dependency on renewable power as Illinois debates its energy future.