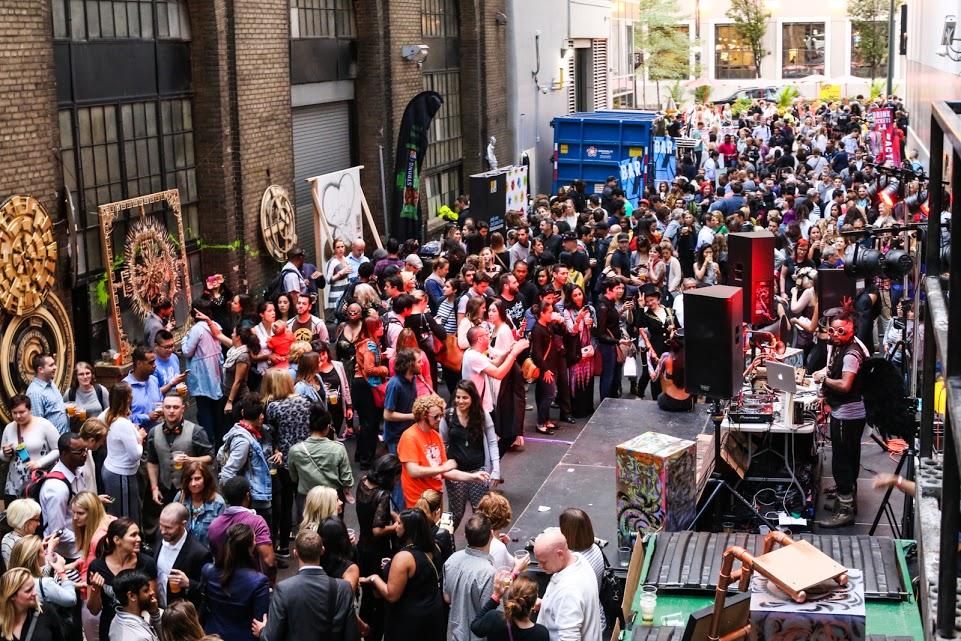 Activate, August 2015. (Courtesy Jennifer Catherine Photography)
A creative pop-up experience is returning to one of downtown's less celebrated spaces, so if you're in search of art this weekend, try looking in an alley instead of a museum or gallery. 
Activate, a project organized by the Chicago Loop Alliance, is back for its third year to transform several city alleyways into public art displays.
Michael Edwards, president and CEO of the Loop Alliance, said Chicago is actually known for having well-designed alleys. That gives the city a peculiar bragging right.
"People here in Chicago will hear how clean downtown looks," he said, noting that New York City has fewer alleys and, as a result, "stuff that would typically go in alleys – trash – would go in the streets" in that city.
"And because we have this whole series of alleys that mirror almost all of our streets, a lot of that, the way the city actually works – trash, deliveries – doesn't happen on city streets, so the whole city feels much cleaner than other cities," Edwards said.
For the monthly art series starting Friday, garbage trucks won't be the highlight. In fact, the alleys themselves might not be recognizable.
"We thought, well, let's 'activate' them. Let's utilize these cool urban spaces – music, lighting, local art," Edwards said. "We feel like it's a good way to kind of shake up the Loop from a perception of nine-to-five, to something that's much more creative and alive than what they are typically in."
During its six-month run, the Activate series will explore the five senses – sight, taste, touch, smell and sound – in a different alley. But in keeping with the pop-up nature of the event, and it's penchant for serendipity, each location won't be announced until two weeks prior to that event.
"Inviting a couple thousand people to come down and experience this is interesting because once they're in there with other people, the perspective is totally different. It's alive. They're seeing the Loop and the buildings that they pass by every day from a totally different perspective," Edwards said.
Friday's free event will focus on touch. Participants can interact with and touch the art on display, which will include tactile objects like inflatables and enormous gold balloons. There will even be "cuddlists" – that is, people who will cuddle with you – "appropriately," Edwards stressed.
Edwards said because an alleyway is such a utilitarian space, it creates a bold contrast to the art.
"A lot of it is this juxtaposition of where you are and where the art takes you," he said. "And you're doing that with a totally diverse audience – executives, residents, folks from the street, visitors, students, artists, hippies, hipsters. It's a whole range of people and it's authentically Chicago."
According to Edwards, the past years' events have had a combined economic impact of about $500,000, because people who attend tend to also trickle into nearby shops, restaurants and bars. He says that's what can happen if people stay downtown for just an extra hour after work.
But Edwards didn't reveal much more about Friday's Activate experience. As during previous events, there will be a surprise "reveal" performance. In a past year, a group of can-can dancers appeared in the alley, danced their way across a State Street alley and then disappeared.
"That is reflective of what cities are," Edwards said. "Downtowns and cities are filled with serendipity. Things happen because we're all so close together. And so this place-making and this 'reveal' reflects that. Something interesting is going to happen."
The first of six Activate events will take place from 5-10 p.m. on Friday, May 13 in the 8th Street Alley (205 E. 8th St.) between State Street and Wabash Avenue. The remaining locations will be announced two weeks prior to the event. The remaining dates will be June 9, July 14, Aug. 5, Sept. 15 and Oct. 13. Those over 21 will get a free drink ticket if they RSVP ahead of time. Activate is free and open to the public.
---
Sign up for our morning newsletter to get all of our stories delivered to your mailbox each weekday.
---
Related Stories from "Chicago Tonight"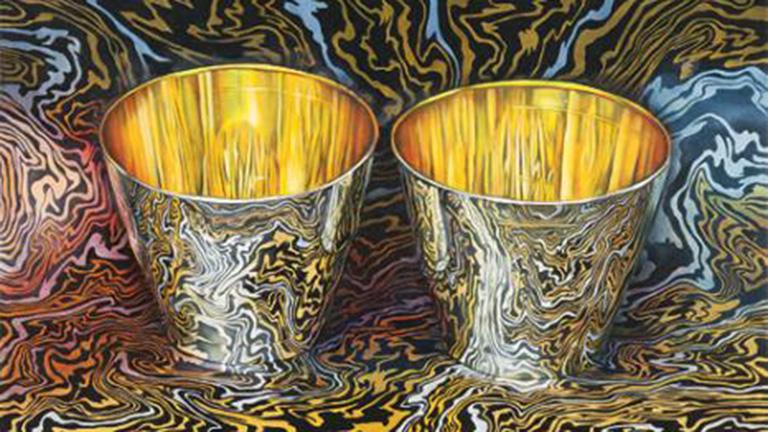 Chicago Painter's Artwork Began in Suburban Kitchen, Ended Up in Museums
May 10: A Chicago artist makes photo-realistic paintings you have to see to believe. We take a look at the artist's self-taught beginnings in her suburban kitchen and how her hard work paid off. 
---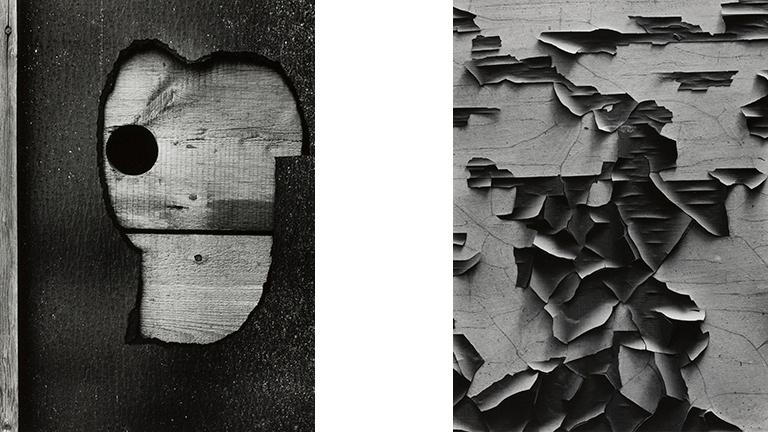 The Radical Beauty of Photographer Aaron Siskin at the Art Institute
May 6: From New York to Chicago, the influential photographer and teacher focused on "the drama of objects."
---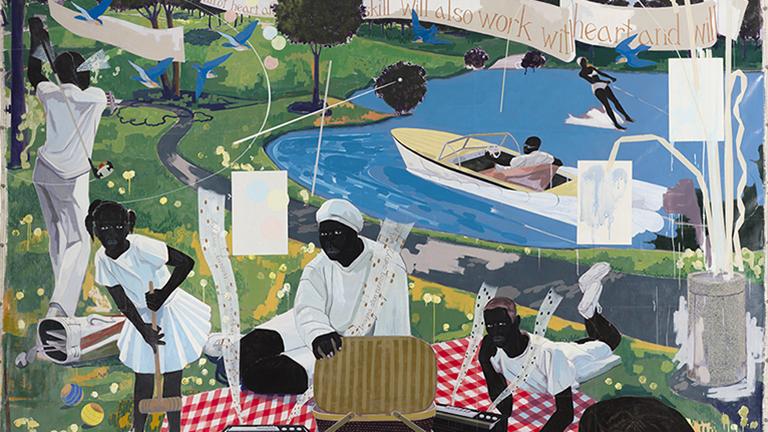 Master of Painting Brings Art from Bronzeville to the World
May 3: From his studio in Bronzeville, Kerry James Marshall creates large-scale canvases that are prized in museums around the world. A 1997 winner of a MacArthur "genius" grant, Marshall spoke with "Chicago Tonight" at the opening of his career retrospective at the Museum of Contemporary Art. 
---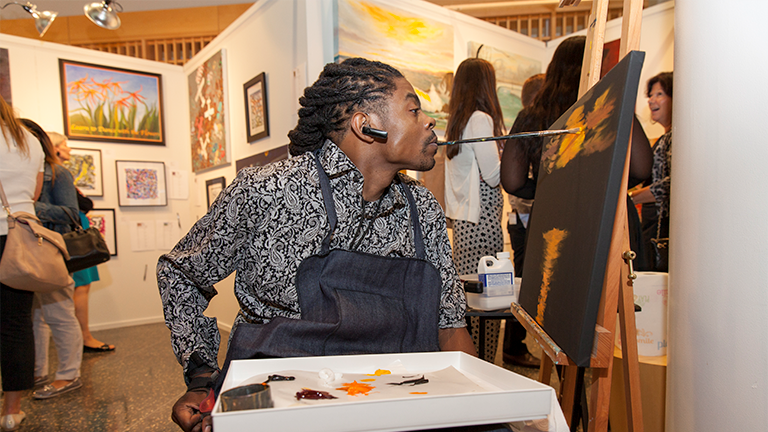 Art in Motion Showcases Talents, Progress of RIC Patients
May 2: The 14th annual Rehabilitation Institute of Chicago fundraiser features artwork by 23 of their patients, including art by two mouth painters who will show off their skills during Thursday's opening reception. 
---