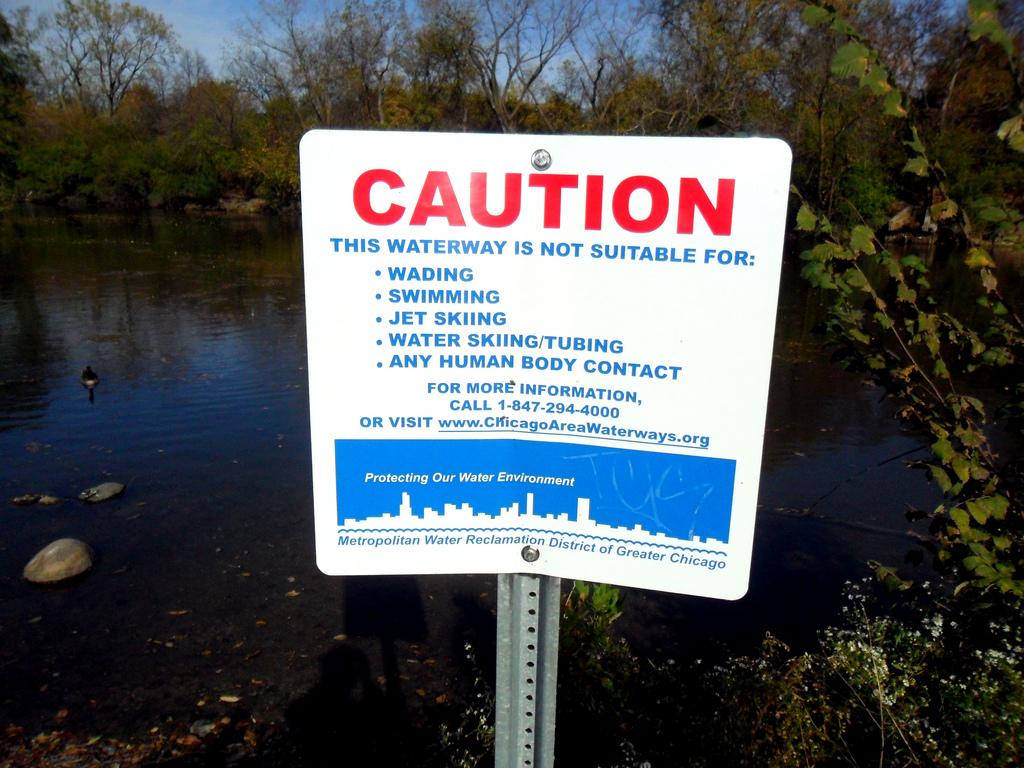 I wouldn't go in there if I were you... (William Ross / Flickr)
When Mayor Rahm Emanuel unveiled expansions to the Chicago Riverwalk last summer, he called the riverfront "Chicago's next recreational frontier." But just how close are the city's waterways to being a fully recreational attraction? Well, that depends on your interpretation of "recreation."
The river may be safe enough for kayaking, but if you're thinking about diving in, you might want to consider a hazmat suit in lieu of one for bathing.
Here's why: Following heavy storms, sewage and rainwater can flood the city's combined sewer system. During heavy overflows, the Metropolitan Water Reclamation District (MWRD) releases this wastewater into Chicago's waterways. Testing by the MWRD last year revealed high levels of bacteria from human waste in several areas of the river. Unsurprisingly, the results reflected a particularly rainy summer. Also last summer, the city began disinfecting its effluent water, the last major U.S. city to adopt this standard.
[New Water Disinfection Plant Helps Clean Chicago Waterways]
Still, the Chicago and Calumet Rivers can only get cleaner as wastewater disinfection becomes commonplace. Another component to cleaner water is letting nature do its work – with a little human and aquatic help.
Enter the catfish.
For the past two years, the nonprofit Friends of the Chicago River has partnered with the Illinois Department of Natural Resources (IDNR) to release 195,000 juvenile channel catfish into the Chicago and Calumet waterways. The fish are a native species to the area and, perhaps more importantly, resilient enough to withstand the less-than-sanitary conditions of the rivers.
To facilitate the release, 400 cylindrical structures called nesting cavities – they're designed to mimic the natural habitat of the catfish – were placed throughout the north branch of the Chicago River and Little Calumet River. In addition, man-made dams, some of them nearly a century old and deemed obsolete, were removed in an attempt to connect ecosystems and promote biodiversity.
Two nesting cavities, which imitate the natural habitat of channel catfish, are added to the Little Calumet River on May 14, 2015. (Friends of the Chicago River)
To culminate the catfish release project and help tell the story of the waterways' rehabilitation, Friends of the Chicago River is putting together an art installation to honor its newest river residents. Twenty five to 30 aluminum catfish cutouts will decorate the gates of the Chicago Riverwalk between Wabash and Michigan avenues. The works will display educational information about the species and its link to the region.
Margaret Frisbie, executive director for Friends of the Chicago River, says the project is expected to be completed by the end of March.
We spoke with Frisbie about her organization's habitat-building efforts.
Chicago Tonight: Why channel catfish?
Margaret Frisbie: Channel catfish are a species native to the Chicago River that should be in abundance. The water quality, as it is now, would not be an inhibiting factor. So we knew that if we did a project dedicated to channel catfish, and if we were successful, then we could help them thrive. They are more or less tolerant of water quality, so they fit well into how far we've come in improving water quality to date. They're also a popular game fish, so the IDNR already breeds them and releases them in places for people to fish. We were able to secure 195,000 catfish donated in kind from the IDNR.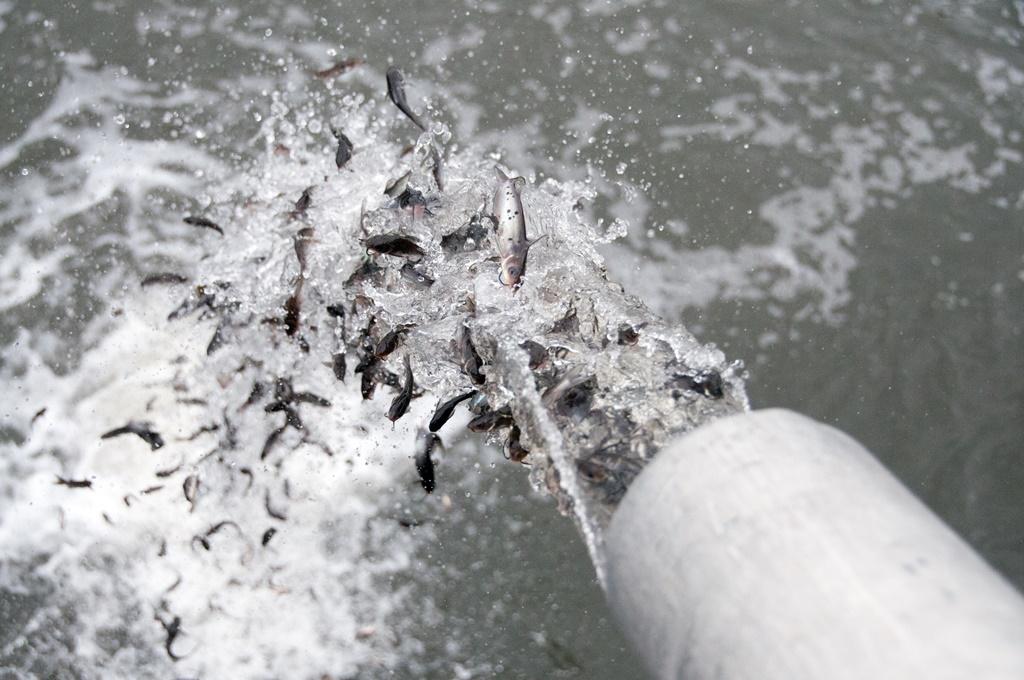 Juvenile channel catfish released into the Chicago River on May 12, 2015. (Friends of the Chicago River)
CT: What is the state of pollution in Chicago's rivers right now? Where are we at?
MF: The new water quality standards were legally approved by the Illinois Pollution Control Board. Within the recreational use – finalized in 2011 – the big improvement is that the sewage treatment plants have to disinfect the fluids that come out of the plants. Prior to that, they were not required to, so they weren't doing it. What that does is remove the pathogens from sewage in the water, so that will make the ambient water quality much cleaner.
As far as it relates to aquatic life, the new standards have a couple different components. There's a component that relates to dissolved oxygen and making sure the water has enough oxygen. Also, chlorides, like road salts, are really bad for aquatic life. The third part of that is temperature: how warm and cold the water is. These standards mean that anyone who discharges into the waterways has to make sure that what they're contributing is not causing the standards to go down. The primary discharger is obviously the MWRD, but there are many other dischargers too. Road salt, for example, comes from the city of Chicago off of streets and vehicles. Two other big dischargers that closed were the Fisk and Crawford coal burning power plants that were putting hot water into the river, which is very bad for fish. But those have closed.
The new standards don't address phosphorous – which is still an issue that the MWRD is trying to reduce [in fact, they're preparing to open the world's largest phosphorous recovery plant this year]. Some studies show that the level to which they're reducing it is great, however, to really have an impact on our waterways we know that ultimately we'll want that level to go down and to have more phosphorous recovered from the river. But that's the beginning of a process that hasn't started yet.
CT: What kind of benefits will the catfish bring to Chicago's waterways?
MF: The catfish will continue to make the river more biologically diverse. By promoting the native species that belong there, you end up with an ecological balance. The fact is they belong there and they should be there because they'll stimulate biological activity. It's really about balance and working to restore the river into a healthy waterway.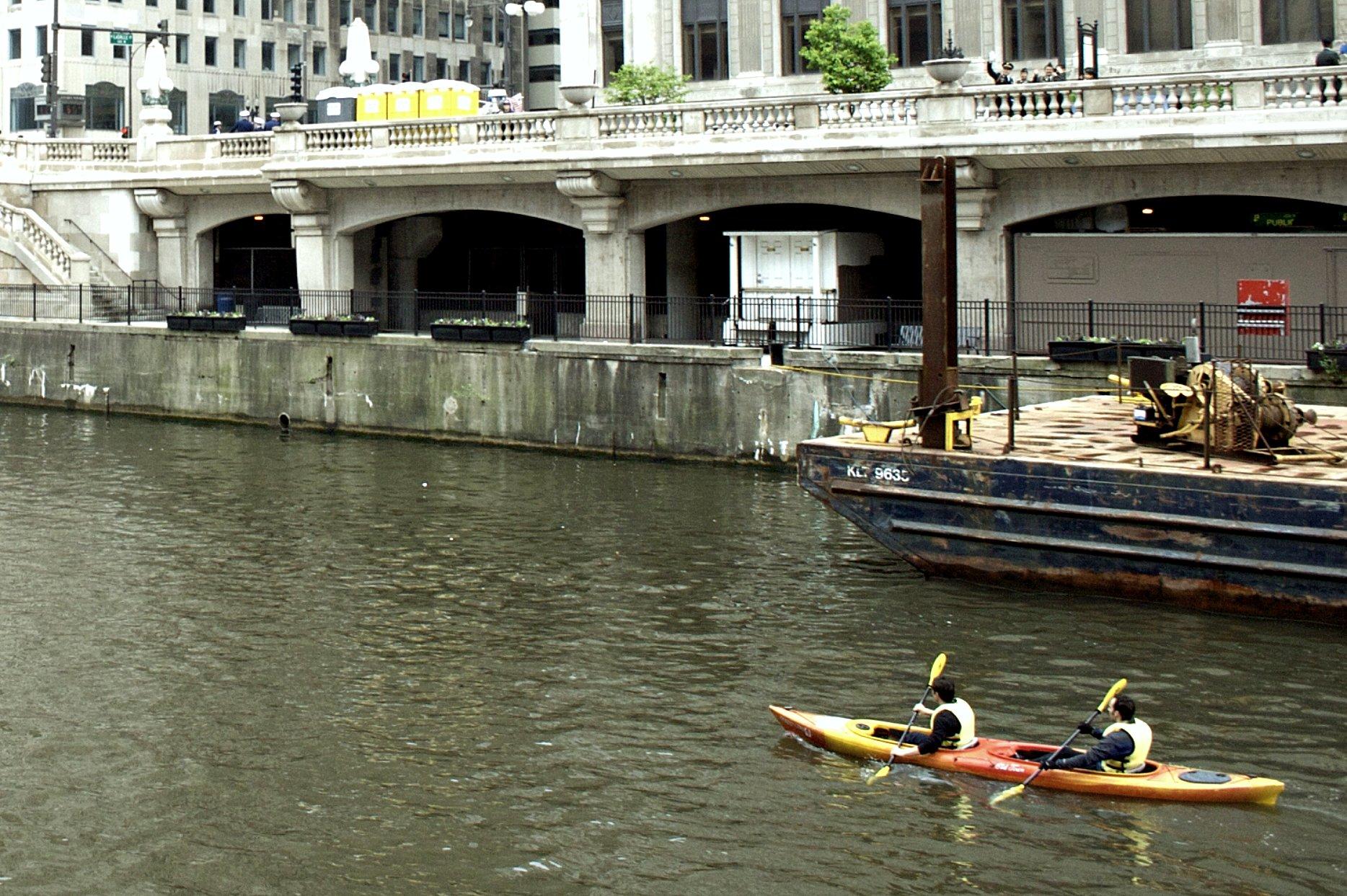 Two kayakers on the Chicago River. (Niklas Hellerstedt / Flickr)
CT: And you're expecting for the real changes to be apparent in about four to five years when the catfish mature?
MF: Yes. Along with the IDNR, we will take some samples this summer from locations where we released fish to see if they're still present there and whether their numbers have changed. We did some preliminary data collection, so we have the foundation to work off of. We'll monitor that information for years to make sure the project is successful as we promote this concept. The fish that were released were all about a year old, so it'll be a few years before they mature and start to reproduce.
We'll go out there and do some electrofishing, which is when you put some electricity in the water, it stuns the fish and then you can take them out to examine the species and check to see if they're healthy. Then you put them back in the water and they swim away.
CT: Now that you've released all of the channel catfish, are there plans to introduce any other species or organisms to the waterways?
MF: Yes. We received a grant from the Chi-Cal Rivers Fund, which is the same funder for the channel catfish project. We'll be planting two native plant species in the North Shore channel – not this summer, but next summer, since it takes a while to grow the plants and figure out where they'll go. But then, in the summer of 2017, we'll be planting lizard tail and water-willow plants in the North Shore Channel.
Along with that, we're talking to the IDNR about them donating some Northern Pike fish. Lizard tails and water-willows were chosen because there's been a lot of success in planting them in similar conditions along the Fox River. Our storm water is managed now – or unmanaged, really – so that when it rains, it used to end up in the ground, but now it ends up in pipes and in the river, so now our rivers fluctuate in height quite dramatically after a rainstorm. Not a lot of plant species can survive that. There have been previous experimental plantings demonstrating that water-willows and lizard tails can. In fact, once they establish and take hold they can increase their colony sizes. So we went and toured the Fox River with the IDNR and could see it's working there. So we'll be doing a similar thing here and that project will benefit multiple species of fish along with macroinvertebrates. We're hoping to do the same kind of release with Northern Pike.
CT: Another big goal of this project is to bolster recreational fishing along the waterways. I think a lot of people hear that and wonder whether it's actually safe to eat a fish caught on the Chicago River, say, near the Loop. Is it?
MF: The rules about eating fish are governed by the Illinois Department of Public Health, they publish an advisory for which species of fish to eat in the Chicago River or Calumet River. So, it isn't really about the water quality as it is the type of fish and what other things that might be happening. Like how tuna bioaccumulates mercury because it's a predatory fish, so people that shouldn't ingest mercury should avoid tuna – it's the same sort of thing. It's very specific to the bodies of water and species of fish. These advisories are the scientific understanding for what you should and should not eat. That being said, a lot of people do eat fish from the Chicago River.
CT: Can you tell us about this upcoming Riverwalk art installation?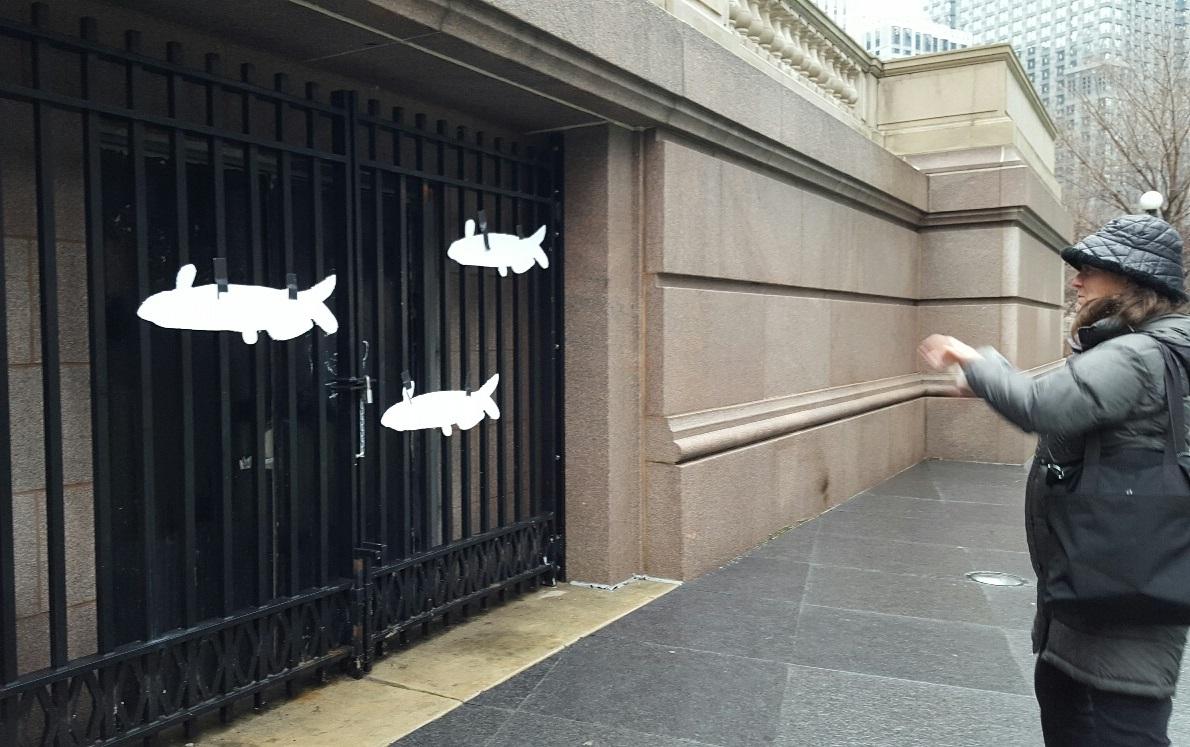 Margaret Frisbie photographs cardboard prototypes of the channel catfish on Friday, Jan. 15. (Friends of the Chicago River)
MF: We're doing an art project to tell this story to people that would never normally be in a museum or on a website reading about catfish. If we put it on the Chicago Riverwalk, we'll get tens of thousands of passersby. There will be 25 to 30 metal silhouettes containing catfish facts and an exhibit at the Bridgehouse Museum about the catfish project.
We'll have the sculptures up by the end of March. The exhibit will be ready before the museum opens on Chicago River Day, May 14, since it's a seasonal museum.
Below, watch a video from Friends of the Chicago River about their recent efforts.
Follow Evan Garcia on Twitter: @EvanRGarcia
---
Related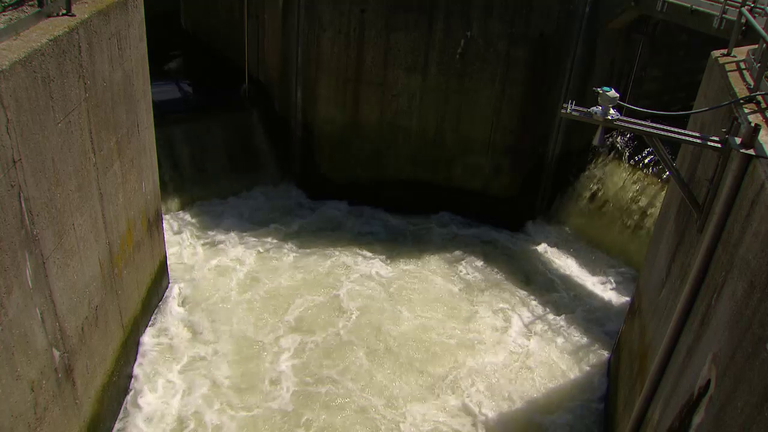 New Water Disinfection Plant Helps Clean Chicago Waterways
July 2015: Swimming safely in the Chicago River is now one giant step closer to reality, according to sanitary officials. "Chicago Tonight" details the new disinfection process making that possible.
---