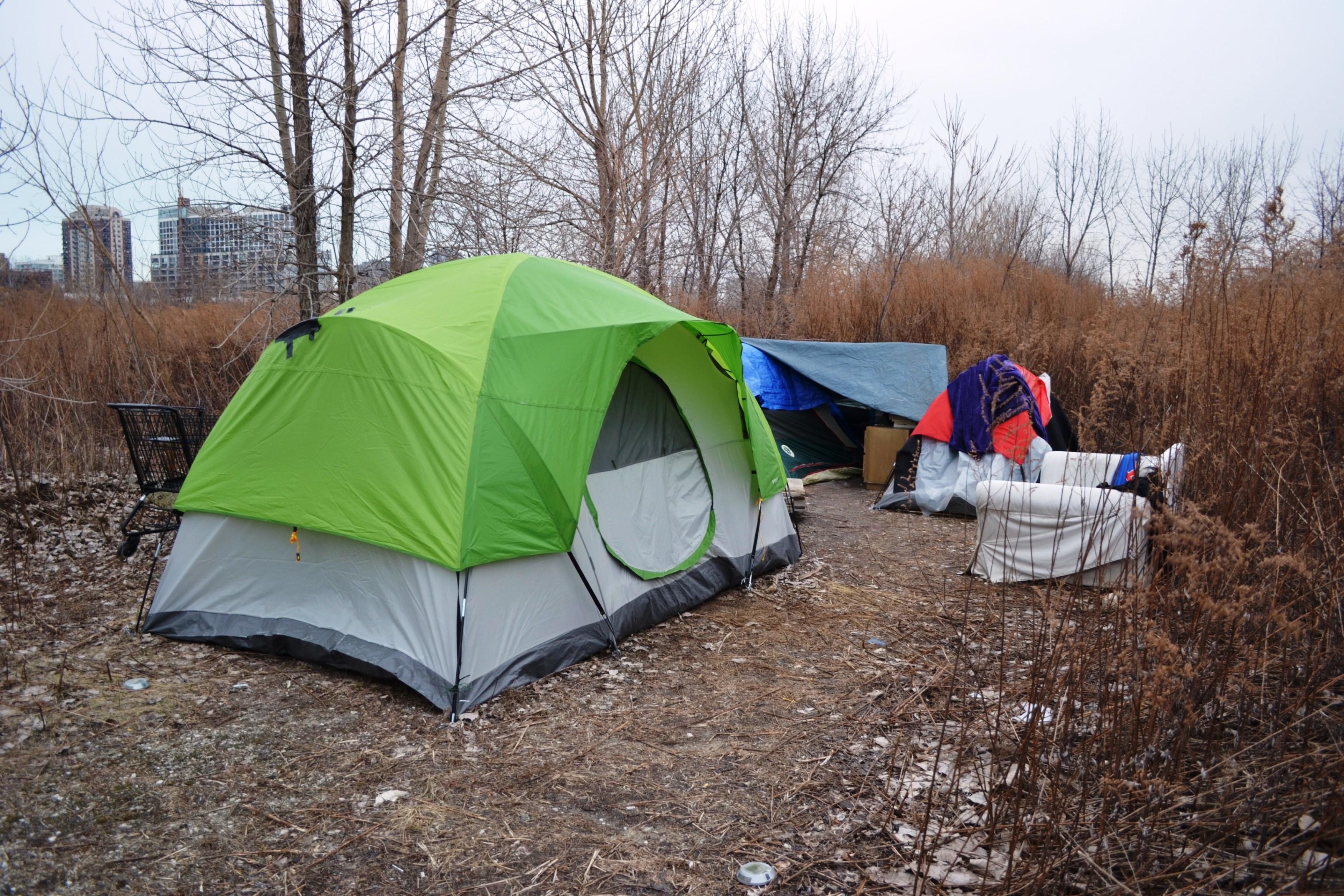 One of several tents located on a 62-acre swath of abandoned property in the South Loop. (Evan Garcia)
Camping out in the South Loop
Last week, I stumbled across a blog post from September 2015 about a so-called "tent city" located off the South Branch of the Chicago River.
Author David Witter drew parallels to this new age encampment and the area's first non-native residents who settled along the river in the early 19th century. But unlike the relatively undeveloped Chicago of the past, today's settlers are surrounded by skycrapers and modern society on a 62-acre tract of vacant land in the South Loop.
It's one of the city's largest plots of unused property. The vast, overgrown sprawl stretches from Roosevelt Road to the north down to 16th Street in Chinatown. I couldn't immediately conjure a mental picture of the location, but the idea of a tent colony in such a highly developed part of town piqued my interest. Sure, the article was posted in September, when the idea of camping outside is feasible – but I wondered whether anyone was daring enough to brave the elements during a brutal Chicago winter.
Furthermore, why were these people camped out? Was this a choice or were their options so scarce that they resorted to living outside, so far gone from society yet so close in proximity?
I imagined a sort of post-apocalyptic dystopia: neo-settlers huddled around a fire and burnt-out brush, backlit by glowing skyscrapers in the near distance. Were they flipping through their smart phones while fishing off the riverbank or were they completely detached from modern culture? Before I got ahead of myself, I wanted to confirm this tent settlement's existence.
So what's the deal with the property?
The land has been commercially dormant for some time. Antoin "Tony" Rezko, a benefactor of former governor Rod Blagovich, previously owned the 62-acre property. Rezko, who was released from federal prison in July after serving seven years for corruption charges, originally proposed a shopping center and thousands of homes for the site. But plans were abandoned about a decade ago, when Rezko sold the plot to General Mediterranean Holding (GMH), a Luxembourg-based conglomerate.
GMH hasn't unveiled plans for the property, wearing thin the patience of a City Council eager to put it into use. In July 2013, the city obtained authority to buy the land via eminent domain if necessary. Although mayoral spokesman Tom Alexander said, "We don't have any immediate intentions to acquire it," the city was presumably safeguarding the option as leverage to get GMH moving on a plan or to find a developer with one.
As of four months ago, Crain's reported that Chicago developer Related Midwest was teaming up with GMH to develop this "building-free wasteland," although specifics were not provided. With the city pushing for development of this "long-barren land," there's a good chance any tent city there will soon be a relic of another time. Only time will tell how soon high-rises take the place of tents.
Onto the exploration
My first rule of order was enlisting the help of two friends to accompany me on this excursion. The idea of venturing all alone into a bizarre tent colony didn't strike me as particularly wise. Luckily, they were both up for the adventure – and better yet, had a van to transport us.
In his September blog post, Witter wrote of a man named Joe who provided insight into his unconventional lifestyle. Given his situation, Joe was understandably wary of being photographed or fully identified. He told Witter how he and his wife survived by panhandling and receiving help from passersby. They'd venture into the city to purchase fast food, and would only get hassled by police–who were apparently aware of their presence–if they didn't clean up after themselves on the land.
While no one was in any of the tents I came across, or at least declined to emerge from them, I did confirm the existence of this tent city off the Chicago River and met a group of men hanging out on the land.
Photos taken by Evan Garcia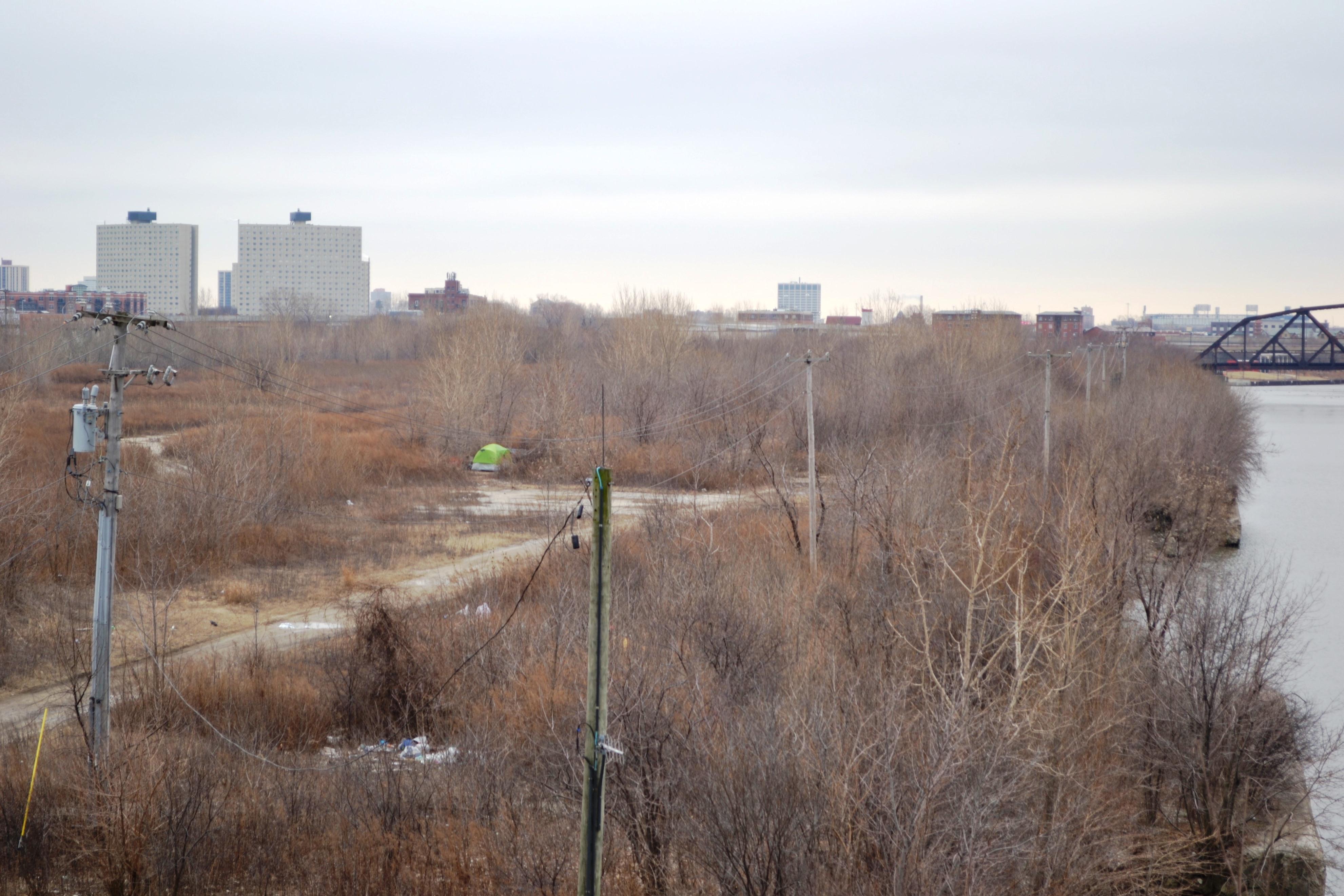 This is a view from the Roosevelt Road Bridge, looking south onto the 62-acre tract of unused land. The first tent I notice is neon green and clearly visible from the bridge. Behind me are high-end stores and a movie theater, but below and ahead of me sits vacant, overgrown land where train tracks and power lines are the only signs of industry.
---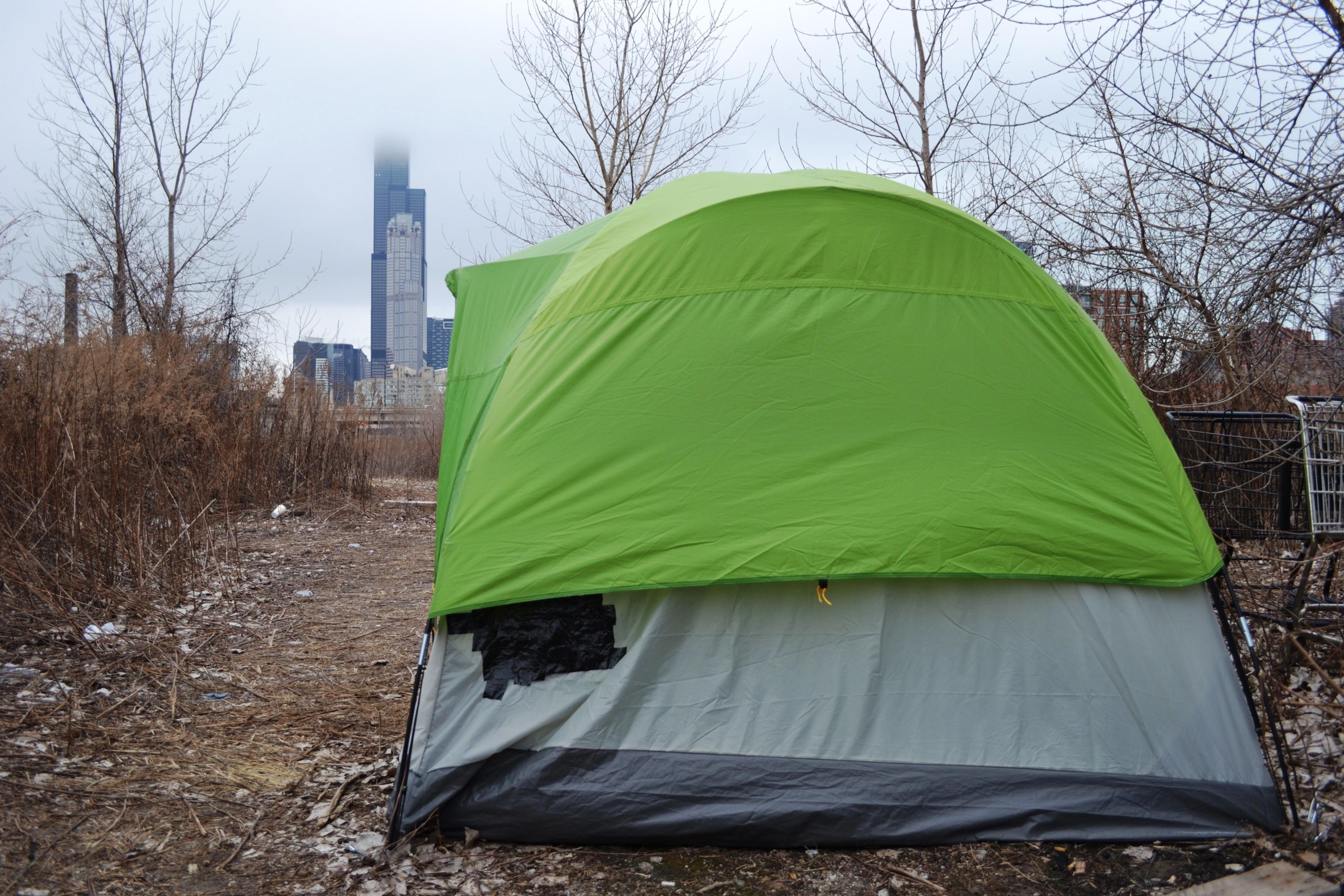 It took us nearly an hour to find an entrance to the site. There's easy, unobstructed access from underneath the Roosevelt Road Bridge. This tent that I first observed from afar has a nice view of the Willis Tower, even on a not-so-clear winter day.
---
I was surprised to see whoever lived here also had a couch. I had the feeling someone was still residing here. They had several fishing rods around their site, suggesting they may be using the river as a food source.
---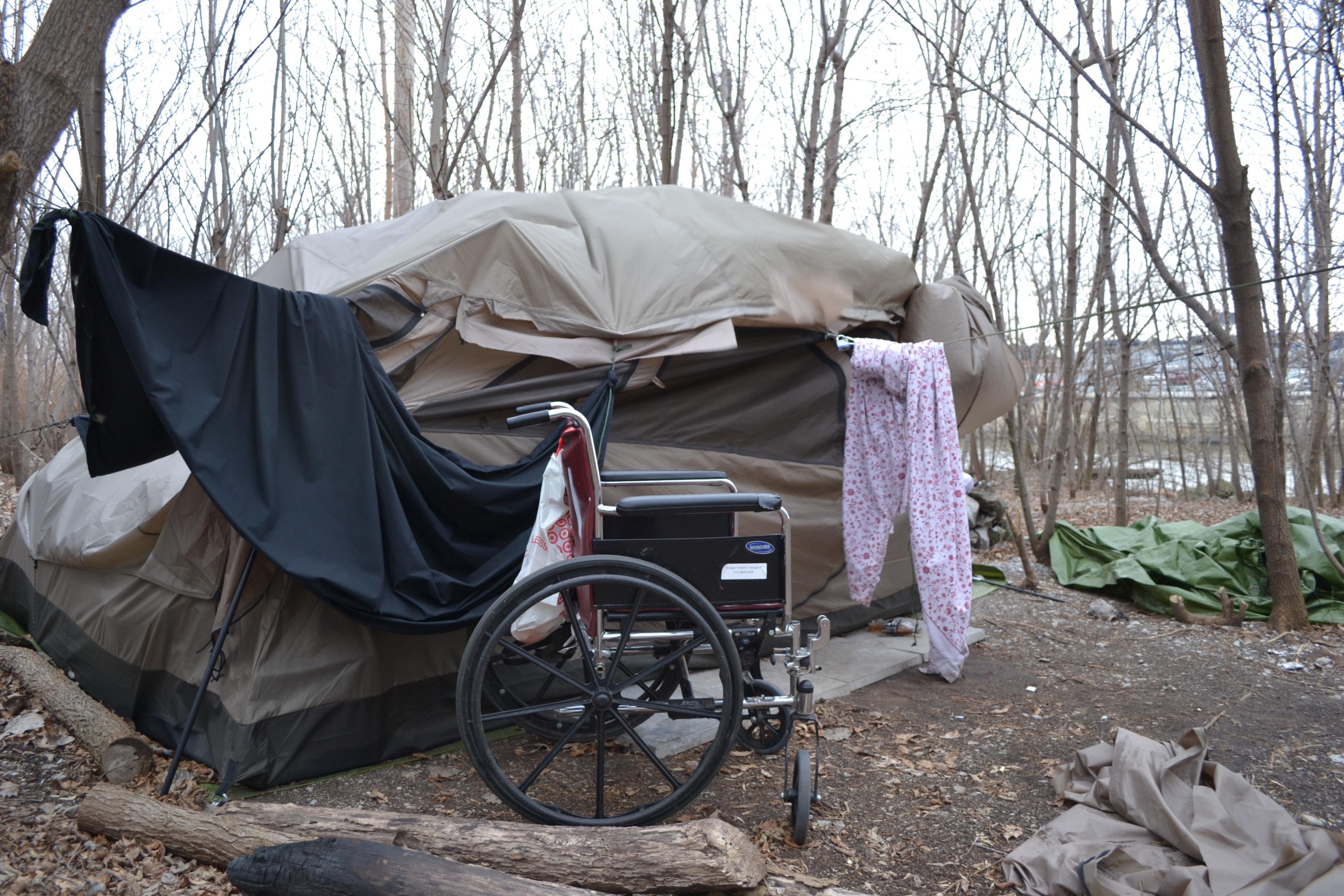 I announced myself outside every tent I approached. No one responded. I didn't hear rustling from inside, so maybe the occupants were away, either for the afternoon or longer.
---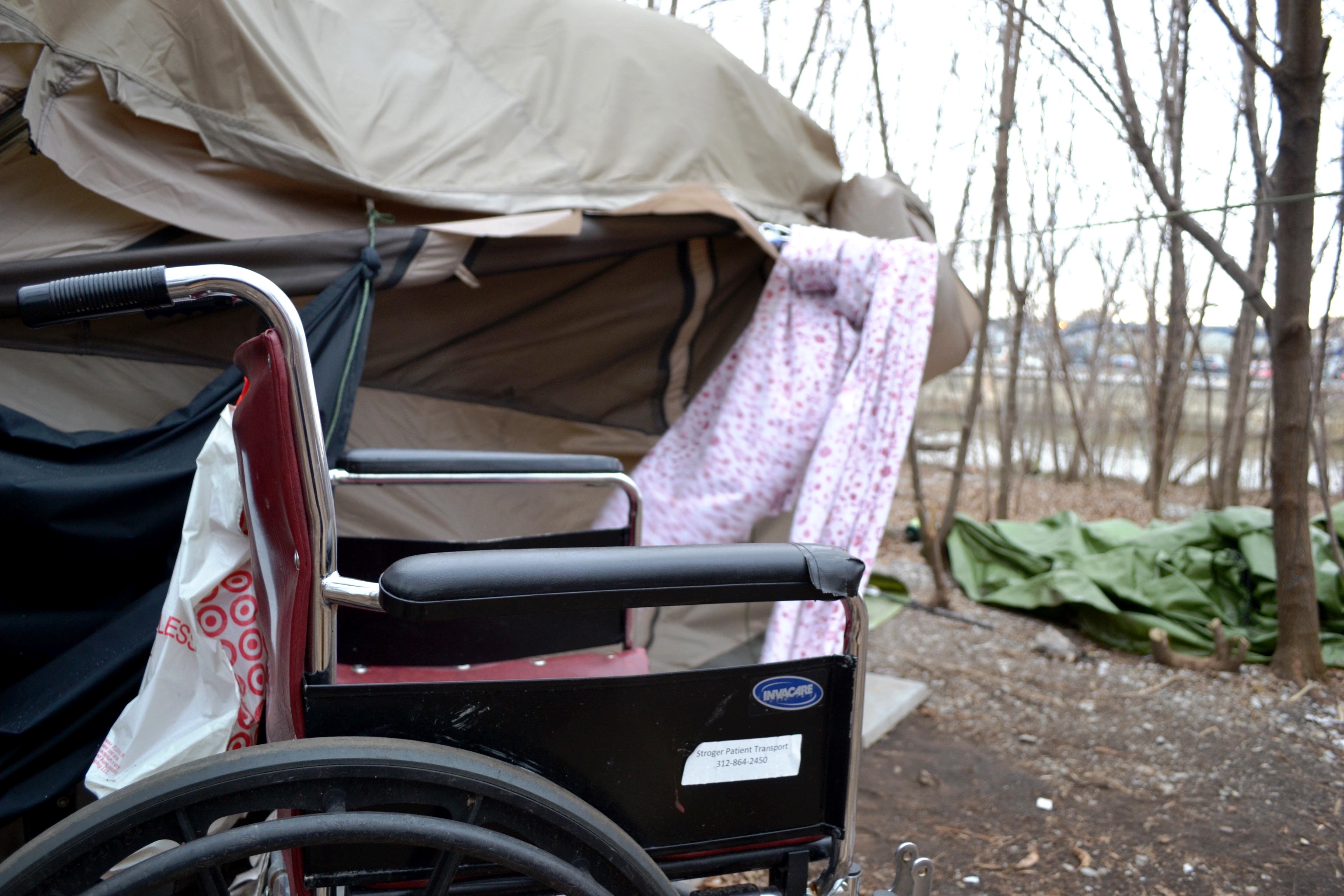 This wheelchair seemed an unusual addition to this site.
---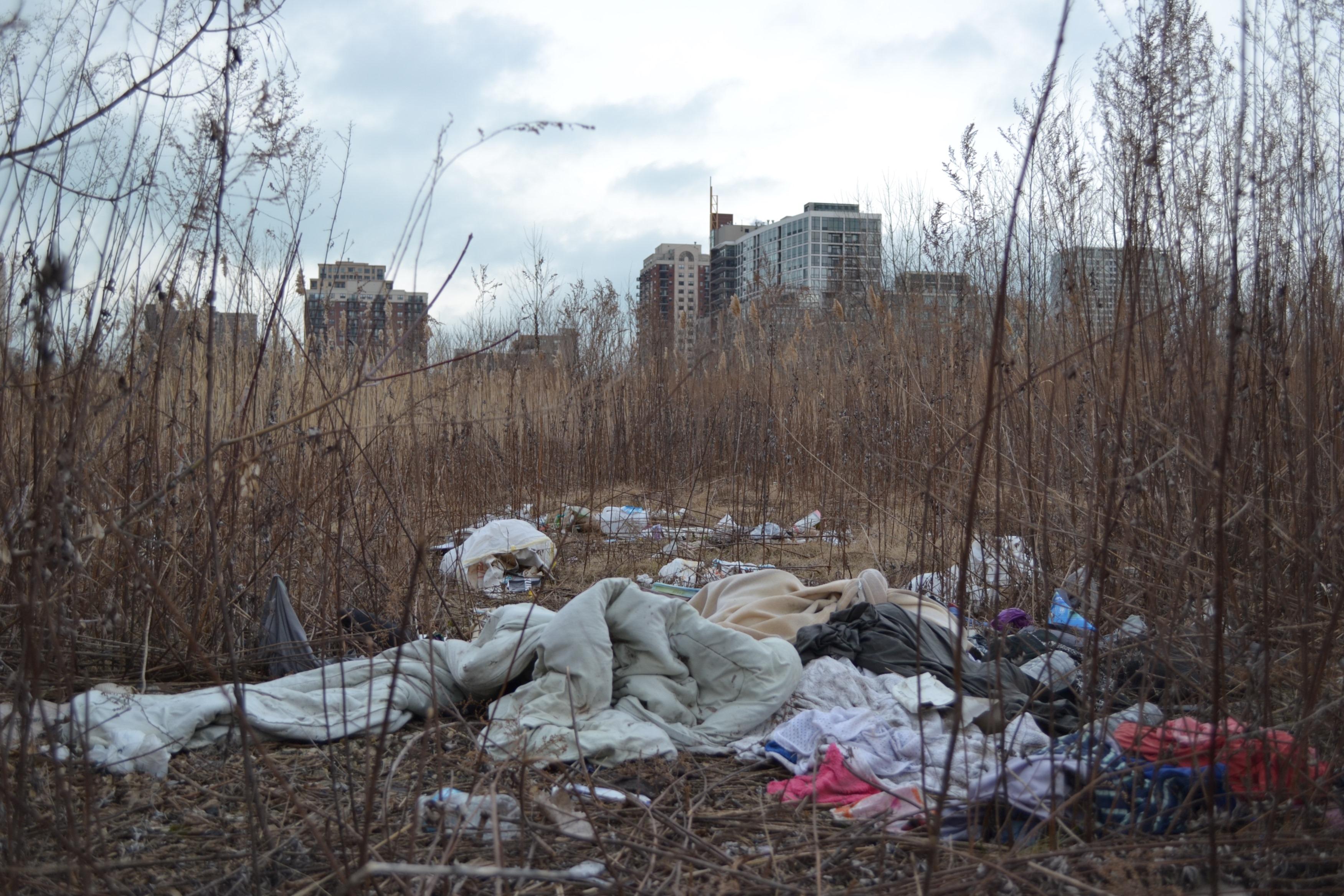 It's understandable why Joe from Witter's story said the police bother campers if they don't clean up after themselves: There are plenty of squatters' remnants strewn throughout the area.
---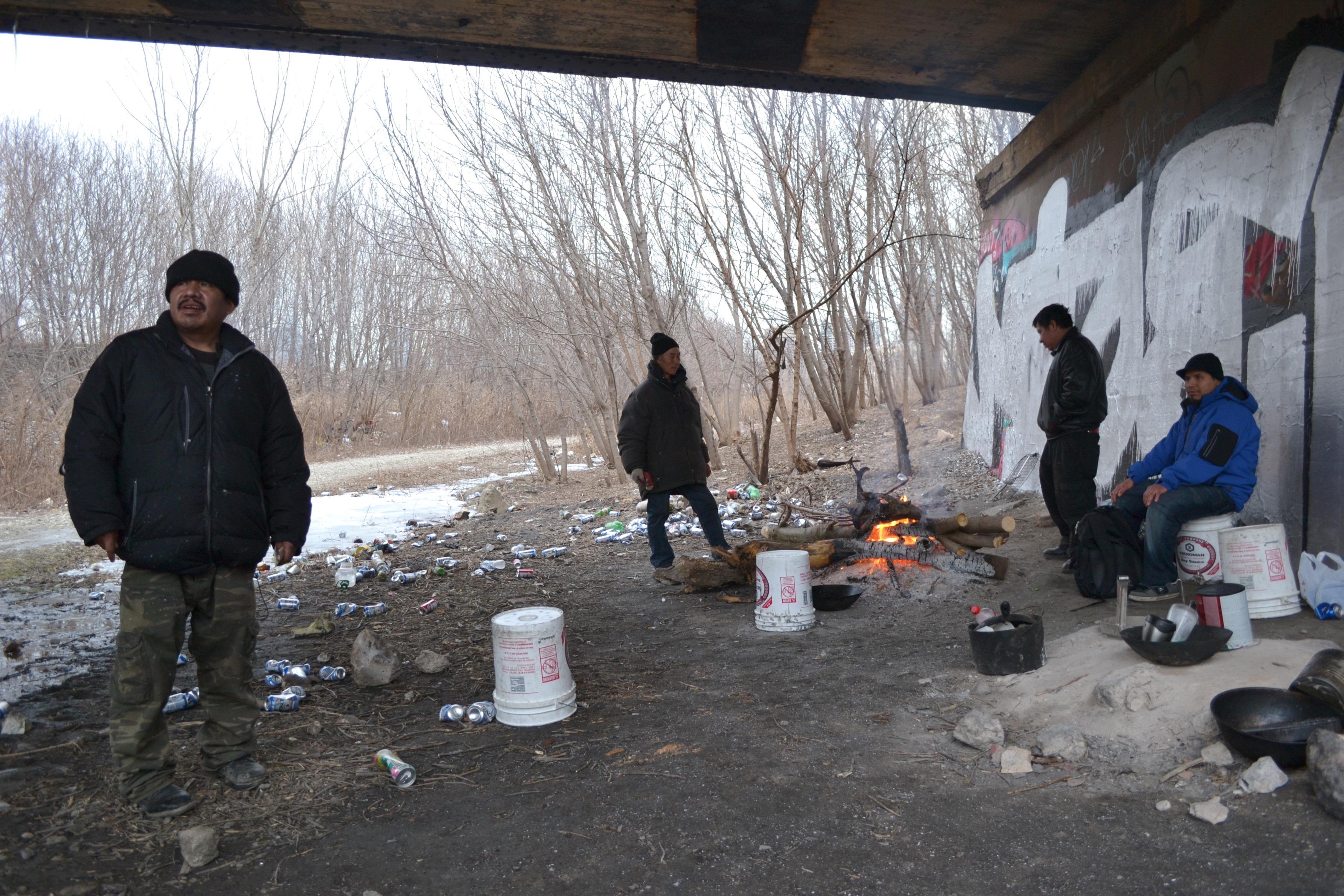 It wasn't until I ventured deeper into the vacant property that I noticed people. I heard banging sounds and noticed plumes of smoke coming from an underpass. Getting closer, I met four men there warming themselves near a freshly lit fire.
---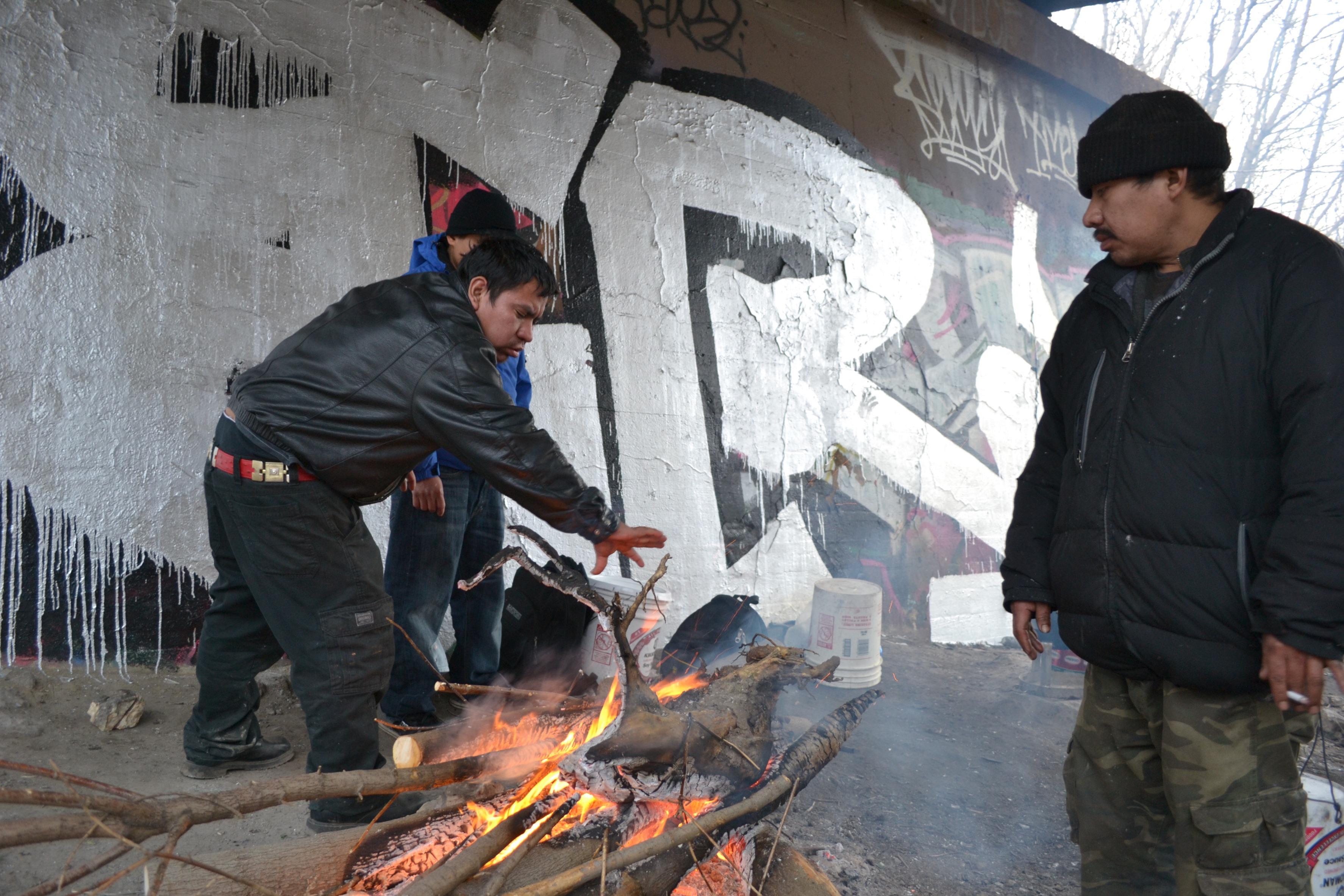 The men were friendly and spoke broken English, which complicated communication. Mario, the man on the right, said he works in the area and was just visiting. The other three men said they were homeless and had been living on the land for three days.
---
This man identified himself as Hoss and said he didn't live in any of the tents on the land.
---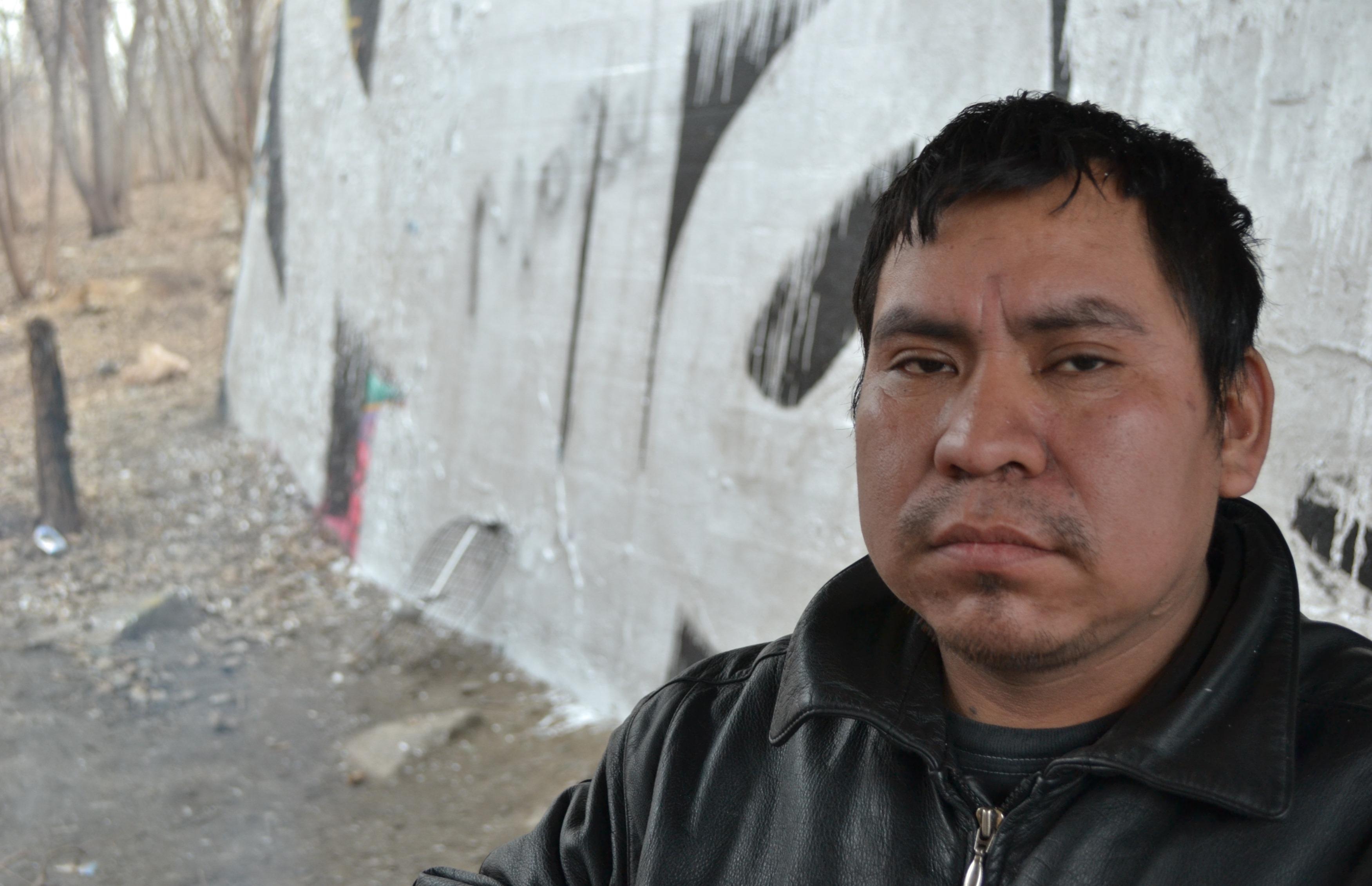 This man went by the name Pancho. The group seemed to be in it for the long haul: They had several frying pans, pots and other cooking supplies.
---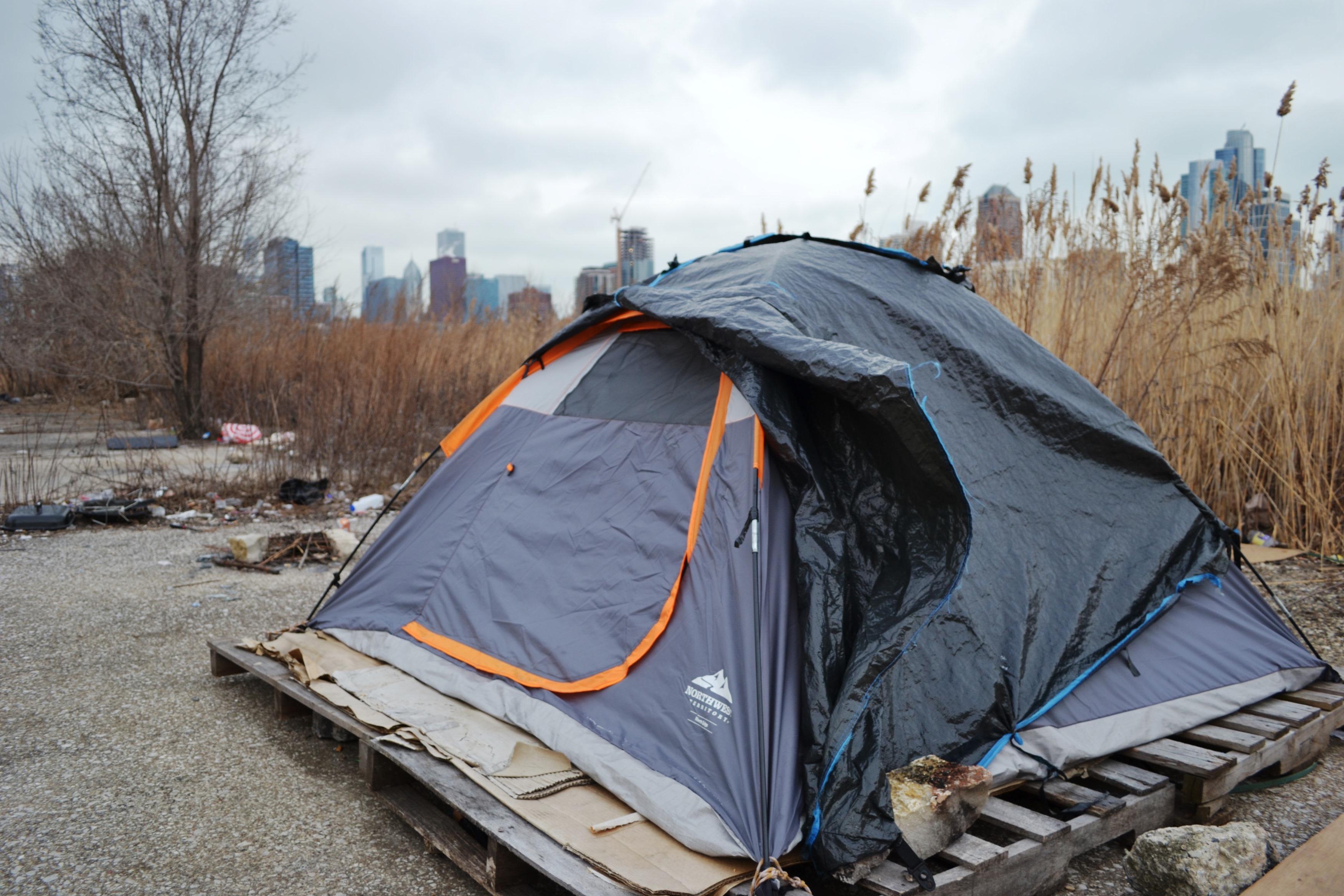 Most of the makeshift living spaces appeared to be well looked after. This tent was heavily weatherproofed atop a crate to presumably prevent it from getting wet during rain or flooding.
---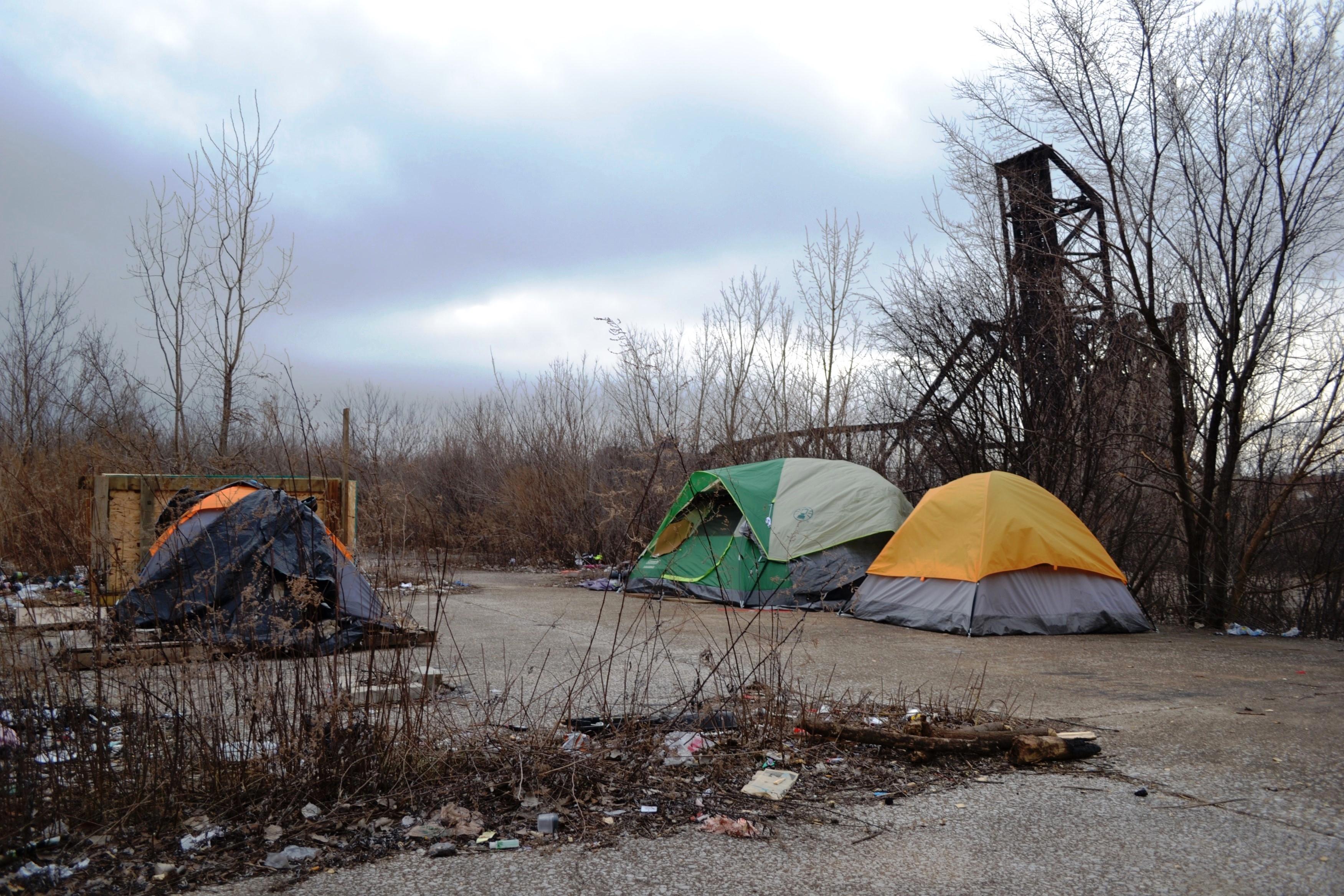 Some sites had signs of recent activity, like identification cards neatly placed on a cabinet outside a tent or laundry hanging from a clothes line, leaving little doubt that at least some tent residents are still living here, fighting through the frigid winter temperatures.
---
The future of the forsaken
The Chicago Police Department's District 1 central headquarters are located barely a block away from this desolate campsite. When I called to ask how often they patrol the area and whether they receive complaints about unwelcome visitors, an officer curtly told me they don't patrol the land nor do they receive complaints. He declined to give his name. I don't know how long people have been settling here, but it doesn't seem to concern the neighboring police station.
The land is in the city's 25th Ward, represented by Alderman Danny Solis. I contacted the alderman to find out whether he was aware of the tent city within his ward. His spokesman Tim Nazanin wrote in an email that Solis "has been made aware that people are camping out in the vacant land" and that "he will be contacting the city to help move the people in a responsible way." No elaboration was provided and he did not indicate whether the alderman has received complaints over the occupation of the land. Nazanin said Solis is "expecting a final proposal" for the property's future and that eminent domain by the city was not being considered "at this point because the negotiations are progressing."
Since 1980, the Chicago Coalition for the Homeless has advocated for policies to assist the homeless and prevent more Chicagoans from living on the street. In their eyes, the existence of this tent city is testament to the city's inadequate permanent housing solutions for those in need. According to the non-profit, over 20,000 homeless people are waiting for permanent housing in the city's Central Referral System program, the only way to obtain supportive, subsidized housing in Chicago.
My purpose in writing this story is not to expose or jeopardize the living conditions of those who inhabit the land, regardless of their reasons for doing so. Instead, my goal is to illuminate a peculiar, yet curious, community existing under our noses that many of us likely don't notice.
As we drive over the Roosevelt Road Bridge or travel via water taxi along the South Branch of the Chicago River, a subculture of Chicagoans exists a few yards away from us. Inhabitants of this tent city reside at the unusual intersection of nature and urban decay. I hope to preserve the presence of this strange place, if only in words and photos, before it vanishes.
Follow Evan Garcia on Twitter: @EvanRGarcia
---