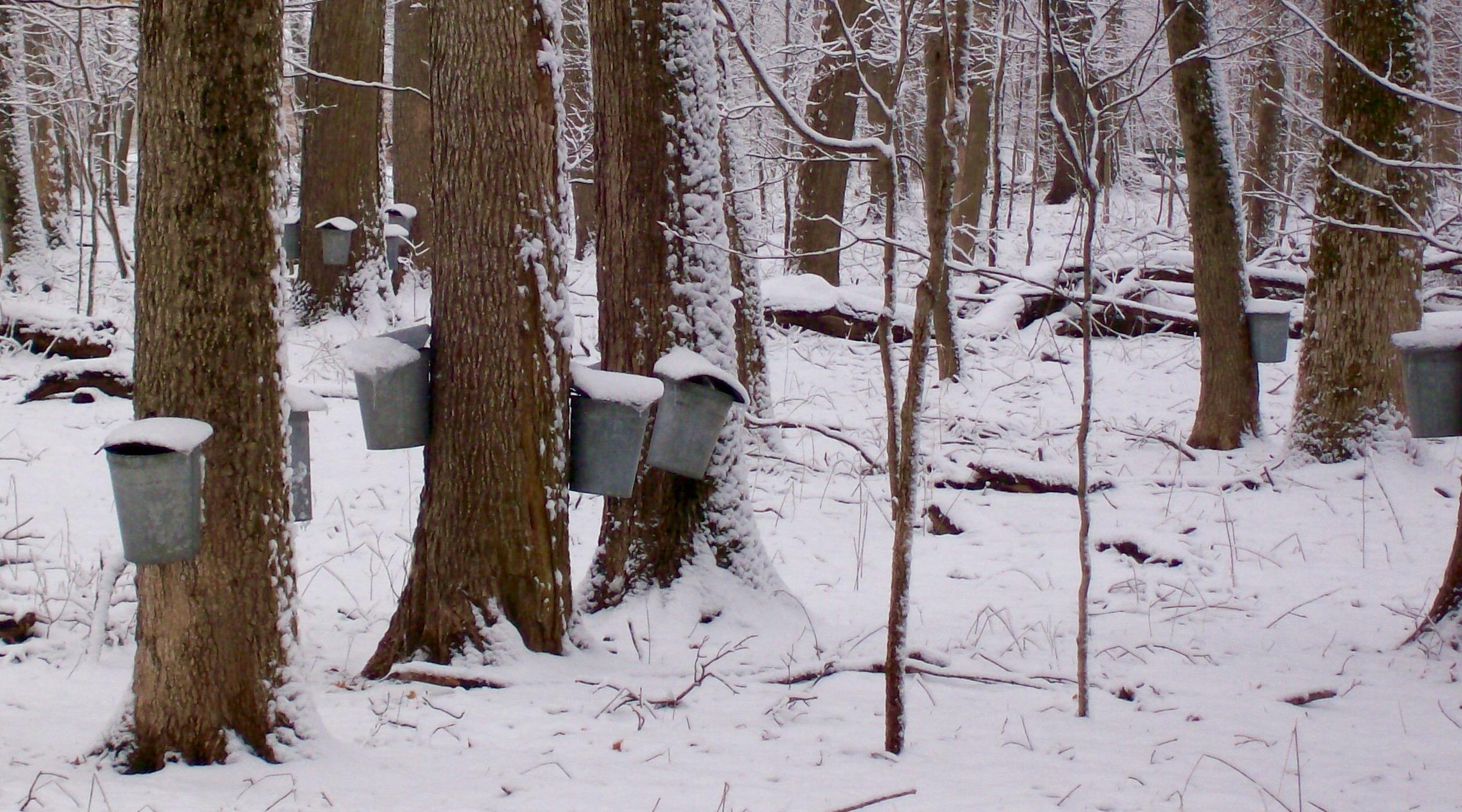 Sap is collected from the sugar maple trees of Funks Grove, Illinois' largest commercial maple syrup operation. (Debby Funk)
It's an industry that hinges heavily on weather conditions, and we're in the thick of it this month and next, as maple trees in Canada, the Northeast and even parts of the Midwest are being tapped for their sweet sap, which is collected and processed into maple syrup. 
But consumers aren't the only ones taking note of this sweet season. Researchers are studying the effects of climate change on maple syrup production. The global warming trend appears to be accelerating: Data released earlier this year by the National Aeronautics and Space Administration (NASA) and the National Oceanic and Atmospheric Administration (NOAA) show that 2015 was the hottest recorded year to date, a troubling record broken in 2014 as well.
Joshua Rapp, a Bullard Fellow at Harvard Forest in Massachusetts, the university's 3,500-acre ecological research site, has been studying the changing climate's influence on sugar maple trees and their syrup production for the past five years.
"We're looking at the flow of sap and its sugar content," said Rapp. "We want to see how those two things vary with climate across the sugar maples' range."
Ecologist Joshua Rapp measuring the sugar content of sap from a sugar maple tree in north-central Massachusetts. (Clarisse Hart)
Until recently, he and his consortium of scientists, the Acer Climate and Ecological Research Network (ACERNet), have concentrated their research in the east, from Virginia to Quebec.
But after receiving a nearly $150,000 grant, they will be expanding their range to include sugar maple trees at Indiana Dunes National Lakeshore, located roughly 50 miles from Chicago. The park has about 60 trees which can yield over 20 gallons of syrup in one season. The Dunes has been tapping for demonstrative and educational purposes for 39 years. This season and next, volunteers will gather sap and measure its sugar content.
While research is ongoing, there are several indicators and theoretical effects of climate change that could alter the maple syrup industry. Rapp points to the decreasing U.S. range of sugar maple trees shown on the USDA Forest Service's Climate Change Atlas, which documents the habitat sustainability of 134 tree species over time. By 2100, the habitat for sugar maples in the U.S. will be unsuitable for the species. This doesn't mean large populations of trees will die by then – they can live for up to 400 years – but it does mean that over greater periods of time, the species could permanently migrate.

Left: A sugar maple tree during autumn in McLean County, Illinois. (Tim Lindenbaum) Right: Sugar maple sap drips from a tap into a bag in Harvard Forest. (Joshua Rapp)
Charles Cannon is the director of the Center for Tree Science at the Morton Arboretum. He says the unpredictable effects of climate change pose serious long-term challenges for tree growers.
"Climate change is a much harder thing to deal with for people who grow trees versus other things," Cannon said. "You can't just mow down last year's harvest and start over if it was a bad year."
Cannon says there's a chance that the entire sugar maple tree population migrates to Canada in the distant future, bringing the syrup industry with it.
Canada, especially the Quebec province, dominates the maple syrup industry. In 2013, Canada's maple syrup production exceeded 10 million gallons, a total value of about $408 million, according to the country's national statistical agency. The year prior, the U.S. produced a little over 1.9 million gallons of maple syrup, the majority of which came from Vermont. It's liquid gold to some: In 2012, Quebec police arrested 18 people linked to a nearly yearlong heist of $18 million worth of maple syrup.
Rising temperatures and unpredictable weather patterns could deteriorate tree health and make the maple syrup season difficult to manage for producers. The harvesting of maple sap is dependent on a freeze-thaw weather cycle wherein sap is stored in the tree's roots during below freezing temperatures at night. When daytime temperatures rise above roughly 40 degrees Fahrenheit, the sap flows from the roots to the branches of the tree. The sap can then trickle out of a tap drilled two two inches deep into a mature tree. The process repeats when temperatures dip below freezing at night. Once trees start budding and new leaves photosynthesize, the sap stops flowing.
Producers depend on this pattern, but highly variable weather is throwing it off.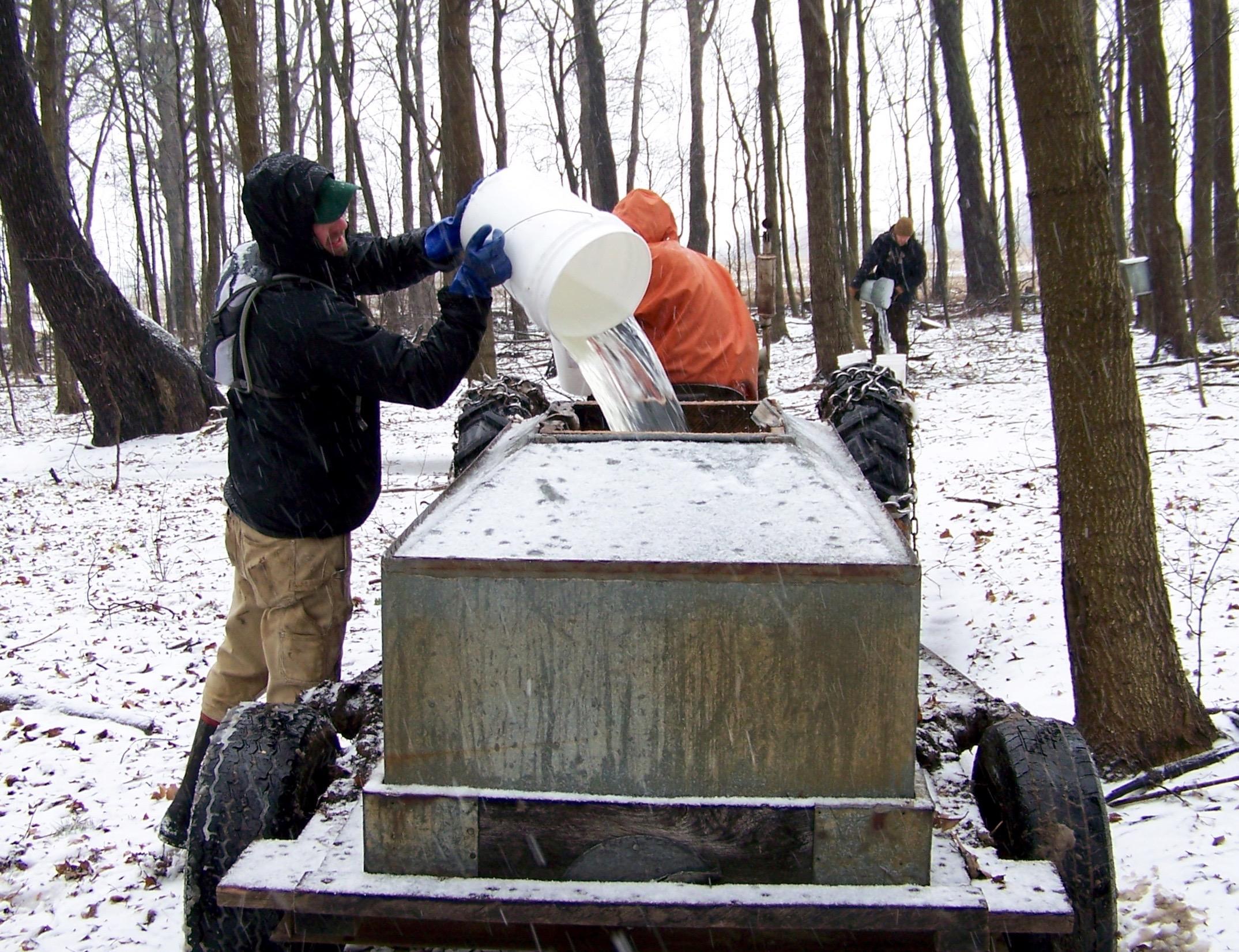 Jonathan Funk pouring sap into a gathering tank at Funks Grove. Maple syrup producers collect sap daily. (Debby Funk)
Funks Grove is Illinois' largest maple syrup producer. The farm, located in unincorporated Shirley, less than 10 miles southwest of Bloomington, produces an average of 2,000 gallons of syrup per year and has been commercially selling maple syrup since 1891. Funk and his wife Debby have noticed much shorter seasons these past two years.
"If we had been ready, we could've started in late January because it was warm enough on a few occasions," said Funk. "Last year was a bad year. We made two-thirds of our average stock."
Cannon says the first tap is especially crucial for syrup producers because the tree's first flow of sap tends to be the most desirable due its high sugar content.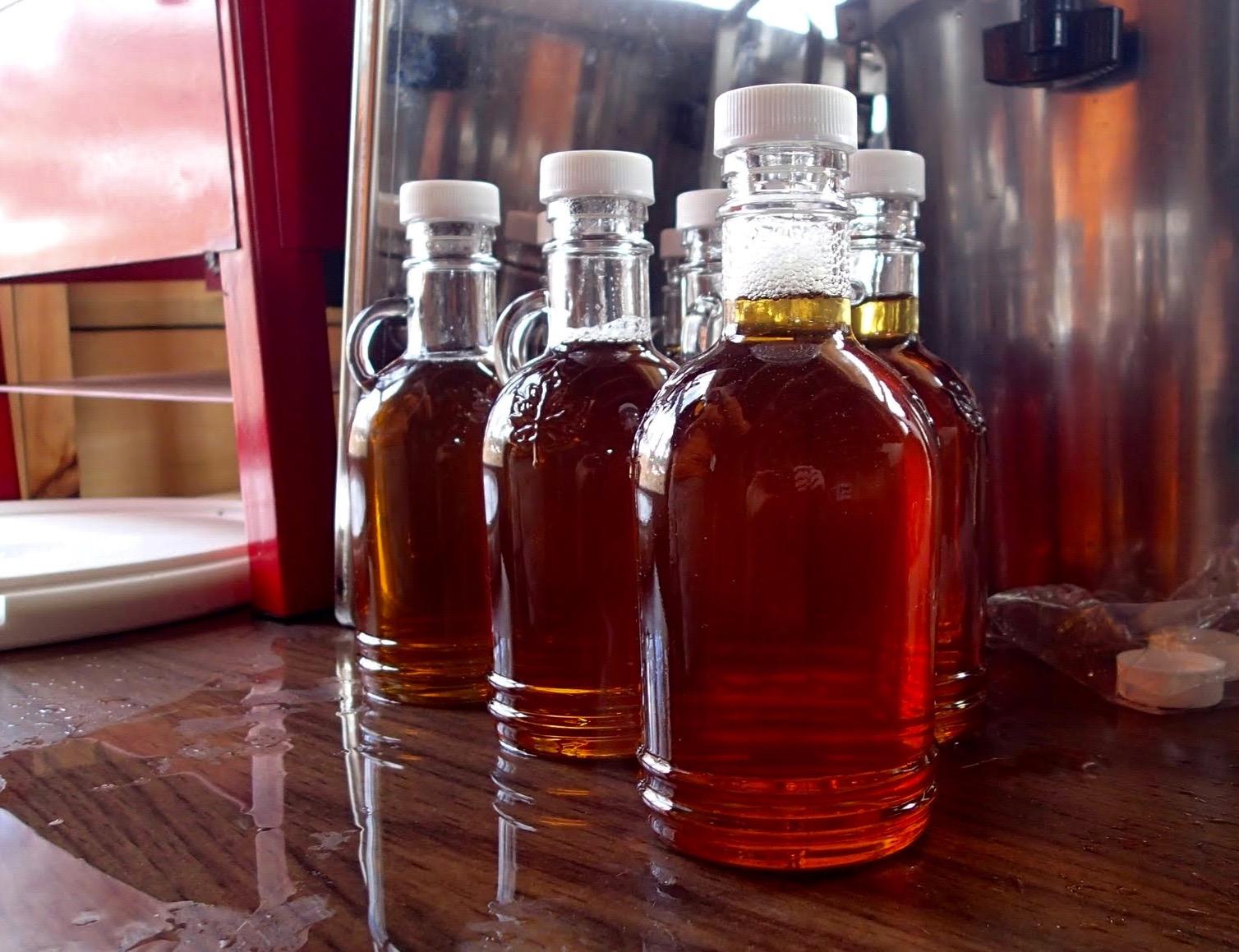 One sweet perk of Rapp's research is that there's never any shortage of maple syrup. He heads Harvard Forest's "sugar shack," where researchers boil down the sugar maple sap into syrup. (Joshua Rapp)
Rapp says some producers have leveled out a lower yield of sap with the help of technology. Instead of an old-fashioned tap dripping into a bucket, a vacuum tubing system is connected to a network of trees, sucking out the sap instead of relying on a natural flow.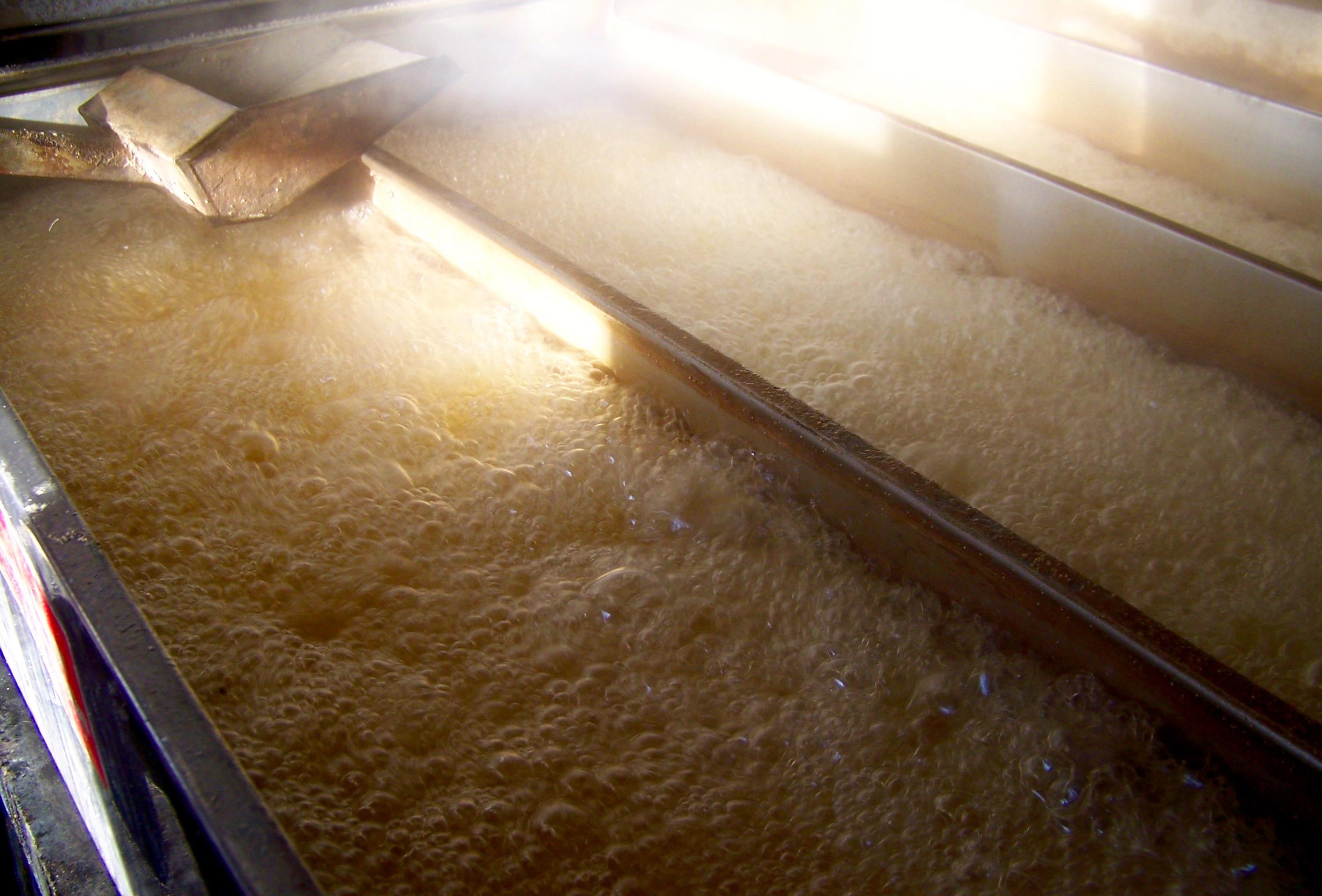 Water is boiled out of the sap in the evaporator at Funks Grove until it's reduced to pure maple sirup. The Funk family uses the traditional 'sirup' spelling, a historical nod to Webster's original definition for "the product that results from the boiling down of sap, without the addition of extra sugar." (Debby Funk)
The sap from sugar maples is mostly water and 3 percent sugar. After it's gathered, the sap is boiled so the water can concentrate to the desired sugar content. Maple syrup is typically 67 percent sugar. It's too runny at any lower concentration and crystallizes if concentrated any higher.
In addition to his work studying sugar maples, Rapp is also looking into the viability of the red maple tree as a syrup producer. This subspecies is thought to produce a sap with lower sugar content but is also more resilient and able to thrive in a wider diversity of habitats, including those as far south as Florida.
Follow Evan Garcia on Twitter: @EvanRGarcia
---
On the weekend of March 19-20, the North Park Village Nature Center (5801 N. Pulaski Rd.) hosts a free maple syrup festival. The family friendly event offers a look at the process of making maple syrup, from tapping to collecting to boiling. For more information on this and other programs, visit the center's website.
---
Related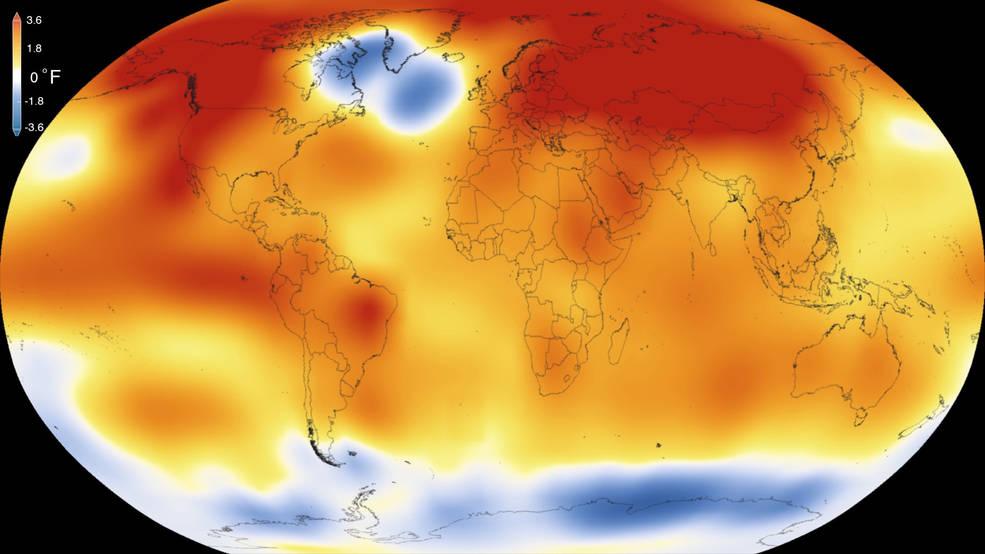 2015 Was the Hottest Recorded Year on Earth
January 20, 2015: New reports show that Earth's surface temperature last year was its highest since modern temperature record keeping began in 1880.
---