Architect David Adjaye, a finalist for the Obama Presidential Center, stands before Archibald Motley's "Progressive America" at the DuSable Museum on Tuesday.
"Buildings can transform. They can change places. They can change the perception of places."
That was architect David Adjaye's message to a group of about 20 community leaders he met with Tuesday. One of seven finalists to design the Obama Presidential Center, Adjaye met with a distinguished group that included historian and activist Dr. Timuel Black, Ald. Leslie Hairston (5th Ward) and Susan Sher, University of Chicago liaison to the Obama Foundation and former chief of staff to First Lady Michelle Obama.
The DuSable Museum of African American History hosted the meeting, which museum president Perri Irmer helped to organize. "We want you to meet David, but more importantly David wants to meet you," Irmer told the group before introducing Adjaye. "He's the only one of the finalists who has reached out to our community personally."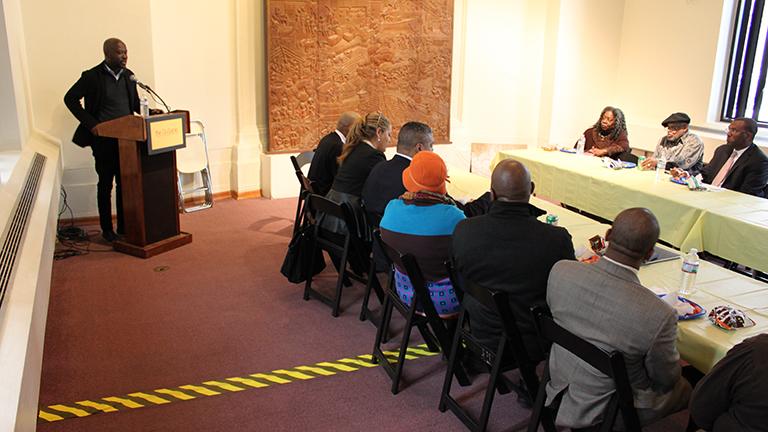 Adjaye made brief opening remarks before taking a seat at the table and soliciting feedback for about an hour and a half.
Irmer commended Adjaye for getting to know community members. "Part of his whole process … is really understanding the context for a project, really understanding the community connections for a project, really understanding what is important for a project to live amongst the people and be accepted and enjoyed and loved by the communities that surround it," she told the group.
[Never miss a "Chicago Tonight" headline! Get our daily newsletter delivered straight to your inbox.]
"This is the kind of engagement, small or large, that I'm very interested in," Adjaye said after the meeting. "For me, at the beginning of a project, the best is to have an opportunity to just listen." And listen he did, as educators, activists, and business people discussed everything from youth outreach to civil rights activism to community benefits agreements, outlining past triumphs of Washington and Jackson Parks (the proposed sites for the center) and their hopes for Chicago's future.
"Sometimes a small story can become the germ for a very important idea," Adjaye said. "It might not be in the briefing document, it might just be in the community."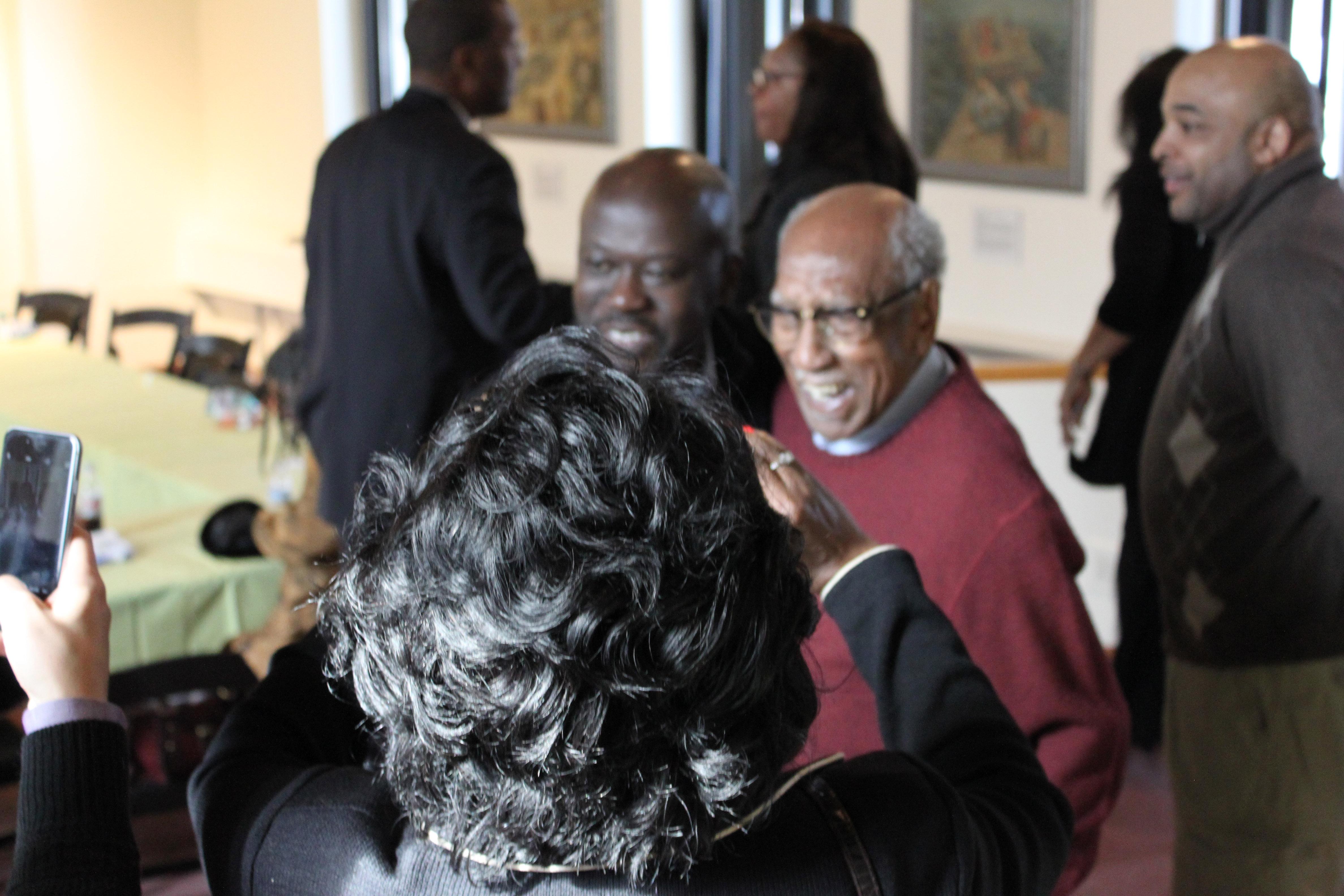 Adjaye takes a photo with historian Timuel Black after Tuesday's meeting.
Born in Tanzania, based in the United Kingdom, and active professionally around the world, Adjaye wants to get to know Chicago – not just its great works of architecture, but the people who inhabit and interact with those buildings. In addition to Tuesday's meeting, Adjaye spoke Monday night as part of the IIT architecture school's Dean's Lecture Series. At IIT, he explained his vision of "architecture [as] a vehicle for disseminating knowledge, for becoming a place to focus ideas."
That spirit of knowledge – and a grounding in the cultures of Africa – are driving forces behind the Adjaye-designed Smithsonian National Museum of African American History and Culture, set to open later this year in Washington, D.C. And in a little more than a month, Adjaye travels to Cambridge, Massachusetts, to deliver a keynote as this year's recipient of MIT's Eugene McDermott Award in the Arts.
Adjaye says to be an architect receiving an arts award is humbling.
"Architecture is typically always understood as a science, and a kind of pragmatic form, but it's also about embedding stories," Adjaye said. "Art is an incredible way to tell stories … my interest in art supports the architecture and the science and the pragmatism that I have. I can't do one without the other."
While Adjaye was waiting for a ride to the airport after Tuesday's meeting, the DuSable's Irmer whisked him off for an impromptu tour of an exhibit tracing the African American experience from the slave trade through the present day.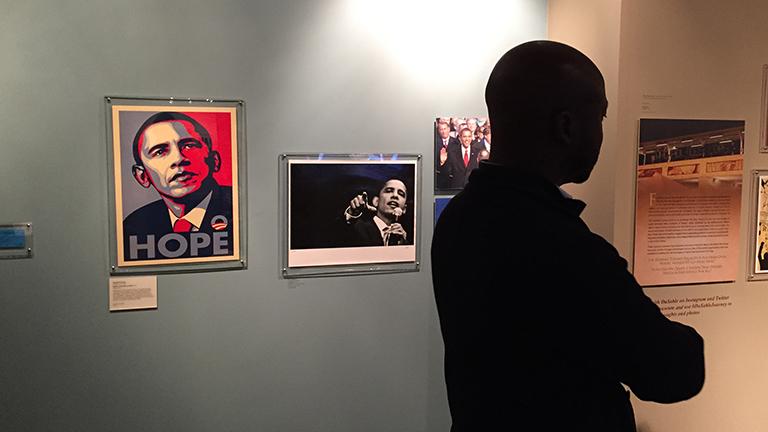 Adjaye tours the DuSable Museum after meeting with community leaders.
As Adjaye walked past reproductions of segregated drinking fountains and displays of Chicago's black political giants like Harold Washington, he ended up standing before campaign posters of the man who, along with his wife and his closest advisers, will decide from the seven finalists for the Obama Presidential Center. Whether or not he lands the gig – the winner is expected to be chosen later this year – Adjaye thinks it's in good hands on the South Side.
"This community is highly articulate, sensitive, they understand the impact of this building, they know what they want from it," Adjaye said. "I think that they will really help shape and make this building successful, because they're very engaged with it, they're not hands-off. All that contributes towards making a very powerful project."
---
Related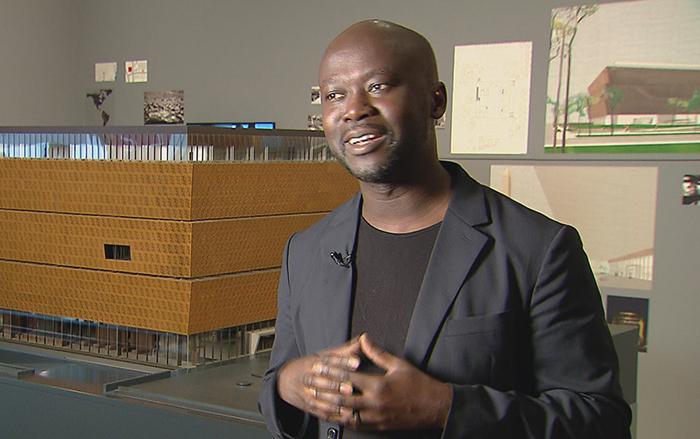 Architect David Adjaye Among Finalists to Design Obama Library
Dec. 28, 2015: The Barack Obama Foundation last week announced the seven finalists chosen to submit designs for the Obama Presidential Center. One of the architects, David Adjaye, is the subject of a solo exhibition at the Art Institute's modern wing.
---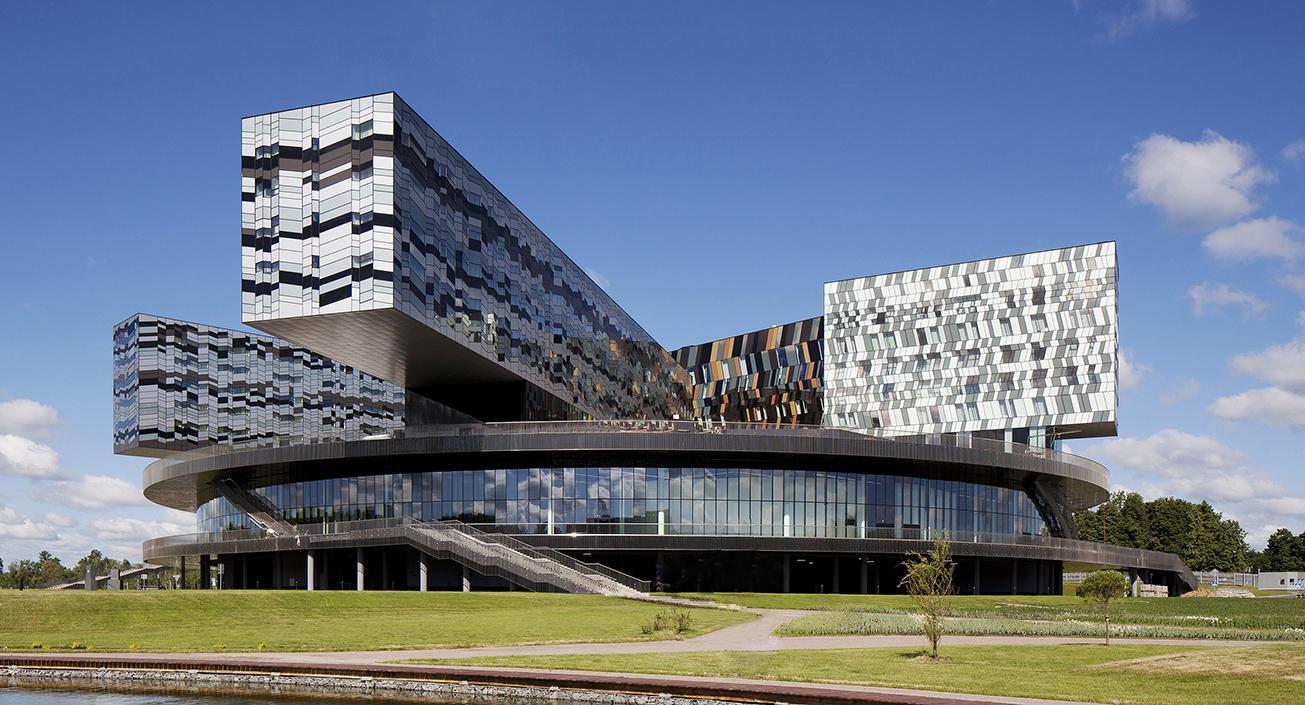 David Adjaye on Challenging Assumptions Through Architecture
Sept. 30, 2015: An architect with a global portfolio but a laser-like focus on context. Works deeply embedded in culture but devoted to breaking stereotypes. And a talented eye with more of an approach than a style. "Chicago Tonight" takes a look inside David Adjaye's new solo architecture exhibition at the Art Institute's modern wing.
---