An architect with a global portfolio but a laser-like focus on context. Works deeply embedded in culture but devoted to breaking stereotypes. And a talented eye with more of an approach than a style.
"Chicago Tonight" takes a look inside David Adjaye's new solo architecture exhibition at the Art Institute's modern wing. Below, examples of Adjaye's architectural designs around the world.
---
When you spend time among David Adjaye's work, a few themes start to emerge.
Fitting in
Adjaye has designed everything from homes to silk-weaving facilities to the Moscow School of Management Skolkovo. The Art Institute exhibit shows how the building went from sketch to model to finished product. As with all his work, Adjaye designed the school very much in-context; in this case, a context dominated by six months of frigid winter each year. The building's distinct wings are all connected, so students and teachers don't have to go outside.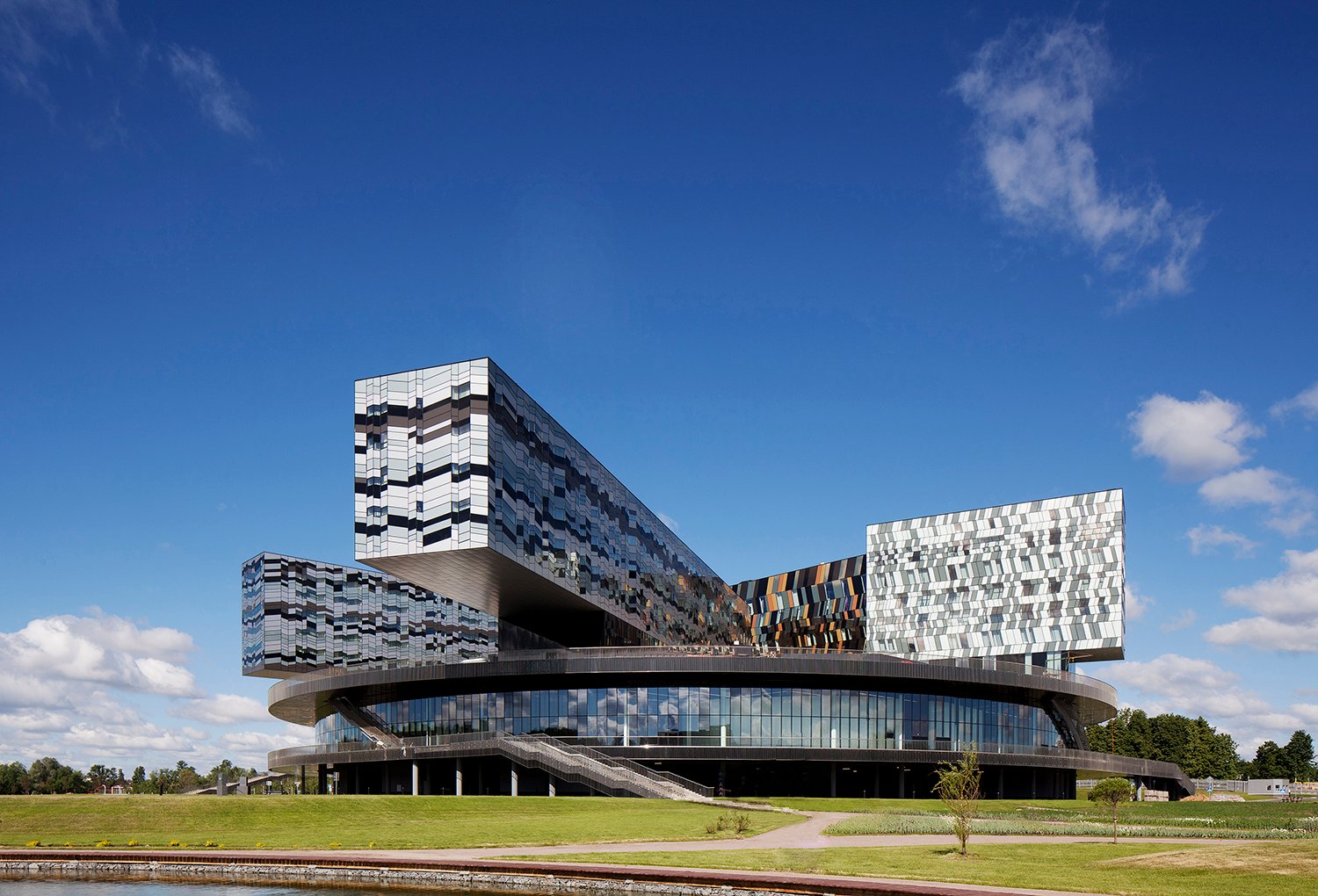 Moscow School of Management, Skolkovo, Russia, 2010. ©Ed Reeve, courtesy of Adjaye Associates.
"You can really see that the way he approaches his projects are very similar, although each project looks quite different," said Zoë Ryan, John H. Bryan Chair and Curator of Architecture and Design at the Art Institute. "He embeds his projects in the cultural, the social, the geographical location in which they're based."
Adjaye was born to Ghanaian parents, and grew up in Africa, the Middle East, and the United Kingdom. His youngest brother had to use a wheelchair, so at a young age Adjaye became acutely aware of the built environment.
"I would notice stairs and blockades and back doors and terrible contexts that were always being provided for people of disability, and I found that extremely disturbing," Adjaye said. "I think that was probably one of the first triggers that started to make me much more conscious about the built environment and what it meant."
Standing out
While Adjaye's buildings are made to fit in, paradoxically, their standout designs can't help but call attention to themselves. Pieces of façade highlight Adjaye's attention to detail.
"We brought fragments of the real buildings – they look like they're not, but these are real pieces of buildings in here!" Adjaye said. "These are 1:1 scales."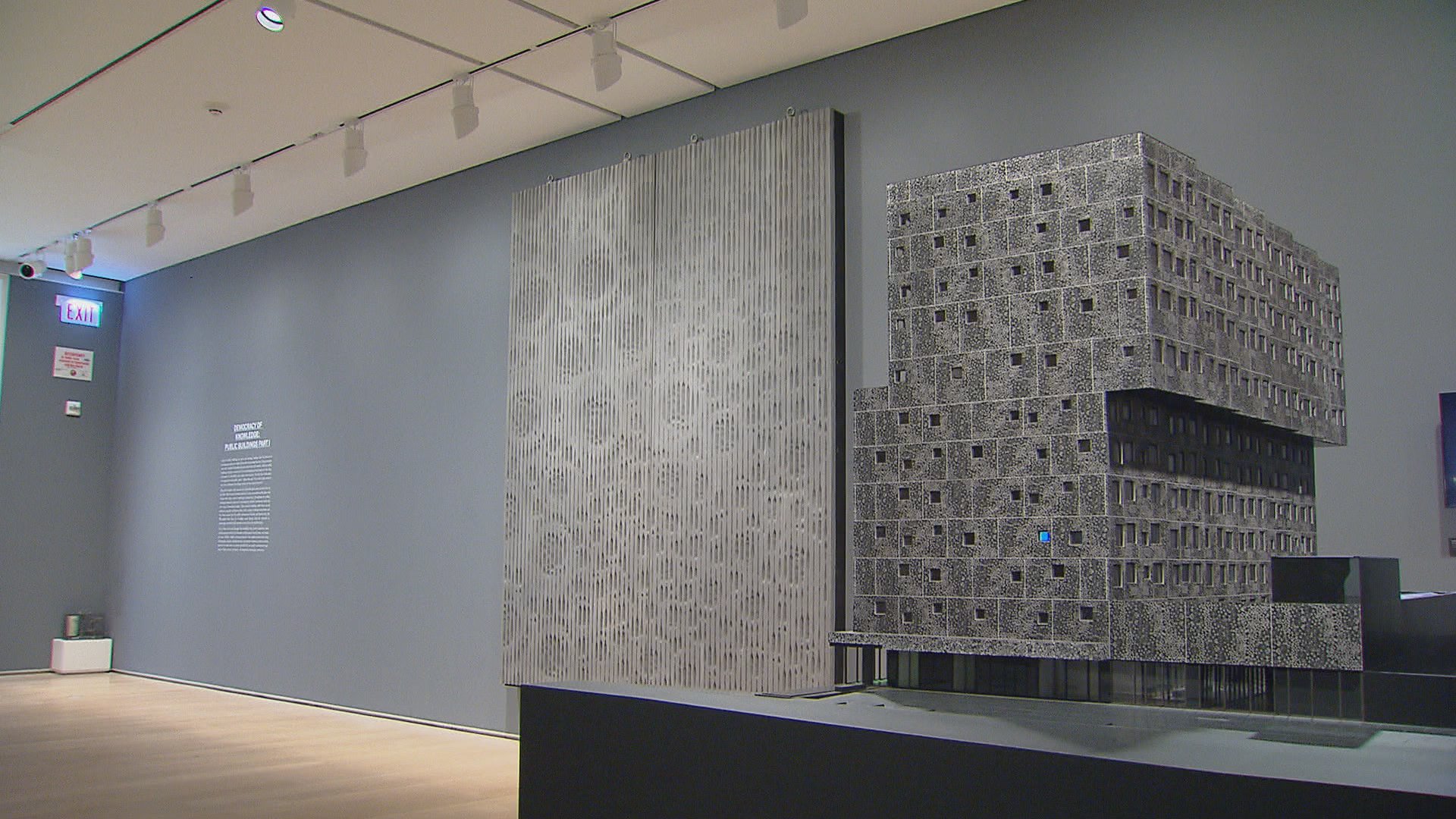 Scale is one of Adjaye's loves.
"It's the magic that we deal with," he said. "I think if you don't have that kind of mind, maybe you're not a good architect. For me, geometry and scalelessness – I'm happy working at a tiny little thing and that's as complex as working on a city plan."
"David spends as much time and energy and commitment to designing a piece of furniture as he does designing a library or a museum," Ryan said. "Going from the human scale of furniture all the way up to the community scale of architecture is absolutely essential to him."
And, it's a museum that dominates much of the show: the Adjaye-designed Smithsonian National Museum of African-American History and Culture, opening soon on the National Mall in Washington, D.C.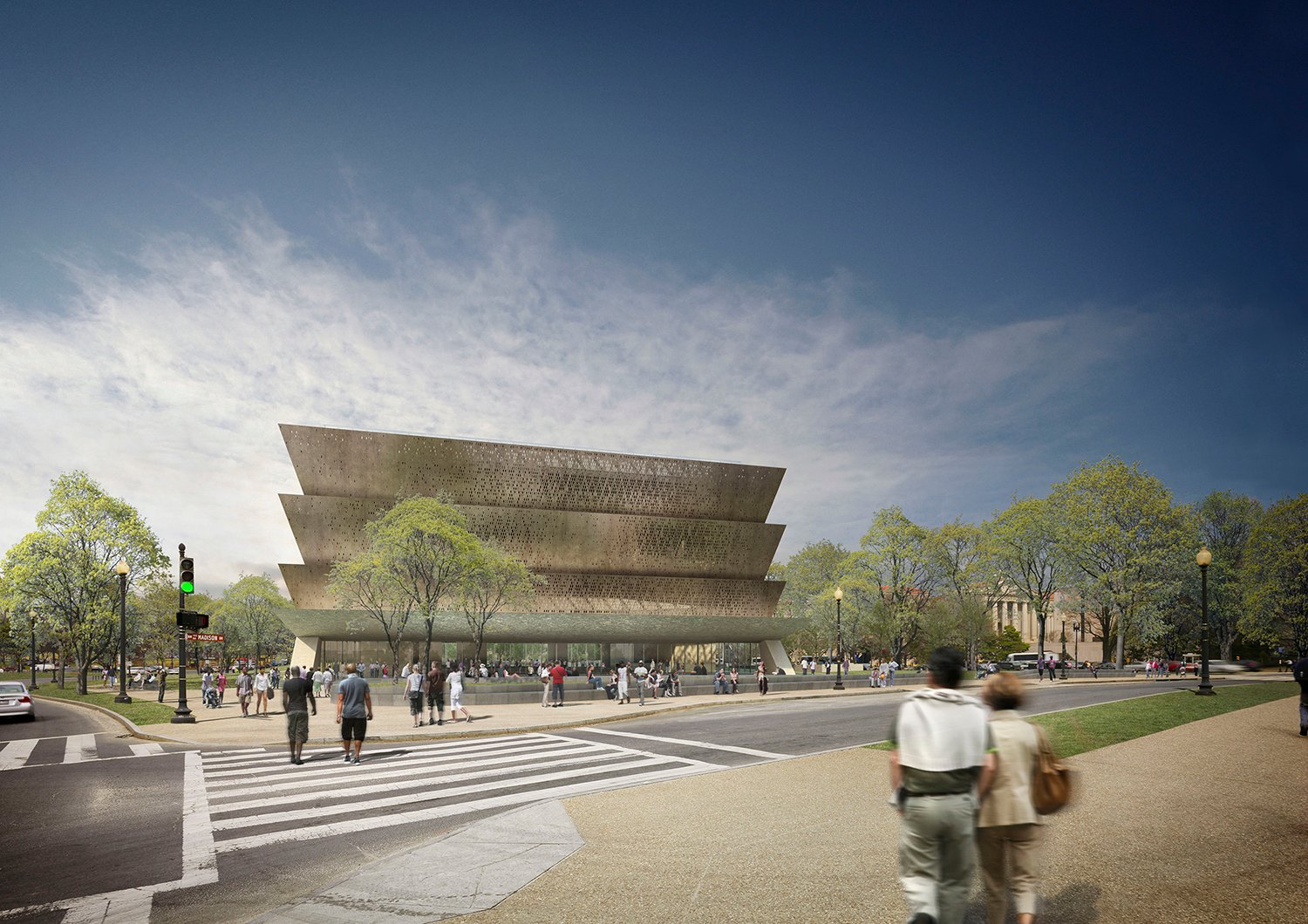 Adjaye Associates. Smithsonian National Museum of African American History and Culture, Washington D.C., current. Courtesy of Adjaye Associates.
Challenging assumptions
Perhaps the most important concept running through Adjaye's work is busting up clichés – and pushing us to think differently about what buildings are for and why we build them.
"The inspiration for the project was to really look at trying to make a new kind of museum on the mall, one that would not just make a container that would be filled, but one that would premiere the story, the narrative of the African-American community as part of the understanding of the building," Adjaye said.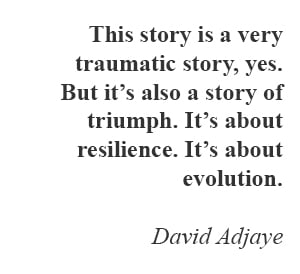 The West and Central African roots of many of the people brought to the United States as slaves inspired Adjaye to make the building's profile a reference to a Yoruban sculpture. A work by the Yoruban artist Oluwe of Ise sits near a large model of the museum.
"[The sculpture has] this corona, this crown, which seemed like an appropriate symbol. When we were talking about the museum in the presentation to the jury, we said, 'This story is a very traumatic story, yes. But it's also a story of triumph. It's about resilience. It's about evolution. And that is something really powerful, and the building should be about celebrating rather than just acknowledging a trauma," Adjaye said.
Adjaye Associates. Smithsonian National Museum of African American History and Culture, Washington D.C.,current. Courtesy of Adjaye Associates. Photo by Steve Hall, Hedrich Blessing. Adjaye was also inspired by architectural elements in cities like New Orleans where the African-American population influenced the design of buildings. Adjaye describes the ornamental shade structures as being like the eyelash, filtering light.
"The museum in D.C. is really the centerpiece of this exhibition," Ryan said. "It's his largest project to date and it encompasses many of the things that David's been working on throughout his career."
If all of these different concepts sound almost anthropomorphic – well, they kind of are. Adjaye's work is very much about the relationships buildings have to their neighborhoods and to the people who spend time in them.
"I think experiencing a building is very intuitive," Ryan said. "We all know how we feel when we're in a very specific building: our own homes, versus being in a public building for example, is very different."
Chicago connection
Adjaye's also rumored to be a top pick to design the Obama Library. In addition to his high-profile work for the Smithsonian, he was a guest at the President's table at a White House State Dinner in 2012. While he doesn't want to fuel the rumor mill, Adjaye does say he was delighted to see a South Side location chosen for the library.
"I think that that is a powerful message, and I think it's a powerful thing for Chicago to celebrate," Adjaye said. "Chicago is the city that really has birthed the idea of the modern city. I think that the foundation and the Obama Presidential Center coming here is really a magnificent addition to a great city."
As a young architect, Adjaye says visiting Chicago with his sketchbook in hand was like visiting a holy temple. He's still an avid sketcher and photographer – and in recent years, has taken to sharing his visual musings on Instagram.
Sep 22, 2015 at 12:32pm PDT
---
"My Instagram is not about my parties or lifestyle or anything like that!" Adjaye laughed. "When you're looking at my Instagram you're looking at a corner of a piece of city that I like, a façade I like, an atmosphere, a mood, and incredible piece of nature I've discovered. Things that are directly stimulating me and actually going into projects I'm working on, you're having a one-to-one access with, and I thought there was something very beautiful about that."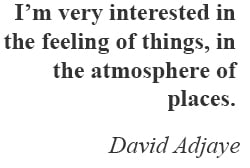 That kind of one-to-one experience is the driving force behind the piece that closes the show. It's a small, intimate pavilion he designed called "Horizon." Adjaye says he loves seeing the slatted timber of the now-eight year old pavilion age and wear as visitors spend time in it.
"I'm very interested in the feeling of things, in the atmosphere of places," Adjaye said. "I think having had a chance as a young person and a young adult to travel around the world has empowered and given me confidence in being able to go into other places and not be scared about making propositions and understanding the context that you're in.
Whether or not Adjaye has a proposition for the Obama Foundation, Chicagoans will be able to experience his work firsthand at the Art Institute through Jan. 3. The exhibition is called "Making Place: The Architecture of David Adjaye." 
Below, an extended interview with Adjaye.
---