The competition to design the Obama Presidential Library is among the most intense in the world of architecture today.
Last week, the Barack Obama Foundation announced the seven finalists chosen to submit designs for the Obama Presidential Center. One of the architects, David Adjaye, is the subject of a solo exhibition at the Art Institute's modern wing that runs through Jan. 3.
Adjaye's known for balancing a global portfolio with a laser-like focus on context, works deeply embedded in culture but devoted to breaking stereotypes, and a talented eye with more of an approach than a style.
"Chicago Tonight" in September spoke with Adjaye and took a look inside his show. At the time, he was rumored to be a finalist in the running to design the Obama Library. While Adjaye didn't want to fuel the rumor mill, he did say he was delighted to see a South Side location chosen for the library.
"I think that that is a powerful message, and I think it's a powerful thing for Chicago to celebrate," Adjaye said. "Chicago is the city that really has birthed the idea of the modern city. I think that the foundation and the Obama Presidential Center coming here is really a magnificent addition to a great city."
If Adjaye does get the nod for the Obama Foundation, he'd be the first foreign architect to design an American presidential library. Either way, Chicagoans can experience his work firsthand at the Art Institute – but only through Jan. 3. The exhibition is called "Making Place: The Architecture of David Adjaye."
---
Chicago connection
As a young architect, Adjaye says visiting Chicago with his sketchbook in hand was like visiting a holy temple. He's still an avid sketcher and photographer – and in recent years, has taken to sharing his visual musings on Instagram.
Sep 22, 2015 at 12:32pm PDT
---
"My Instagram is not about my parties or lifestyle or anything like that!" Adjaye laughed. "When you're looking at my Instagram you're looking at a corner of a piece of city that I like, a façade I like, an atmosphere, a mood, and incredible piece of nature I've discovered. Things that are directly stimulating me and actually going into projects I'm working on, you're having a one-to-one access with, and I thought there was something very beautiful about that."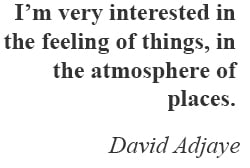 That kind of one-to-one experience is the driving force behind the piece that closes the show. It's a small, intimate pavilion he designed called "Horizon." Adjaye says he loves seeing the slatted timber of the now-eight year old pavilion age and wear as visitors spend time in it.
"I'm very interested in the feeling of things, in the atmosphere of places," Adjaye said. "I think having had a chance as a young person and a young adult to travel around the world has empowered and given me confidence in being able to go into other places and not be scared about making propositions and understanding the context that you're in.
Read more about Adjaye and see additional images of his work.