Illinois has the most units of local government of any state in America.
From townships to school districts to mosquito abatement districts, there are thousands upon thousands of taxing bodies.
Today, Gov. Rauner introduced a plan to reduce the number of local governments. He says it will save taxpayers billions of dollars every year, but some lawmakers say his plan has little chance of getting done.
Paris Schutz has more on this and some harsh words the governor had for Mayor Rahm Emanuel on his handling of police department and fiscal issues of late.
Thousands of units of government
Report: Local Government Consolidation and Unfunded Mandates Task Force
This plan is the culmination of a nearly yearlong effort to come up with ways to consolidate or eliminate some of the nearly 7,000 units of government in the state, more than any other state.
The governor today claims bipartisan support for today's recommendations, but other lawmakers say it has a "poison pill" that will make passage impossible.
The recommendations include:
• A moratorium on any new units of government
• Giving voters the ability to, via referendum, decide to eliminate or dissolve units of govt
• Eliminating the prevailing wage on union projects, which would allow for lower wages
• Limiting collective bargaining for local government employees
The governor says he is going straight to the public with this call for reform.
"Hold up your property tax bill. Look at the 10, 15, 20 lines on there of organizations that are dipping into your hard-earned bank account to take your money, and ask yourself the question, 'Are we doing things the right way today? Or should we do some of these recommended changes?'" Rauner said. "Talk to your mayor, talk to your county board officials. And, very importantly, talk to your legislators."

"Hold up your property tax bill. Look at the 10, 15, 20 lines on there of organizations dipping into your hard-earned bank account, and ask yourself the question, 'Are we doing things the right way today?'"
–Gov. Bruce Rauner
---
We spoke with Andy Shaw of the Better Government Association, who says it won't be hard to figure which governments can stay, and which should go.
"The lowest hanging fruit of course is townships in Cook County. Thirty units of townships in Cook County do almost nothing that another unit of government can't do or isn't already doing," Shaw said. "The one-school school districts are also candidates. One third of the school districts in Illinois have one school. It's absurd to have a district superintendent, a principal, an assistant principals, secretaries, clerks. You're talking about millions that could be pumped into classrooms or be rebated to taxpayers."
But many lawmakers we spoke to on this panel say they did not support the anti-union elements.
Democratic State Rep. Jack Franks says he worries now that the whole exercise was an excuse to push a union-weakening agenda.
The office of Illinois Senate President John Cullerton issued this statement:
"The Senate President has always been supportive of measures to consolidate local governments. The bills are tough to pass even in the purest form. Recommendations that include antiunion poison pills make passage nearly impossible."
Now that the commission has come up with its recommendations, they will likely go before the General Assembly in a series of bills. It would have to be up to local leaders to spearhead the movement to start cutting, and up to local voters to vote on them, rather than having the General Assembly enact them unilaterally.
"An entity of government is a political power base. It's an opportunity for cronyism, for a pension," Rauner said. "Somebody can make money from that entity. So by eliminating it, somebody's going to push back."
"Local political leaders are going to have to step up and take charge," Shaw said.
Also, the governor had some unkind words for Mayor Emanuel and State's Attorney Anita Alvarez for their handling of the Laquan McDonald video, saying he was "very disappointed" in both.
As for a plan the mayor has negotiated to have the state relieve about $500 million in pension costs for Chicago Public Schools, Gov. Rauner reiterated that unless the mayor helps him pass union weakening pro-business reforms, CPS will go off the cliff.
"If Chicago is either opposing reform for the state, which so far they are, or staying silent, or letting [House Speaker Mike Madigan] block reform, it's not gonna happen," he said.
The governor also said he would sign a measure that would allow for the recall of the Chicago mayor – although acknowledged it would likely not apply to Emanuel or any other sitting office holder – only those yet to be elected.
---
Related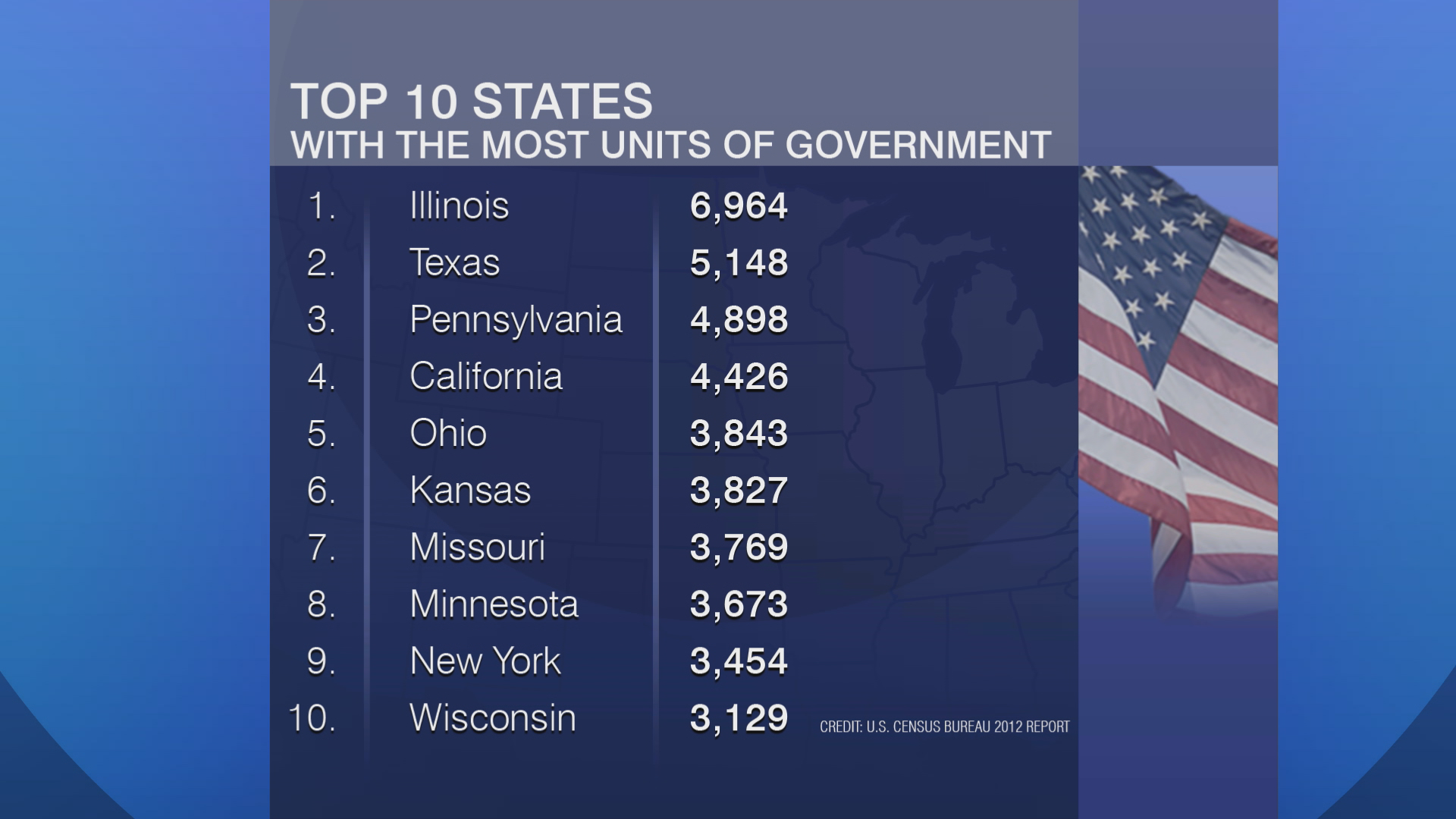 Task Force Proposes Consolidation, Dissolution of Local Governments
Illinois has 6,964 local units of government, according to the U.S. Census Bureau. Gov. Bruce Rauner created a task force to come up with recommendations on how to trim down that number. Learn about the recommendations.