The cash-strapped Chicago Public Schools is spiraling closer and closer to a financial doomsday that could see as many as 5,00 teachers laid off to help plug a $480 million budget hole.
The district on Tuesday told reporters it hopes to avert those massive layoffs if the Chicago Teachers Union agrees to a new four-year contract proposal that would require teachers to pay more into their pensions. The proposal also includes pay raises in the third and fourth year to help cover the increased contributions, a reduction in standardized testing and decreased paperwork.
[Chicago Public Schools CEO: District Offering CTU 4-Year Contract]
We talk with CPS CEO Forrest Claypool about the new proposal and what happens if an agreement is made by mid-to-late January, when CPS will "exhaust its current line of credit and cash resources," according to an Ernst & Young memo sent to the district Friday.
Below, some highlights from our discussion.
On the CTU's comments that the CPS proposal will lead to a 12-13 percent pay cut over the lifetime of the contract, rather than pay raises
"I saw the Vice President of the CTU on your show last night–Jesse Sharkey–and I was encouraged. He had his criticisms, but I was encouraged that he said that it was a fairly substantive proposal that could go a fair way towards averting a strike. I take that as a good sign, a hopeful sign that the teachers union will come back to us to negotiate. That's what we need to do quickly here to avert second semester cuts."
On how raises and pension pickups work
"We want to protect the teachers' pensions. Teachers have earned their pensions, and this is about protecting not just their jobs and the kids in the classroom but their retirement and their pensions. But right now, the teachers pay just 2 percent of their wages as a contribution–to their own pensions–and this district not only pays for the remainder of that 9 percent contribution but its own 9 percent contribution. That is what we've asked the teachers to contribute a little bit more to their own retirement to help us in this fiscal crisis. At the same time, over the life of the contract, we're able to gradually weave in raises so they come out ahead in the end.
"We also put on the table what Jesse Sharkey referred to last night as learning and classroom conditions, that the teachers have asked for."
On whether there is a backup plan if CTU says no
"We have a $1.1 billion deficit, including a $480 million hole this year. If Springfield does not act, we will have to engage in what we call more unsustainable borrowing, combined with some cuts to the classroom or other options. That's why we try to put these other options on the table. We are going to cut at central office tens upon tens of millions of dollars. Out of the central office, there will be hundreds of layoffs of administrators, as part of what we're trying to do to avert classroom cuts. We're trying to do our part in this.
"That, combined with help from the teachers union, in terms of this contract–if we can negotiate it in the next four to six weeks–that would be, along with some additional borrowing, allow us to get through this year and give us time to go arm-in-arm to Springfield, where the real solution lies.
"Springfield right now provides Chicago schoolchildren with just 73 cents in education funding for every dollar that they provide for the rest of the state, on average. That is at the root of this issue."
On his conversations with Gov. Bruce Rauner
Claypool: Governor Rauner I think, is supportive of trying to find a solution to the Chicago Public Schools. I believe that [House Speaker Michael Madigan] and Senate President [John Cullerton] are as well. If we can just get them through their disagreements over other issues right now.
Carol Marin: Because they don't have a budget. If they don't have a budget, how are they going to get to you?
Claypool: Well, I think they should turn to us first. We're talking about the futures of kids. You only get one chance for a good education. And it is absolutely unacceptable–it is immoral, in fact–to take the poorest kids in the state of Illinois–some of the most disadvantaged–and say to them, 'You get less than three-quarters of the funding that we're giving to all the other schoolchildren in the state of Illinois, on average.' That is a fundamental flaw in the system.
On his reputation as a crisis manager and how the CPS budget stacks up as a crisis
Claypool: Just to give it perspective, CPS's budget is $5.6 billion, but when you take out grants, and you take out pension funding and debt service, you're down to $3.3 billion. Our deficit is [$1.1 billion]. So literally, that's the amount of money that we would have to deal with to address a $1.1 billion deficit. We're at junk bond status, we're maxed out on our lines of credit to our banks.
Marin: But you're still trying to borrow. How can you still keep borrowing?
Claypool: We have to in order to protect the classroom as long as possible. We can't borrow our way out of it, and we can't cut our way out of it. That's why were trying to get through this year with a combination of both, unless Springfield acts or unless we can strike a deal with the teachers union.
Watch the video to hear our full discussion.
---
Related stories: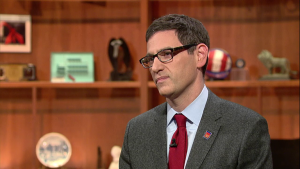 CTU's Jesse Sharkey on Strike Vote, New Contract Offer
A day after teachers voted overwhelming to go on strike, Chicago Public Schools is offering teachers a new contract that it says will prevent thousands of teacher layoffs. Jesse Sharkey joins us for a discussion.
---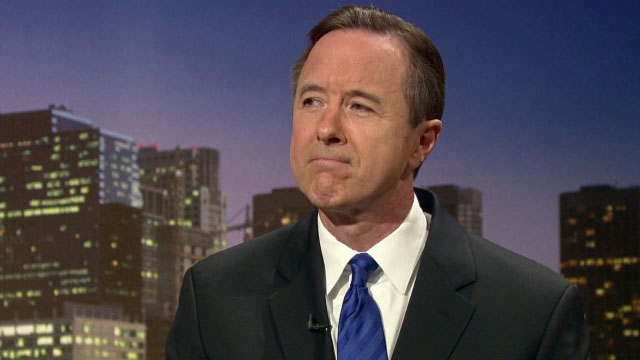 Chicago Public Schools CEO: District Offering CTU 4-Year Contract
Chicago Public Schools CEO Forrest Claypool says the district has offered the Chicago Teachers Union a new contract proposal. Brandis Friedman has the details.
---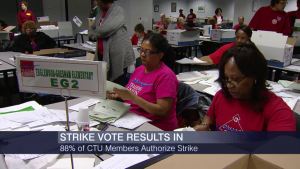 CTU Members Vote to Authorize a Strike
Chicago Teachers Union on Monday morning announced that 88 percent of its membership has voted "yes" to the question of authorizing a strike. The vote was taken over three days last week, in which 92 percent of members voted.
---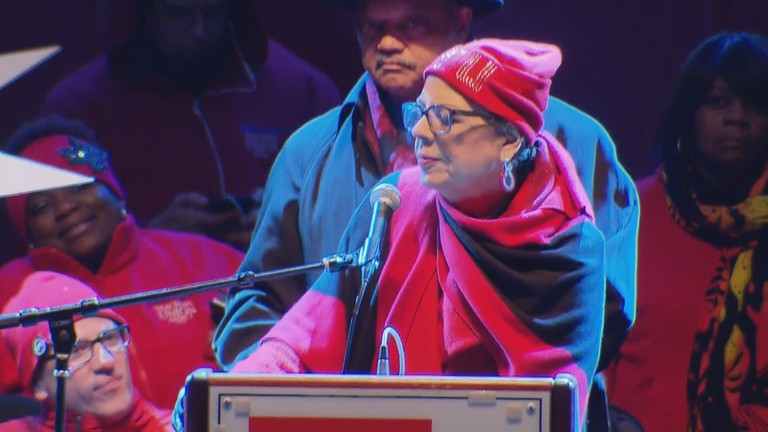 Chicago Teachers Union Rallies Ahead of Possible Strike Vote
CTU's contract with the Chicago Board of Education expired over the summer and they've been working without one since. The union calls this a labor solidarity rally as members prepare for an upcoming vote to strike. 
---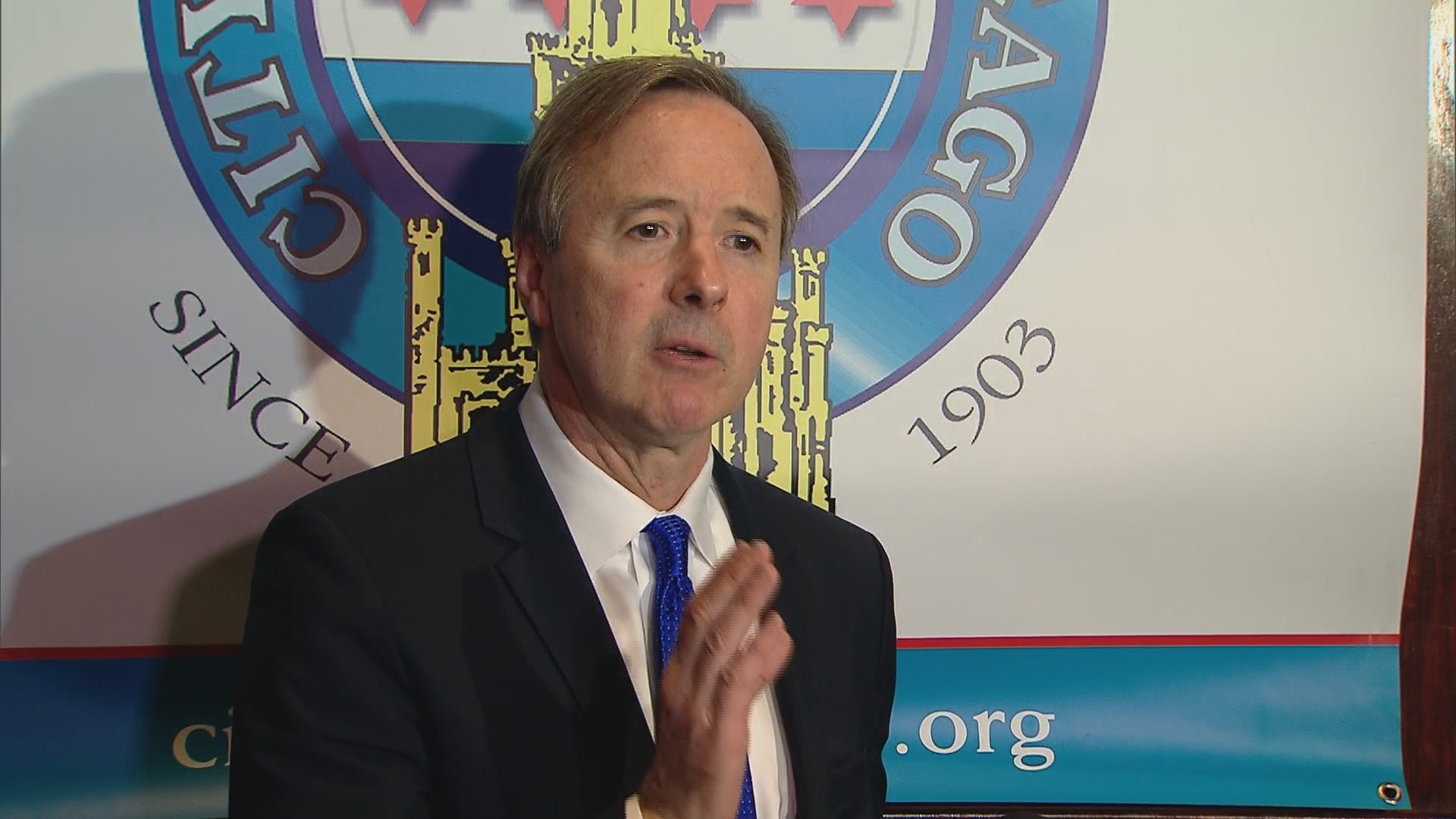 Chicago Public Schools to Springfield: 20 for 20
Chicago Public Schools CEO Forrest Claypool is reiterating his call for funding equity from Springfield, saying that if CPS students make up 20 percent of Illinois public school students then the district should receive 20 percent of funding.
---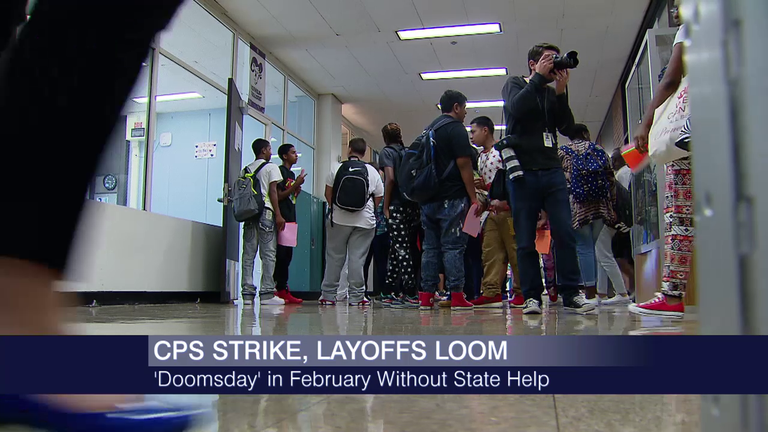 CPS Faces Possible Teachers Strike, Massive Layoffs This Winter
Chicago teachers begin steps toward another possible teachers strike, as Chicago Public Schools announce big layoffs on the horizon.
---