Getting swept by the New York Mets in the National League Championship Series is something the Chicago Cubs team and fans will soon want to forget. But the loss came during a memorable season for the Cubs. We reflect on the team's 2015 season and look at what moves they will want to make in the off-season to keep them in contention next year.
Joining us to breakdown the season are Chicago Tribune baseball writer Paul Sullivan and WBEZ's Cheryl Raye-Stout.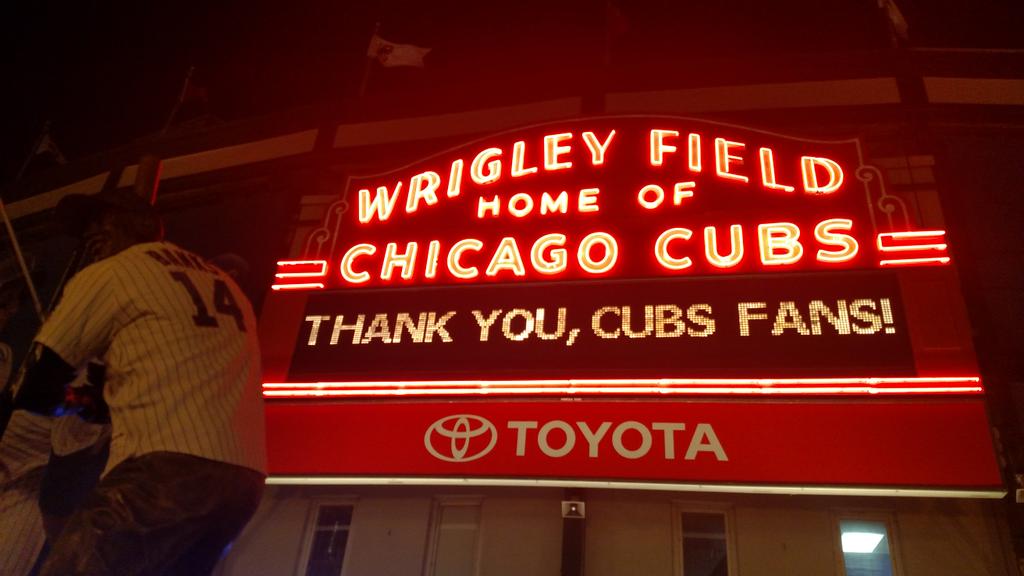 Notable quotes
Manager Joe Maddon (on what he said to the team after the game)
"I want them to understand and embrace all that they've done well this year. Just don't look at these last couple of games and focus on that at all. See how far we've come in a very short period of time, understand the personal growth and the team growth [that] occurred, and also understand [when] we go to spring training next year we can really just jump right on it."
Pitcher Jake Arrieta
"There's nothing to hang your head about. Right now it stings a little bit with getting swept in this championship series but we ran into an extremely hot team that just outplayed us."  
Pitcher Jon Lester
"We've got a great young group of guys that now know how to win. Not only that, I think the biggest thing for me is they know how to compete. They know how to compete. They know they can compete with the best of the best. We beat the best team in baseball to get to this point."
Third baseman Kris Bryant
"I don't really care that I hit a home run on my last at-bat. It don't matter. We lost and our season's over, and that's not fun. But we'll remember this taste in our mouth right now and it'll motivate us for next year."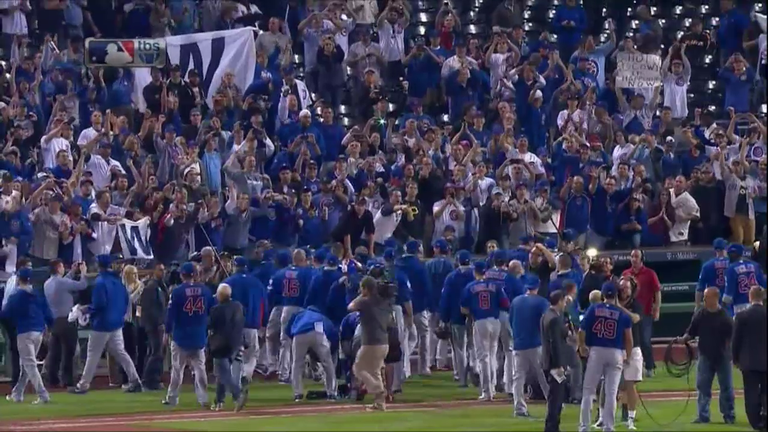 Notable Moments This Season
Addison Russell's game saving play
With St. Louis' tying run on base, Addison Russell made a diving stop and diving flip to second for the game's final out. The Cubs won 5-4 over the Cardinals on Sept. 19.
Jake Arrieta's no-hitter
On Aug. 30, Jake Arrieta threw his first career-no hitter against the Los Angeles Dodgers. Kris Bryant's two-run homer set the final score 2-0, breaking a Cubs four-game losing streak.
Six Homers in One Game
The Chicago Cubs become the first team to hit six home runs in a postseason game by six different players: Starlin Castro, Anthony Rizzo, Dexter Fowler, Kris Bryant, Jorge Soler and Kyle Schwarber. The six home runs helped the Cubs to a 8-6 victory over St. Louis on Oct. 12.
Kyle Schwarber's Home Run
Rookie Kyle Schwarber smashes a home run into right field during Game 4 against the St. Louis Cardinals. The ball landed on top of the scoreboard and has been encased in a Plexiglass case where it remains.
---
More 'Chicago Tonight' stories on the Cubs' historic season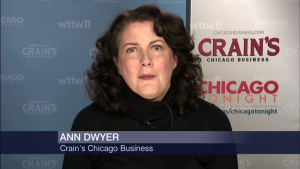 Crain's Roundup: Cubs Boost Ratings, McDonald's Energizes Monster Sales
The Cubs playoff run has been a ratings boon, but what about the economic impact to Chicago? Ann Dwyer of Crain's Chicago Business gives us the story behind that headline and more.
---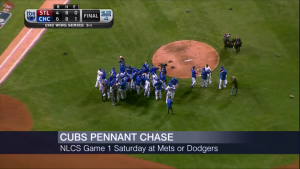 Chicago Cubs Looking Ahead to NLCS Opponent
Ahead of the National League Championship Series, ESPN Chicago's Jesse Rogers and WBEZ's Cheryl Raye-Stout analyze who the Cubs are better off facing—the Los Angeles Dodgers or the New York Mets.
---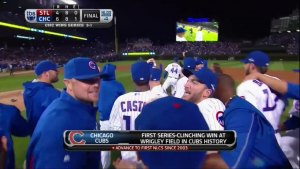 Cubs Beat Cardinals, Advance to National League Championship Series
Kyle Schwarber's moon shot helps propel the Cubs to the National League Championship Series for the first time in 12 years. Paris Schutz recaps the heart-stopping series clincher over the rival Cardinals.
---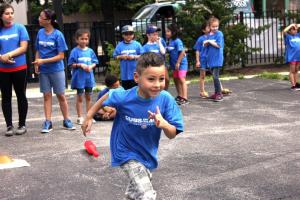 Chicago Cubs Winners On and Off the Field with Authentics, Charities Programs
Throughout the Chicago Cubs' monumental 2015 playoff season, the team has displayed huge hearts through their performance on the field and charitable efforts off the field. One of the organization's programs that has stepped up to the plate for those in need is Cubs Authentics, a program that is now donating 100 percent of its net profits of MLB authenticated game-used and autographed Cubs memorabilia to the Cubs Charities program.
---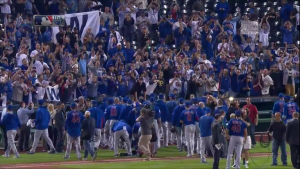 Chicago Cubs to Battle Rival St. Louis Cardinals in Historic NL Division Series
The Chicago Cubs celebrated in Pittsburgh as they clinched a spot in the NLDS while Chicagoans celebrated in the streets of Wrigleyville. ESPN senior writer Lester Munson explains how the Cubs managed to shut-out the Pirates and Chicago's chances of making it all the way to the World Series.
---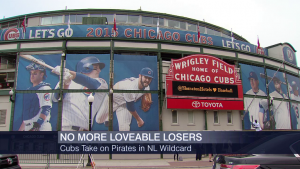 Chicago Cubs Prepare for Wild-Card Showdown Against Pittsburgh Pirates
The road to the World Series begins as the Cubs face the Pirates in a do-or-die wild-card game in Pittsburgh. We have a preview of what's at stake, both on and off the field. Joining us to help understand what it all means is Crain's Chicago Business sports business reporter Danny Ecker.
---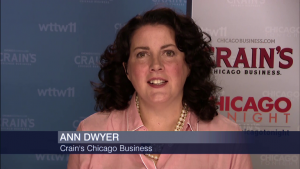 Home Run in Attendance for Playoff-Bound Cubs? Crain's Roundup with Ann Dwyer
As the Cubs head into the playoffs for the first time since 2008, the team is seeing an almost 12 percent increase in attendance. What effect might this have on future ticket prices? Crain's Chicago Business deputy managing editor Ann Dwyer sheds light on this story and others with Eddie Arruza.
---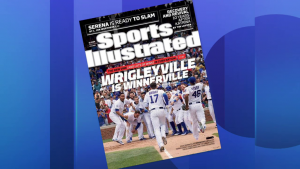 Chicago Cubs Playoff Scenarios: North Side Believers or Overachievers?
The good news for the Chicago Cubs: they have one of the best records in baseball. The bad news: so do their division rivals, the St. Louis Cardinals and the Pittsburgh Pirates. That means the best Cubs season in years may come down to a single elimination game in Pittsburgh.