The good news for the Chicago Cubs: they have one of the best records in baseball. The bad news: so do their division rivals, the St. Louis Cardinals and the Pittsburgh Pirates. That means the best Cubs season in years may come down to a single elimination game in Pittsburgh.
Joining us to take a closer look at what's been going right on the North Side–and what's ahead–is Chicago Tribune baseball writer Paul Sullivan.
In case you haven't been paying attention, the Cubs are on the verge of their first post-season appearance since 2008 and the excitement around Wrigley Field has been palpable throughout Chicago.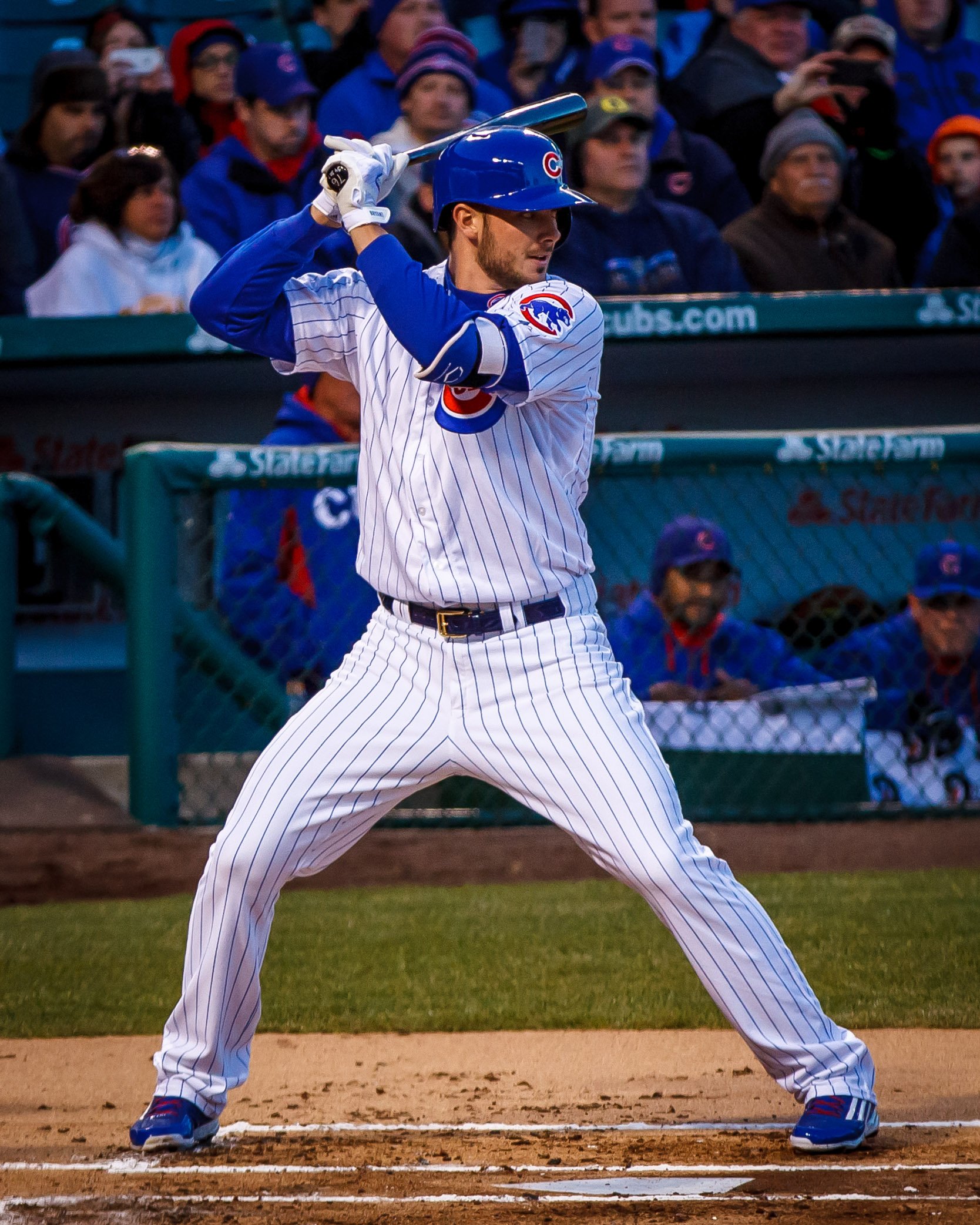 Rookie Kris Byant is just one of the many young talents on the Cubs roster
As the regular season draws to a close, the Cubs have battled for a comfortable lead over the San Francisco Giants and seem destined for the second National League Wild Card slot, which will come with a few tough consequences.
"I think they're going to play Pittsburgh in that one-game playoff. We're not sure if it's going to be at home. If it is at home it will be a significant advantage," Sullivan said. "They're about four or five games behind the Pirates, but they still have a few games left with them. I think they can beat the Pirates then they'll likely play the Cardinals in the next round, and no one will expect them to beat the Cardinals, they're the best team in baseball."
Exceeding expectations on and off the field, Cubs manager Joe Maddon has helped rebuild the team in his first season and has turned the Cubs around from an organization of playoff dreamers to World Series hopefuls. Based on his previous success and experience as the manager of the Tampa Bay Rays, Maddon took over a Cubs team that finished with a 73-89 record in 2014 and made plenty of influential changes that now have the players believing not only in his clubhouse leadership, but that they are contenders.
"Joe gives these guys a lot of confidence in themselves. Even when it was raining in April he was saying, 'oh, this is good for us because we'll be playing in this kind of weather in October.' He just put it into their minds real early in the season that they could make the playoff this year and it looks like they might do it," Sullivan said.
But it hasn't all been Maddon's doing. Cubs president of baseball operations Theo Epstein and general manager Jed Hoyer helped load up the Cubs roster with talented young bats, including rookies Kris Bryant and Kyle Schwarber, who have mixed in seamlessly with patient team veterans like Anthony Rizzo and Starlin Castro.
"Bryant really has just got a terrific home run swing. I knew he would hit a lot of home runs," Sullivan said. "He led the minors in spring training this year. The big question was whether they were going to bring him up or not. They let him stay down in the minors just long enough to let him add another year of his service time to Chicago."
Watch a highlight of Bryant's walk-off home run in the Cubs 2-1 victory over the Cleveland Indians on Aug. 24.
As for Schwarber...
"He was a first round draft pick last year. It was kind of a gutsy move by the Cubs because no one was really talking about him being that high in the draft—because he's a catcher, he's kind of a squat size, and some people didn't think he was going to make it as a catcher. They brought him up as a designated hitter and that worked. And then when their starting catcher went down, they brought him back and he's just been lights out since," Sullivan said.
Watch a highlight of Schwarber's two home run performance in the Cubs 9-2 win over the Milwaukee Brewers on Aug. 13:
The Cubs are getting it done on the mound as well with pitching aces Jon Lester and Jake Arrieta. In his third season with the Cubs, Arrieta has thundered to a 17-6 record and a 2.1 ERA, and his no-hitter last Sunday against the Los Angeles Dodgers was the Cubs first since Carlos Zambrano blanked the Houston Astros in 2008.
"Jake has just been unbelievable. They picked him up a couple of years ago in a trade that really didn't get a whole lot of attention. He was injured at the start of last year, but ever since then he's just been one of the best pitchers in baseball and definitely the ace," Sullivan said.
Watch a recap of Arrieta's no-hitter below:
Do the Cubs have a legitimate shot to make a run for the crown or are they merely overachievers? 
"If you look at the stats they're at the bottom of the league in hitting, they lead all of the majors in strikeouts. If you look at it individually, they shouldn't be as good as they are, which makes it even a better story. It's just some kind of weird magic," Sullivan said. "You just never know in baseball. Weird things happen and teams do have dream seasons."
Add your thoughts–or hopes, dreams and fears–to the comments section below.