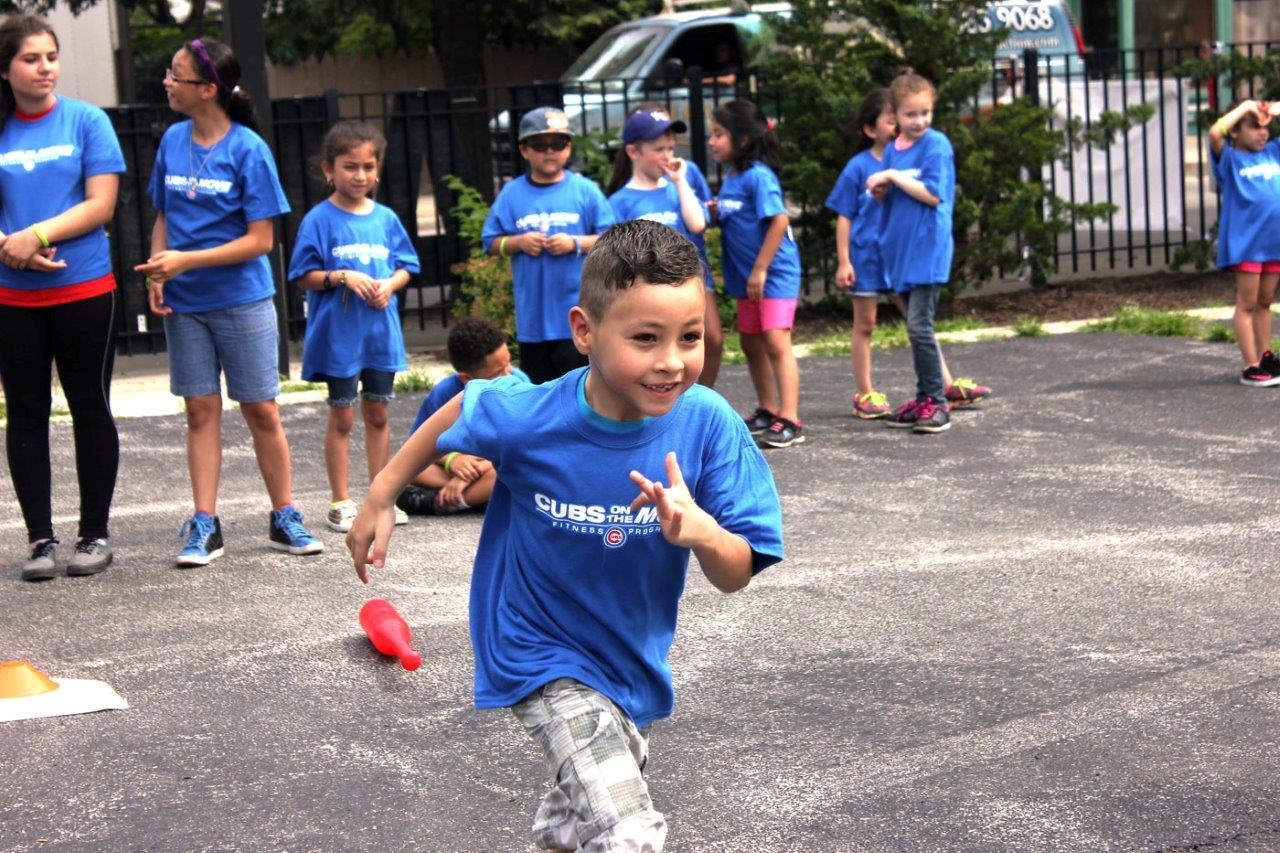 A Cubs Charities 'Cubs on the Move' event (Courtesy of the Chicago Cubs)
Throughout the Chicago Cubs' monumental 2015 playoff season, the team has displayed huge hearts through their performance on the field and charitable efforts off the field. One of the organization's programs that has stepped up to the plate for those in need is Cubs Authentics, a program that is now donating 100 percent of its net profits of MLB authenticated game-used and autographed Cubs memorabilia to the Cubs Charities program.
"This is not a program that benefits the organization's bottom line, Cubs Authentics is exclusively designed to benefit Cubs Charities and its efforts," said Chicago Cubs assistant director of brand development and activation John Morrison. "All revenues that are derived from Cubs Authentics go directly to Cubs Charities, and we're very grateful that the team's efforts on the field this year have certainly helped the business drive some additional revenue for Cubs Charities and get some great items."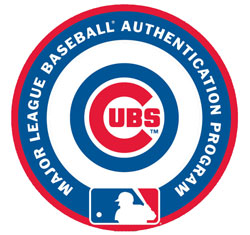 The Major League Baseball Authentification Program was initiated by the league in 2001 after a federal fraud investigation was launched to target the sales of counterfeit memorabilia. In 2012, the Cubs took the program in-house, which has allowed the organization to offer items directly to fans, rather than having to collect and provide items to a third-party to sell.
Among the various items sold through the program are game-used lineup cards, game-used authentic Wrigley Field dirt key chains, commemorative frames and a plethora of autographed photographs, baseball jerseys, hats and much more.
"There's certain items that are staples," Morrison explained. "Every game we're going to have game-used bases and game-used baseballs. For autograph items, we try to do as much as we can during spring training, so we will connect with all of the players on the team and find a time that's suitable for them to sign jerseys, bats and balls. That said, there's been some exciting moments this year—big homerun games, we had a no-hitter—so there are those milestone events that occur that we love that we certainly try to capitalize on and get some unique items to make available for our fans."

A game-used baseball bat belonging to Cubs pitcher Jake Arrieta (Courtesy of Cubs Authentics)
From casual fans looking to pick up a quick Wrigley Field collectible to dedicated collectors looking for a showcase piece for an office or a bar, Cubs Authentics offers items that appeal to a wide range of clients.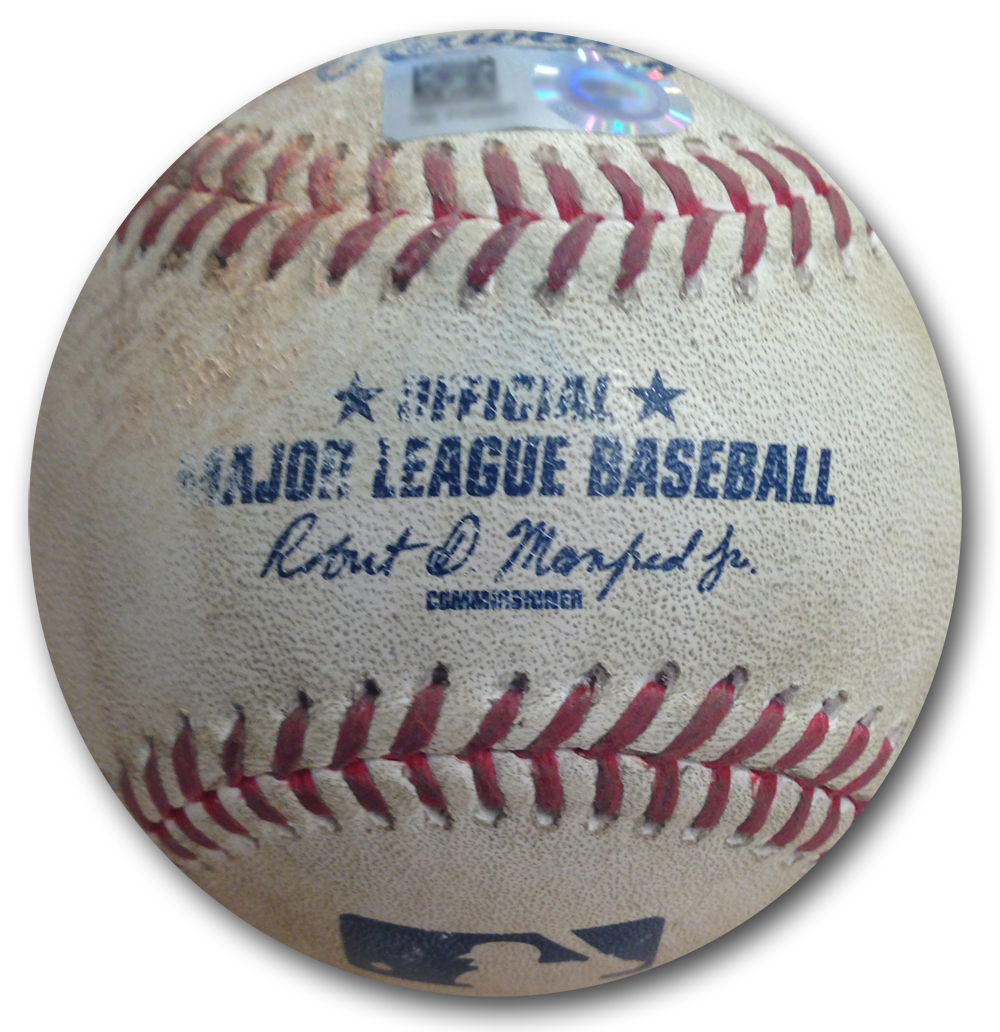 A game-used Chicago Cubs baseball (Courtesy of Chicago Authentics) "We certainly cover a wide spectrum and want to have items available for any level of fan or whatever the budget might be," Morrison said.
There are several ways to purchase Cubs Authentics merchandise, including at the Authentics kiosk during every home game, which is located in the Wrigley Field concourse; at The Cubs Store, located adjacent to Wrigley at 3620 N. Clark St.; and there's even in-seat delivery, in which fans can pre-purchase game-used baseballs or bases and have them delivered directly to their seat or suite at the ballpark.  In addition, items can be purchased directly through Authentics through email or telephone, and online, including a weekly online auction that offers new auction items for seven days every Sunday.
Over the past three years, the majority of profits from Cubs Authentics went to the Cubs organization, with some of the revenue going to charitable causes. This season the team announced that all of the net proceeds from the program will be donated to Cubs Charities going forward.
"Cubs Authentics became a charity initiative at the urging of our baseball sides of the coin here," said Connie Falcone, who wears a couple of hats for the organization as vice president of development for Cubs Charities and director of Cubs Community Affairs. "A lot of our players are very charitable by nature and really would have preferred that some of their items be benefitting the charity. And I think that Theo Epstein and the leadership there, as well as Crane Kenney on our business side, saw the wisdom in that. So as of the first of the year, it's become a Charities initiative and has become one of the largest sources of fundraising for Cubs Charities and our programs."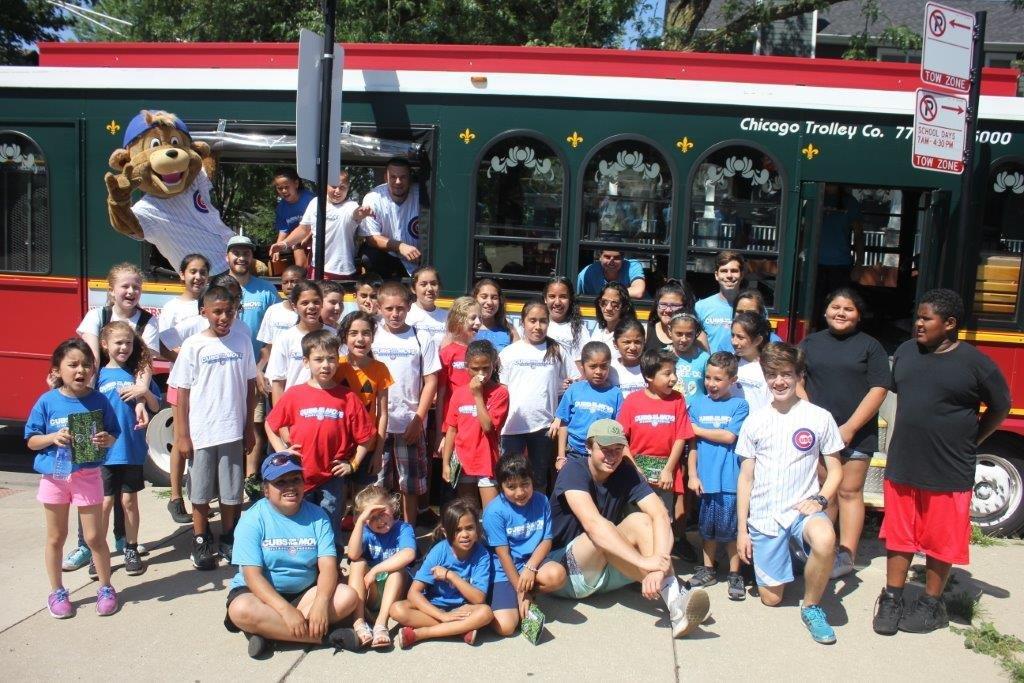 The 'Cubs on the Move Fitness Trolley' (Courtesy of the Chicago Cubs)
Chicago Cubs Charities seeks to help children, adults and families in need with a specific focus on health, fitness and education. The program was born in the early 1980s and officially established in 1986, along with the organization's Cubs Care program. In 1990, the programs partnered with the Robert R. McCormick Foundation and have generated more than $20 million in grant funding to nonprofit organizations to date.
Contributions are made by Cubs Charities to several of its "Signature Programs," including "Cubs on the Move," "Cubs Scholars" and the "Diamond Project," which is a field construction and renovation fund that attempts to create green space and opportunities for children to play baseball in communities lacking adequate facilities.
"We are not entirely sure how much money will be flowing our way from Cubs Authentics at the end of the year and there's no specific allocation to the Charities programs," Falcone said. "However, the money that we expect to receive from the Authentics program we hope will essentially fund our 'Diamond Project' in its entirety."
Aside from its signature programs, Cubs Charities has also partnered with the Authentics program for specific fundraising events throughout the 2015 season, including a breast cancer-themed "Pink Out" day last May and a "Let's Go Gold" day in September, where blue and gold batting jerseys were auctioned by Authentics to benefit organizations and programs dedicated to pediatric cancer.
Cubs Authentics is a year-round program and more items that were unavailable this past season will be offered during the upcoming offseason, including clubhouse memorabilia and holiday items. Each January, Authentics also sets up a booth with live auctions at the annual Cubs Convention.
"We're very appreciative and grateful for Chicago Cubs fans and the tremendous support they provide for the team, which, in turn, gives us the opportunity to help our folks in Community Affairs and Cubs Charities," Morrison said.
Falcone offered similar sentiments toward the Cubs organization and its fans.
"We have an amazing team—not only the players, but the folks in the front office whose hearts are huge, and one thing that often gets lost in all of our discussions about Cubs Charities is that this is a fan-driven charity, and we're really proud of that," Falcone said. "We're able to do a lot of great work in the community because fans buy our Authentics and fans make donations. It's the passion of our fans that allows us to be as impactful as we are."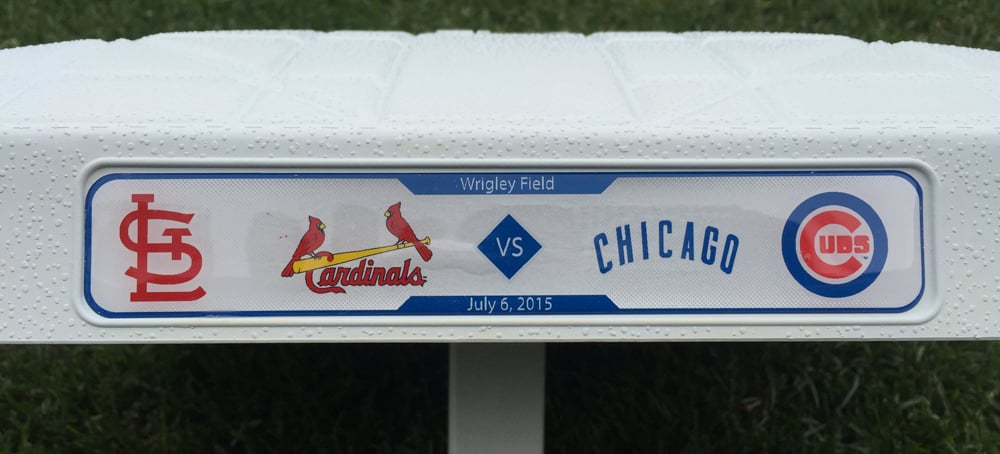 A Wrigley Field game-used base (Courtesy of Cubs Authentics)
As of Friday, Cubs postseason game-used bases and baseballs are still available for pre-purchase from Monday's Game 3 National League Division Series matchup against the St. Louis Cardinals, offering fans an opportunity to take home a little piece of history for a much larger cause.