Some landlords across Chicago are outright discriminating against low-income, disabled or elderly tenants who qualify for the federal Section 8 voucher program designed to help them pay rent. 
That's according to a recent investigation by WBEZ that examined Craigslist ads in the city and suburban Cook County.
The local public radio station looked at about 2,800 Craigslist ads posted during June and found about 9 percent included unwelcoming language toward voucher holders.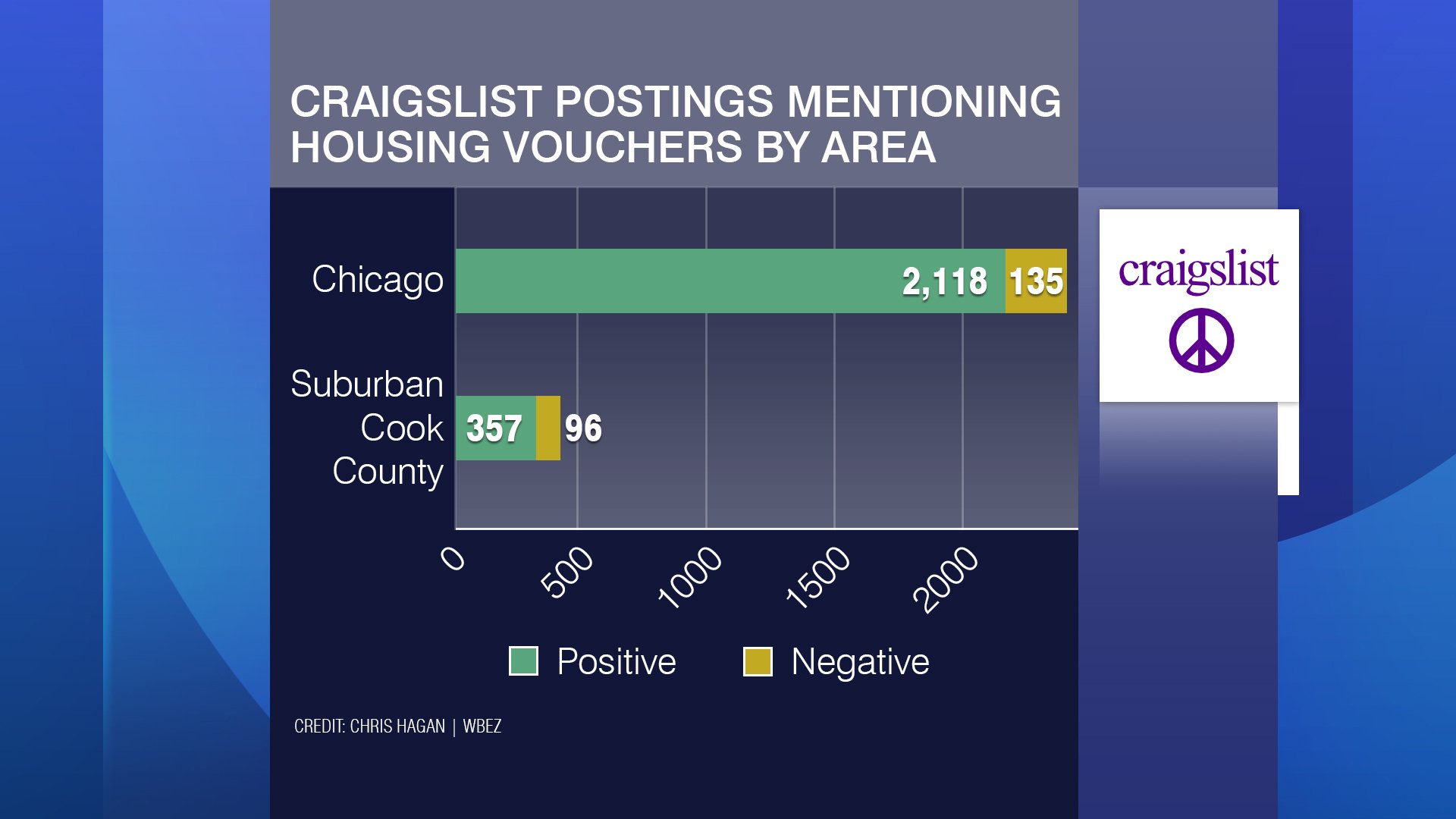 ---
Joining us is Odette Yousef, the WBEZ reporter who worked on the investigation.
"In the city of Chicago, it is illegal to say no at the outset to anyone that's applying for a unit simply on the basis that they have a Housing Choice Voucher (HCV)–or Section 8 voucher as it is most commonly known," said Yousef. "The way that it's supposed to work is that if somebody who has a voucher is interested in a unit, they should be allowed to apply for it just like anybody else. A landlord is allowed to screen them based on the same criteria as they look at other tenants–for example: income, credit history, criminal background–but they're not allowed to say no at the outset just because you have a voucher."
Yousef learned of the discriminatory ads after a listener saw one for a unit in Rogers Park. The post included a note that said "no minorities or Section 8."
"You never see ads that say 'no minorities'–that's a violation of federal law," explained Yousef. 
But it's also against the law in Cook County to say "no Section 8" at the outset, Yousef notes. The law falls under Chicago's Fair Housing Ordinance and is enforced by the city's Commission on Human Relations–it's up to them whether or not to launch an investigation and ultimately mediate or enforce a resolution when a complaint is filed.
Odette Yousef
Yousef called landlords to try to find out why they would stipulate such a restriction in their listings.
"As you can imagine, a lot of them declined to talk to us. Almost none of them agreed to talk for tape," said Yousef. "One of them we did interview and included in our story. But there was a whole range of responses that we heard. A lot of them truly had some sort of misunderstanding of how the Section 8 program works."
Among those misconceptions about the voucher program, landlords thought they had to opt in to the program or register for it. Some thought there was too much red tape or bureaucracy involved. "There were some who said that they had heard from friends that Section 8 voucher holders destroy their apartments," Yousef said.
There is some red tape involved in the program, in fact.
"For starters, once somebody applies to live in a building, if they have a voucher, the Chicago Housing Authority has to send somebody out to that unit to inspect it," said Yousef. These inspections take place annually by the CHA once a voucher-holding tenant has been approved and continues to stay in their residence.
"Those inspections themselves were often raised with us as issues that landlords have with the program. They're fastidious, there are a lot of very detail-oriented requirements that a lot of landlords just don't want to deal with," said Yousef.
Return visits and ongoing requests by CHA to fix problems in landlords' apartments were mentioned by some that Yousef spoke with. "The inspection process kept on coming up," she said.

"These vouchers are supposed to be a mechanism for people to live in many more neighborhoods than they otherwise might be able to access."
–Odette Yousef, reporter
---
How does race play a role in this type of discrimination? 
"It's very difficult for me to be able to tell you what percentage of those ads that we saw that were unwelcoming to Section 8, whether it was motivated by racism, or aversion to low-income people, or truly some sort of issue with the Section 8 program," Yousef said.
"There is a racial component to this, but it's very difficult for us to tease out whether that was truly the motivation behind some of the ads, versus misunderstanding of the program," she added.
For a would-be applicant who experiences discrimination, filing a complaint triggers the process of investigation with the city's Commission on Human Relations, which handles about 70 complaints per year. "We know anecdotally that there are far more than 70 instances that might be discrimination that happen every year. A lot of the voucher holders that I spoke with who said that they experienced discrimination don't bother to file complaints."
Yousef writes in her article:
While the Commission has the authority to initiate its own investigations into Craigslist ads like the ones WBEZ found, it's too short-staffed. Newsome [Joann Newsome, Director of Human Rights Compliance for the Chicago Commission on Human Relations] said in her 12 years there, the number of investigators who look into fair housing violations shrank from seven to three. As the city continues to cut expenses, the Commission has not requested that money be restored.
As to why someone would choose to not file a complaint, Yousef points out that applicants generally have 90 days to use their vouchers and will lose them after that period (some extenuating circumstances allow applicants to extend this time frame). "There's a lot of pressure to be focusing on your apartment search during that period of time," she said.
Starting and following a complaint process can take months and add stress to the search process, added Yousef. "Also, there's sort of this emotional component that people told me about: They were just really angry that all these doors were being slammed in their face, just because they were low-income. They really were just too angry to want to have to deal with another process."
Yousef's investigation also found that ads weren't limited to specific neighborhoods but represented properties across the city, some even managed by African-American landlords.
"This is an issue that's city wide," said Yousef. "It's one of the contributors to continued segregation in Chicago, both by income and race. These vouchers are supposed to be a mechanism for people to live in many more neighborhoods than they otherwise might be able to access."
---
More information:
• Read Yousef's full article on WBEZ.org
• Learn more about the city's Housing Choice Voucher program (aka Section 8)
• The CHA website offers these tips for those seeking housing:
To report housing discrimination or to learn more about Fair Housing laws, contact the U.S. Department of Housing and Urban Development (HUD) Office of Fair Housing and Equal Opportunity at 312-353-7776 or 800-765-9372. You may also contact CHA Fair Housing Support at 312-913-7062.