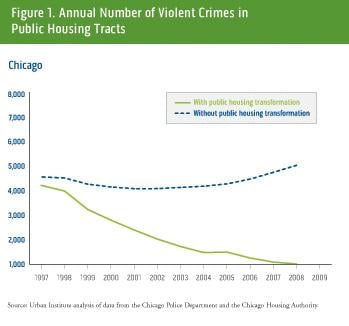 A new study says crime is worse in neighborhoods with relocated Chicago Housing Authority residents, compared to areas without them. WBEZ's Natalie Moore joins us on Chicago Tonight at 7:00 pm to discuss the report.
The CHA's decision to tear down its most dangerous projects and relocate residents dramatically reduced crimes in those neighborhoods, like the former site of Cabrini-Green. Violent crime in those areas decreased more than 60 percent, according to the study by the Urban Institute. The study covered crime rates from 2000 to 2008. 
But neighborhoods where those residents relocated had higher crime rates, compared to neighborhoods without displaced CHA residents--up to 21 percent higher. Crime was still lower than it was in 2000, but it potentially could have fallen more. 
Violent crime citywide has fallen 26 percent since 2000, and about 1 percent of it is attributable to the CHA's Plan for Transformation, according to the study. It also caused a 4.4 percent decrease in gun crime. That plan gave residents relocated by the CHA vouchers, or government subsidies, to defray the cost of private housing. 
The study could not say for certain whether voucher holders entering a neighborhood caused crime to increase relative to other neighborhoods, or whether they moved to areas susceptible to higher crime. Voucher holders generally can only afford homes in the South and West Sides, poorer areas with higher crime rates.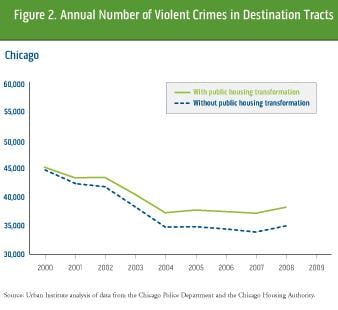 And even if voucher holders did cause higher rates, it's not necessarily because they brought crime with them--though that is possible. Relocating CHA residents could "disrupt their social networks", the study said, putting them at higher risk for perpetrating or falling victim to crime. The move could also disrupt the social cohesion of the new neighborhood at large, cutting down on mutual trust and making the neighborhood less safe. 
The CHA "feels a little vindicated," according to Moore, who covers housing for WBEZ. "They don't think there's a strong enough correlation--they don't think it's a slam dunk. They're comforted that the increase isn't as big as public perception thinks it is."
CHA has also been shifting its focus since 2008, when the study period ends, to providing better social services to relocated families.
Read the full report below.