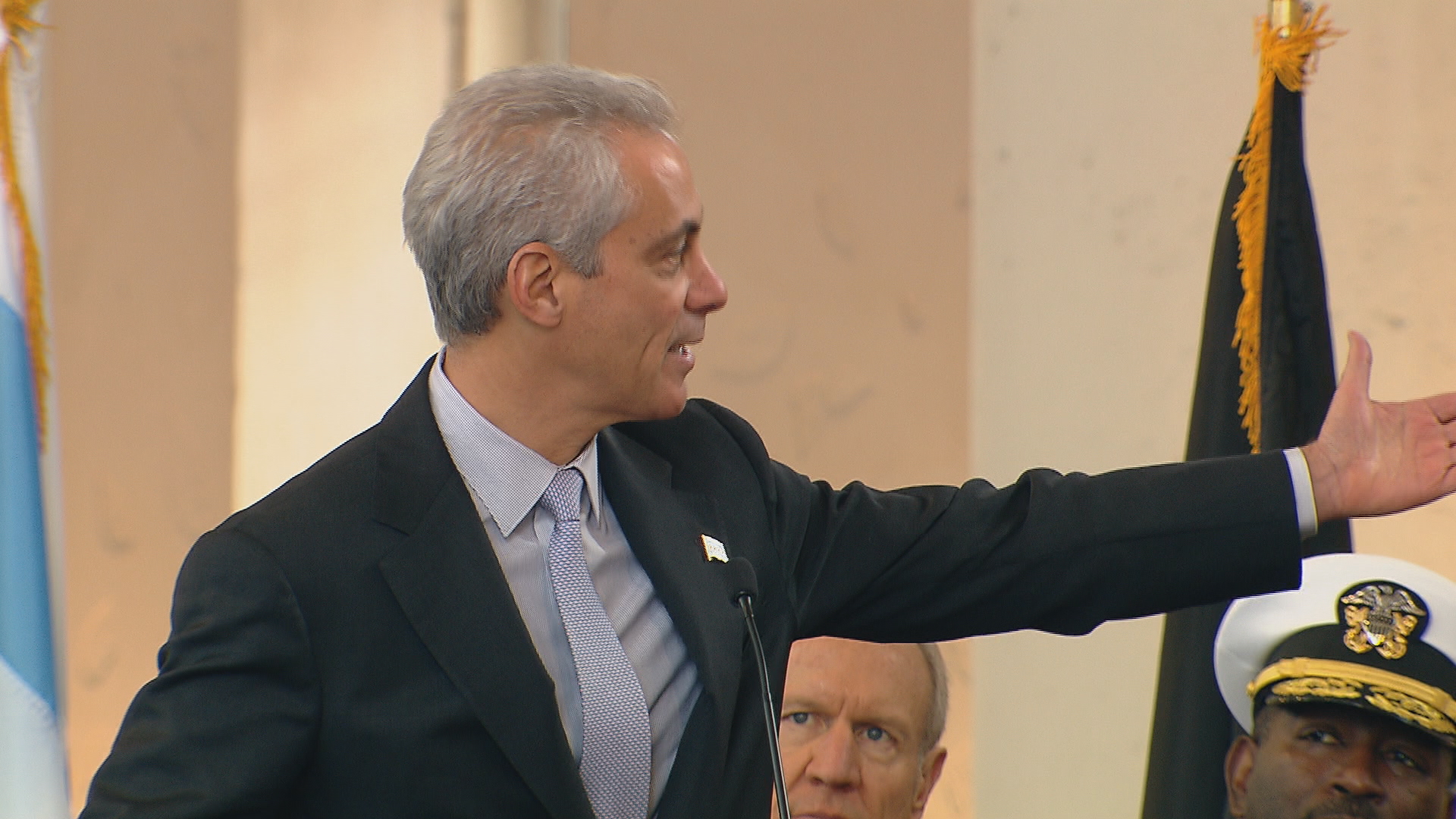 Mayor Rahm Emanuel announces increased CHA help for veterans at Wednesday's Veteran's Day ceremony at Soldier Field.
As part of Mayor Rahm Emanuel's plan to end veteran homelessness in Chicago, Emanuel and the Chicago Housing Authority announced on Wednesday a three-year plan that will provide 450 additional housing-choice vouchers for homeless U.S. veterans.
"No veteran who fights for our homeland should ever be without a home of their own," Emanuel said in a statement. "That is why we are working to finally end veteran homelessness in Chicago and with the help of this effort by the Chicago Housing Authority we take another step toward achieving that goal. By continuing to collaborate with our key partners from the city and the federal government we will finally end veteran homelessness once and for all in Chicago and give our men and women who served in uniform a future worthy of their sacrifice."
The initiative will provide up to 150 vouchers per year through 2018 and will house veterans who are enrolled in Supportive Services for Veteran Families, a program that provides support services for low-income veteran families living in or transitioning into permanent housing in order to increase housing stability. The SSVF program is funded by the U.S. Department of Veterans Affairs  and is administered through various local nonprofits.
In 2012, under Emanuel's leadership, the city worked with over 500 stakeholders to develop "Chicago's Plan to Prevent and End Homelessness 2.0," a seven-year plan that focuses on homeless prevention, housing services, anti-gang strategies, safer communities and related initiatives. Last year, the city announced further efforts to assist homeless veterans with new housing and services for over 700 veterans in response to the Obama administration's "Mayors Challenge to End Veteran Homelessness."
The CHA currently has 1,053 Veterans Affairs Supportive Housing vouchers and also supports 253 homeless veterans through its Property Rental Assistance program, which includes services that are provided by six properties and four developers.
"CHA is proud to be part of the 'Ending Veteran Homeless Initiative,' and to be part of Mayor Emanuel's challenge to end veteran homeless in the City of Chicago," said CHA Acting CEO Eugene Jones, Jr. in the statement. "CHA has a long history of working with the VA, and will continue to leverage the power of affordable, safe and stable housing to help build vibrant communities throughout Chicago."
The CHA Board of Commissioners will vote on the 450 additional vouchers at its monthly meeting Tuesday, Nov. 17.
---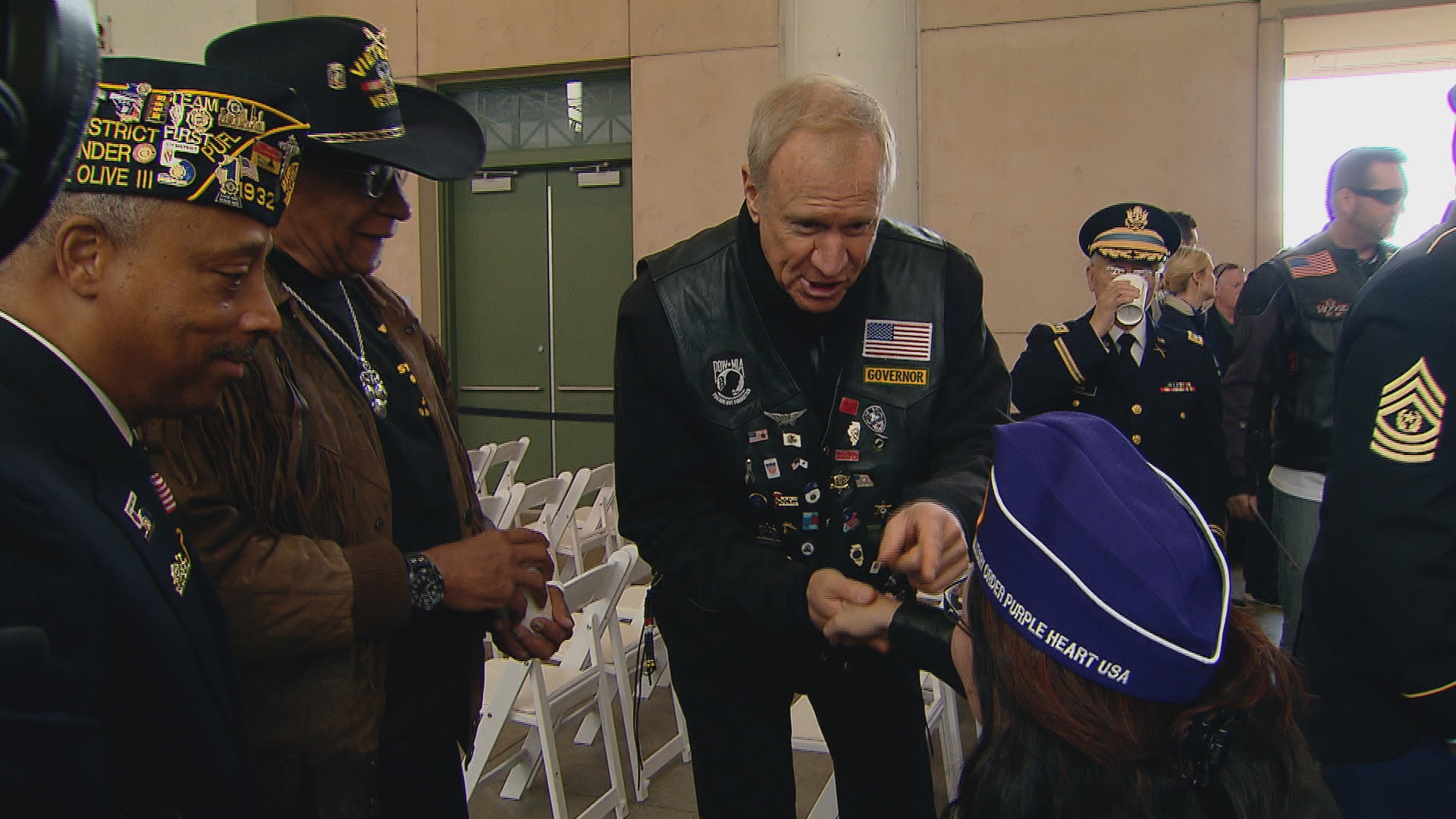 Gov. Bruce Rauner greets a veteran at Wednesday's Veteran's Day ceremony at Soldier Field.
In other veterans housing news, construction remains halted on a five-story, $70.5 million veterans home in Chicago's Dunning neighborhood that will provide nursing and health care services to 200 veterans. The home will be the fifth facility in Illinois and the first in Chicago.
State officials broke ground on the veterans home in September 2014 under the Quinn administration and construction was halted this past June by the Rauner administration due to the Illinois budget stalemate. The opening of the home has been delayed six months from July 1, 2016, to Jan. 1, 2017.