Quarterback Jay Cutler returned to his starting role after missing last week due to a strained hamstring and led the Bears to their first win of the season – 22-20 over the Oakland Raiders. Three clutch field goals by Robbie Gould sealed the victory, with the final 49-yard kick coming with just :02 left in the game. It was the 12th game-winning field goal of Gould's career. 
I'm really happy for our fans, because we haven't exactly lit it up here in our first two home games.

– John Fox
Cutler looked mobile and at ease throughout the game, but still threw a fourth quarter interception, picked off by Raiders safety Charles Woodson. Cutler completed 28 of 43 passes for 281 yards and 2 touchdowns.
With wide receiver Alshon Jeffery still sidelined with a hamstring injury, Martellus Bennett was Cutler's main target, finishing with 11 catches for 83 yards and a touchdown.
Off-season pickups Pernell McPhee and Jarvis Jenkins continue to spark the defense. McPhee grabbed his first career interception in the second quarter, while Jenkins recorded his third sack of the season and helped hold the Raiders ground game to just 70 yards rushing.
---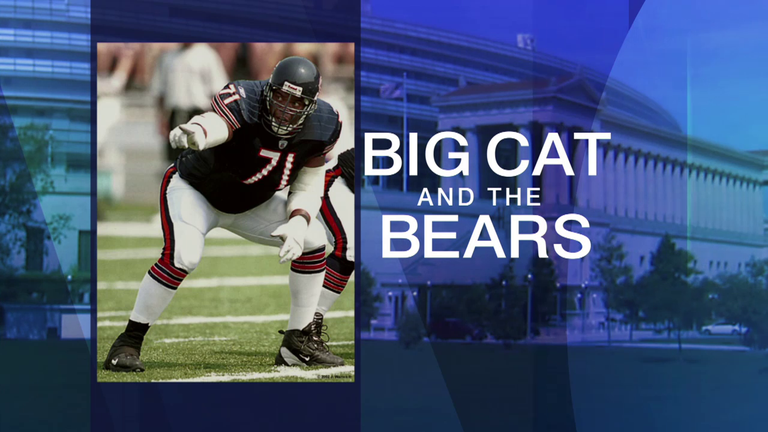 Join us every Monday on "Chicago Tonight," as former Bear James "Big Cat" Williams joins Ann Kreiter to give us his take on the season.
---
Notable stats:
• Running back Matt Forte had 91 rushing yards and 64 receiving yards, totaling 155 yards from scrimmage. He became the 14th player in NFL history with 8,000 rushing yards and 3,500 receiving yards in his career (8,071 and 3,860).
• Wide receiver Eddie Royal grabbed a 7-yard touchdown pass in the first quarter. It was the first touchdown reception as a member of the Bears for the 8-year NFL veteran and the 26th of his career.
• Bears rookie defensive lineman Eddie Goldman recorded his first career sack, dropping Raiders quarterback Derek Carr for a 15-yard loss.
• The Bears dominated time of possession in the first half, controlling the ball for 20:14 compared with 9:46 for the Raiders.
Notable quotes:
John Fox, Bears head coach
On the emotions in the locker room after their first win:
"Any time you work as hard as all those guys work – coaches, players, staff members – obviously it's a lot more gratifying when you win, and that was our first opportunity. I was really, really happy to see smiles in there. And I'm really happy for our fans, because we haven't exactly lit it up here in our first two home games."
On seeing Cutler shake off the interception and finish strong:
"I think a lot of people highlight interceptions. Most quarterbacks who play the game have interceptions. I think it's the body of work around it. You try to avoid that stuff. We had zero interceptions the week before, and it didn't go so well. Back to what I said earlier, my hat's off to him. The mental and physical toughness it took for him to be out there and then to perform like he did was pretty amazing."
Jay Cutler, Bears quarterback
On when he knew he was going to play today:
"Went out there, felt around, threw a little bit this morning, felt good enough to go. Took some reps throughout the week. Felt good about our game plan and we thought we would give it a shot and see how it went."
On the key to the last drive:
"Pass protection. With those edge rushers, I think we handled them extremely well all day long. Chuck [Charles Leno, Jr.] stepped in there for Jermon [Bushrod] and played well. Slaw (Matt Slauson) went over to center, a lot of moving parts out there. Those guys held their own and fought all day."
---
Share Your Fan Photos with Us
How do you celebrate the Bears? Send us your fan photos and we'll add them to our online gallery. We may even use them on the air during our weekly "Big Cat" segments. Use the form below – no signup required – to show us how you tailgate, paint your face, feed your friends, dress you pet and ... well, you get the idea, right?