After a year of delays, the Array of Things urban data sensor project is back on track and prepping to collect all sorts of information on Chicago's streets by early next year. Some of that data includes where people are and how they're moving around the city.
The project was temporarily sidelined due to funding problems and privacy concerns, but it's now received a $3.1 million federal grant from the National Science Foundation to install 500 data nodes across Chicago and a new privacy policy is being developed.
Joining us to discuss the initiative are Charlie Catlett, the lead scientist for the project and director of the Urban Center for Computation and Data of the Computation Institute; and Lori Andrews, a professor at IIT-Chicago-Kent College of Law and author of the book "I Know Who You Are and I Saw What You Did: Social Media Networks and the Death of Privacy."
The 'nodes'
The Array of Things project is a working collaboration between the Computation Institute, the University of Chicago, Argonne National Laboratory and the School of the Art Institute Chicago. A pilot program was launched in 2014 and 50 modular sensor boxes, referred to as "nodes," will be installed by the end of the first quarter of 2016, with the number expected to grow to 200 by the end of next year, and 500 by the end of 2017. The location of the nodes will be discussed and determined by the city of Chicago, researchers and community members.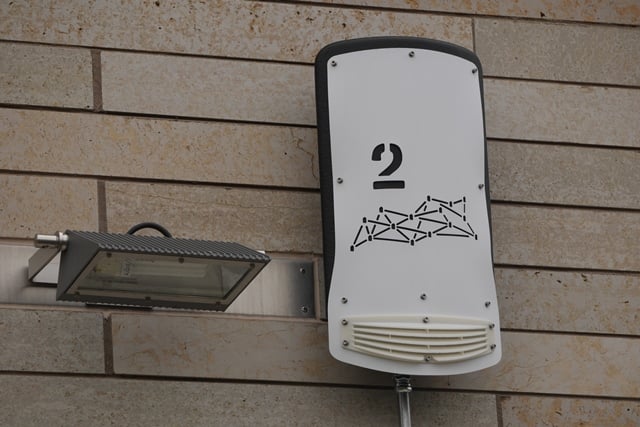 One of 11 nodes currently undergoing testing on the University of Chicago campus. The nodes will provide real-time, location-based data about Chicago's environment, infrastructure and activity to researchers, who will then investigate solutions to a range of urban challenges, including air quality and flooding. Due to the city's open data policy, the data will also be available to the public, free of charge, through the city of Chicago's open data network and Plenario, a web-based data portal.
According to the project's website:
"The nodes will initially measure temperature, barometric pressure, light, vibration, carbon monoxide, nitrogen dioxide, sulfur dioxide, ozone, ambient sound intensity, pedestrian and vehicle traffic, and surface temperature. Continued research and development will help create sensors to monitor other urban factors of interest such as flooding and standing water, precipitation, wind, and pollutants."
Privacy concerns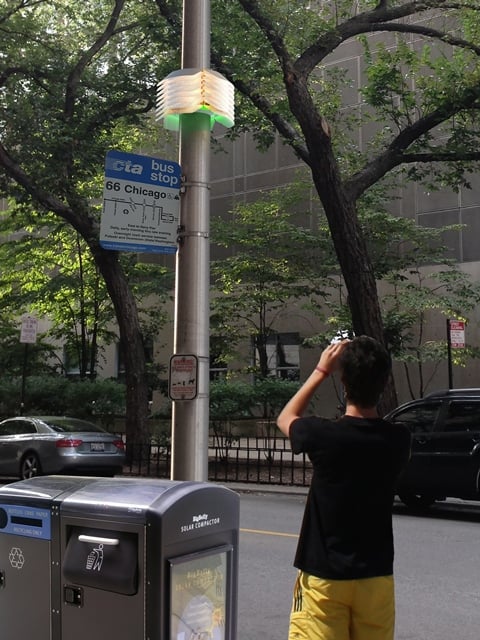 A prototype of a future node, designed by the SAIC, wrapped around a utility pole After concerns were raised by the public last year about the nodes accessing personal data from cell phones and WiFi connections, Array of Things has changed its privacy policy and says that privacy protection is built into the design of the sensors and that the nodes will not monitor any individual's personal data.
"Our original idea that we were just considering was to count the number of mobile devices in an area, but we wouldn't be able to tap into the conversations or data on the phone," said Charlie Catlett during a phone call with "Chicago Tonight" on Tuesday. "When concerns were raised about using phone sensors, we went to the camera design. The fact that we have a policy that we're publishing data, means we can't collect data on individuals. It would know the number of people that pass on the block, but the node wouldn't know the exact identity of anyone."
Lori Andrews told "Chicago Tonight" during a phone call Tuesday afternoon that she is not convinced the nodes are incapable of collecting data on individual identities and she stressed her concerns about data entering into the wrong hands.
"Even if it's true that the sensors don't record our identity, it will always have the raw data that could be of use to someone," Andrews said. "When Facebook was created, its makers said it would have privacy protections and that it wouldn't sell our information. We realize now that's completely false. Bottom line is this is new technology, it's evolving. We have no idea where it will be a decade from now, or even a year or two from now. We already know that people's digital profiles have been used against them. Examples of that include people posting vacation photos on Facebook, and then getting burglarized."
Hear more during Tuesday's discussion of Array of Things on "Chicago Tonight."
---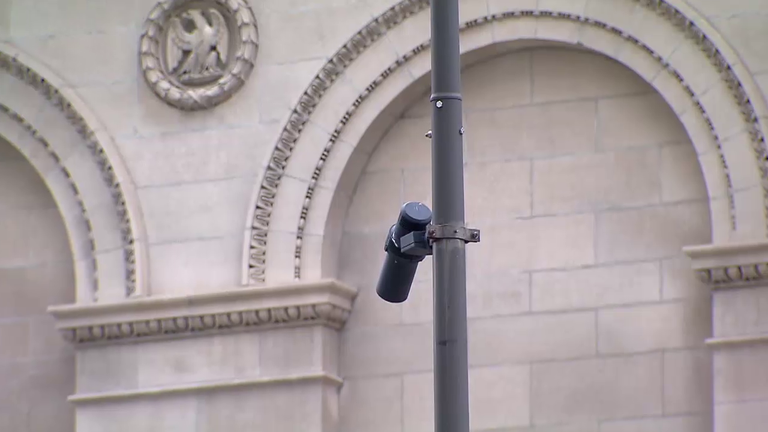 In July 2014, "Chicago Tonight" addressed the Array of Things project and the privacy concerns associated with collecting public data. Revisit our story.
---