Data-collecting sensors in the "Array of Things" project are set to go up on city lamp posts by mid-July. But some tech insiders are questioning the amount of data to be stored and whether or not personal privacy is a concern. Joining us to discuss the sensors are David Heinzmann, Chicago Tribune politics, government and crime reporter who has been covering the "Array of Things" project, Harold Krent, dean and law professor at IIT-Chicago-Kent College of Law, and Ald. Bob Fioretti. 
---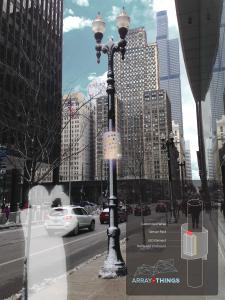 By the middle of the month, Chicagoans and visitors to the city may be walking past data-collecting sensors, which will measure air quality, light intensity, sound volume, temperature, wind, and the number of people passing by via cellphone traffic.
These sensors are part of a project called the "Array of Things," and these sensors will be attached to light poles throughout the city, starting on Michigan Avenue.
The information will be collected in real-time and will be immediately available to the public for free.
Researchers for the project realize the diversity and uniqueness of Chicago neighborhoods, and they will provide an opportunity for the public to have a say in the design of the nodes for the area in which they live.
View a map of locations for the first Array of Things sensors.
The blue stars on the map are the nodes going up this summer, and the red diamonds are the nodes going up in the fall. 
--Map courtesy of the Urban Center for Computation and Data.