You've probably heard of Deep Tunnel, the massive public works project that temporarily holds sewage and rainwater after a storm to help keep it out of our basements. But when there is a lot of rain – like the rainy spring we had this year – then even Deep Tunnel isn't massive enough. So the Metropolitan Water Reclamation District is converting Thornton Quarry into a new, giant reservoir.
Today, the MWRD held a ribbon-cutting ceremony at the site. In May, we sent Jay Shefsky to check it out. Here's another look at his visit.
---
When it comes to treating our sewage, Chicago has a history of thinking big. In the 1800s, when raw sewage in the Chicago River contaminated our Lake Michigan drinking water, we reversed the flow of the river… much to the dismay of our neighbors downstream. And then there's Deep Tunnel, the Metropolitan Water Reclamation District of Greater Chicago's massive public works project that temporarily holds the mixture of sewage and rainwater after big storms to keep it out of our basements until it can be treated. Well Deep Tunnel isn't always enough, so the Metropolitan Water Reclamation District is adding a new, massive, holding tank.
With a budget of $4 billion and a construction calendar spanning 50 years, the Deep Tunnel project is one of the largest of its kind in the world, but environmental groups contend it's not enough to hold all of Chicago's storm water and sewage.
The National Resources Defense Council –along with the Alliance for the Great Lakes, the Sierra Club, and others –is involved in two lawsuits against the MWRD. They say Deep Tunnel, devised in 1972 as a way to mitigate sewage and rainwater overflow into the city's rivers and ultimately Lake Michigan, hasn't been updated to reflect modern environmental standards and concerns like storm-intensifying climate change.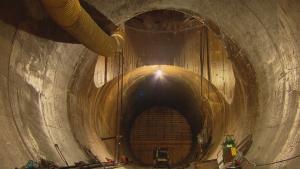 "No one has ever studied if TARP [Deep Tunnel's official name] can do the job. It's especially not going to do the job when climate change is accounted. And the studies that have been done, they call into question the adequacy of TARP," said NRDC Chicago's senior attorney Ann Alexander. "Even if you get it on time and under budget, is that enough?"
It took engineers 30 years to finish digging out the 100-mile-long web of underground tunnels which now hold 2.3 billion gallons of overflow until it can be treated. The water will eventually drain into three reservoirs: Gloria Alitto Majewski Reservoir, opened in 1998; Thornton Reservoir, slated to open this summer; and McCook Reservoir, projected for a 2017 opening. Combined, the reservoirs can store more than 18 billion gallons, but that impressive capacity is pointless if the tunnels aren't big enough, says Alexander. 
 "You can build a bathtub as big as you want to but if you're going to fill it with a straw, you'll have a problem," she said.
Beyond the size of the project's components, NRDC and its partners are worried that Deep Tunnel is more gray than green. Shortly after filing its own lawsuit against the MWRD in 2011, the NRDC intervened in a lawsuit that was filed by the Environmental Protection Agency against the MWRD prior to the filing of the NRDC's lawsuit. The EPA's lawsuit focused on environmental standard violations by the district and the agency settled in the form of a consent decree in 2011.
The consent decree was "a complete rubber stamp" of Deep Tunnel's unaddressed environmental issues and construction stalls, according to Alexander, prompting the NRDC intervention on the EPA lawsuit.
Unlike EPA requirements of similar projects in New York and Philadelphia, the agency's protective standards for Chicago are woefully low, according to Alexander. Instead of requiring modern green infrastructure like roofs or biosoils that could absorb overflow instead of draining it into sewage, Deep Tunnel's concrete infrastructure is out-of-date and literally gray, she says.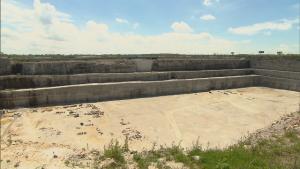 The NRDC also objects to the 2029 deadline, which has been pushed back again and again.
"Not only is it delayed in principle to 2029, it has a free pass to delay it even further. That's completely dependent on how long it takes a private mining company to dig out [the quarries]. They dictate how long it'll take to get it done."
The Seventh Circuit of Appeals heard oral arguments in the NRDC's intervening lawsuit in February, while the other suit has been stalled, pending the outcome of the first case. In court, the Department of Justice on behalf of the MWRD called the environmental groups' proposed standards "unrealistic."
 The EPA could not comment. The MWRD issued a statement, saying:
"Originally filed in Dec. 2011, there were two groups of intervenors that opposed the entry of the consent decree. Two of the issues raised by these groups were the length of the Tunnel and Reservoir Plan (TARP) construc­tion schedule and the amount of green infrastructure included in the decree.  The Judge's opinion concluded that the consent decree is in the public's best interest. The Judge recognized that "Tremendous public-works projects can take a significant amount of time—even decades—to complete. TARP is no small project. It has involved creating more than 100 miles of tunnels and mining rough holes that will eventually be large enough to hold 17.5 billion gallons of water. By the time TARP is finished, MWRD will have added an aver­age of 323,000,000 gallons of storage capacity per year, which is an average of 885,000 gallons per day of additional storage capacity. That is impressive, not unreasonable."
While the NRDC wants a stronger plan, it acknowledges Deep Tunnel's ambitions as noble. In its magazine, onEarth, the NRDC writes, "Despite its shortcomings, Deep Tunnel is largely seen as an effective way to keep Chicago from reverting to its marshy past, and if Chicago hadn't started work when it did, the project would be stretching before us, with a hefty bill attached. The solution may not be perfect—and still could be better—but it's giving the city a shot a healthy, fish-friendly, and clean-water-drinking future. Boat tour, anyone?"
View a behind-the-scenes slideshow.