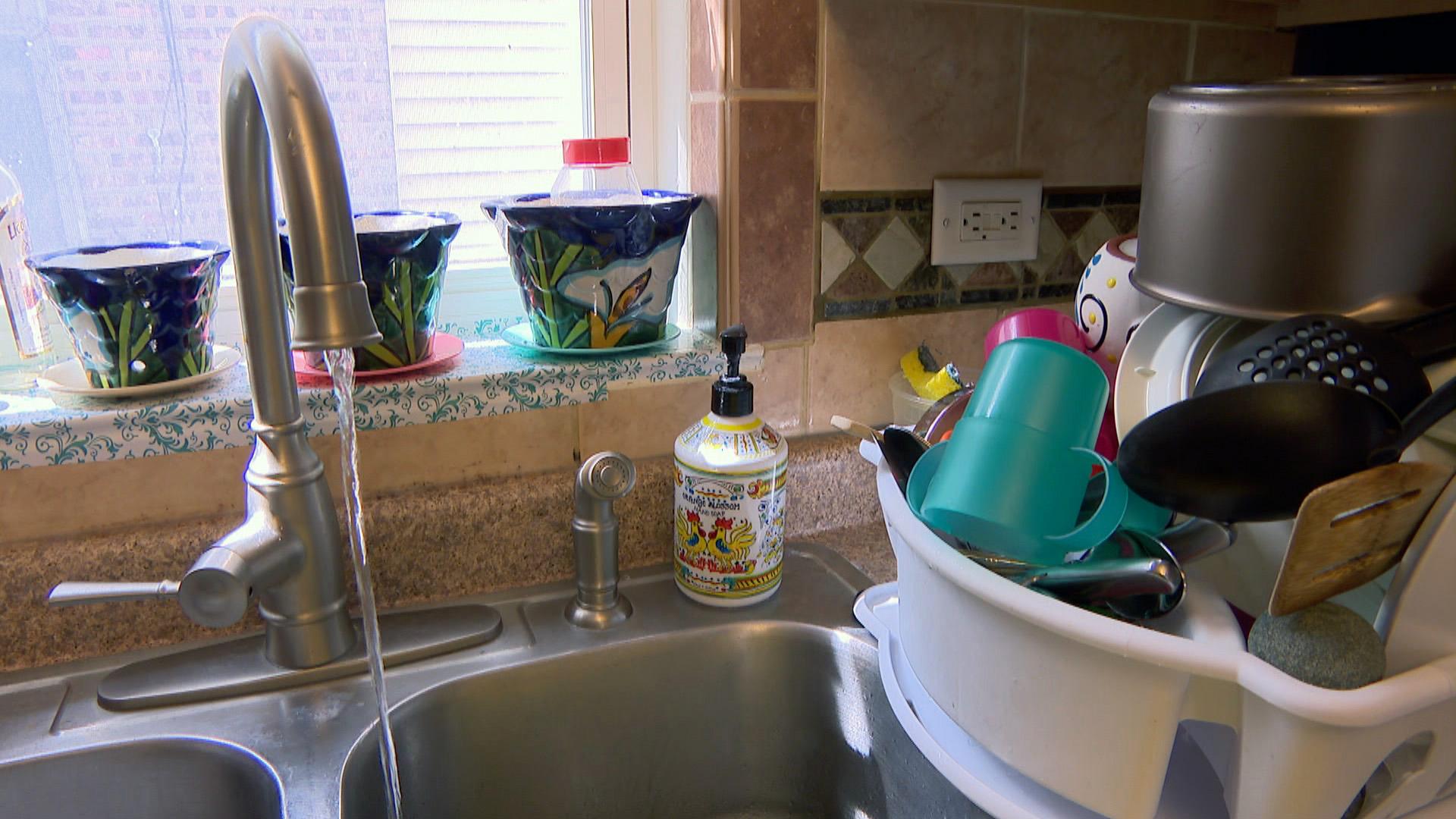 (WTTW News)
A new state law will require city crews to significantly step up the pace of efforts to replace the approximately 390,000 lead service lines responsible for contaminating Chicagoans' tap water.
Starting Jan. 1, city crews will have to replace all of the lead service lines connected to a water main that is being repaired — and foot the bill, which is expected to cost between $15,000 to $26,000 per line.
Chicagoans who suspect they have a break or leak in their water service line should call 311, officials said.
That means Chicago will likely end 2023 with between 4,000 and 5,000 fewer lead service lines in service, a massive increase from the sluggish pace of removals in Chicago since Mayor Lori Lightfoot declared in September 2020 that it was "way past time" to ensure that Chicagoans have clean water in their homes.
Since that promise, city crews have removed a total of 302 lead service lines, according to data obtained by WTTW News. 
Lightfoot said the city would start by removing lead service lines from homes and two-flats in low- and moderate-income neighborhoods with $15 million in federal grants. Through that program, crews would remove 650 pipes by the end of 2021, the mayor promised.
However, that program has removed just 261 lead service lines as of Dec. 19, according to data provided to WTTW News by the Department of Water Management.
An additional 594 applications to participate in the program have been approved, according to city data.
Under another program, homeowners willing to foot the entire bill for the lead service line replacement program can get $3,500 in fees waived if they complete the removal themselves.
Forty-one homes have had their lead service lines removed as part of that program, according to the data obtained by WTTW News.
Even if city crews had been able to remove as many lead service lines as Lightfoot promised in September 2020, her plan laid out a timeline that would have taken more than 500 years to complete.
As part of the city's 2023 budget, the City Council approved plans to borrow $336 million during the next five years at a low interest rate to cover the cost of ridding Chicago's single-family homes and two-flats of the lead service lines.
The city also plans to use a $4 million forgivable loan from state environmental officials to replace lead service lines in day care centers.
It will cost between $8 billion and $10 billion to remove every single lead service line in Chicago, according to cost estimates. 
State officials granted Chicago a waiver this summer to allow city crews to use a trenchless technique that breaks up smaller portions of a street and sidewalk to get access to pipes underground in order to reach basements. Crews will use that method when appropriate, Chicago officials said.
That technique could help reduce the cost of removing lead service lines in Chicago, where it is more expensive than in other cities, officials said.
Lead service lines connect more Chicago homes to water mains than in any other American city, in large part because officials required that lead pipes be used to funnel water to single-family homes and small apartment buildings for nearly a century.
Federal law banned the use of lead pipes in 1986.
There is no safe level of lead in drinking water, according to federal officials. Lead is a neurotoxin and can be especially damaging to children and pregnant women.
Chicago has until 2077 to remove all of its lead service lines, under state law.
Another provision of state law set to take effect Jan. 1 will prevent crews from installing water meters in Chicago homes connected to a water main by a lead service line.
Lightfoot ordered the installation of water meters in Chicago homes to stop in July 2019 after city officials found elevated levels of lead in more than one in five metered homes they tested — 13 months after officials first learned of the issue.
Lightfoot's order reversed a decision made by former Mayor Rahm Emanuel in November 2018 to continue installing water meters in homes, despite evidence that those homes had elevated levels of the brain-damaging chemical.
A 2013 study by EPA researchers linked the installation of meters and the replacement of water mains to high amounts of the heavy metal in drinking water, because lead pipes that are disturbed by street or plumbing work can release the material into the water supply.
Meters allow residents to pay per gallon for the water that they use, rather than pay a flat fee. Meters can reduce a $1,200 water bill by nearly half, while saving water, officials said.
At Lightfoot's request, the Chicago City Council voted to restart meter installations on May 25, after city water officials said studies found ways to ensure lead did not pollute homes' drinking water after the installation of a meter.
Since then, 4,095 meters have been installed, according to data obtained by WTTW News.
In May, Chicago water officials said approximately 11,000 Chicago households were on a waiting list to get a meter. All of those residents were offered the chance to have a meter installed before the end of the year, officials said.
Contact Heather Cherone: @HeatherCherone | (773) 569-1863 | [email protected]
---