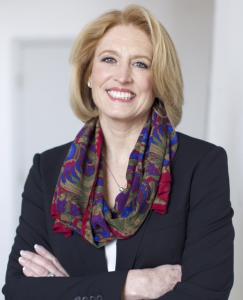 The political theater is ratcheted up today, as attention now turns to the possibility of a state government shutdown. The public official that cuts the state checks is giving a dire warning: Without a budget agreement in the coming weeks, she will stop paying the state's bills. This comes as state employees go toe-to-toe with the governor on a new union contract.
If there's no budget agreement between Gov. Bruce Rauner and Democrats in the General Assembly by the end of this month, the state stops paying its bills, plain and simple.
State Comptroller Leslie Munger, a Rauner appointee, outlined what that means for taxpayers:
Starting July 1, the beginning of fiscal year 2016, she can't cut checks to any vendors doing business with the state. She will also not be able to make new Medicaid provider payments.
On July 15, state employees will stop receiving paychecks.  
And the state's share of education funding will dry up starting August 10.
Munger – sounding very much like the governor – said the state should adopt the union reforms he is seeking so as to come to a budget agreement.
"This is not a game to be won or lost," Munger said. "The rhetoric, the posturing, the decisions made or not made have grave consequences for families and communities all across our state. We are playing with people's lives when we cannot pay bills that we have promised to pay on time."
Munger says there are, however, a few things the state will still have to pay in the case of a shutdown, including pension and debt payments, temporary assistance to needy families, assistance to the aged, blind and disabled, as well as payments to local governments.
At the same time the comptroller is warning that workers won't get paychecks, state employee unions are about to have their contract expire.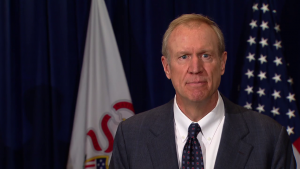 The state's largest employee union, AFSCME, which represents prison workers, health care workers, and others says it is far apart on a new contract with the governor. They took to multiple locations across the state today to protest. They say the governor has asked for pay freezes and reductions in health benefits and voluntary reductions in pension benefits. They say they believe the governor is trying to force a strike or a lockout — something they say they want to avoid at all costs.
"We do not want to strike, that's the governor that's been pushing for a strike," said Tim Lowe, an IT specialist in the Department of Employment Security.  "We work very hard. We just want a fair contract."
"We've never had a state government shutdown. We've never had a governor that's locked out state employees. We've never been forced to go on strike in 40 years of collective bargaining with this state," said AFSCME spokesman Anders Lindall. "There's no reason we can't stay at the table and continue to talk. And our union has supported legislation in Springfield — we passed successfully that would provide for arbitration as a way to avoid a shutdown, and the governor should sign that bill."
The governor has indicated he doesn't support the bill, but did not answer whether or not he would veto it. The union says what it really wants is to extend the current contract while they continue to bargain, rather than forcing a shutdown, as they acknowledge there will probably be no agreement by the end of the month. As for going to work without a paycheck, union representatives say there are protections that would require them to make at least minimum wage while the budget standoff dragged on.
But in the past, the comptroller and treasurer's offices have come together during a similar standoff under Gov. Rod Blagojevich to ensure paychecks still went to workers, even without a state budget in place.
Multiple games of chicken, and multiple acts of political theater continue as the governor wants big union changes before agreeing to any new revenue to fund a $6 billion budget gap.