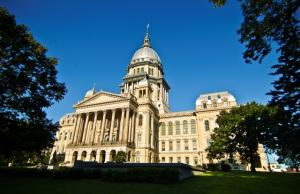 Moody's Investors Service has issued a "credit negative" warning against the state in light of last Friday's State Supreme Court ruling rejecting changes to public pensions. It's a somewhat tepid response to the ruling, relative to the double ratings drop Moody's applied to city of Chicago's credit, resulting in junk bond status. In today's report, Moody's says the reforms could have reduced the unfunded pension liability by about $21 billion.
"Rejection of the pension benefit legislation puts the state under increased pressure to devise a way to pay for liabilities created through decades of insufficient contributions," the report states.
It also outlines other pension reform proposals the state has considered, including the controversial "cost shift," where the burden of university and public K-12 teacher pensions would shift to local school districts from the state. The report says that move would alleviate the pension burden for the state, but would cause a "negative for the credit standing of state universities and for many local governments."
Today's warning, Moody's notes, does not connote an actual ratings or even outlook change. Mayor Rahm Emanuel was livid after the downgrade of Chicago's bonds to junk status, saying last night on Chicago Tonight that the move was irresponsible, and that he couldn't understand why they wouldn't have hit the state harder.
"The Supreme Court decision is about a state pension bill, and Moody's took no action on the state," Emanuel said. "Agencies usually say you're on credit watch. And to take a decision on the city about a decision the court made on the state….the state doesn't have a budget, the state is millions of dollars behind on its payments, that's not true for the city."
Moody's lists Illinois' credit as A3 with a negative outlook, still considered investment grade.