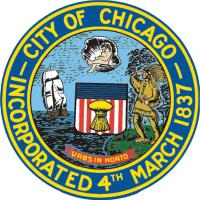 Moody's Investors Service downgraded the city of Chicago's credit rating to junk status, with a negative outlook to boot.
The city's bond rating, which reflects its ability to pay its debts on time, dropped from Baa2 to Ba1. The downgrade comes days after the Illinois Supreme Court's overhaul of the state's 2013 pension reform law, which Moody's says will elevate Chicago's pension liability.
"Based on the Illinois Supreme Court's May 8 overturning of the statute that governs the State of Illinois' (A3 negative) pensions, we believe that the city's options for curbing growth in its own unfunded pension liabilities have narrowed considerably," the credit rating agency wrote. "Whether or not the current statutes that govern Chicago's pension plans stand, we expect the costs of servicing Chicago's unfunded liabilities will grow, placing significant strain on the city's financial operations absent commensurate growth in revenue and/or reductions in other expenditures. The magnitude of the budget adjustments that will be required of the city are significant."
In a statement, Mayor Rahm Emanuel responded by calling Moody's "out of step with other rating agencies" and its downgrade decision "irresponsible."
"Their decision was driven solely by the overturning of a state pension bill that did not include Chicago's pension reform, yet they did not downgrade the State of Illinois. Moody's is out of step with other rating agencies – by as many as six steps," Emanuel said in the statement.
Ba1 indicates "substantial credit risk," compared the city's former rating of Baa2 which reflected "moderate credit risk," according to Moody's definitions. The Ba1 rating applies to the city's $8.1 billion in general obligation debt, $542 million of outstanding sales tax revenue debt, and $268 million of motor fuel tax revenue debt. Click on the graphic below to see where the rating stands in relation to Moody's long-term rating scale.
Moody's says it expects Chicago's pension liabilities to grow and its credit challenges to continue in the near term and long term.
Read the full statement by Mayor Emanuel:
"While Chicago's financial crisis is very real and at our doorsteps, today's irresponsible decision by Moody's to downgrade the City's credit by two steps goes far beyond that reality. Their decision was driven solely by the overturning of a state pension bill that did not include Chicago's pension reform, yet they did not downgrade the State of Illinois. Moody's is out of step with other rating agencies – by as many as six steps – as they refuse to acknowledge Chicago's growing economy, progress we have made on our legacy financial liabilities, balancing four budgets without raising property taxes while adding to our reserves, securing pension reforms for two of the City's four funds to preserve and protect retirements for 61,000 employees that were previously in danger, and the progress we are now making with our partners in labor at the other two city funds. This action by Moody's is not only premature, but it is irresponsible to play politics with Chicago's financial future by pushing the City to increase taxes on residents without reform. I am committed to focus on both reform and revenue to address Chicago's fiscal crisis, and we will continue our work in Springfield and with our partners in labor to ensure we will always meet our obligations, protect the retirements of our workforce, continue to deliver vital city services, while protecting our taxpayers."
Moody's also outlined what could make the ratings increase or decrease further:
WHAT COULD MAKE THE RATINGS GO UP

WHAT COULD MAKE THE RATINGS GO DOWN

City or state actions that halt the growth of the city's unfunded pension liabilities
Revenue growth and/or reductions in other operating expenditures that enable the city to accommodate increased pension costs into annual operating budgets
Demonstrated legal separation of pledged revenue from the city's general operations (sales tax and motor fuel tax ratings)

Determination by a court of law that the current statute governing the city's Municipal and Laborer plans is unconstitutional
Continued growth in the debt and/or unfunded pension liabilities of the city and/or overlapping governments
Narrowing of the city's fund balances and liquidity