In February's election, challenger Derrick Curtis had a slight advantage over incumbent Ald. Lona Lane, though neither received a majority of the vote. The two will face off in next month's runoff election, and Chicago Tonight will host a forum to discuss the issues facing the 18th Ward.
---
Click the dots in the image below to read candidate bios.
---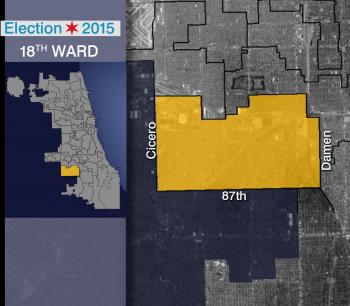 18th Ward
This southwest side ward covers the entire neighborhood of Ashburn. The ward lost sections of Marquette Park to the north, which includes the largest park on the southwest side of Chicago, to the 17th Ward in the 2015 ward remapping. 
A Dead Heat
The incumbent Ald. Lona Lane was appointed by Mayor Richard M. Daley in 2006 and is one of Mayor Rahm Emanuel's most loyal supporters, supporting him on divisive initiatives such as red-light cameras. As such, she's received over $35,000 from Chicago Forward, a political action committee with strong ties to the mayor. That money failed to guarantee a win for Lane in the general election. She tied for 30 percent of the vote with candidate Derrick Curtis, a ward superintendent and Democratic committeeman. Curtis is campaigning on his experience residing in and working for the 18th Ward.
Retail Revenue
While this ward has been in a general economic decline in recent years, retail is still a revenue generator. The Ford City Mall, the largest enclosed mall in Chicago outside of downtown, and the Scottsdale Shopping Center, are located here. Despite this, there is still a need for economic rejuvenation as many vacant mom and pop stores populate the ward. Crime is also a concern, with many residents and candidates calling for community policing and more comprehensive background checks for purchasing firearms. They argue crime is a major detractor in bringing business to the area.
Ward Demographics
The area was predominantly Irish-Catholic until the 1990s when it began to diversify. Despite that, neighborhoods are still rather segregated – a familiar feature of Chicago localities. To the west, the Scottsdale area is still largely white. The Wrightwood neighborhood, to the east, is predominantly African-American. Aging residents are staying in place; the ward boasts a high home ownership rate.
Click on the map below for vote percentages in all 50 wards.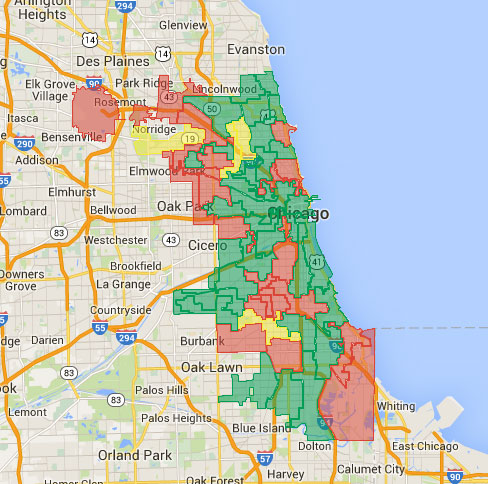 Click the dots in the image below to learn the percentage of votes each candidate received in the Feb. 24 election.
-- Graphics by Kristen Thometz, Linda Qiu, and Yasmin Rammohan