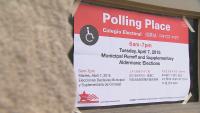 Minutes before the polls close, elections officials estimate that voter turnout is near 40 percent. That includes early voting and absentee ballots collected through Saturday. Turnout for the February election was 34 percent.
With the exception of a giant Uncle Sam inflatable and some minor glitches, Election Day got off to a slow and quiet start, steadily increasing throughout the day.
Chicago Board of Election Commissioners Chairman Langdon Neal noted this morning that early voting may be the reason why the polls aren't crowded with voters. More than 142,000 people have already cast their ballots, up significantly from the 90,000 at this point in the February election.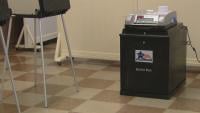 Investigators have requested the removal or relocation of an inflatable Uncle Sam balloon outside a precinct in the 13th ward. The balloon, which says "Vote for Rahm," is considered electioneering and not permissible.
Board spokesperson Jim Allen said though voters have reported spoiled ballots in some precincts, the complaints do not indicate a pattern.
"If someone is suggesting the judges are trying to slip one past our voters, you're insulting the intelligence of our voters," he said.
Elsewhere, three election judges have been removed for disruptive conduct. Polling hours will be extended to 8:00 pm at six locations due to set-up delays:
• 17th Precinct in the 1st ward (1847 N. Kedzie Ave.)
• 37th Precinct in the 1st ward (525 N. Armour St.)
• 3rd Precinct in the 41st ward (5115 N. Mont Clare Ave.)
• 12th Precinct in the 41st ward (5115 N. Mont Clare Ave
• 18th Precinct in the 42nd ward (300 N. Canal St.)
• 8th Precinct in the 46th ward (4640 N. Sheridan Road)
View a map of the locations.
Polls close at 7:00 pm at all other locations.
-- Map by Kristen Thometz