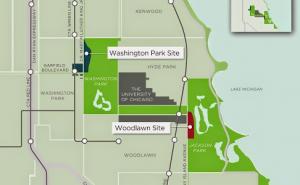 The Chicago Plan Commission has OK'd an Obama Library on public parkland.
The Commission unanimously approved Mayor Rahm Emanuel's plan to site the proposed presidential library in Washington or Jackson Park. The library would be built by The University of Chicago, which is competing against the University of Illinois at Chicago, the University of Hawaii in Honolulu, and Columbia University in New York City.
Opponents, including the group Friends of the Parks, have argued there's plenty of vacant south side land where U of C could build the library, and that it doesn't need to take over about 20 acres of either historic park.
The Obama Library board will reportedly wait until after next month's mayoral runoff election to announce the winning bid.
To contact the Chicago Park District's Board of Commissioners, email [email protected].