Community residents are making their feelings known to The University of Chicago, Park District, and city officials in the first of two public hearings before the Park Board votes to transfer about 20 acres in Washington Park and Jackson Park to the city. The city, in turn, would then likely transfer the land to the University or Obama Foundation for an Obama Presidential Library and Museum. While it's almost universally felt that an Obama Library should be located in Chicago, especially on the south side, there is growing opposition to locating it in a public park.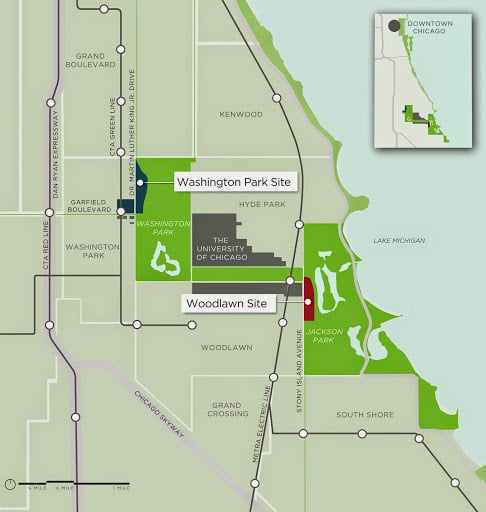 This is a process that's been hastily put in place after word leaked from the Obama Foundation that they were concerned with U of C's south side bid because the school doesn't own the land it's pitching for the library. It prompted Mayor Rahm Emanuel to take control to transfer the land. But the process has become controversial with one group, Friends of the Parks, saying it might not even be legal.
"We are looking into that. We do not understand exactly how the city intends to try to transfer it from the Park District to the city. We are not sure that it is legal. In fact, we have questions, significant questions," said Friends of the Parks President Cassandra Francis. "This is something nationally people are looking at very closely because it sets a very dangerous precedent relative to transferring public open space that is held for the benefit of the public, and into either other public agency hands, or to a private institution which the Obama Presidential Library is. So this is something people are watching very closely. It is a troubling trend and a slippery slope if this type of thing does move forward, and we will challenge the transaction."
Echoing Friends of the Parks concern, mayoral candidate Chuy García issued a statement saying that he wants the museum in Chicago, but that the U of C should locate it on one of the vast swaths of property it already owns:
"They already possess the land and capacity to create a world class urban-sited and urban-centered library without encroaching on the people's land. Our leaders should be stewards of our parks' continued survival. Instead, Mayor Emanuel has broken the fundamental public trust by supporting this unnecessary land grab."
Meanwhile, mayoral candidate Ald. Bob Fioretti (2nd) says:
"Our public spaces are not for sale and should be off limits to development. Rahm's willingness to turn our open spaces into spaceship parking and private playgrounds for the rich without public input shows he's not interested in what the people of Chicago want."
But the mayor is defending the move today saying he believes there are far more supporters of an Obama Library in the park than detractors. But he is ducking the question of whether or not the university should restore the same amount of parkland that it takes up in building this library.
Opponents say the university owns a giant parcel right near there with access to a CTA station, and that it should build on that site instead.
Friends of the Parks says Washington Park is slated for the National Historic Register and putting a facility in the historic Olmsted-designed park would almost certainly take that distinction off the table.
UIC has also proposed two sites on land that it either owns or that the city owns in Lawndale, but it is widely seen as an underdog to land the library.
Many wonder if the deal is already done and these hearings are just a formality, a way to save face as the city moves forward with the acquisition of the land.
Tuesday's hearing is at 6:00 pm at Hyde Park Academy High School at 6220 S. Stony Island Ave. Another hearing will be held Wednesday at 12:00 pm at the Washington Park Field House at 5531 S. Martin Luther King Dr.
To contact the Chicago Park District's Board of Commissioners, email commissioners@chicagoparkdistrict.com.