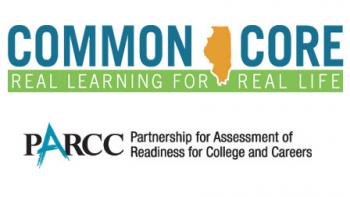 Teachers, parents, and administrators have been debating whether schools should start implementing the PARCC standardized test, designed to align with the new Common Core standards. This past weekend, Chicago Public Schools CEO Barbara Byrd-Bennett announced that only about 10 percent of schools will take the PARCC test this spring.
Despite the backlash against PARCC – and, more generally, the Common Core curriculum – some teachers have argued that it's important to pilot the new test and learn what we can from it.
Sherisse Lucas, a teacher at Ashburn Community Elementary School on the southwest side, says even though PARCC and Common Core may have their drawbacks, we shouldn't overreact.
"We don't want to throw the baby out with the bath water," Lucas said. "I can understand where the opposition is coming from; I'm a classroom teacher too. I understand the complications. But let's pilot it before we go to that point of throwing it out."
Lucas says information from a pilot of the PARCC test could help shape what she does in the classroom.
"By looking at the test, I can see what types of learning situations students are expected to be able to excel in," she said.
But Michelle Gunderson, a teacher at Nettelhorst Elementary in Lakeview, doesn't think the PARCC test provides teachers with useful information to help their students learn.
"If I don't have actionable data, it's a pretty lousy assessment by any measurement," Gunderson said.
Gunderson, who opposes not just PARCC but the Common Core curriculum itself, thinks too much emphasis is placed on standardized testing. But if the tests are to continue, she's hopeful for assessments that can guide her work in the classroom.
"For example, if a child was asked (on a standardized test) to borrow in subtraction, the results might tell me that 20 percent of kids couldn't borrow, and I could realign my instruction," she said. "That's a perfectly good use of an assessment. The PARCC does not allow for incremental analysis to help people to make decisions."
CPS has not announced which schools will administer the PARCC exam this spring. CEO Byrd-Bennett and the CPS School Board decided against a full rollout of the test, even though it could mean losing federal money.